With training camp next month and only Dylan Larkin to re-sign, the Detroit Red Wings are gearing up for the 2018-19 NHL season. After missing the playoffs the past two years, the franchise is hoping to return to their winning ways on the backs of their young talent.
Each year, a Red Wings player or two takes us by surprise with a breakthrough campaign. Last season it was Dylan Larkin taking charge as Detroit's top forward.
But who might that player be this season? There will be plenty of opportunity to seize a meaningful role as the team rebuilds, especially if Henrik Zetterberg does not return, leaving a massive hole in the lineup and offensive output.
In this week's edition of The Grind Line, The Hockey Writers' Red Wings coverage team shares their picks for Detroit's 2018-19 breakout player and why they'll take a step forward this coming season.
Tony Wolak: Andreas Athanasiou
Armed with a new contract, Andreas Athanasiou is finally getting paid the big bucks that his explosive talent deserves. And with that, the fleet-footed forward now knows how much the organization values him after some tension in the past.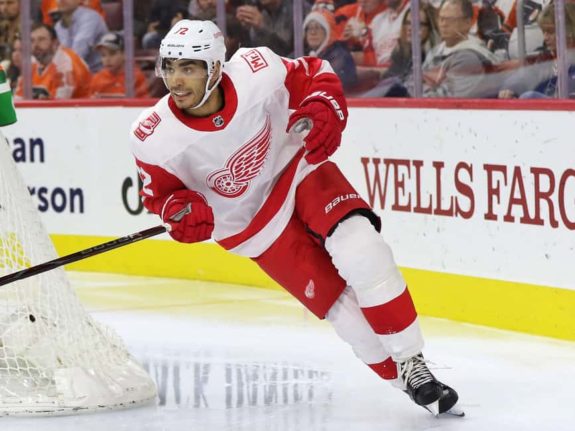 With that in mind, I fully expect Athanasiou to seize a top-six spot in the lineup and light the lamp 25 times next season. His speed, finishing ability, and quick hands certainly have the ability to become a perennial goal-scoring threat for the Red Wings.
After scoring 16 goals last year and 18 the year before, 25 markers is definitely a feasible number. Of those 34 tallies from the past two campaigns, 32 came at even-strength, leaving room for growth on the power play, which will likely be a lot better this coming season under Dan Bylsma.
Athanasiou will also have training camp to get up to speed and assert himself as a valuable contributor for the Red Wings. Plus, he'll have his old buddy Thomas Vanek back in the lineup to help create scoring chances.
Jacob Messing: Tyler Bertuzzi
Since being pegged as an over-drafted player in 2013 (second round, 58th overall), Tyler Bertuzzi has taken considerable steps to shed said label and prove he's capable of a long NHL career.
That comes off the heels of just 55 career games with the Red Wings, but it's what he's done to get to the NHL that should have fans excited about his future.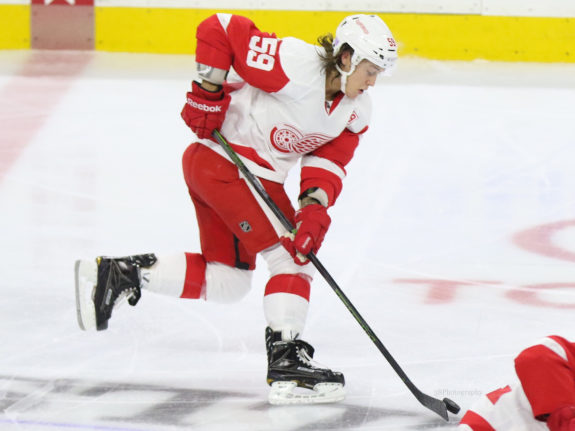 Bertuzzi continued to develop his offensive game with the Ontario Hockey League's (OHL) Guelph Storm following his draft year. He posted a monster 2014-15 campaign with 98 points (43 G, 55 A) in 68 games. He turned pro following the season and stepped right in with the American Hockey League's (AHL) Grand Rapids Griffins with 12 points (7 G, 5A) in 14 playoff games.
After a mediocre rookie season with the Griffins, Bertuzzi continued to elevate his game as a postseason performer and was named the AHL Calder Cup MVP in 2017, as he led the Griffins to the league title.
A preseason injury saw him start 2017-18 in Grand Rapids, but he took full advantage of a December call-up. In 48 games with the Red Wings, the gritty winger proved to be a thorn in the side of opponents while balancing his offensive output with 24 points (7 G, 17 A) in that time.
Still just 23, Bertuzzi was given the offseason to train for a full 82-game season with the team in 2018-19. The confidence of a solid rookie showing, ice time up for grabs, and a full summer to prepare should be a huge benefit to Bertuzzi as he's likely to play alongside some high-end offensive talent.
His complementary grit, net-driving style, and consistent "everyday-er" mentality could see him earn more scoresheet share and be 15-20 goal-scorer flirting with 50 points in his first full season.
Rachel Anderson: Martin Frk
Martin Frk has been the brunt of many jokes as of late. Though funny, they are unfortunately accurate – which some would say isn't a word to describe him. Frk has one heck of a shot – we've all seen it. For a few unlucky characters, they got to feel the full force of Frk via a quick shot to the head. Fortunately, none were seriously injured. With the power Frk has, unfortunately, it's paired with a lack of accuracy which had proven to be detrimental during his first full season with the Wings.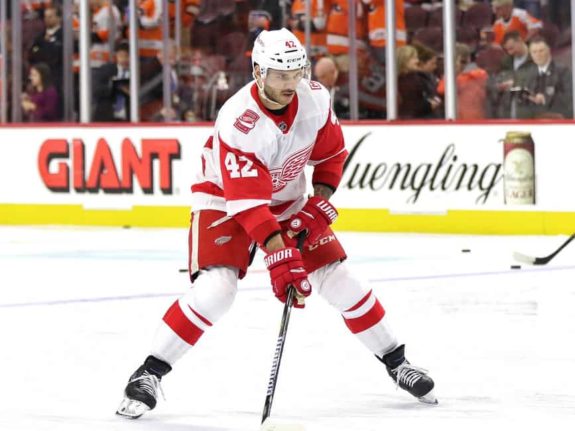 Coming into the 2018-19 season, however, I fully expect Frk to be one of the top performing skaters despite his frequent puck misplacement.
While with the Griffins during the 2016-17 season, Frk was a mass point producer. Finishing out the season with 50 regulation points and 15 postseason points, Frk was a huge contributor to Grand Rapids' Calder Cup victory. Often paired with Tomas Nosek, his shot was one that goaltenders dreaded facing and was on target more often than not. His trouble comes with being the "one-timer-guy" – the guy that's put on the ice for the sole purpose of a massive shot, and that's it.
His first year as a Red Wing wasn't as fruitful as his AHL time, but he has the foundation established. He's a very skilled skater and can set up quickly. Being rewarded with a contract for yet another year will, I believe, give Frk the jumpstart he needs. The coaching staff will be hard on him no doubt, but with the ability Frk has with his footwork and puck-handling, he can be more than the sniper shot.
I believe Frk is set to have a huge season. Yes, his shot is like a cannon, but I believe he will develop beyond that, into a strong multi-faceted player. Having spent time with Carolina only to get sent back to the AHL, I doubt Frk will waste this second round in the NHL.
Related: Grading Ken Holland's Rebuild Moves
Which Detroit Red Wings player will have a breakout campaign in 2018-19? Comment below with your take.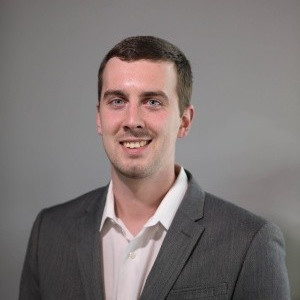 Tony Wolak is based in the Washington D.C. area and covers the Detroit Red Wings for THW. As a former junior and college hockey player, Tony has a unique perspective on Red Wings topics.