After sitting out season two of the NWHL, Kimberly Sass made her return to the league in season three when she signed with the Metropolitan Riveters prior to the start of the season. Despite only seeing action in one game, she was the ultimate team player in helping out her teammates however she could during each practice to get them ready for every game. Not once did she complain about the lack of playing time. Not once did she make a fuss to screw with the chemistry of a team that was having a dream season en route to the franchise's first Isobel Cup.
"Last season was great. I came in knowing that I was going to work hard at every practice and try to earn playing time," Sass explained. "I knew that Katie Fitzgerald had earned her starting position from the previous year. So my mentality was just to get here, work hard, and go from there. I did only get the one start, against Connecticut, and I tried to take advantage of it." The Riveters came away victorious in her only start, a 3-2 overtime win that saw them rally from being down 0-2 in the first period to secure their netminder's first NWHL win.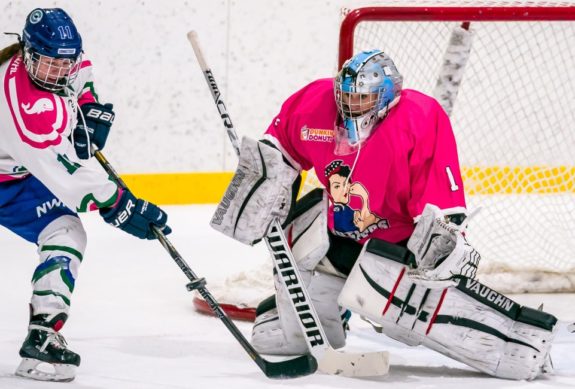 "Looking forward to this coming season, it feels good to have a full off-season to prepare for the next season," she said. "The first year when I played for the Buffalo Beauts it was kind of rushed because all of a sudden there was this new league. A lot of us as players didn't have the full preparation time necessarily. Last season it was kind of the same deal because I was coming off of a season that I didn't play and I was trying to get back into everything that goes with that."
"(Going into) this season I'm feeling more confident and even more excited to come back."
With the end of the NWHL season in March and the start of the next season in October, there is a lot of down time for players. But as we creep closer to the start of the fourth NWHL season and July now over, Sass and a bunch of other players are starting to ramp up their training in preparation for what may be the most competitive season in the league yet.
Thanks for the pre-work morning skate @coachdecastro ! 🥅💪🏻🏒 #riseandgrind #nwhl #decastrogoaltending #staysassy pic.twitter.com/KDLN3TkknT

— Kimberly Sass (@_thedailysass) July 20, 2018
"Off the ice, I would say I work out three to four times a week. On the ice, a lot of us girls just started getting some pick-up skates together – players from last year, players who have recently signed – to try to get some chemistry going, get back in shape. Things like that," the 27-year-old goalie told us.
But that's not all as Sass went on to detail. "Recently I've also started doing some private goalie lessons with some coaches in the area."
With the Riveters having not named a new successor for head coach Chad Wiseman just yet, it's pretty remarkable that the players have taken it upon themselves to get together and get ready for the upcoming season in which they will be defending an Isobel Cup championship. During Wiseman's tenure, he often preached about establishing a culture and brand with the Riveters and that aspect clearly isn't going anywhere despite his departure from the franchise. 
I can't wait to be back with my crease pals! @kfitzy94 @KobeIsMyUncle #IsItOctoberYet #staysassy https://t.co/tVOi6MvyvJ

— Kimberly Sass (@_thedailysass) June 22, 2018
"Internally we just tried to be our own advocates by reaching out to the rink staff or those on the Riveters' staff to see when we can get ice-time and we've been arranging that for ourselves," said Sass, who is one of a handful of players who has already signed a contract for next season – despite the absence of a head coach. Fitzgerald and Sarah Bryant have also re-signed, making this the first time in the team's history that they will have the same three goaltenders for two consecutive seasons.
"Last season from the first day I stepped into the locker room I could tell that the coaching staff had established a really phenomenal groundwork for a team atmosphere and things like that," the former goaltender at Colgate University said. "After experiencing last season with the staff that we had – yes we will miss them. But I think because of that foundation that was put in place, it will be easier for a new coach to come in and we can pick up right where we left off."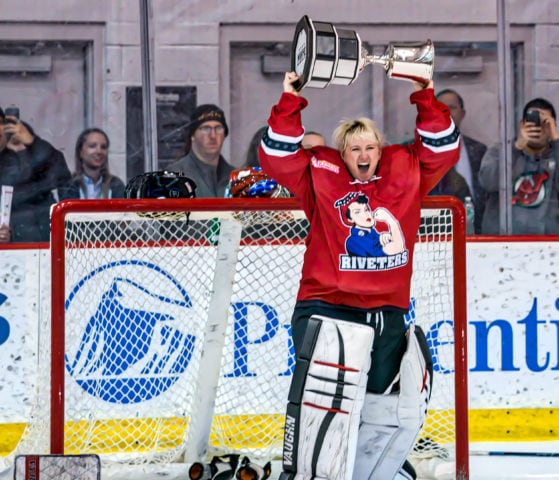 The goaltender was the first of the Riveters to have a few days alone with the Isobel Cup and she made sure to show Izzy a good time, both in her hometown of Buffalo and in the metropolitan area as well. Some of the highlights for her involved a wide range of people and events.
"I did a little event for the youth hockey organizations in Buffalo for all the girls to come out and see the Cup, get some autographs and pictures, stuff like that. Family, friends, my dog, and my boyfriend all got to see the Cup. We ate Buffalo Chicken Wings! Haha, we did all of the classic Buffalo stuff," she said with a humongous smile as she reflected on the fun times that come with being a champion.
"I flew back to JFK and took the Cup to work in Midtown Manhattan at my architecture firm: Jack Gordon Architects. My co-workers got to see the Cup, I brought in a game puck, and I had our final game playing on my laptop so they could see what was going on with our league. I think it was a cool experience for my co-workers, people that don't necessarily know what I do with my life post-work/after 6:30 pm."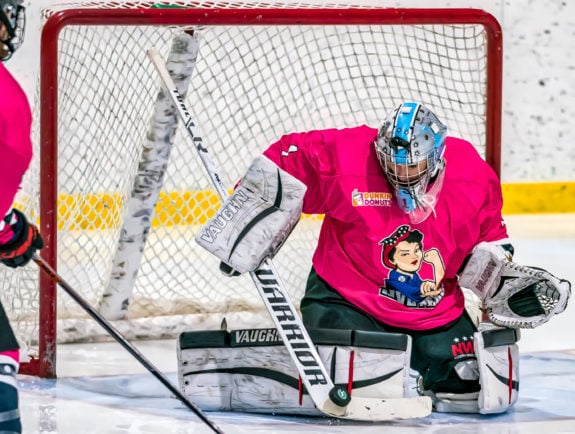 Sass has also been helping grow the game this summer, as she was one of the three players on the ice in July at the Riveters' Kids Clinic as part of the league's 2018 Summer Series. "I think all the young goalies that came out today really were excited to get on the ice with a player that they have looked up too, after being at our games. I remember clinics that I used to go to that female college players were coaching," Sass told The Hockey Writers. 
"Something that we always looked forward to was after the clinic – after we worked with them on the ice and got to know them a little bit – we were able to go into their locker room and get autographs and stuff like that. I still remember being so excited and nervous to go up to them with my poster or whatever I got signed. It's awesome to see that same impact that we have on these kids.
When season four of the NWHL season begins in October you can be sure that Sass will be more than ready to make a contribution on and off the ice as the Riveters attempt to become the first back-to-back champions in the league.