One criticism the Edmonton Oilers have drawn throughout the years is their inability to find talent outside of the first round. That's a notion that's changed over the past few drafts, namely the three since general manager Peter Chiarelli has come to town.
The fruits of that labor are just starting to pay dividends as the pipeline starts to develop and pour into the professional ranks. Connor McDavid (1st), Jesse Puljujarvi (4th), Kailer Yamamoto (22nd), and Evan Bouchard (10th) are the ones grabbing headlines as first-round selections.
Related: Edmonton Oilers Top Prospects: #11-20
Yet it's the ones outside the top 31 selections that are finally providing depth to this club's prospect bank in their sample sizes thus far. Caleb Jones (117th) and Ethan Bear (124th) are proving to be great finds from the 2015 draft and turned pro last season playing for the AHL's Bakersfield Condors.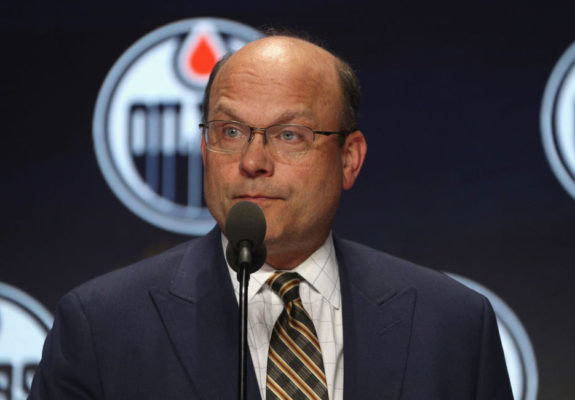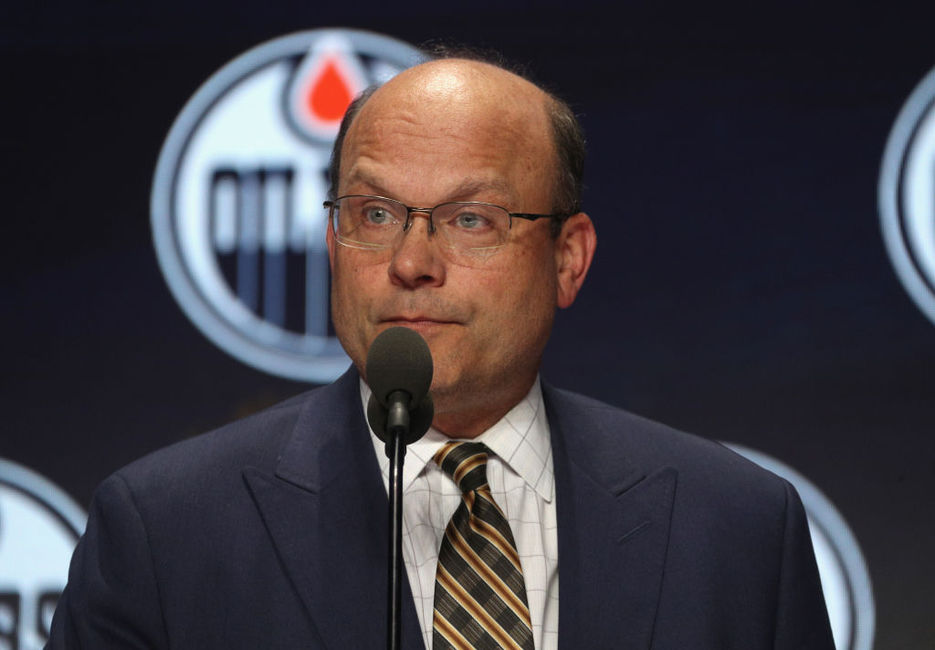 The 2016 class yielded Tyler Benson (32nd), Dylan Wells (123rd), Graham McPhee (149th), and Aapeli Rasanen (153rd). From the 2017 crop, Stuart Skinner (78th), Ostap Safin (115th), and Kirill Maksimov (146th) are all turning heads as great value picks. Even in 2018 Ryan McLeod (40th) was a projected late first-round selection that fell to the Oilers in the second round.
The Oilers were also able to add the top-ranked North American goaltender, Olivier Rodrigue (62nd). The prospect cupboard might not be oozing of game breakers, but there's enough value spread across the board that gives hope that the Oilers can eventually fill the depth of their roster with value contracts and solid depth players for years to come.
In another piece, we'll do an in-depth analysis of the Oilers prospect cupboard by a positional basis, but for now, we'll evaluate the prospects within and what their likely maximized potential and value might be.
Edmonton Oilers Top Prospects Rankings
For this list, players will have 25 NHL games or fewer under their belt and will be under the age of 26 before Sept. 15, 2018. Based off that (as mentioned) Puljujarvi, Jujhar Khaira, and Ty Rattie are ineligible and considered graduated.
Here is a list of the Oilers' top 20 prospects, with in-depth analysis on the top 10 players and another piece to follow outlining the players listed No. 11-20. In another article, you'll see my thoughts and analysis of each of those players and what their high-end projected value might be.
For now, here's a list for you to debate.
Oilers – Top Prospects #11-20

Rank
Player
2017-18 Team
GP

GP

G

W

A

GAA

PTS

SV%

20

Graham McPhee (LW)

Boston College (NCAA)

36

12

12

24

19

Tyler Vesel (C)

U. Nebraska-Omaha (NCAA)

36

11

21

32

18

Ryan Mantha (RD)

Bakersfield (AHL)

41

3

7

10

17

Dylan Wells (G)

Peterborough (OHL)

56

20

3.62

.896

16

Dmitri Samorukov (LD)

Guelph (OHL)

62

11

23

34

15

Joel Persson (RD)

Vaxjo Lakers (SHL)

51

6

28

34

14

Aapeli Rasanen (C/RW)

Boston College (NCAA)

32

4

12

16

13

William Lagesson (LD)

Djurgardens (SHL)

49

1

12

13

12

Cameron Hebig (C)

Regina Pats (WHL)

66

41

49

90

11

Olivier Rodrigue (G)

Drummondville (QMJHL)

53

31

2.54

.903
10. Ostap Safin (RW)
Acquired: 4th Round (115th Overall), 2017 NHL Draft
2017-18 Team: Saint John (QMJHL) | 2017-18 Stats: 61 GP – 26 G – 32 A – 58 PTS
If it weren't for some of the newer names on the list from the 2018 NHL Draft, Safin would be higher amongst the top 10. The Oilers' fourth-round pick in 2017 is a promising power forward with a 6-foot-5 frame and skates exceptionally well for a man of his size. He was on an island by himself in 2017-18 on the Saint John Sea Dogs after Joe Veleno (Detroit Red Wings, 30th overall, 2018) was traded to the Drummondville Voltigeurs.
If Safin were on a better team during the second half of the 2017-18 season, his boxcars would likely have reflected that. Keep an eye on Safin; he's a prospect with plenty of upside who got a taste of the AHL during a nine-game stint to end the year. He's got an intriguing power-forward game, actively protects the puck, and plays exceptionally well with talented players.
During the 2018 World Junior Championships, Safin represented the Czech Republic and even scored some minutes with Filip Zadina and Filip Chytil. That and his play with Veleno wet the appetite of Oiler fans who are chomping at the bit knowing how he's just scratching the surface. The best thing for Safin's development would be a trade to a deeper QMJHL club, for example, the Halifax Mooseheads who just so happen to be hosting the 2019 Mastercard Memorial Cup.
Related: Oilers 2017 NHL Draft Picks Revisited (June 2018)
Get him playing on a deep club that has the potential to make a long playoff run, and have him play meaningful minutes for that team. Safin's nine games with the Condors left much to be desired after registering just one point. But the 19-year-old is entering his final year of junior, will once again likely suit up for the Czechs at the upcoming WJC. He'll then be a regular with Bakersfield in 2019-20. He's a project, but there's a lot to like here.
Projection: No. 2-3 Right Wing Option, Top-Nine Power Forward
9. Kirill Maksimov (RW)
Acquired: 5th Round (146th Overall), 2017 NHL Draft
2017-18 Team: Niagara (OHL) | 2017-18 Stats: 62 GP – 34 G – 46 A – 80 PTS
After the year that Maksimov had, it's hard to fathom he didn't crack the top 10 prospects list last summer. In fact, all three writers that contributed to last year's rankings left Maksimov off their lists, and thus he's been a notable omission.
Related: Oilers Top Prospects – Summer 2017 Edition
Was this an error on our part or just an absolute steal regarding value by the Oilers that has surprised many? Let's call it a bit of both. Maksimov's impressive year put him only one point behind team leader Akil Thomas, who went 51st to the Los Angeles Kings this summer. So what will Maksimov do in what's likely his final year in the OHL?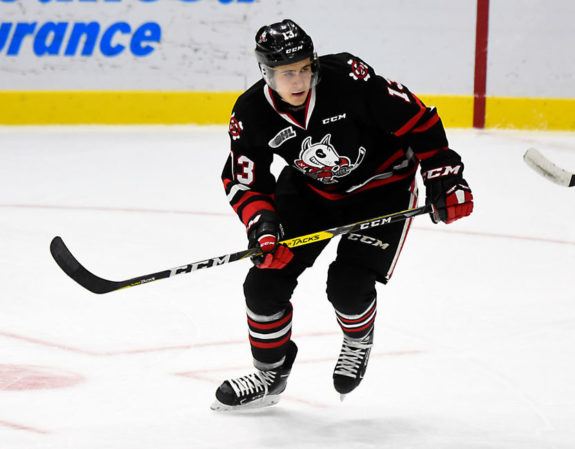 The 19-year-old became a much more consistent scorer in his draft-plus-one season and rarely went back-to-back games off the scoresheet. If he can build upon that consistency and continue to be a lethal scorer with the IceDogs, it's hard not to fathom him flirting with 50 goals or even having a 100-point season.
Related: Kirill Maksimov – A Thrilling Oilers Prospect
He's got a sweet little wheelhouse on the power play, loves to shoot the puck, and is dangerous from the hash marks in. His defensive game and skating is a work in progress, but he's trending well and could be a better version of what Anton Slepyshev was for the Oilers. Along with Bouchard and McLeod, Maksimov is leading the charge amongst strong Edmonton prospects coming from the OHL.
Projection: No. 2-3 Right Wing, Top-9 Forward
8. Caleb Jones (LD)
Acquired: 4th Round (117th Overall), 2015 NHL Draft
2017-18 Team: Bakersfield (AHL) | 2017-18 Stats: 58 GP – 2 G – 15 A – 17 PTS
It took a little while for Jones to find his legs in the AHL, but once he got into mid-season form, he was handling tough assignments in the AHL. The 21-year-old finished one point behind Ethan Bear for the scoring lead amongst Condors defensemen with 17 points in 58 games. The success of the two will be tied for years.
Related: Condors Report – Oilers Continue Bakersfield Makeover
Jones went one round before Bear back in the 2015 NHL Draft, and both were prolific offensive producing blueliners back in their WHL days. The highlight of Seth Jones' younger brother's junior career was when he capped off his final year with a near point-per-game season (0.98) in 2016-17.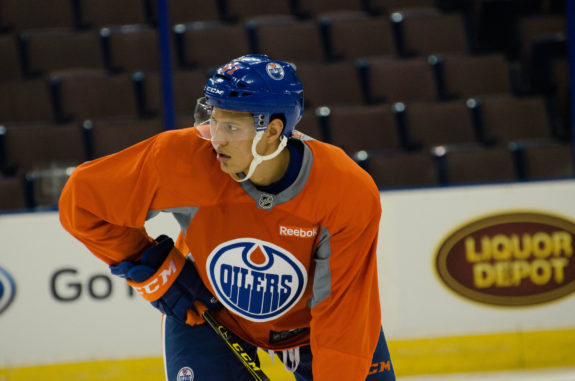 In points-per-game during their first pro season in 2017-18, Jones (0.29) trailed Bear (0.49), but points aren't what defines Jones' game. He's a steady two-way defender, and his defensive skills give him an edge and could potentially make him a safer value pick and might transition into being a stronger pro than Bear. Still, Bear graded better in 2017-18.
With the upcoming season Jones will look to improve a plus/minus of -25 that wasn't all that telling of his actual abilities and how he got better as the year went on. He reads the play well, and his adaptation to the pro game is a work in progress. Expect Jones to get re-call opportunities in his sophomore season and spend some time with the Oilers when and if injuries hit the back end.
Projection: No. 4-6 Two-Way Defender
7. Ryan McLeod (C)
Acquired: 2nd Round (40th Overall), 2018 NHL Draft
2017-18 Team: Mississauga (OHL) | 2017-18 Stats: 68 GP – 26 G – 44 A – 70 PTS
You could nearly flip-flop Ryan McLeod with the next guy on the list. Both have similar NHL upside, but we'll give the other a boost because he's further along in his development and closer to being more NHL ready than McLeod. Regardless the Oilers landed themselves a helluva prospect early in the second round this June.
Related: Ryan McLeod – 2018 NHL Draft Prospect Profile
He fits right into the Chiarelli mold of bigger players (6-foot-2, 202 pounds) and is a smooth skater who can blow right past defenders if they give him too much time and space. NHL Central Scouting had McLeod 16th among North Americans, TSN's Bob McKenzie had him 22nd, and Craig Button had him 30th.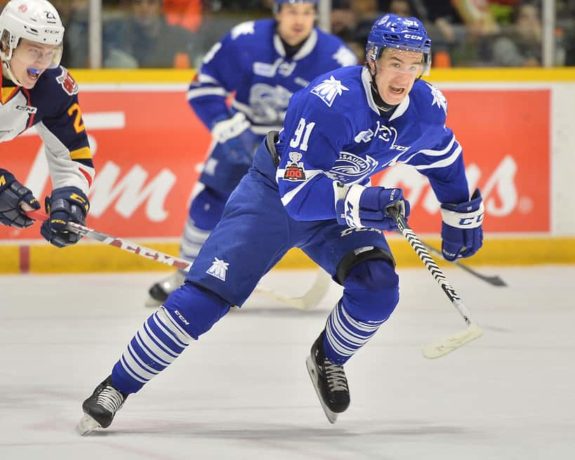 The fact that he fell to the Oilers at 40th is intriguing. The question with McLeod is how all this translates at the pro level. A common theme among young players is consistency, and it rings true with McLeod. Size, speed, and a high hockey IQ suggest the odds are high that he pans out in the long-term for Edmonton.
Related: Oilers 2018 NHL Draft Review
A welcomed asset is McLeod's ability to play in all situations, which he did in 2017-18 with the OHL's Mississauga Steelheads. He'll get a bigger role with Mississauga next season and should improve his point totals in his draft-plus-one year. Expect a big year from McLeod who participated in the Summer Showcase for Team Canada.
Projection: No. 2-3 Center, Middle-Six Scoring Forward
6. Cooper Marody (C)
Acquired: Traded from Philadelphia Flyers (March 2018)
2017-18 Team: U. of Michigan (NCAA) | 2017-18 Stats: 40 GP – 16 G – 35A – 51 PTS
Here's a guy who is a bit of a wild card and could go higher on the list, but this is where he settles, for now. Marody has the pedigree after an outstanding season in the NCAA that saw him post 51 points in 40 games, and get a Hobey Baker nomination as the best college player.
He finished outside the top 10, and the award eventually went to Vancouver Canucks prospect Adam Gaudette. The 21-year-old Marody finished sixth in NCAA scoring in 2017-18 and, now that he's in Edmonton's system, was the highest-scoring Oilers prospect to come out of the NCAA. So why did the Philadelphia Flyers trade him?
When you delve into all the rumblings, you circle back to two things that likely hold weight. One reason is that the Flyers might have thought Marody would stay in college another year and eventually lose his rights if he wouldn't sign, so why not cut bait and get an asset? The other is they weren't that high on him despite his success and breakthrough year.
There's a comparison to former Flyers prospect and Oiler Ryan Potulny. At 6 feet and 190 pounds, Marody doesn't have an overly imposing frame, but he's a skilled forward and has more upside than other NCAA prospects like Joe Gambardella, Aapeli Rasanen, and Graham McPhee. Marody had a good showing while picking up three points in three games at the end of the year for the Condors.
The Oilers gave up a third-rounder in 2019 for the Michigan-native, so one might think that's a steep price. The flip side of that is the Oilers got a prospect further along in his development and is relatively close to NHL ready. He's an exciting prospect to watch come training camp and, like others on this list, will be getting re-call opportunities this season.
Projection: No. 3 Center, Middle-6 Scoring Forward
5. Tyler Benson (LW)
Acquired: 2nd Round (32nd Overall), 2016 NHL Draft
2017-18 Team: Vancouver (AHL) | 2017-18 Stats: 58 GP – 27 G – 42 A – 69 PTS
Benson slides down a spot from last year's ranking that saw him fourth in the system behind Jesse Puljujarvi, Kailer Yamamoto, and Ethan Bear. Benson seemed to have shaken a lot of the worry about being an injury-riddled prospect who's missed a lot of development.
Related: Oilers Prospect Tyler Benson Back On Track
He was healthy through much of the 2017-18 season playing 58 games for the Vancouver Giants and was a contributing factor for a club that nearly won a seven-game series versus the rival Victoria Royals in the first round last spring. Along with Ty Ronning and James Malm, Benson was a part of a formidable trio in Vancouver.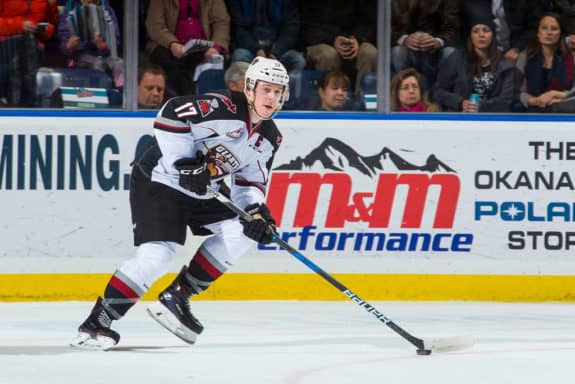 Now the question is how all of this transitions to a much more physical, much more grueling pro game. Benson's not the swiftest of skaters, but he uses his frame to protect the puck and create space. Benson got into six games with Bakersfield to end the year scoring three points and not looking out of place at all.
Related: 5 Thoughts – Oilers Prospects Edition
The goal is to get faster, stay healthy, and produce consistently. Along with Hebig, Marody, and Yamamoto, Benson will be getting every opportunity to succeed in Bakersfield and will get used in all situations. Expect him to get into a few games with the Oilers in 2018-19 before seriously challenging for a spot in 2019-20.
Projection: No. 2-3 Left Winger, Middle-Six Power Forward
4. Ethan Bear (RD)
Acquired: 5th Round (124th Overall), 2015 NHL Draft
2017-18 Team: Bakersfield (AHL) | 2017-18 Stats: 37 GP – 6 G – 12 A – 18 PTS
Bear made a lasting impression on Oiler fans during his late-season audition with the club. He slips one spot from last year's ranking, but the 21-year-old got into 18 games with Edmonton, averaging 18:38 in ice time.
Related: Ethan Bear & Other Oilers Thoughts
No Edmonton blueliner, aside from Oscar Klefbom, averaged more time on the power play than Bear, who played 1:50 per game during his stint. The youngster showed some struggles defensively, but he's trending well and has delivered an outstanding return considering he was a fifth-round pick back in 2015.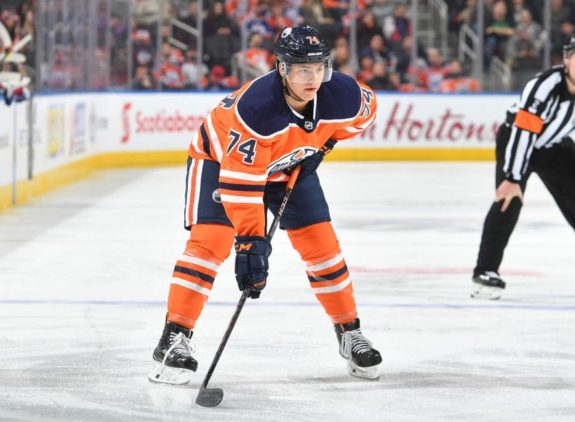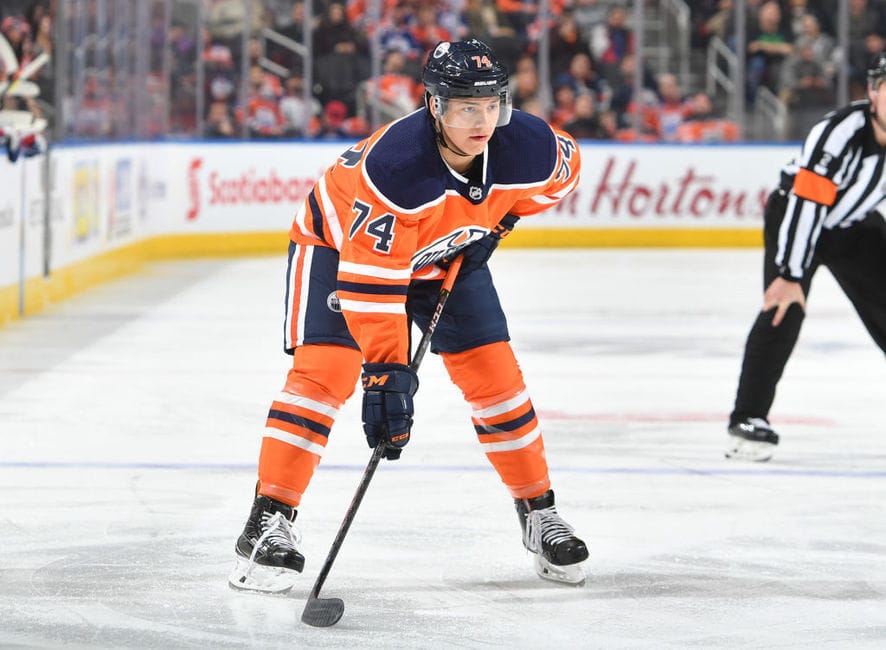 He finished junior as the No. 1 defenseman for the Seattle Thunderbirds, which included a trip to the 2017 Mastercard Memorial Cup. Bear transitioned near seamlessly into the No. 1 job down in Bakersfield to start the 2017-18 season.
A concussion slowed him around late November and December, but Bear got back on the horse and rekindled some of that success from early in the year. Bear flat-out earned the re-call opportunity late in the year when injuries struck the Oilers defense.
Related: Oilers Found a Late Round Gem in Ethan Bear
His offensive game is coming along nicely, he's got a cannon of a point shot, and should help Edmonton's power play for years to come. He enters camp battling for the No. 7 spot with Alex Gravel, but it makes more sense for him to start the year in Bakersfield.
Projection: No. 4 Offensive Defenseman, Second Power-Play Quarterback
3. Stuart Skinner (G)
Acquired: 3rd Round (74th Overall), 2017 NHL Draft
2017-18 Team: Swift Current (WHL) | 2017-18 Stats: 56 GP – 30 W – 3.06 GAA – .905 SV%
A late-season trade from the Lethbridge Hurricanes sparked a stellar second half for Skinner and the Swift Current Broncos. The soon-to-be 20-year-old backstopped the Broncos to a WHL Championship and a berth in the 2018 Mastercard Memorial Cup.
Related: Oilers Goaltending Depth Chart 2018-19
Swift Current clearly ran out of gas in the best-on-best tournament, but Skinner shined on the big stage. He since signed his entry-level contract (ELC) this spring, and now looks to turn his focus on joining the Oilers farm system this fall. He's riding a ton of momentum, and like a few others, there's a glorious opportunity here.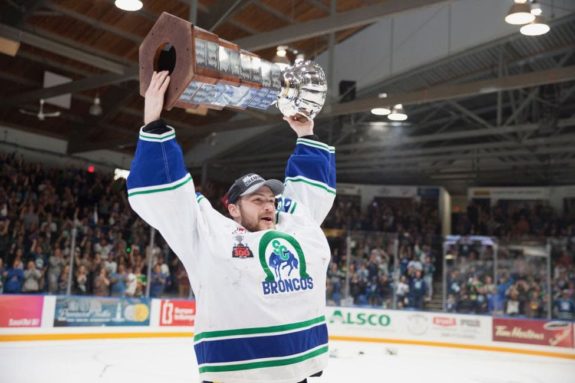 The departures of Laurent Brossoit (via free agency), and Nick Ellis (retired) has opened the door for Skinner to inherit a heavy workload in the AHL. The Oilers won't be throwing their prized netminding prospect to the wolves either. He'll have a great NHL-veteran in Al Montoya mentoring him down on the farm.
The 6-foot-3 puck stopper is agile, covers the net well, and has tremendous athleticism. He's been tested with a heavy workload, and no one has played more than the 116 regular season and 49 playoff games Skinner has during the last two years. Consistency is a work in progress, but when he's hot, there are few goalies in junior that were better.
Related: Oilers 2017 NHL Draft Picks – February Update
Edmonton is in no hurry to rush Skinner along and fast-track him to the NHL. Cam Talbot is the starter for the next few years, but in three to four years, there's a real likelihood the Oilers hand the starter's role over to a young up-and-coming goaltender in Skinner. That's the plan on paper at least.
Projection: Potential No. 1 Goaltender, Long-Term Project
2. Kailer Yamamoto (RW)
Acquired: 1st Round (22nd Overall), 2017 NHL Draft
2017-18 Team: Spokane (WHL) | 2017-18 Stats: 40 GP – 21 G – 43 A – 64 PTS
For the second year in a row, Yamamoto sits No. 2 on the Oilers Top 10 prospects list. That's not a bad thing or a slight against the youngster who will turn 20 by the time the 2018-19 season kicks off. There's not enough that can be said about the spectacular year he had in the WHL after making the Oilers roster out of training camp.
Related: Oilers Kailer Yamamoto Tore Apart The WHL
Once he went down to junior, Yamamoto took the Western League by storm netting 64 points in 40 games. As mentioned above, over a full season, that would've given Edmonton's 2017 first-round pick 115 points, good enough for fourth in WHL scoring behind Jayden Halbgewachs, Glenn Gawdin, and Aleksi Heponiemi.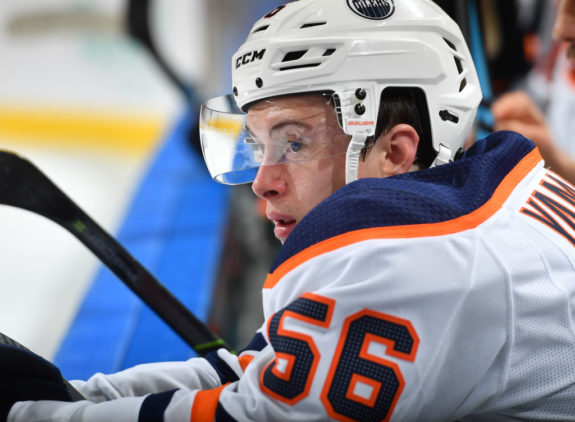 Yamamoto will graduate to the pro ranks this season, and the unpredictability of the club's right wing depth is his opening to once again making the club out of camp. Edmonton has plenty of question marks concerning Ty Rattie, Tobias Reider, and Jesse Puljujarvi who are currently pegged as the Oilers' top right side options.
Rattie has been known as a perennial slow starter in camp through his career, Yamamoto outdueled Puljujarvi last fall, and Reider is a two-way option that could bump down or move to the left wing. So if Yamamoto comes into camp and knocks everyone's socks off like he did last September, he'll force a hard decision.
Related: Oilers Prospects at 2018 WJC
Yamamoto will likely start the year with the AHL's Condors, and expect him to be the piece the farm club's offense will be built around. He'll have some intriguing pieces around him in Tyler Benson, Cooper Marody, and Cam Hebig. If he doesn't make the Oilers, he'll likely be the first name on the list for an offensive re-call.
NHL Projection: No. 1-2 Right Wing Option, Top-6 Forward
1. Evan Bouchard (RD)
Acquired: 1st Round (10th Overall), 2018 NHL Draft
2017-18 Team: London (OHL) | 2017-18 Stats: 67 GP – 25 G – 62 A – 87 PTS
This isn't about recency bias towards the shiny new toy, this is all about positional need, overall upside, and impact towards Edmonton's future. Bouchard is pegged to be a stud defenseman for the Oilers. He addresses the club's need for a bonafide top-four offensive defenseman.
Related: Oilers Draft Evan Bouchard 10th Overall
The 18-year-old comes with an intriguing pedigree and was the highest-scoring defenseman from the 2018 NHL Draft class. In fact, he's the highest scoring blueliner selected since 2005. Some knock his skating, but he plays a very smooth transitional style,  he's an underrated defender, and his offensive potential is untapped.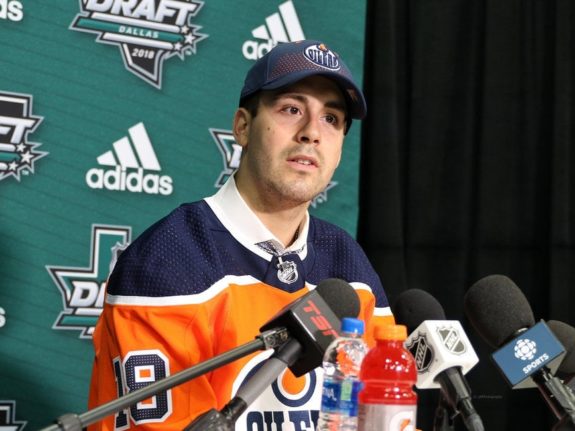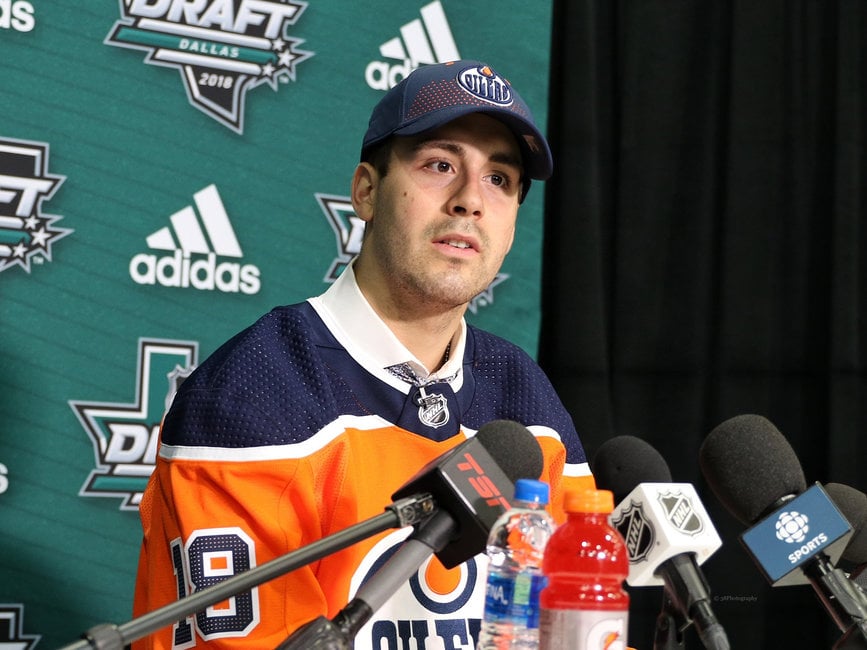 Bouchard turns 19 in mid-October and has an outside shot at cracking the Oilers' opening night roster. Thus, he's one of the bigger wild cards entering training camp. You can bet head coach Todd McLellan and general manager Peter Chiarelli will give him every chance to succeed within this opportunity.
So don't be surprised if he gets a nine-game audition to start the year similar to what happened with Kailer Yamamoto last season, and Jesse Puljujarvi the year before. If he does end up back in junior, it's not a bad thing.
Related: Bouchard Poised To Transform Oilers Blueline
He'll get a chance to play for Team Canada at the World Junior Championships, and will be on pretty good London Knights team that's taken forward strides this summer. There's a ton to be excited about, and Bouchard is the real deal.
NHL Projection: No. 2 Offensive Defenseman, First Power-Play Quarterback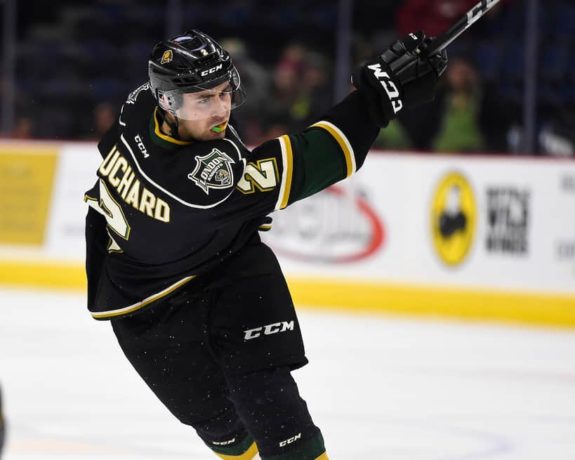 Edmonton Oilers – Top 10 Prospects

Rank
Player
2017-18 Team
GP

GP

G

W

A

GAA

PTS

SV%

1

Evan Bouchard (RD)

London (OHL)

67

25

62

87

2

Kailer Yamamoto (RW)

Spokane (WHL)

40

21

43

64

3

Stuart Skinner (G)

Swift Current (WHL)

56

30

3.06

.905

4

Ethan Bear (RD)

Bakersfield (AHL)

37

6

12

18

5

Tyler Benson (LW)

Vancouver (WHL)

58

27

42

69

6

Cooper Marody (C)

U. Michigan (NCAA)

40

16

35

51

7

Ryan McLeod (C)

Mississauga (OHL)

68

26

44

70

8

Caleb Jones (LD)

Bakersfield (AHL)

58

2

15

17

9

Kirill Maksimov (RW)

Niagara (OHL)

62

34

46

80

10

Ostap Safin (RW)

Saint John (QMJHL)

61

26

32

58
Do you agree or disagree with this top-10 list? If so, how would you rank the Oilers' top prospects? Is there someone on the outside of this top 10 that should be on the inside? Who do you feel will be the biggest surprise in 2018-19 and vault themselves ahead?
Let us know your thoughts in the comments below.