Say what you will about the Edmonton Oilers' prospect base, but there's finally some depth at each position. The Oilers are still a few years away from reaping the rewards of some of these recent draft selections, but quality players are coming along through the system for the first time in a long time. Fans are usually attracted to some of the more prominent names within the system like Evan Bouchard, Kailer Yamamoto, Stuart Skinner, and Ethan Bear.
Related: Edmonton Oilers Top 10 Prospects
However, past those names, you'll find some players that are proving to be providing excellent value for where they were found in the draft. There are also a few players the club has found via free agency or acquired from other clubs. Cameron Hebig was an undrafted player in the WHL that broke out this season and had no previous NHL rights. He's got decent scoring potential after posting 41 goals and 90 points this season.
Joel Persson, 24, is an older prospect who's gaining notoriety in Sweden as an offensive defenseman. The Oilers ended up signing him to a one-year entry-level contract (ELC) in May and let him stay with the league champion Vaxjo Lakers for another year. Patience is also another thing for which Edmonton is being rewarded. Tyler Vesel, 24, has completed his four seasons in the NCAA and jumped right into the Bakersfield Condors' lineup to end the 2017-18 season.
William Lagesson, a fourth-round pick back in 2014, is gearing up for his first season in the AHL. The 24-year-old has seen steady development and was seen as a top-pairing defender in Sweden last season. Dylan Wells, 20, is a goaltending prospect that's ready for his first full season in the pros after completing his junior career. That said, he's not the only notable goaltending prospect on this list.
We went over the Oilers' top-10 prospects list, but to round out the list nicely, here's a list of guys that were notable omissions and currently sit in spots 11 through 20. The listed projections for each player are what the generous high side projection of each player could be at the NHL level.
20. Graham McPhee (LW)
Acquired: 5th Round (149th Overall), 2016 NHL Draft
2017-18 Team: Boston College (NCAA) | 2017-18 Stats: 36 GP – 12 G – 12 A – 24 PTS
The son of Vegas Golden Knights' general manager George McPhee, Graham is slowly blossoming as a prospect and could have some long-term dividends for Edmonton. He's playing on a younger, rebuilding Boston College team and has been a welcomed surprise in his sophomore season while taking a bigger role with the club. McPhee doubled his point totals going from 10 to 24 and was recognized as Boston College Interruption's most improved player.
In his third year, he'll be expected to continue playing in his top-six role and potentially expand to being a true front-line contributor. He plays a well-rounded two-way style and led the trio of Oiler prospects (Aapeli Rasanen, Joey Dudek) playing for BC in scoring. I wouldn't expect Edmonton to rush McPhee to the pro ranks. He will likely finish out his college career with four seasons before turning pro in 2020-21 when he'll be a 22-year-old prospect.
Projection: No. 3-4 Left Wing, Bottom-Six Checking Forward
19. Tyler Vesel (C)
Acquired: 6th Round (153rd Overall), 2014 NHL Draft
2017-18 Team: U. Nebraska-Omaha (NCAA) | 2017-18 Stats: 36 GP – 11 G – 21 A – 32 PTS
The youth movement is underway in Bakersfield, and the sudden influx of young talent will get plenty of opportunities in 2018-19. Among them is a 24-year-old Vesel who just wrapped up four seasons with the University of Nebraska-Omaha in the NCAA. Vesel scored 108 points in 149 college games and finally turned pro at the end of the 2017-18 season. He got into 11 games with the Condors scoring six points and looks like he's ready for the next stage of his career.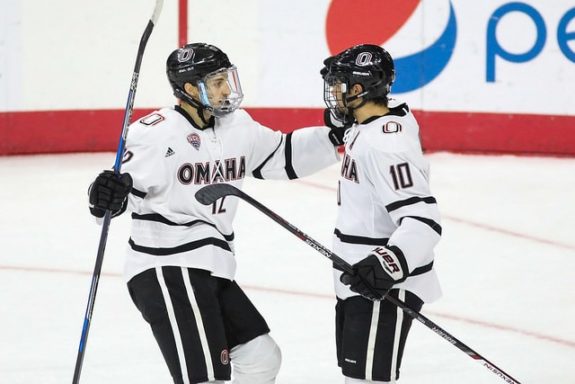 Vesel is a quick albeit undersized skill forward at 5-foot-11 and 183 pounds. He showed good playmaking abilities during his late-season audition in Bakersfield. Now the question is how Condors head coach Jay Woodcroft utilizes his youngsters this season. It's easy to suggest a guy like Vesel gets lost in the mix when you consider Tyler Benson, Cameron Hebig, Cooper Marody, and Kailer Yamamoto are expected to play top-six minutes. He's battling with the likes of Josh Currie, Joe Gambardella, Colin Larkin, Brad Malone, and Nolan Vesey for minutes.
Projection: No. 3-4 Center, Bottom-Six Offensive Forward
18. Ryan Mantha (RD)
Acquired: Unsigned Draft Pick, Free-Agent Signing (March 2017)
2017-18 Team: Bakersfield (AHL) | 2017-18 Stats: 41 GP – 3 G – 7 A – 10 PTS
An eye injury has (hopefully temporarily) derailed Mantha who looked like an impressive free agent signing out of the OHL during the spring of 2017. The then 20-year-old was wrapping up his final year with the Niagara IceDogs scoring 17 goals and 58 points in 65 games. He's a big mobile puck-moving defender who has the potential to become a hand on the second power-play unit.
The former New York Rangers fourth-round pick in 2014 sports a large 6-foot-5 and 229-pound frame. He's got that elusive right shot and a cannon of a point shot. Mantha developed a blood clot in his eye which damaged his vision. He's currently out indefinitely until his vision returns. His career is in jeopardy, but if he can regain his health, Mantha gives the Oilers an intriguing right side defender that has size, mobility, and great offensive instincts.
Projection: No. 5-7 Offensive Defenseman
17. Dylan Wells (G)
Acquired: 5th Round (123rd Overall), 2016 NHL Draft
2017-18 Team: Peterborough (OHL) | 2017-18 Stats: 56 GP – 20 W – 3.62 GAA – .896 SV%
Related: Oilers Top Prospects – Dylan Wells
A few years ago a lot of folks were very high on Wells and thought he might become the heir apparent to the Oilers' No. 1 job. Fast forward a few years and Wells' stock has fallen dramatically. Part of that has to do with the emergence of Stuart Skinner as Edmonton's top goaltending prospect who also backstopped the Swift Current Broncos to a WHL Championship and a berth in the 2018 Mastercard Memorial Cup. Then there's the drafting of Olivier Rodrigue.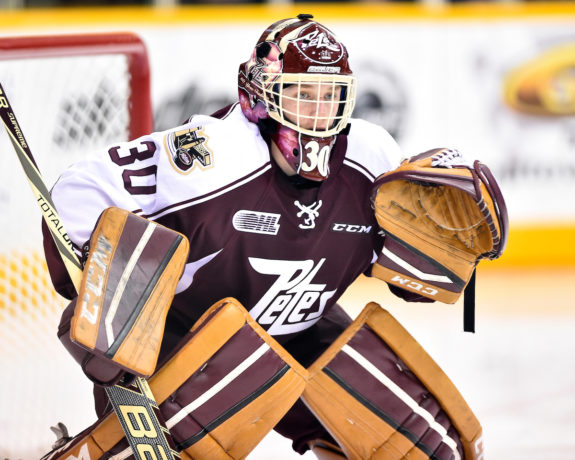 Wells, 20, was a workhorse for Peterborough, playing 108 regular-season games over the past two seasons, but his game hasn't matured at the rate you would've expected. The same issues in Wells' game are still there; inconsistency, and allowing soft goals that more often than not just go right through him. Now that he's graduating to the pros, the most likely scenario sees the Oilers assigning him to the ECHL's Witchita Thunder, where he'll get a chance to iron the wrinkles out of his game while seeing plenty of pucks.
Projection: No. 2 Backup Goalie
16. Dmitri Samorukov (LD)
Acquired: 3rd Round (84th Overall), 2017 NHL Draft
2017-18 Team: Guelph (OHL) | 2017-18 Stats: 62 GP – 11 G – 23 A – 34 PTS
Samorukov has played second fiddle to Garrett McFadden and Ryan Merkley in Guelph for two seasons now. The Russian-born defenseman improved his point totals from 20 to 34 in his second season in the OHL but is still a raw, rangy prospect. There's a ton of things to like, such as him being one of the more utilized Russian defenders at the 2018 WJC. There's also the fact that he's committed to sticking it out in North America and wants to play in the NHL.
Related: 6 Thoughts on Samorukov & Other Oilers Prospects
Overall some might've wished for more of an improved step forward from Samorukov who's offensive ceiling likely isn't as high as you might've thought after the 2017 draft. Still, his defensive skills are worth noting. With some improved consistency and a more significant role in his final year in the OHL, expect steady overall improvement, and for him to represent Russia at the 2019 WJC in Vancouver and Victoria.
Projection: No. 5-6 Defensive Defenseman
15. Joel Persson (RD)
Acquired: Undrafted, Free-Agent Signing (May 2018)
2017-18 Team: Vaxjo (SHL) | 2017-18 Stats: 51 GP – 6 G – 28 A – 34 PTS
When the Oilers signed Persson back in May to a one-year entry-level contract (ELC), a lot of folks were confused when Chiarelli announced they'd be letting the 24-year-old stay in Sweden instead of coming to North America. Edmonton holds his re-call rights and can bring him over at any point of the 2018-19 season. He'll be a restricted free agent (RFA) next summer when the Oilers will have a clearer picture of what their defense might look like.
Related: Oilers Sign Swedish Standout Joel Persson
Persson projects as a low-risk, high-reward type of signing and could be a surprise. The Oilers need NHL-ready prospects on cost-effective deals, and Persson could step right into the Oilers lineup and challenge for a No. 5-6 spot. He won't so we'll have to wait. His comparables might be Yohann Auvitu, Anton Belov, Marc-Andre Bergeron, Denis Grebeshkov, and Philip Larsen. He's a pure power play specialist who one broadcaster believes could develop into a John Klingberg-lite.
Projection: No. 5-6 Offensive Defenseman, Second Power-Play Quarterback
14. Aapeli Rasanen (C/RW)
Acquired: 6th Round (153rd Overall), 2016 NHL Draft
2017-18 Team: Boston College (NCAA) | 2017-18 Stats: 32 GP – 4 G – 12 A – 16 PTS
Projection: No. 3-4 Right Wing Option, Bottom-Six Two-Way Forward
Here's a guy that some think others often sleep on that could turn out to be a helluva player down the road. The now 20-year-old has bounced around the past few years and has had stints in the SM-Liiga Junior A league, the USHL, and the NCAA. He'll be entering his second year of NCAA eligibility with Boston College in 2018-19. Anton Lander is a fair comparison, but for Edmonton fans the hope is he transitions better to the NHL.
Related: Oilers Prospects 2018 WJC Review
Rasanen had a strong showing the 2018 WJC playing for Finland and scoring four goals. In fact, he tied Kailer Yamamoto for the most points scored in the tournament amongst Oiler prospects. Playing with other Edmonton prospects George McPhee and Joey Dudek last season, Rasanen didn't have the best point totals among that trio. That said, he's a gritty two-way center who has solid defensive skills and is developing into a very astute penalty killer.
Projection: No. 8-12 Defensive Forward, Penalty Kill Specialist
13. William Lagesson (LD)
Acquired: 4th Round (91st Overall), 2014  NHL Draft
2017-18 Team: Djurgardens (SHL) | 2017-18 Stats: 49 GP – 1 G – 12 A – 13 PTS
Related: Oilers William Lagesson Ready for North America
The 22-year-old is an often forgotten-about prospect since he's largely been out of sight, out of mind playing in the USHL, NCAA, and then the SHL in  2017-18. He emerged as a legitimate top-pairing option in Sweden's top league logging 19:27 in ice-time over 49 games. Lagesson is a tough customer and a real nasty, physical blueliner who's a throwback to former Oilers like Jason Smith.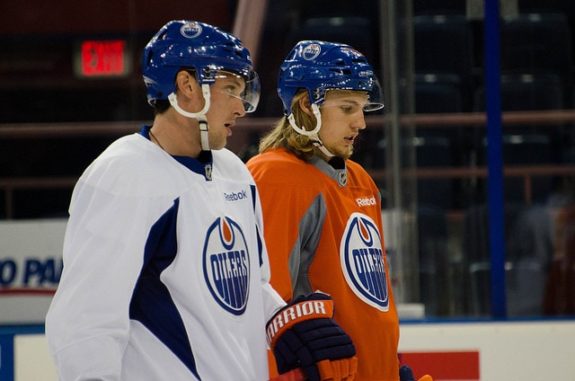 He might not have the same upside, but he's got great awareness in the defensive zone and is poised for his age. He logged a ton of minutes shorthanded for Djurgardens and is pegged to play a top-four role in Bakersfield. He could be the biggest surprise within the system this season.
Projection: No. 5-6 Shutdown Defenseman
12. Cameron Hebig (C)
Acquired: Undrafted, Free Agent Signing (December 2017)
2017-18 Team: Regina (WHL) | 2017-18 Stats: 66 GP – 41 G – 49 A – 90 PTS
The now 21-year-old was an undrafted prospect who's generally seen as a late bloomer. In 2015-16 he was better than a point-per-game player (1.17), but it wasn't until his 2017-18 season where he put up 41 goals and 90 points (1.36 PTS/GP) that he caught on. Hebig was traded from the Saskatoon Blades to the Regina Pats.
Related: Hebig Stars in Oilers Continued Makeover in Bakersfield
Despite being knocked out in the first round, the hosts of the Mastercard Memorial Cup defeated the same team that eliminated them from the WHL playoffs, Swift Current Broncos, en route to the final against the Acadie-Bathurst Titan. Hebig was a huge piece of that, and his goal-scoring prowess will now be tested in the AHL.
Projection: Top-Nine Scoring Forward
11. Olivier Rodrigue (G)
Acquired: 2nd Round (62nd Overall), 2018 NHL Draft
2017-18 Team: Drummondville (QMJHL) | 2017-18 Stats: 53 GP – 31 W – 2.54 GAA – .903 SV%
Related: Oilers Draft Olivier Rodrigue 62nd Overall
There's a ton of untapped upside with Rodrigue. He's got a ton of poise, moves well across the crease, and has good positional fundamentals. Similar to where Skinner was last summer after he was drafted, now it's about putting it all together. The 18-year-old will need to add to his 6-foot-1 and 159-pound frame to eventually reach his potential as a starting option, but his quickness and reflexes are outstanding.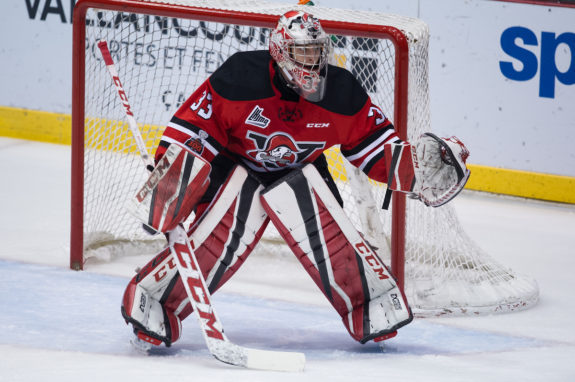 Rodrigue will have a shot at making Team Canada's roster for the upcoming WJC. Michael DiPietro might have the inside track for a spot, but Rodrigue will draw consideration. He's looked good at the World Junior Summer Showcase and will ride that into the 2018-19 season. He's had two seasons under his belt as a starter in Drummondville, and will likely see a busy workload as the Voltigeurs look to stay in playoff contention and make a deep run in the QMJHL playoffs.
Projection: No. 1-2 (1A/1B) Goaltender
Oilers – Top Prospects #11-20

Rank
Player
2017-18 Team
GP

GP

G

W

A

GAA

PTS

SV%

20
Graham McPhee (LW)
Boston College (NCAA)
36
12
12
24
19
Tyler Vesel (C)
U. Nebraska-Omaha (NCAA)
36
11
21
32
18
Ryan Mantha (RD)
Bakersfield (AHL)
41
3
7
10
17
Dylan Wells (G)
Peterborough (OHL)
56
20
3.62
.896
16
Dmitri Samorukov (LD)
Guelph (OHL)
62
11
23
34
15
Joel Persson (RD)
Vaxjo Lakers (SHL)
51
6
28
34
14
Aapeli Rasanen (C/RW)
Boston College (NCAA)
32
4
12
16
13
William Lagesson (LD)
Djurgardens (SHL)
49
1
12
13
12
Cameron Hebig (C)
Regina (WHL)
66
41
49
90
11
Olivier Rodrigue (G)
Drummondville (QMJHL)
53
31
2.54
.903
Edmonton Oilers regular contributor providing insight on all things Oilers including club history, prospect profiles, trade breakdowns, and everything else in between. Check back regularly for new and exciting content. Follow on Twitter @SanderTHW.