There's a lot of movement going on within the Edmonton Oilers organization, and one of the benefactors will be their farm team. The Bakersfield Condors are receiving a much-needed facelift and the rebuild down in the AHL is well underway. Since taking over in the spring of 2015, Oilers general manager Peter Chiarelli has had to slowly restock a bare cupboard.
Now entering year four of the Chiarelli regime, the talent in Bakersfield is entering another phase of redevelopment. It's no secret the Oilers have had one of the worst farm systems in the NHL in recent years. The club has missed the AHL playoffs in three consecutive seasons under former bench boss Gerry Fleming.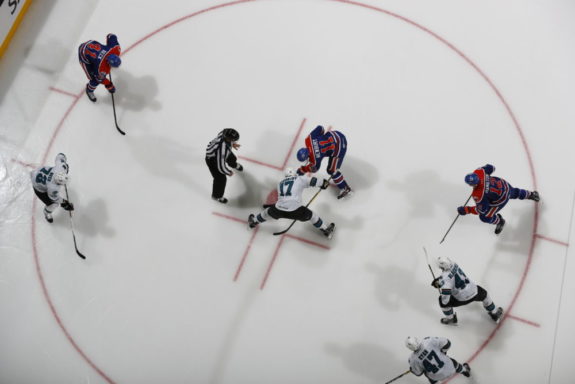 Well, Fleming is now out, Todd McLellan's assistant, Jay Woodcroft, is in. With his first head coaching gig in the pro ranks, Woodcroft will oversee what's hopefully a better player development system. It also looks like he'll have the horses to do it as well.
There's going to be a ton of change over with the Condors' roster next season highlighted by the likes of Tyler Benson and possibly Kailer Yamamoto. Those aren't the only players leading the charge. The Oilers have also signed Tyler Vesel to his entry-level contract (ELC) and have him pegged to play in a top-nine role next season.
Oilers Sign Tyler Vesel to ELC
If you remember, Vesel was a sixth-round pick in the 2014 NHL Draft. It wasn't a very good performance by former Oilers GM Craig MacTavish. Only Leon Draisaitl has played in the NHL, and the only other players to sign ELCs are William Lagesson and now Vesel. Of that class, Zach Nagelvoort (fourth-round pick) was a bust and retired after the 2016-17 season.
Liam Coughlin (fifth-round pick) was traded to the Chicago Blackhawks for Anders Nilsson back in July 2015. Keven Bouchard (seventh-round pick) fell by the wayside as well, and the Oilers never qualified his rights. Bouchard isn't playing hockey anymore, either.
https://www.youtube.com/watch?v=13IeEV_RCFA
There's some hope with Vesel turning pro after playing four seasons with the University of Nebraska-Omaha. The 24-year-old captained his team during the 2017-18 season and scored 32 points in 36 games. He finished second in team scoring behind Detroit Red Wings prospect David Pope. If the Oilers didn't sign Vesel, he would've become an unrestricted free agent (UFA) this summer.
Vesel did play out the final 11 games of the season with the Condors, scoring six points, and looked good doing so. Under the CBA and with Vesel being a 24-year-old, the Oilers could only offer Vesel a one-year ELC. He's set to make $925,000 next season and will be a restricted free agent (RFA) next summer.
Adding Vesel & Projecting Next Year's Condors Team
Vesel will be an interesting player to follow next year. Despite being just 5-foot-11 and 183 pounds, he's a very competitive guy who has a knack for getting open in the offensive zone. He's not a pure goal scorer—he's more of a puck distributor—and there's the possibility of him being a bottom-six player for the Oilers if he pans out.
At 24, he's a little longer in the tooth than some of the other Oiler prospects, but he's further along in his development. When speaking of the Condors as a whole, you need to look at it in phases. Phase one of the Chiarelli era was getting those 2015 selections of Ethan Bear, Caleb Jones, and Ziyat Paigin into the AHL. The next phase is getting guys from that 2016 class like Tyler Benson, Filip Berglund, Dylan Wells, Graham McPhee, Aapeli Rasanen, and Vincent Desharnais up.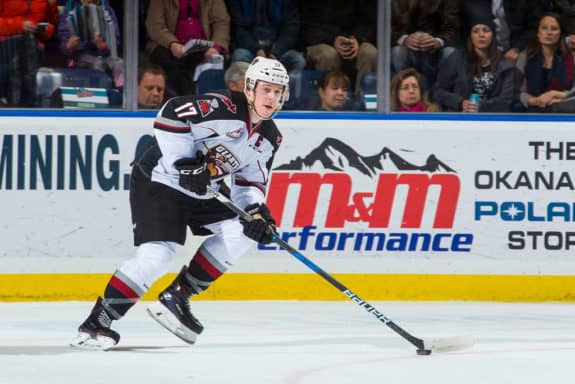 Of that 2016 group, Benson, Wells, Rasanen, and Desharnais could all join the Condors. Berglund will be playing for Skelleftea in Sweden, and McPhee is committed to Boston College next season. Add in the likes of recent signees and acquisitions in Colin Larkin and Cooper Marody, and Bakersfield will be a much stronger team in 2018-19.
Potential Goaltenders for Condors Next Season
If Laurent Brossoit decides to test the unrestricted free agent (UFA) market this summer, it'll mean Nick Ellis will once again slide into the No. 1 job in Bakersfield. The next thing to figure out is who ends up being his backup? Shane Starrett, 23, has the inside track on that backup job, but don't count out Stuart Skinner, who's had a fantastic spring in the WHL playoffs.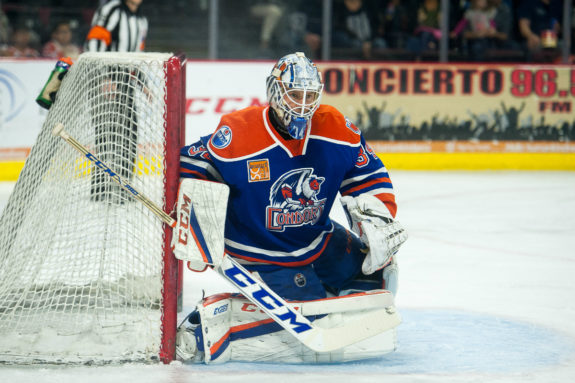 Skinner could legitimately wrestle away that backup job from Starrett when training camp rolls around. Skinner still needs to be signed to an ELC, but expect some news after the playoffs have wrapped up. Dylan Wells, 20, is also turning pro but is likely headed to the ECHL's Wichita Thunder.
Projecting Edmonton's Organizational Depth Chart for 2018-19

Edmonton Oilers (NHL)

Bakersfield Condors (AHL)
Wichita Thunder (ECHL)

Cam Talbot

Nick Ellis

Shane Starrett

Mikko Koskinen

Stuart Skinner

Dylan Wells
Condors' Defense Will Be Transitioning
Dmitri Samorukov did get a look towards the end of the season on an amateur tryout (ATO,) but he will be headed back to the OHL for another year. The Condors' defense got two big additions last year when Ethan Bear and Caleb Jones turned pro. The big addition for 2018-19 will be William Lagesson. The 22-year-old was a 2014 fourth-round pick and established himself as a top-pairing defenseman in Sweden playing over 20 minutes per night.
Regarding departures, Mark Fayne's contract will officially be off the books, and the team could lose two pending UFA's in Dillon Simpson and Keegan Lowe. Two other wild cards are Eric Gryba and Ben Betker. Gryba is under contract for another year, and, barring a trade, will be back. Betker, 23, is a restricted free agent (RFA) and might not receive a qualifying offer this summer. Other returnees will be Ryan Mantha and Ryan Stanton.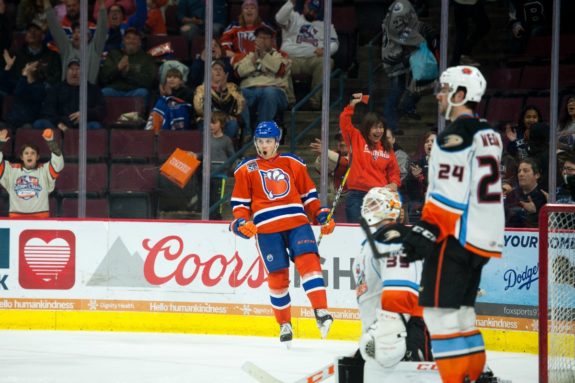 Looking at the list below, the Oilers may need to add a veteran or two to add some organizational depth to the backend. The Condors did sign an NCAA Division III defenseman who was named Player of the Year to an ATO to end the 2017-18 season. That player was Logan Day, who's a right-shot puck-moving defenseman. Day, 23, could get an AHL contract for next season.
Projecting Bakersfield Condors Defense for 2018-19

Left Defense

Right Defense

Caleb Jones

Ethan Bear

William Lagesson

Ryan Mantha

Ryan Stanton

Eric Gryba

Logan Day
Bakersfield Could Be a Dynamic Offensive Team
When you look back at the last few years, the Condors haven't been a deep offensive team. That could change in 2018-19 when they get some significant additions to bolster their top nine. Benson, Marody, Larkin, and Vesel all played a handful of games at the end of the AHL season and will be ready for full-time duties for 2018-19. Then there's the wild card with Kailer Yamamoto, who had a spectacular season with the WHL's Spokane Chiefs.
Related: Kailer Yamamoto Tearing Apart WHL
If Yamamoto doesn't end up with the Oilers to start the year, he'll be the key to Bakersfield's offensive successes. Cameron Hebig was another signee this spring. After scoring 41 goals and 90 points in the WHL, he could end up being a top-six center for Bakersfield next season. Add in a returning and healthy Joe Gambardella, and the Condors could be looking good down the middle.
https://www.youtube.com/watch?v=EXs3uIIJd8M
Regarding departures, Patrick Russell (RFA) may or may not get a qualifying offer. The 25-year-old has been spinning his wheels amongst the bottom-six in Bakersfield, and his progress has seemingly stalled. Brian Ferlin, Joey LaLeggia, and Grayson Downing are all UFA's this summer and likely won't be back. The Oilers should attempt to keep LaLeggia, who's been a great utility player and shown well offensively.
Related: Cameron Hebig leads Oiler Prospects into CHL Playoffs
He'd be a great AHL veteran to mentor the next phase of the youth movement. Other returnees include Mitch Callahan and Brad Malone. Kyle Platzer, 23, seems to be coming along after starting the year in the ECHL and looked good late in the year with Bakersfield. He could be back next season in a top-nine scoring role. He's an RFA this summer, as is Braden Christoffer.
The future of Josh Currie, Dave Gust, Ryan Hamilton and Zach O'Brien is still up in the air. Without those four, the Condors still have a reasonably capable lineup.
Projecting Bakersfield Condors Forward Depth 2018-19

Left Wing

Center
Right Wing

Tyler Benson

Cameron Hebig

Kailer Yamamoto

Brad Malone

Cooper Marody

Tyler Vesel

Kyle Platzer

Joe Gambardella

Patrick Russell

Braden Christoffer

Colin Larkin

Mitch Callahan
Oilers' Farm System Makeover Almost Complete
Put this all together, and suddenly the Condors don't look like one of the worst clubs in the AHL. There's competition at all positions. The goaltending is coming together, and Skinner provides a solid blue-chip prospect who could get the "goalie of the future" tag. Bear, Jones, Mantha, and Lagesson offer a promising core of defenders insulated by veterans.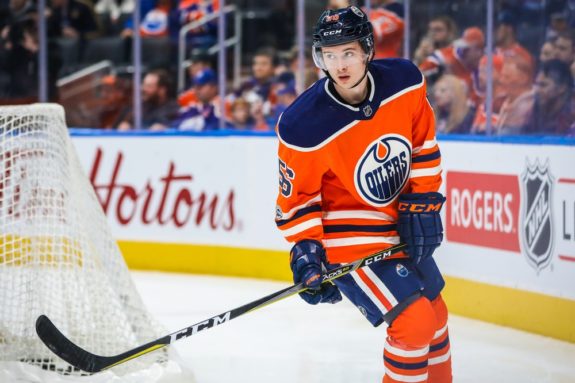 Up front, Benson, Yamamoto, Hebig, Marody, and Vesel look like they can provide at least three scoring lines worth of offense. After years of patience, things are finally coming together down on the Oilers farm. In the end, this club needs to develop a growing pipeline. A lot of sludge has been moved out of the system, and the draft picks from the last few years are starting to percolate in the minors finally.
Can they end a three-year playoff drought next season? Time will tell. Do you agree or disagree? Let me know your thoughts in the comment section below.