Fans of the National Women's Hockey League can finally begin to see some light at the end of the tunnel of the long off-season. When the 2018 Isobel Cup Final came to a conclusion on Mar. 25 that immediately put a close to NWHL hockey until October. That is an excruciatingly long period of time for hockey fans to wait, especially those who are Buffalonians and/or those who have developed an affinity for the Buffalo Beauts. Have no fear – NWHL Free Agency period commences on Jun. 1st. At least there will be some wetting of appetites until the hockey gets underway.
Essentially, there is very little that Beauts general manager Ric Seiling and co-coach Craig Muni need to do to revamp their team for the 2018-19 NWHL season. Their most prime directive – re-sign all of your components that got you within a goal of a second straight Isobel Cup. That should not be a difficult task to do. If you speak with any of the Beauts from this past year's team, they were all very tightly knit and were very much a family. Losing to the Metropolitan Riveters in the final, there is perhaps a sense of unfinished business, but more so there is the thought of – "Hey, I want to go on that ride with all of you again and come out on top this time". Seiling and Muni should need very little convincing – if any – to reassemble the same pieces.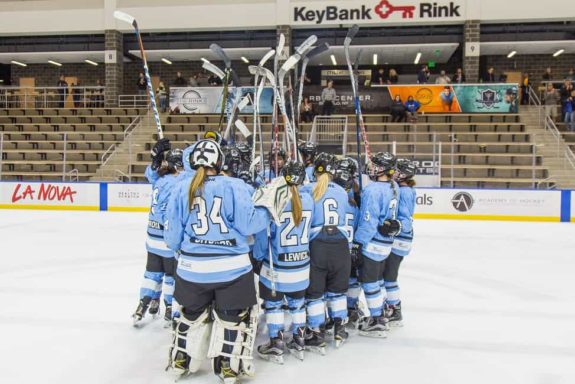 There is just one problem though: tweaking the roster is inevitable because the Beauts did fall short. As much as it may still be a stick in the craw, the Riveters controlled the game during the championship and came away with the victory by a score of 1-0. Buffalo looked a bit tired as the game went along. Some minor adjustments will need to be made to ensure that this does not happen again.
Here are a few ideal signings that the Beauts can make once June 1st arrives in order to fill in any gaps and make the improvements needed to recapture the Isobel Cup.
1) "Got Murphs?"
Two Murphys are better than one – always. But let's discuss the veteran Murphy first and foremost. No other defender made more progress as the Beauts' 2017-18 season went along than Northeastern alum Colleen Murphy. During the final games of the season and into the playoffs, her stock rose certainly in the eyes of Seiling and Muni. Specifically when it came to Muni, whose primary coaching focus was the team's defense, a lot of trust was shown in Murphy's play.
As her ice time increased, so did her situational play. The Beauts would utilize Murphy on the power play unit, and perhaps especially during shorthanded situations. When the odds were most against the Beauts – namely during five-on-three penalty-killing – Murphy was always one of the defenders on the ice. Regularly commuting from North Carolina to wherever the Beauts happened to be playing that week, Murphy assembled numbers of two assists, seven shots on goal, 11 blocked shots, and was a plus-one in 14 regular season games on the year. This strong play of hers continued into the playoffs, as she added another assist and blocked two more shots in the club's two postseason games.
This weekend, Colleen Murphy will be facing her younger sister, Katherine, who plays for Robert Morris. #GoNU pic.twitter.com/cotUQZy5qz

— Northeastern Women's Hockey (@GoNUwhockey) October 24, 2014
But how many realize that Colleen Murphy has a younger sister who is quite a talented hockey player herself? A fellow defender, Katherine Murphy just completed four years of collegiate hockey at Robert Morris University. RMU has proven to be a hockey hotbed that the Beauts have pooled talent from before. 2017-18 Beauts forward Rebecca Vint and Beauts alums Ashley Vesci, Morgan (Beikirch) Savino and Brianne McLaughlin all played their college hockey at Robert Morris. Adding Katherine Murphy would simply be following protocol.
But more importantly, the younger Murphy is very capable all of her own accord and would be an excellent signing for the back end. In 137 games for the Colonials, Katherine Murphy scored four goals and added 55 assists. During her senior season earlier this year she set a career high in plus/minus with a plus-16. She also blocked shots 53 times in 31 games during her final year.
The two Murphy sisters on defense would be an ideal tandem for the Beauts, and one that ought to generate a great deal of chemistry.
2) A Full Season of Juron Is a Must
The impact that Jordan Juron made for Buffalo in a very brief amount of time is enough to make one visibly show excitement over having her on the roster for an entire season. While she may have helped bridge a bit of gap created by mid-season roster openings in 2017-18, she is a must-have for the team going forward. The 5-foot-8 Juron is sizable, she is robust, and although she is capable of being as tough as nails when she wants to be, she has very soft hands around the net.
Case in point, in Juron's two regular season games with Buffalo she averaged exactly a point per game with a goal and an assist. Her lone goal came on the final day of the regular season during the Beauts' 4-1 road win against the Connecticut Whale. Helping the team finish out the year strong and with momentum heading into the postseason, Juron registered three shots on goal against the Boston Pride during the Beauts' 3-2 overtime thriller. We saw a very small snippet of what she can bring to this roster. Having a full season could easily have us see Juron hit double digits in points.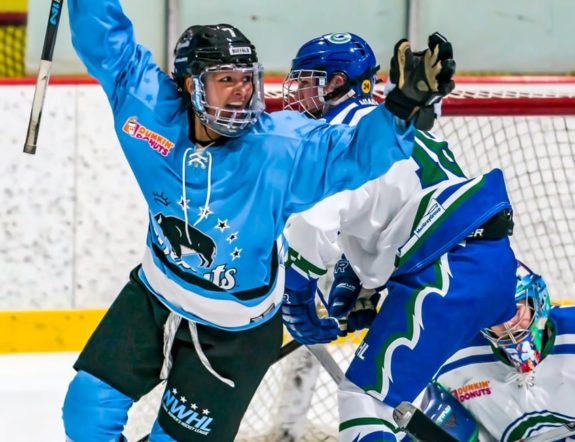 Plus, she has taken a genuine liking to Buffalo and has made a bit of a niche for herself already. When THW caught up with Juron just after this year's regular season came to a close, she told us about how quickly enamored she became with the "City of Good Neighbors":
"I can also truly say this is home for me now, as I just signed the lease on an apartment here, so I am excited to be a part of the 716. And don't worry, I am already a big Bills fan!"
It is pretty obvious that Juron fits right in with both the city and the team. Look for her to have an even greater impact during the 2018-19 season, and even vie for Rookie of the Year honors.
3) Bring an Olympian Into the Fold
It would be wonderful for the Beauts, the city of Buffalo, and the NWHL as a whole, if Seiling is able to add at least one Olympian from the 2018 PyeongChang Winter Games. Sure, there is a lot of talk about the notion of former Beauts captain Emily Pfalzer making a return to the team this upcoming season. Maybe it is just that – talk. But the fact that Pfalzer is a Western New York native and helped guide the team to their first Isobel Cup in 2017 lends credence to at least the possibility. Perhaps more noteworthy, she is fresh off of the Olympic gold medal victory with Team USA at PyeongChang.
There is however another name out there that is very much worth creating a buzz over – Lee Stecklein. It would be highly remiss to forget that the Beauts drafted Stecklein with the second overall pick of the 2016 NWHL Draft. There are few defenders in the women's game who are more stalwart than she is. Standing at 6-feet tall, Stecklein was routinely among USA's top three skaters in ice time from game to game in South Korea.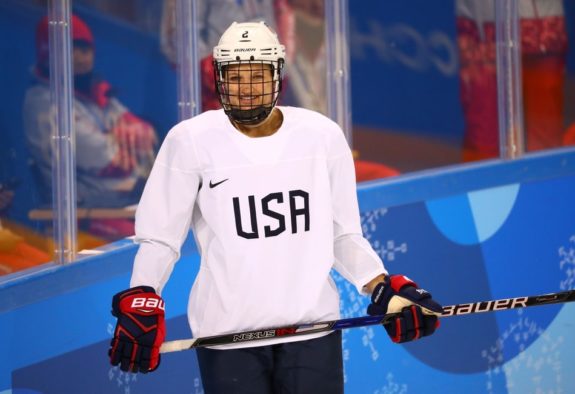 In addition to garnering the gold medal, Stecklein is a perennial champion in general. Internationally she has also won an Olympic silver, four World Championship gold medals, one Women's U18 gold and one silver. At the collegiate level, Stecklein is one of the best defenders to ever skate through the University of Minnesota's women's hockey program. She helped the Golden Gophers to three NCAA championships during her four years at the school.
In 157 games at the University of Minnesota, Stecklein scored 20 goals and 73 assists for 93 points. In the process she racked up an astounding plus-137 for plus/minus in her career. It helps matters too that during Stecklein's first three seasons with the Golden Gophers her goaltender on the team was none other than Beauts netminder and the premier goalie in the NWHL today, Amanda Leveille. Perhaps with a little encouragement from her former teammate, Stecklein would be willing to suit up in Beauts' blue.
The Main Focus
Again, the main focus for the Beauts once the free agency period opens is to bring back the same squad. Obviously, that would include Juron. That also includes signing veteran Kourtney Kunichika for a fourth straight year with the team. Bringing the captain Corinne Buie back into the fold as the consummate leader for this hockey club. "The Adrian Line" ladies of Kristin "Wheels" Lewicki, Sarah Shureb, and Kaylyn Schroka. And so on and so forth.
Get all of the pieces from 2017-18 reassembled, and then fill in the holes with the aforementioned suggested signings. Go Beauts!
General Manager of the Buffalo Beauts (NWHL). Hockey history writer "The Hockey Writers". Credentialed media for the NHL Combine and 2018 IIHF World Junior Championships in Buffalo, NY, USA. Born and raised in Buffalo, NY. Lifelong hockey fan for over 40 years. Proponent of the women's game.