Sometimes the NWHL can feel like an arms race. Which team can stockpile the most offense? Who can assemble the most depth among their defense corps? What coach can put forth the most dangerous power play unit? By adding players into the fold, particularly during the off season, it comes down to the fact that the team having the most weaponry is the one that can do the most damage.
But now it's late in the juncture. The regular season has ended and the playoffs are just days away. What if a team could add a secret weapon that would further solidify their chances of winning the Isobel Cup? Adding a player that could become the deciding factor, and threat that other teams did not account for. The Buffalo Beauts may have done exactly that by recently signing forward Jordan Juron for the remainder of the season.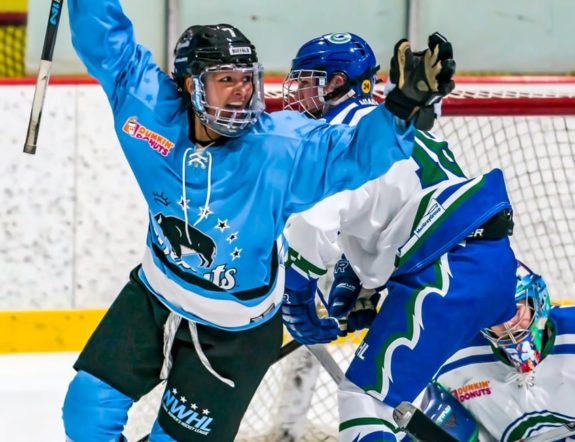 Back on Jan. 14, the 5-foot-8 Juron had joined the team for a single game on a professional tryout. It would not take the sizable forward long to contribute. Juron picked up an assist in her first NWHL game on a tally from Beauts forward Rebecca Vint. Now, nearly two months later, she is here to stay. Word came out from the team on Mar. 8 that Juron had been signed through the rest of the season – just in time for the playoffs.
THW caught up with her shortly before the Beauts regular season finale.
Signing Juron Was a No-Brainer for Coach Seiling
As the season progressed, openings and opportunity came about on the Buffalo roster. Before the 2017-18 campaign even got underway Penn State's Kelly Seward, who had initially signed with the team over the summer, sought career opportunities elsewhere and opted not to play with the team. Then as seasonal play continued, the Beauts parted ways with both Jessica Sibley (two games played this year) and Kayla Parsons (three games) which opened up additional roster spots.
In order to maintain their armament, it was a bit of a no-brainer for the Beauts to fill an open spot. After Juron's solid January performance, it made sense that she would be the proper fit to make a return and strengthen Buffalo's depth.
NEWS: We've signed Jordan Juron for the remainder of the season. #DefendTheCrown

Juron, who signed a PTO earlier this season, has one 🍎 in one game played (1/14). pic.twitter.com/1wBn9jZqL0

— Buffalo Beauts (@BuffaloBeauts) March 8, 2018
"There had been talk about signing me for some time now," Juron explained to THW, "and I've stayed in touch with the coaches and the team since my PTO about the matter. Coach Seiling called me on Tuesday morning (Mar. 6) to tell me the news and I actually missed the call, so I found out through his voicemail he left me."
It would not be the first time for a situation like that to happen to a professional hockey player. Still, Juron eventually got the message and joined the team for their final regular season game on Mar. 10 in Connecticut against the Whale once more.
Juron Is a "Secret Weapon"
In that final game, Juron sprung for her first NWHL goal. Scoring at 7:28 of the second period, her tally held up to be the game-winner as Jacquie Greco and Taylor Accursi picked up the assists. This ensured that Juron ends the year as a point per game player through her two regular season games.
A performance such as that led to her teammate Sarah Edney referring to Juron as the Beauts "secret weapon".
"She's practiced with us a bit," Edney told THW after the 4-1 Beauts win, "and already she's fit perfectly into the forward chemistry. She has great hands, a great shot. I played against her actually in Boston in college, so I know she's a threat. But she just keeps getting better and better with building chemistry, so I think she's definitely a secret weapon."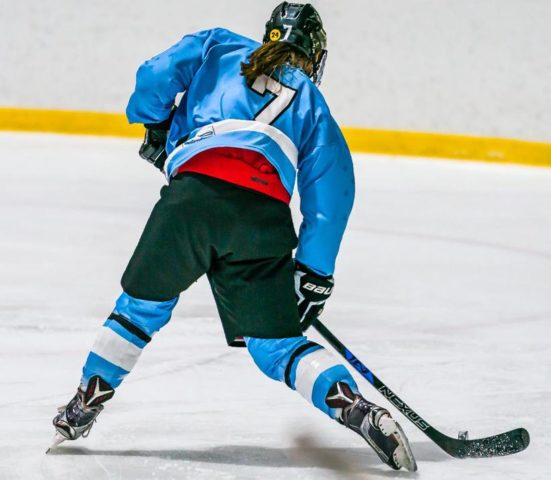 Juron is certainly fitting right in too. There is always a risk associated with bringing a new player in at the end of the season. It is only natural for teams to have formed a chemistry that has grown and developed throughout the course of a year. The last thing that any coach or general manager wants to see happen is derailment because a new player just cannot connect with the rest of the team. That is not the case here with Juron. Adding to Edney's thoughts, Juron's own self-assessment further solidifies her place with the team.
"I think I am a hard worker and someone who gives you everything I have every chance I get," she said. "I would describe my style of play as more of a power forward, and I like to think I see the ice well which not only allows me to be in the right spot at the right time, but also gives me the opportunity to set my teammates up as well."
Two points in two games then seems about right. She is living up to affirmation.
Juron's Success Playing at BU
Juron played her college hockey at Boston University for the Terriers. Playing at the school from the 2012-13 season through 2015-16, she appeared in a 141 games. Through those four years she compiled 15 goals and 25 assists for 40 points. Better yet, she played with and against multiple Beauts teammates during here college years. The chemistry from her NCAA days has carried over into the NWHL.
"I went to BU with Maddie (Elia) for three years," Juron shared, "so I am obviously excited to get back out on the ice with her. She's a threat every shift and that's exactly the type of player you want to find yourself on a line with. I am also close with Hayley (Scamurra), an old Hockey East rival, and she's having a great season. We've skated together before and our skill sets seem to mesh nicely."
We could not agree with her more. Elia and Scamurra finished in a three-way tie for Buffalo's team lead in points with veteran Kourtney Kunichika. All three players scored 14 points on the year. Entering into the playoffs Juron hopes that she can add to the scoring threat that these three snipers are able to generate.
Emotions and Playoffs in Buffalo
More than anything else, Juron is ecstatic over the opportunity to play professional hockey and to do so as a Buffalo Beaut. The chance to play for this team is afforded only to very few. There is certainly a sense of regality in playing for a championship-winning team. Juron is one of the newcomers striving to share in the experience for the first time, and is also hoping that she can help her veteran teammates win a second Isobel Cup.
"I would describe my emotions as excited and grateful, but also focused at this time. Obviously it is very cool and a bit overwhelming (at the same time), but I am just trying to concentrate on being ready when my number is called and prepared to do whatever I can for the team."
Furthermore, Juron is pumped to be an adopted Buffalonian. This is fueled even more so by the fact that the first ever home playoff game in Buffalo Beauts history will take part on Mar. 17. In the previous two NWHL seasons, all of Buffalo's playoff games were played on the road. Finally the team will have the chance to compete in front of their own energized fans.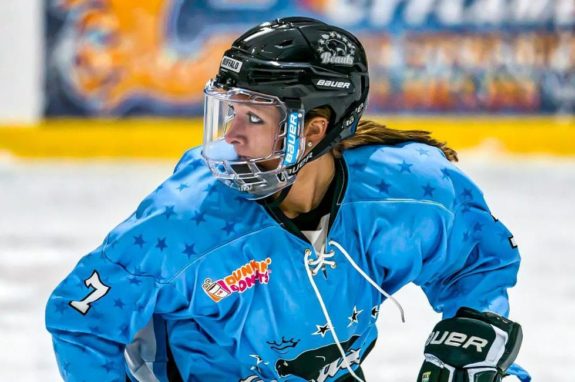 THW asked Juron if she had any sort of a message to the Buffalo community. A community that is eager to get to know their newest Beaut. She told us the following:
"Well for starters, I hope our Buffalo fans and as much of the community as possible packs the HarborCenter on the 17th for our first playoff game against Boston. I hope to make them proud while wearing the Beauts jersey and help to bring a Cup back home. I can also truly say this is home for me now, as I just signed the lease on an apartment here, so I am excited to be a part of the 716. And don't worry, I am already a big Bills fan!"
Welcome to the "City of Good Neighbors", Jordan – you're its newest daughter.
General Manager of the Buffalo Beauts (NWHL). Hockey history writer "The Hockey Writers". Credentialed media for the NHL Combine and 2018 IIHF World Junior Championships in Buffalo, NY, USA. Born and raised in Buffalo, NY. Lifelong hockey fan for over 40 years. Proponent of the women's game.