Immediately after the Buffalo Sabres were awarded the first overall pick in the 2018 NHL draft, fans began to ponder how the addition of Rasmus Dahlin would affect the team's plans this summer. With a potentially elite, cost-controlled presence in the top-four, the organization may only need to make minor adjustments on defense.
One of the more popular possible trade chips being discussed is defenseman, Rasmus Ristolainen. It has been widely speculated that Sabres general manager, Jason Botterill, intends to shake up the core, and the 23-year-old could yield a very nice return. That being said, management should look at the addition of Dahlin as an opportunity to maximize Ristolainen's talent, not ship him out of town.
Ristolainen's Workload
It's no secret that the Sabres have leaned heavily on Ristolainen over the past few seasons. Since the 2016-17 season, he has ranked in the top-five in terms of average ice time in the NHL at 26:29 per game. Only stalwart defenders like Ryan Suter, Drew Doughty and Erik Karlsson register more minutes.
Despite how much is asked of him on a regular basis, he has received more than his fair share of criticism for his performance, particularly in the defensive zone. Some of the critiques are fair. While he consistently produces offensively, registering over 40 points in each of the last three seasons, there are flaws in his game on the defensive side. Flaws that a franchise defenseman simply cannot have.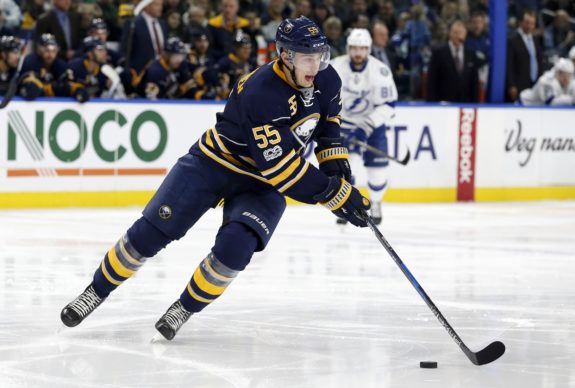 What fans are forgetting is that he should never have been put in that position in the first place, and the Sabres insistence on misusing him should not reflect negatively on the player himself. Realistically, he should serve as a high-end presence on the second pairing, given his distinct lack of progress on the back end since his arrival in Western New York, but he has been forced to eat big minutes against top competition.
With Dahlin in the fold, this opens the door for head coach Phil Housley to take some of the stress off of Ristolainen. That's not to say that the team should transfer those responsibilities onto the rookie right out of the gate, but it's about more than just next season. With a contract that takes him through 2021-22, Housley has time to transition Ristolainen off the top pairing, while holding down a spot on the Sabres' primary penalty kill and power play units.
Related: Sabres Mishandling Ristolainen
The Sabres Defensive Depth
Let's face it, the Sabres have been downright dreadful on defense for the better part of a decade. A parade of fringe-NHL talent has been plugged into the lineup year-after-year and last season was no different. For a fanbase that has clamored for reinforcements on the blue line, it is rather curious that so many of them want to part with a player like Ristolainen, even with Dahlin's presence on the team.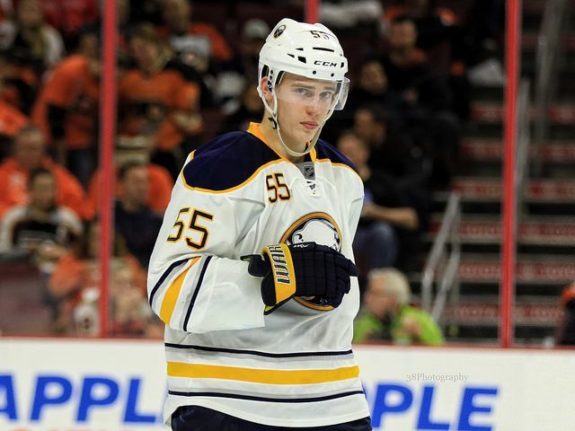 With a cap hit of $5.4 million per season, it's not as though his salary is particularly restrictive and given the shaky cast of characters behind him on the depth chart, it makes the situation even more puzzling. Sure, youngsters like Brendan Guhle and a recently-extended Casey Nelson could make the leap and pick up the slack were Botterill to deal Ristolainen, but why create a hole in an area that could soon become a strength?
It would be one thing if the Sabres had an embarrassment of riches within the organization on defense, but that simply isn't the case at the moment. Though there are more than a few intriguing prospects in the forward ranks, the cupboard is still relatively bare on the back-end.
There may come a time in the near future when Ristolainen becomes expendable, but a young player who can perform in all situations, who has carried a basement-dwelling squad on his back since he was a teenager is not a guy you part with during the middle of a rebuild.
Hypothetical Trade Value
Let's say it happens. Perhaps Botterill starts fielding calls and convinces himself that now is the best time to maximize Ristolainen's value on the trade market. It's no secret that he intends to shake-up the "losing culture" that has haunted the franchise since before Tim Murray's infamous tenure.
So what is a reasonable expectation for what the Sabres could get in return? Looking at the roster, it's clear that the team needs a great deal of help at forward. With Casey Mittelstadt, Jack Eichel and Ryan O'Reilly down the middle, they're pretty set at center but outside of Sam Reinhart and Kyle Okposo on the right, the team has glaring holes on the wing.
If recent history has shown us anything, it's that top-four defensemen have a tendency to yield impressive returns. If there is a deal out there where Buffalo could acquire a proven top-six winger to ride shotgun with Eichel, perhaps the Sabres would pull the trigger, though they would be creating one hole in order to fill another.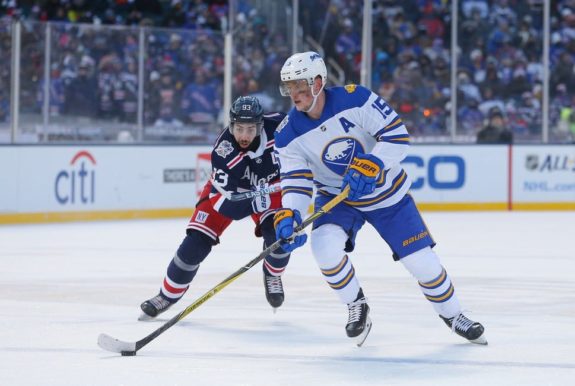 At the end of the day, an offer would have to blow Botterill away, otherwise he should hold on to what little talent he has on defense, and perhaps try and see what he could get in return for O'Reilly, who could reasonably slot into the 2018-19 roster as a third line center making $7.5 million per year. Not exactly great value. If there is a team willing to part with proven talent to compliment the Sabres' young stars at center in exchange for O'Reilly, Botterill shouldn't hesitate to make a move.
Related: Sabres Roster Won't Be Easy to Overhaul
Regardless of how it all shakes out, there is a team out there who will recognize who Ristolainen is and put him in a position to succeed, to realize his full potential. Hopefully, that team is the Sabres.