If you're up to date on all your Edmonton Oilers news this spring, you'll know three players recently decided to leave the team and head overseas for next season. The Oilers sparingly used Yohann Auvitu, and Iiro Pakarinen during the 2017-18 season, and they likely won't be missed. In a recent interview, Auvitu stated he intends to play in Finland next season. Pakarinen has reportedly signed with Metallurg Magnitogorsk in the KHL.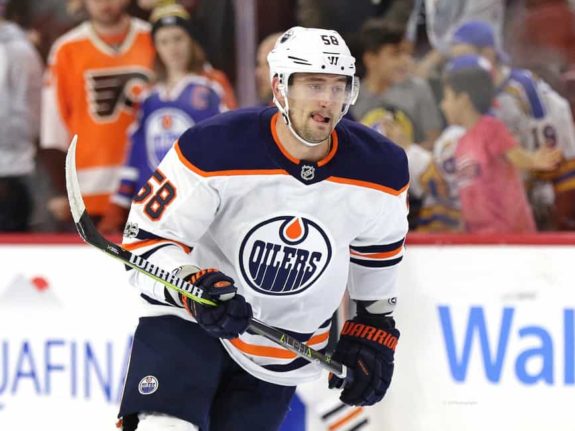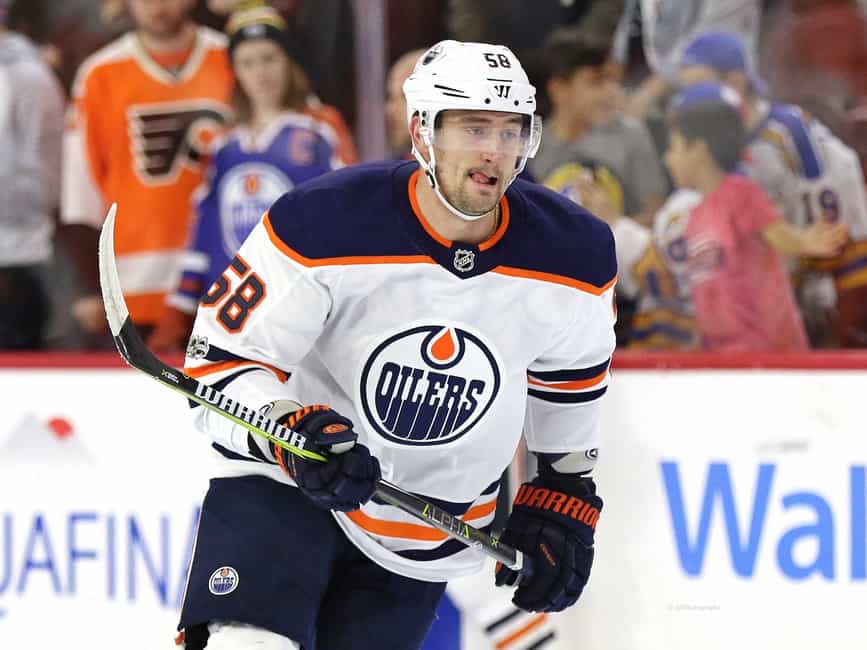 The most disappointing of all is the potential loss of Anton Slepyshev who is expected to sign with CKSA Moscow. Slepyshev's KHL rights were recently acquired from Salavt Ufa which adds more smoke to the fire. The 23-year-old was Edmonton's third-round pick in 2013 and has played 102 games in the NHL.
In a nutshell, Slepyshev was an inconsistent third-line forward, and it sounds like he grew tired of how underutilized he was under head coach Todd McLellan. He finished the year with 12 points in 50 games after having a solid showing in the 2016-17 playoffs. Slepyshev now joins the long string of bad luck the Oilers have had with Russian-born prospects.
Russians Currently Left in Oilers System
If Slepyshev does in fact leave, there will be just two Russian prospects in the Oilers' system. Dmitri Samorukov (2017, 84th overall), and Kirill Maksimov (2017, 146th overall) are both playing junior in the CHL. Samorukov signed an entry-level contract (ELC) back in September, and Maksimov signed his deal in March.
Samorukov projects to develop into a No. 4 or 5 defenseman at the NHL level. He was the No. 3 defenseman behind Ryan Merkley (2018 draft eligible), and Garrett McFadden in Guelph. The 18-year-old plays a two-way game and has been taking some strides with his offensive game. If he can add some bulk to his 6-foot-2 and a 181-pound frame that'll go a long way.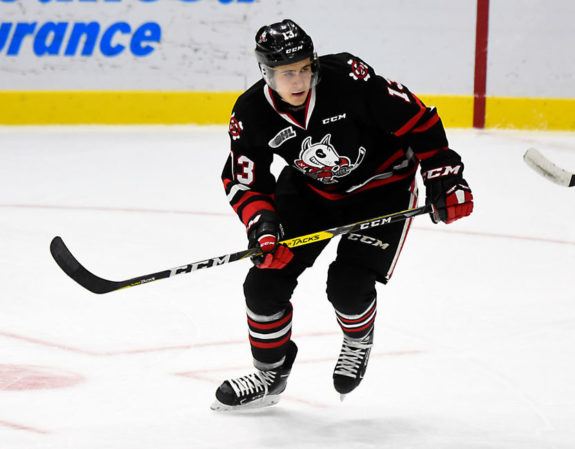 On the other hand, Maksimov has a lot of fans excited because he's a goal-scoring right-wing prospect that put up 34 goals and 80 points in 62 games. He was one of the top point-per-game Oiler prospects in the CHL this season and finished the year with ten points in ten playoff games for the Niagara Ice Dogs. Maksimov could develop into a No. 2 or 3 right-wing option for the Oilers.
Related: Kirill Maksimov – A Thrilling Oilers Prospect
Both have some upside, and if there's hope to break the Russian curse in Edmonton, it'll likely be one of Samorukov or Maksimov that does it. In the meantime, the list of failures among Russian-born draft picks is long. Another prominent one was Ziyat Paigin who left the organization in late-November. Dating back to 2000, Edmonton's poor string in developing Russian prospects is pretty lousy. Here's a recent list.
Ziyat Paigin
Drafted: 7th Round (209th) in 2015
A 6-foot-7 defenseman with a massive wingspan, Paigin was a seventh-round pick in 2015 and was seen by many as a draft-day steal. The Oilers got him over to North America for the tail-end of the 2016-17 season and signed him to a two-year ELC. Paigin played just 12 games in total for the AHL's Bakersfield Condors before asking to return to Russia and have his contract terminated.
Bogdan Yakimov
Drafted: 3rd Round (83rd) in 2013
A power center with a 6-foot-5 and 230-pound frame, Bogdan Yakimov was a good find by former Oilers general manager Craig MacTavish. There was a lot to like, but Yakimov was once again a long-term project forward who ran out of patience. He played just one game for Edmonton, and 93 games for their AHL affiliate scoring 43 points. He was loaned to Neftekhimik Nizhnekamsk in 2015-16 and has played the past three seasons in the KHL.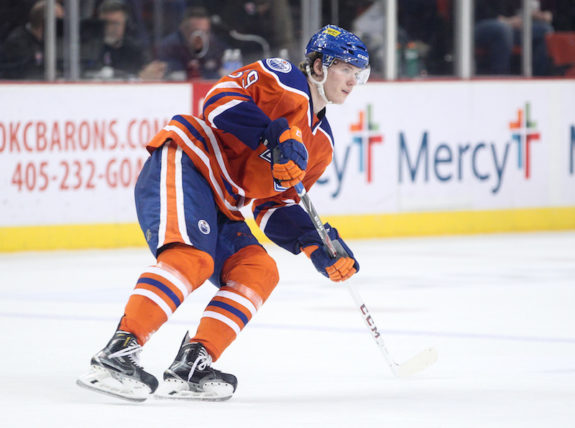 Nail Yakupov
Drafted: 1st Round (1st) in 2012
Nail Yakupov is giving Alexandre Daigle a run for his money as the worst first-overall pick in recent NHL history. Yakupov was highly regarded, and many thought he'd become one of the best goal scorers to come out of Russia. There were rumors that Oilers owner Daryl Katz urged former-GM Steve Tambellini to take Yakupov over Ryan Murray. Yakupov has played 350 games in the NHL, scoring just 62 goals and is with his third team in six seasons and likely headed to the KHL this summer.
Daniil Zharkov
Drafted: 3rd Round (91st) in 2012
The Oilers used the third-round pick from the Dustin Penner deal on Zharkov. During his OHL days, he scored 23 and 25 goals in back-to-back seasons, and like most others on this list, he was a project. He as a good skater, good scoring ability, but inconsistent. He chose to further his development in the KHL but has primarily been a depth player for the past four seasons. He played this season with Dynamo St. Petersberg.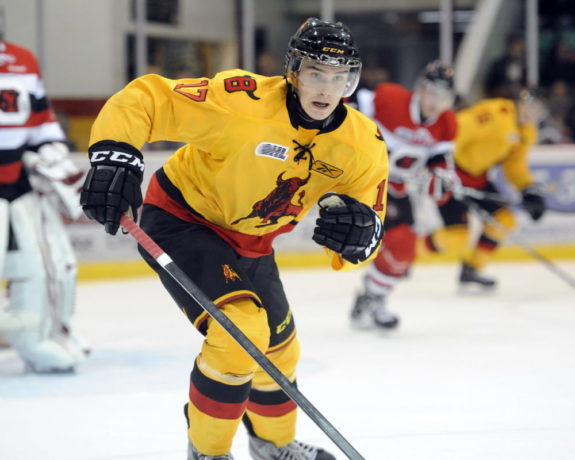 Alexander Bumagin
Drafted: 6th Round (170th) in 2006
A scoring winger drafted out of Lada Togliatti, Bumagin never played in North America. He's played the last 12 seasons in Russia and has played for several teams. He played out the 2017-18 season with Severstal Cherepovets and was a top-line scorer with 33 points in 52 games. Bumagin is a playmaking winger who's created a decent career in Russia.
Vyacheslav Trukhno
Drafted: 4th Round (120th) in 2005
Slava Trukhno has bounced around the past seven seasons between leagues in Sweden, Norway, Belarus, and Slovakia. Before that, he looked like a steal as a fourth-round pick. Trukhno oozed offense and was a star contributor in junior, highlighted by a 102-point season in 2006-07 with the Gatineau Olympiques. His offensive game halted as soon as he turned pro and he never managed more than 35 points in the AHL. He just finished the year playing for Lorenskog in Norway.
Roman Tesliuk
Drafted: 2nd Round (44th) in 2004
Edmonton hasn't just failed with Russian forwards, they've done so with Russian defensemen as well. Tesliuk was a bit of a reach considering where he was drafted. Looking back, several other NHL notables were taken with the following picks including; Blake Comeau (47th), Carl Soderberg (49th), David Booth (53rd), and Nicklas Grossmann (56th). Tesliuk has bounced around various leagues, and last played in 2015-16 in Kazakhstan.
Mikhail Zhukov
Drafted: 3rd Round (72nd) in 2003
The Oilers came out empty handed from the loaded 2003 draft class. Their best pick was Kyle Brodziak in the seventh-round. Zhukov, however, was in a weird third-round where future NHLers were few and far between. Zhukov never played in North America but has had a nice run in the KHL as a middle-six scoring forward. He finished the 2017-18 season scoring nine points for Torpedo Nizhny Novgorod.
Ivan Koltsov
Drafted: 4th Round (106th) in 2002
A 6-foot-3 defensive defenseman, the Oilers fell into no man's land like most other clubs during the fourth-round of the 2002 draft. Only seven players from that round played in the NHL. In fact, there was a lull where just two of the next 22 picks would go on to become future NHLers. The Oilers grabbed Koltsov during that lousy string. The best pick of that round would be future Edmonton defenseman Tom Gilbert who's since played 655 NHL games.
Alexei Mikhnov
Drafted: 1st Round (17th) in 2000
This one hurts. If the Oilers were hardpressed for a Russian, they would've had better luck with Alexander Frolov (20th) or Anton Volchenkov (21st). Of the remaining players that went in that first round, 11 of the next 13 picks would play more than 100 NHL games. At 6-foot-5 and 215 pounds, Mikhnov was a lumbering left-wing prospect. He would play just two games in the NHL and 27 in the AHL during the 2006-07 season. Since then, he's been in the KHL and is currently the captain of Avtomobilist Yekaterinburg. Others from that class include Alexander Lyubimov and Evgeny Muratov.