Any way you slice it, the Vegas Golden Knights are the best story of the 2017-18 National Hockey League season, and have been since the puck first dropped back in October.
As a team, the Golden Knights not only exceeded expectations, but obliterated all established standards for expansion teams, not just in the NHL, but in North American professional sports as a whole.
There were great individual stories, as well. William Karlsson, formerly of the Columbus Blue Jackets, scored 43 times and added 35 assists in 82 games, his 78 total points smashing his career totals of 18 goals and 50 points – which took him 183 games to amass. Jonathan Marchessault (75 points in 77 games) and Reilly Smith (60 in 67), who the Florida Panthers unnecessarily jettisoned, finished second and fourth in team scoring behind Karlsson, respectively.
And now, the Golden Knights sit just four wins away from a chance to play for the Stanley Cup, setting up a Western Conference Final sure to be the fastest and most exciting series of the playoffs, no matter who Vegas ends up playing.
However, one story that's especially heartwarming is that of starting goaltender Marc-Andre Fleury, who has been resurrected from the postseason scrapheap and become – once again – a playoff hero.
Fleury a Playoff Hero for Golden Knights
Through 10 games thus far in the 2018 postseason, Fleury is 8-2 with four shutouts (two more than anyone else) and a god-like .951 save percentage, leading all starters in that regard. He leads in save percentage at every strength, too, posting a .958 at even strength, .917 shorthanded (tied with Braden Holtby of the Washington Capitals) and a perfect 1.000 while his team is on the power play.
Getting fancier, Fleury is tops amongst remaining goalies in low- (.992), medium- (.951) and high-danger (.860) save percentage, eclipsed only by a couple netminders that were knocked out (in heroic fashion, to be sure) in the First Round.
Goals against average is generally considered more a measure of the defensive success of a team, rather than that of a goalie, but Fleury's 1.53 GAA is legitimately astounding, especially considering the Golden Knights are giving up 34.4 shots per game, fourth-worst in the playoffs and dead-last amongst teams still playing.
Simply put, Fleury has been the best goaltender of the playoffs, and is the reason the Golden Knights are where they are.
Fleury's Stanley Cup Pedigree
All this harkens back to Fleury's early days in the NHL, when he guided the Pittsburgh Penguins to back-to-back appearances in the Stanley Cup Final, emerging victorious in 2009 against the Detroit Red Wings, after losing to them in six games the year previous.
The 2008 postseason saw Fleury go 14-6 in 20 games, posting a .933 SV% that was second amongst all playoff starters, behind only Dan Ellis (who threw up a .938, for some reason). Fleury's three shutouts tied him for the league-lead with Chris Osgood, his counterpart in the Detroit net.
Fleury's stats dipped slightly the next year (.908 SV% and no shutouts in 24 games), though he came through when the Penguins needed him most, backstopping Pittsburgh's comebacks from 2-0 and 3-2 series deficits, culminating in a magnificent save in the dying seconds of Game 7 to preserve a Pittsburgh championship.
Fleury Lost in the Wilderness
Unfortunately, it was all downhill after that.
The Penguins made the playoffs every year between 2009-10 and 2013-14, with Fleury starting 43 of Pittsburgh's 54 postseason games during that stretch, but winning only 21 times. His .891 SV% ranked 48th in the league during that time span, putting him behind such NHL luminaries as Jonas Gustavsson (.917) and Antti Niemi (.907), while only outpacing Anders Lindback by .001.
Of particular embarrassment, Fleury lost his starting job to backup Tomas Vokoun in the 2013 postseason, after vomiting up an .883 SV% through Pittsburgh's first four games.
Recurring Nightmares for Fleury
Fleury's perennially steady regular seasons, followed by year after year of playoff disappointment – during which his play ranged from mediocre to downright awful, led many to doubt he could ever regain the postseason form that landed the Penguins the Stanley Cup, thereby scuttling some of the prime years of Pittsburgh's stars, most notably centres Sidney Crosby and Evgeni Malkin.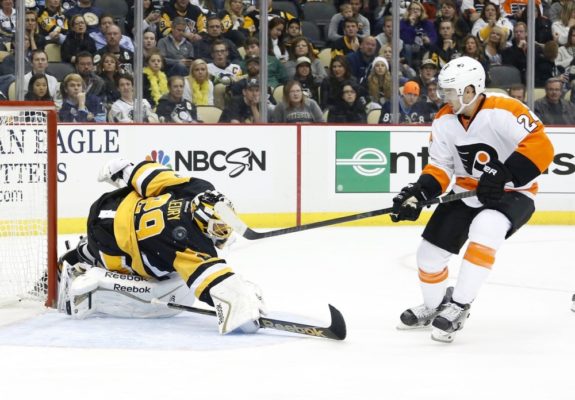 Some saw a connection between Fleury's playoff struggles and his back-to-back losses in the final of the World Junior Championship. Most remember Fleury racing out of his net to clear a loose puck in the 2004 Gold Medal game against the United States, only to have it ricochet off his own defenseman and into the net for what turned out to be the winning goal.
However, Fleury and the Canadians, who entered the third period up 3-1, had already given up two goals to the Americans before Fleury's infamous clearance (or lack thereof). Similarly, the year previous against the Russians, Fleury and the Canadians were leading 2-1 going into the third, only to lose in heartbreaking fashion, 3-2 – on home soil, no less.
Objectively, neither of these defeats should have reflected particularly poorly on Fleury; even the own goal was more bad luck than anything else.
However, these two losses, combined with his post-Cup playoff struggles, led many to speculate regarding Fleury's mental toughness and durability, given he possessed physical abilities most goaltenders could only dream of.
Fleury's Return to Form Not New
To Fleury's credit, he did everything he could to get his game back on track, including seeing a sports psychologist. Seeking out psychological therapy is a daunting challenge for anyone, let alone a famous athlete whose every move is scrutinised in the public forum.
2014-15 and 2015-16 were the two best (full) regular seasons in Fleury's career, with the then-Penguins netminder posting save percentages of .920 and .921, respectively, with 15 shutouts over those two campaigns combined.
Unfortunately, the playoffs weren't so kind.
The Pens' starter in the 2015 playoffs, Fleury put up a solid .927 SV%, but Pittsburgh still fell in five games to the New York Rangers. Then, in 2016, a late-season concussion sidelined Fleury, allowing rookie Matt Murray to seize the reins and guide the Penguins to the Stanley Cup.
That said, the following year, though Murray received the nod to start in the playoffs, he went down with an injury just before the first game. Fleury stepped in to start the first 15 games of the Penguins' run, winning nine times – including a 2-0 shutout of the favoured Capitals in Game 7 of the Second Round.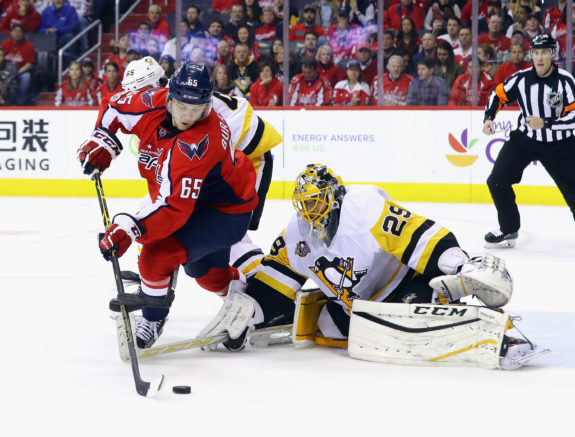 Even though Murray would take over midway through the Eastern Conference Final, Fleury was a massive reason the Penguins were able to repeat as Stanley Cup champions, winning two rounds and posting a .924 SV% (which ended up far outstripping Murray, who finished at .908).
So, clearly then, we should have seen this season coming.
Fleury a Formidable Fortress for Golden Knights
Perhaps it's fitting that the story with the chance to be the most enduring is that of a player who volunteered to come to Vegas, sacrificing himself for the good of his former team.
Fleury was a star for Vegas from the second he was selected in the expansion draft and, with a .927 SV% and four shutouts, would have been a Vezina Trophy candidate, had he not been limited by injury to just 46 games.
The playoffs are a different animal, to be sure. But they're an animal Fleury has – thus far, anyway – managed to bring to heel.
Fleury is already beloved by hockey fans the world over. Now, he has a chance to permanently etch himself in hockey lore as one of the greatest goaltenders – with one of the greatest stories – the game has ever seen.
(All advanced stats are thanks to Corsica. All metrics are at all strengths, unless otherwise specified.)