When Detroit Red Wings head coach Jeff Blashill gets back into town following the 2018 World Championships, he and Ken Holland should sit down to discuss his next benchmate. After the Red Wings and John Torchetti parted ways earlier this spring, the role of associate head coach was vacated, leaving Doug Houda and Pat Ferschweiler to assist Blashill. Torchetti, who joined the organization two years ago, ran the team's offense and power play – two areas presently in need of an upgrade.
Related: Red Wings Final Grades – Forwards
Fortunately for the Red Wings, they do not need to look far for a replacement. The perfect suitor is already about 150 miles west of Hockeytown. Enter Todd Nelson, the head coach of Detroit's AHL affiliate, the Grand Rapids Griffins.
Given Nelson's coaching expertise, sustained success, and history with Red Wings prospects, he's the best candidate for the open role. Detroit should do everything in its power to keep him in the organization, considering previous external interest in his services.
Red Wings Familiarity
Apart from being involved in various training camp activities, Nelson has also coached current and future Red Wings for significant amounts of time. Andreas Athanasiou, Tyler Bertuzzi, Martin Frk, Nick Jensen, Dylan Larkin, Anthony Mantha, and Evgeny Svechnikov have all been guided by Nelson. Additionally, the coach has also spent time mentoring Dennis Cholowski, Joe Hicketts, Filip Hronek, Axel Holmstrom, Vili Saarijarvi, Givani Smith, Libor Sulak, and Dominic Turgeon as well.
Related: Rasmussen's 2018-19 Red Wings Role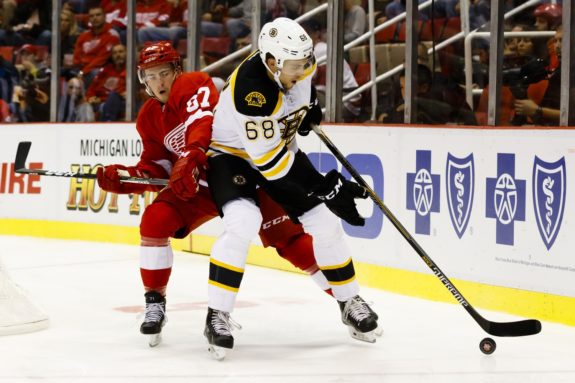 All of these players have a future with the Red Wings, whether that be in a leading or complementary role. This familiarity with one another bodes well for Detroit, considering how players view Nelson.
In a recent article, former The Hockey Writers contributor Tom Mitsos spoke with Griffins players regarding Nelson and their relationship with the coach. From Hicketts to Matt Puempel to Ben Street – everyone had great things to say about Nelson as a coach and human being. Street, an AHL veteran with some NHL experience, had this to say of the coach's motivating skills:
Every guy would run through a wall for him if that's what he wanted us to do. It's a special thing when you have a coach that can get that out of his team.
If Nelson was able to join Detroit's young players in Hockeytown, the number of nights when the Red Wings lack a high compete level would certainly dwindle.
Instant Offensive Upgrade
It's no secret that the Red Wings struggled to score over the past two seasons. Some of that can be placed on the departure of Pavel Datsyuk, one of hockey's premier offensive geniuses. However, the talent is there – someone just needs to get the most out of them.
Nelson's Griffins knew how to score. During his first two seasons in Grand Rapids, the Griffins finished in the top-five for goals for, producing a 91-53-8 record in that span. That scoring continued on into the playoffs, where Nelson guided the Griffins to the 2017 Calder Cup.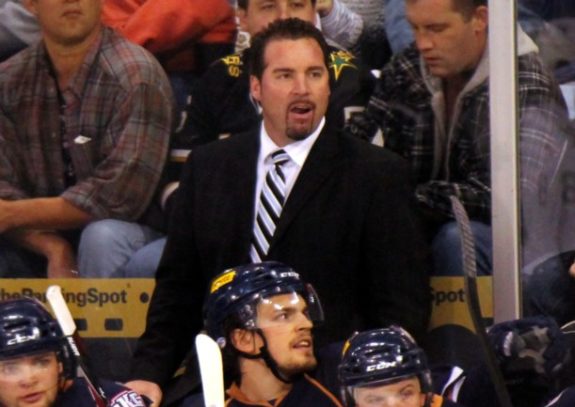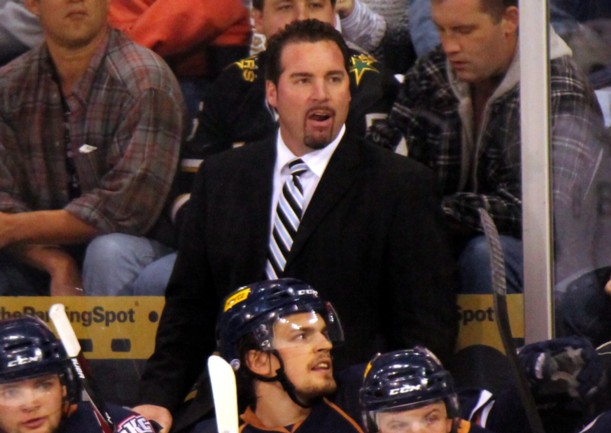 Additionally, Nelson has overseen one of the AHL's best power plays during his tenure. The Griffins boasted the league's best power play (24.4 percent) during their championship season and fourth-best (20.3 percent) this past year – all while some of his best players were up with the Red Wings.
When he did have a full lineup, Nelson wasn't afraid to experiment. At one point, the veteran coach dabbled with placing Hicketts in the "bumper" role of this power play unit, the spot occupied famously by T.J. Oshie in Washington's high-powered power play setup. In addition, Nelson frequently trotted out five forwards while on the man advantage to maximize offensive output. This sort of aggressive and experimental game-planning should be a welcomed sight for Red Wings fan who think Detroit's style can be conservative at times.
Todd Nelson's Role With the Red Wings
It seems like Nelson would be a perfect fit for the Red Wings, but what about the coach's career goals? He was a finalist to land the Arizona Coyotes' head coach position before Rick Tocchet was hired. And with the coaching carousel already creating vacancies this spring, it wouldn't be surprising to hear Nelson's name as a potential fit for other NHL coaching jobs.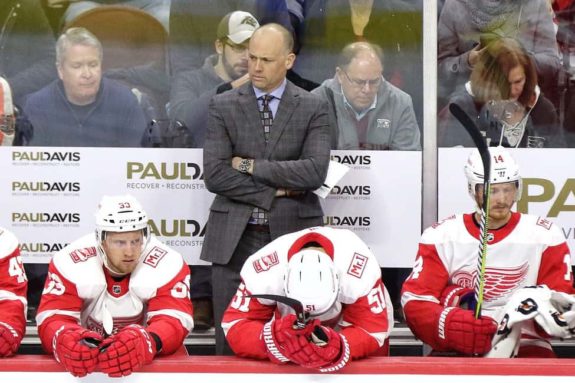 Here's what the Red Wings can do: They can promote Nelson to associate head coach and give him some freedom. Like in Grand Rapids, he could assist Blashill with the offense and power-play duties, plus provide a new voice in the coaches' room. Nelson's experimentation at the AHL level could produce a few quality NHL strategies to implement in Detroit.
In addition to his coaching duties, the Red Wings could let Nelson know that if Blashill were to be let go—his contract expires at the end of next season—then the newly-appointed associate head coach would be the first candidate considered to replace Blashill on an interim or full-time basis. If appointed during the season, Nelson could then parlay this opportunity into a new contract as head coach of the Red Wings moving forward. However, if Detroit was to keep Blashill through the 2018-19 season and sign him to an extension, then Nelson would be free to pursue head coaching vacancies around the NHL if he pleased.
Regardless of how long Nelson spends in Detroit, he'll surely help the rebuilding franchise and its young players take a step in the right direction.
What do you think about the idea of the Detroit Red Wings promoting Todd Nelson? Share your thoughts below.