Daniil Zharkov THW Close-Up:
Date of birth: February 6th, 1994
Place of birth: St. Petersburgh, Russia
Ht: 6'3″   Wt: 194 lbs
Shoots: Left
Position: Left wing
Draft Eligibility: 2012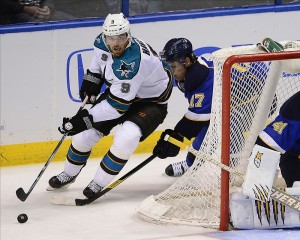 It's hard for any 16-year old to take a plunge (and this one wasn't marriage).  Daniil Zharkov took the road less traveled and moved away from St. Petersburg when he was 16 in order to pursue a hockey career playing in the USHL with the Tri-City Storm.  His Russian counterpart, Stanislav Galiev, did the same and has achieved success being selected in the 3rd round of the draft and winning a Memorial Cup with the Saint John Sea Dogs last year.  Zharkov's goal, like many other young hockey players is to play in the NHL, so the decision to come to North America was a no-brainer.  He adapted well in his time with Tri-City learning how to play on the smaller sized rink and rounding out his defensive game against the naturally gritty players of North America.
When the Bulls selected him in the 1st round of the CHL Import Draft in 2011, Daniil packed up and moved to Belleville, Ontario to start one of his toughest tasks to date – playing against top junior talent from across the world.  While the OHL has its fair share of challenges, Zharkov has gone at them headstrong and proved the doubters wrong.  The "Russians have no grit/intensity/work ethic" hockey fans have been given a taste of their own medicine since Zharkov has came along.
A fluid skater, Zharkov is agile and speedy, which is quite surprising for his mammoth figure.  The 6'3″ winger's patented wrist shot rockets off his stick and his stickwork is that of a prototypical Russian forward…smooth, quick, and filled with finesse.  His defensive game has increased leaps and bounds since his time in Russia, breaking up plays or separating the puck from opponent's stick.  His size certainly aids in the physical aspects of the game along the boards, in front of the net, or simply laying out an open ice hit.  The one thing that Zharkov lacked this season with the Bulls was consistency.  It seems to be a problem with many players his age.  The talent is there, but it can't be displayed cohesively game in and game out.
Although he only put up 36 points this year, scouts have already begun to rave about Zharkov and his elite level offensive skills paired with his defensive abilities.  ISS ranked him 58th, but others have put him as high as the top 30 (including me).  If he's drafted in the 1st, 2nd, or any other round after that, the thing fans need to know is that Zharkov is a quality player who looks to have a prosperous NHL career ahead of him.
Scout's Honor:
"Zharkov is a well sized forward who shows high-end offensive abilities. He is a very strong skater, regardless of his size. He really maximizes his footwork, and really drives his legs to generate as much speed as possible. He also is effective at going wide on defenceman and driving the net on his off wing, bringing on a scoring chance or drawing a penalty. He has a rocket of a shot that can beat goaltenders clean within 10 feet of the net. He has one of the better 'sticks' in the draft. He is very strong at causing turnovers in the neutral zone by either putting his stick in a passing lane of stick checking an unsuspecting player. His other obvious asset is his puck skills. He showed strong hands in close, and has the ability to create offense by either reading the play and making a smart pass or skating through an opposition defender. He is not shy physically and willing to battle for loose pucks. He still is not as consistent as I would like to see him be, but the willingness is there.
I do love Zharkov's long term upside, but at the same time there are some concerns. He seems to be a player who has a ton of skills, but at times he doesn't know what to do with it. He will skate into defenders instead of passing off the puck when he had the opportunity. He often seems unaware of his surroundings, and needs to know where everyone on the ice is at all times. He often gets cause with his head down in all three zones, which is something that needs to change before he moves forward. Positionally, he needs to improve his three-zone play and know where he needs to be positionally in all three zones." – Sean Lafortune, The Prospect Blog
"If you catch Zharkov on a good game, you might think you're seeing one of the premier goal scorers in the 2012 NHL Draft. However, Zharkov's enigmatic play leaves a lot to be desired as he struggled with consistency aside from an early season goal scoring streak. Zharkov is a perimeter player who doesn't contribute much when he isn't scoring. Scoring, however, is something that he is very capable of doing as Zharkov has an excellent shot and a slick repertoire of one-on-one moves. He's a good skater and has promising size, but he doesn't utilize these attributes enough. Zharkov can disappear against physical teams and will need to take his competitive drive to the next level if he wants to play at the NHL level." – The Scouting Report
Statistics:
International Tournaments:
Zharkov played in the U-18 WJC where he registered 5 points (1G, 4A) in 6 games.
ETA: 2-3 years
Risk/Reward Analysis:
Risk: 3/10    Reward: 9/10
NHL Potential:
Top line left wing
Strengths:
Shot
Skating
Defensive awareness
Agility
Physical
Stickhandling ability (especially close to the net)
Flaws/Aspects He Needs To Work On:
NHL Player(s) Comparison:
– Martin Havlat with better defensive prowess
Follow Shawn Reznik on Twitter (@ShawnReznikTHW).
THW's The Next Ones prospect profile template design architect: Chris Ralph