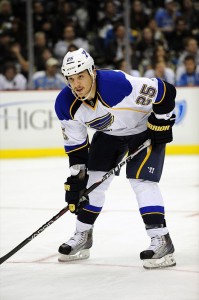 Chris Stewart will be getting another chance with the St. Louis Blues.
Team GM Doug Armstrong announced Thursday morning that the Blues signed right-winger Chris Stewart to a one-year contract extension.  According to Jeremy Rutherford of STLToday, the deal is worth $3 million.
Stewart did agree to a slight pay-cut ($250K), but his cap-hit did rise from his last contract that was signed two years ago with the Colorado Avalanche (cap-hit of $2.875 million in 2010-11 and 2011-12; $3 million for next season).
Stewart did not have a very promising season in 2011-12.  Despite the Blues' unforeseen success, Stewart posted just 15 goals and 30 points in 79 games played.  This came a season after Stewart, along with defenseman Kevin Shattenkirk, was sent from Colorado to St. Louis for forward Jay McClement and former first-round pick Erik Johnson.  Stewart scored 52 goals in 166 games with the Avalanche before scoring 15 goals in 26 games with the Blues at the end of the 2010-11 season.
"He's a player at [age] 22 and 23 had 28 goals in this league," Armstrong said.  "It's a difficult goal-scoring league. He didn't have a season that he had hoped to have, or we expected him to have. But I don't think it would be wise for us to throw the baby out with the bath water."
Because of Stewart's out-of-the-ordinary numbers last season, speculation circled that the Blues would not re-sign Stewart before July 1.  The native of Toronto, Ontario was set to become a restricted free-agent (RFA), meaning that the Blues could have let Stewart talk with other teams and possibly receive a contract offer.  The Blues would have the opportunity to match any offer or receive compensation for Stewart from the team that would agree to sign him.
This started to look more like a reality on June 2 when it was reported that the Blues agreed to a contract in principle with Russian prospect Vladimir Tarasenko, who HockeysFuture claims to be the best prospect not currently playing in the NHL.  Tarasenko, also a right-winger, is expected to step right in and earn a spot on the NHL roster.  It seemed that Stewart may not receive a second chance to be a top forward for the Blues.
Stewart has shown many flashes of brilliance.  He is a dominant man in front of the opposing team's net and can be a force when scorching up the wing.  He has pretty hands that most people may not recognize.
Likely, the one-year extension's main purpose is to allow Stewart the opportunity to show that those flashes of brilliance can become a regular task.  Stewart may not have adapted well to the change behind the bench or maybe he was on the incorrect line.  Whatever the case may have been, Stewart has to throw any inhibitions out the window.  It is a new season and a new chance for him to shine.
Only one man is in control of Stewart's future in the NHL.