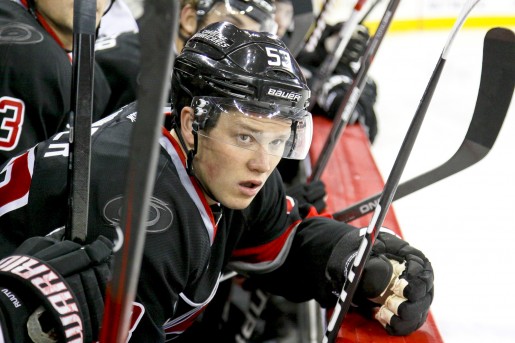 The list of Calder Trophy winners is full of players that went on to have Hall of Fame careers. Names like Mario Lemieux, Ray Bourque, Gilbert Perrault and others are hockey royalty. The problem is when a player dominates his first campaign in the NHL, many fans consider it almost a given that he will rebound with the dreaded "sophomore slump." Anything could cause that sub-par performance in year two─injuries, bad coaching, or playing on a bad team; it doesn't matter. If it happens, it's fate. If not, we praise that player even more.
As hockey fans, we seem to just expect young players to fall short in their second year, but why? First of all, does the slump even exist or is it just a lazy excuse for coaches and analysts to write off a down year? If it does, what about it makes it so well-known that it's actually a thing? Let's find out. For the sake of relevance and consistency I decided to look at the six Calder Trophy winners since the lockout, beginning with Alex Ovechkin.
Alex Ovechkin, Washington Capitals
2005-06: 81 GP, 52 G, 54 A, 106 PTS
2006-07: 82 GP, 46 G, 46 A, 92PTS
Technically Ovechkin's numbers dipped during his second year in the NHL. It'd be a crime to call scoring 46 goals and 92 points a slump, though. He's a dynamic, exciting player that can control the physical side of a game as well as the score sheet. Let's not forget just how bad Washington was during the first few years of his career.
By scoring 106 points in the first year after the lockout, he was officially out of Sidney Crosby's shadow. Still, with more pressure, responsibility and expectations in his second year, he was able to break 90 points and keep a cool head by duplicating his rookie penalty minutes at 52. It's worth mentioning that '05-06 fellow statistical leaders Joe Thornton and Ilya Kovalchuk also dipped a little bit in each category, so it's hard to find much fault with Ovechkin there.
Evgeni Malkin, Pittsburgh Penguins
2006-07: 78 GP, 33 G, 52 A, 85 PTS
2007-08: 82 GP, 47 G, 59 A, 106 PTS
Welp, that pretty much settles that. Common sense would have you think that winning the Calder adjusting to American culture and playing for a crappy team would catch up to "Geno" during his second year in the league. Somehow he bested his 85-point campaign by over twenty points. He carried the team through Sidney Crosby's 30-game injury and was nominated for the Hart Trophy despite losing to Ovechkin. Somehow, Malkin has only gotten better since.
Patrick Kane, Chicago Blackhawks
2007-08: 82 GP, 21 G, 51 A, 72 PTS
2008-09: 80 GP, 25 G, 45 A, 70 PTS
Before there was all the attention for drinking and getting thrown out of frat parties, Kane was the No. 1 overall draft pick and obvious choice for the Calder Trophy. The next year he only scored two fewer points during the regular season while developing, along with fellow Blackhawk Jonathan Toews, into one of the best young forwards in the league. His play in his sophomore year included a playoff hat-trick against the Vancouver Canucks and led to an appearance on the cover of NHL 10.
Steve Mason, Columbus Blue Jackets
2008-09: 61 GP, 33 W, 20 L, .916 SV%, 2.29 GAA, 10 SO
2009-10: 58 GP, 20 W, 23 L, .901 SV%, 3.06 GAA, 5 SO
Phew, just when I was really starting to worry about the accuracy of the sophomore slump Steve Mason stops the trend. Mason hasn't been the same since his rookie year, even though the top players in Columbus actually played better during his second year as a starter.
It's hard to pinpoint what went wrong with Mason, but goalies are crazy and it could all be in his head. Certainly part of the blame lays at the feet of the dysfunctional franchise he plays for. It's hard to not wonder how Mason could rebound if he's part of a Rick Nash package this summer. Consistent coaching and some help on the roster wouldn't hurt.
Tyler Myers, Buffalo Sabres
2009-10: 82 GP, 11 G, 37 A, 48 PTS
2010-11: 80 GP, 10 G, 27 A, 37 PTS
The 11-point difference between Myers' first two years is a bit misleading. He learned quickly during his rookie year playing next to steady-but-soft veteran Henrik Tallinder. After Tallinder signed with New Jersey during the summer of 2010, his absence was most noticeable in Myers' play. He struggled during the first half of the year and only appeared more confident toward the end of the year. It could be argued that Myers was given too much responsibility too early in Buffalo, even if he still showed flashes of future brilliance. Slump counter: 2/5.
Jeff Skinner, Carolina Hurricanes
2010-11: 82 GP, 31 G, 32 A, 63 PTS
2011-12: 64 GP, 20 G, 24 A, 44 PTS
If there was one player that was destined to fall into the sophomore slump it was Jeff Skinner. Skinner, who was only 19 during his second year with the big boys, is a small player on a bad team. He missed time with a concussion and was suspended for two games for kicking Scott Nichol. The good news is he's incredibly talented and plays on the same team as some guy named Eric Staal.
The Hurricanes are also in prime position to spend some serious coin this off-season, possibly putting them back into the playoff discussion and injecting Skinner with the knowledge of how to win. If a player is going to slump, scoring 44 points in 64 games isn't a bad way to do it. He's earned a mulligan, though, and it's hard to picture Skinner not rebounding in the 2012-13 season.
The verdict is in, kind of. Out of six Calder winners since the lockout, three had a slump. Talent isn't the issue; a player's maturity and surrounding environment is what seems to determine how their sophomore season goes. Ovechkin and Malkin were older than Skinner, Myers, and Mason during their second year.
Based on the past winners of the trophy, though, we could be watching future Hall of Famers.