The season of NHL Mock Drafts is in full force as hockey fanatics begin the seven-day countdown to the 2012 NHL Entry Draft. Mainstream media personnel, online bloggers, self-proclaimed hockey experts, forum members and even your ninety-year-old neighbour who claims he created the game of hockey has dabbled in their own versions of mock drafts. Check behind the doors of any NHL scouting room and their staff will be engaging in some form of an unofficial "mock draft" attempting to determine how the draft board will unfold. In the sporting world, fans show great enthusiasm when projections and guestimates are released gaining a sense of reassurance knowing who the next star player could be on their favourite team, easing that uncomfortable sensation associated with the anticipation of the upcoming draft.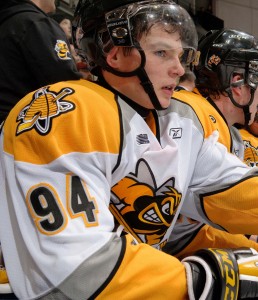 Regardless of who pens the most recent mock draft, the chance of correctly predicting every selection is remote at best. Even "experts" cannot forecast the unpredictable events surrounding the annual NHL Entry Draft. Picks and players become part of draft day trades that can derail all the hard work of creating what was thought to be a 'perfect mock draft'. It becomes impossible to judge the emotions, gut feelings and changes of heart that occur among the large groups of thirty NHL scouting teams during the spontaneity of the draft.
After spending the past twelve months following draft-eligible prospects from around the world, watching endless video, authoring countless articles featuring the draft class' most interesting players and tweeting opinions from my @RossyYoungblood handle, I am here to enjoy one of my favourite processes – creating my final mock draft.
Here to please our die-hard hockey fans and prospect junkies is my final mock draft for next week's 2012 NHL Entry Draft.
I make only one guarantee – incorrect predictions will occur, as it is a "mock draft" after all.
1st Edmonton Oilers – Nail Yakupov, RW (Sarnia, OHL)
Three first overall picks in as many years is a nice luxury to have for Steve Tambellini but make no mistake, the young general manager is feeling the pressure for on-ice results. With only two logical options, Tambellini can either trade the Oilers' first overall pick and move down grabbing one of the many potential franchise defensemen and recoup some depth, or, he can select the concensus top ranked player in Nail Yakupov. Expect Tambellini to listen to offers and if he does not fancy any of them then he smartly drafts the dynamic winger from the Sarnia Sting.
2nd Columbus Blue Jackets – Alex Galchenyuk, C (Sarnia, OHL)
"Always a bridesmaid, never a bride". Through a dozen drafts in franchise history, the Columbus Blue Jackets have held a top ten pick eleven times yet, they have only received the first overall pick once drafting Rick Nash in 2002. Columbus was slated to step up to the podium first in 2012 after finishing last in the NHL but Edmonton crushed their hopes by winning the draft lottery. The outcome is quite fitting, given Columbus' bad luck at the draft in recent years.
GM Scott Howson is being watched closely as he attempts to shake the black cloud hovering over Columbus come draft time. Approaching the draft conservatively would be a mistake for Howson, as there are several top Russian players capable of changing the face of the franchise. Columbus had scouts scouring the City of Sarnia all season long and have a few local scouts based in the border city so don't be surprised to see Sting teammates go one-two as Alex Galchenyuk should be the player to redeem the Blue Jackets' franchise.
3rd Montreal Canadiens – Filip Forsberg, C/LW (Leksand, SWE-2)
Marc Bergevin is eager to make a splash as the newly appointed general manager of this storied Canadiens franchise. Montreal would be hard pressed to mess this pick up as there are great players available at all positions. If Galchenyuk's name remains on the board, it would be surprising to see les Habitants pass over his enticing size, skill and character. However, Scott Howson already scooped him up leaving the blue, blanc et rouge to draft Filip Forsberg, a big hard working skilled forward capable of playing centre or the wing.
4th New York Islanders – Ryan Murray, D (Everett, WHL)
In a similar position as the Oilers, Garth Snow understands that his forward acquisitions via the draft in Tavares, Niederreiter and Strome have solidified his front line allowing him to focus on shoring up his backend. Murray is a defender who could step right into the line-up and join this young emerging team as it begins its ascent up the standings.
5th Toronto Maple Leafs – Griffin Reinhart, D (Edmonton, WHL)
Cracking Brian Burke's draft day intentions is as difficult as solving a thousand-piece puzzle with a bear breathing down your neck. He has made it clear that he wants to win now and he will certainly entertain offers for this pick, especially if he misses out on both Nail Yakupov and Alex Galchenyuk, two players he would love to add. Mikhail Grigorenko is a big skilled pivot that would surely fill the gaping hole in Toronto's line-up but he lacks the truculence that Burke hankers. Instead, Toronto selects a raw defender with great size and skill in Griffin Reinhart.
6th Anaheim Ducks – Mathew Dumba, D (Red Deer, WHL)
Blessed with a trio of superstars in Ryan Getzlaf, Corey Perry and Bobby Ryan, Anaheim Ducks' general manager Bob Murray decides to add a high octane defenseman in Mathew Dumba, providing the offensive flair and physical game to eventually become a star on Anaheim's blue line.
7th Minnesota Wild – Morgan Rielly, D (Moose Jaw, WHL)
The Wild are set up front with several prospects ready to graduate to the big club. The position of defense seems like the logical target for Chuck Fletcher. If Morgan Rielly, arguably the most dynamic offensive defenseman of this draft class, is available then Minnesota would be wise to place a Minnesota Wild jersey on his back.
8th Carolina Hurricanes – Mikhail Grigorenko, C (Quebec, QMJHL)
Jim Rutherford balks at using his third straight first round selection on a Kitchener Ranger in Radek Faksa, and decides to draft Mikhail Grigorenko. The big Russian pivot has arguably the highest upside in the draft but receives criticism for his wavering compete level. Seduced with his potential for offensive greatness, Rutherford rolls the dice on the controversial Grigorenko.
9th Winnipeg Jets – Cody Ceci, D (Ottawa, OHL)
Dating back to the Atlanta Thrashers' era, the Winnipeg Jets' franchise have used their first pick to draft a player from the CHL in nine straight drafts. Look for Kevin Cheveldayoff to continue his reliance on Canada's top development league by selecting Cody Ceci, Ontario's second highest scoring defenseman next to Bruins' prospect Dougie Hamilton.
10th Tampa Bay Lightning – Teuvo Teräväinen, RW (Jokerit, FIN)
Tempted to satisfy his defensive needs in a draft filled with quality rearguards, Yzerman makes a last minute decision to grab a fast rising Finn in Teuvo Teräväinen. As Marty St. Louis' career winds down, Yzerman cannot help to think Teuvo becomes his successor as he owns a crafty set of hands and is an exceptional playmaker that would complement Stamkos well.
11th Washington Capitals (via COL) – Jacob Trouba, D (USNTDP, USHL)
With several first round selections, George McPhee can snatch up his top ranked player, regardless of position, as the Capitals have needs at forward and in their defensive depth. The Caps have had success selecting defensemen out of the US NTDP program in the past with John Carlson, making the smooth skating two-way defenseman Jacob Trouba an easy choice.
12th Buffalo Sabres – Radek Faksa, C (Kitchener, OHL)
It is no secret that Darcy Regier would love to add size up front, specifically at the centre position. At the podium, the Sabres call out Radek Faksa, a strong intelligent two-way forward who just completed an impressive OHL rookie season in Kitchener leading all first-year players in scoring.
13th Dallas Stars – Zemgus Girgensons, C (Dubuque, USHL)
With balanced depth throughout the roster, Joe Niewendyk focuses on adding another centre prospect to their pipeline by selecting USHL standout Zemgus Girgensons, a Latvian forward that plays a gritty two-way game.
14th Calgary Flames – Sebastian Collberg, RW (Frolunda, SWE-Jr)
The Flames' prospect cupboard remains bleak even after drafting WHL scoring star Sven Baertschi last year. Jay Feaster enters his second draft at the helm of the Calgary Flames looking to add a player with projectable upside. Sebastian Collberg is a terrific skater and owns the scoring acumen that will be welcomed in Calgary.
15th Ottawa Senators – Slater Koekkoek, D (Peterborough, OHL)
Bryan Murray proves draft-after-draft that his scouting team is among the best in the league adding tremendous depth throughout their organization. Defense will be Murray's prime objective with their first round selection and Slater Koekkoek is a name that Ottawa may fancy. He missed much of his draft year with a shoulder injury but his puck rushing ability, strong point shot and impressive character screams "potential steal".
16th Washington Capitals – Brendan Gaunce, C (Belleville, OHL)
Using their second of two first round picks, McPhee selects high character player Brendan Gaunce from the Bulls program in Belleville. His defensive awareness, enviable work ethic and solid offensive skills will add a versatile player to the Capitals system.
17th San Jose Sharks – Matt Finn, D (Guelph, OHL)
Guelph's Matt "Finn" was born to wear a Sharks' jersey (insert JAWS theme song here) and with San Jose's impressive track record drafting out of the OHL, Doug Wilson adds a strong skating defenseman that helps rebuild a shallow prospect pool in San Jose.
18th Chicago Blackhawks – Malcolm Subban, G (Belleville, OHL)
The Blackhawks seem to lack the confidence in their goaltending that is needed to successfully play their offensive system. Stan Bowman addresses the absence of goaltending depth in Chicago's pipeline by selecting Malcolm Subban, making him the first drafted goaltender in 2012.
19th Tampa Bay Lightning (via DET) – Olli Määttä, D (London, OHL)
Impressed by Määttä's dominant playoff run, Tampa Bay refocuses on their plan to beef up the team's defensive depth. As the 2011 CHL Import Draft's first overall pick, Määttä joined a talented Knights team expecting to fill a depth role but eventually became London's most valuable defender with his solid overall game.
20th Philadelphia Flyers – Derrick Pouliot, D (Portland, WHL)
Paul Holmgren is approaching a volatile situation on his blue line if he continues drafting predominantly forwards. Looking back at the Flyers' previous twelve draft selections, only three were defensemen and none were drafted before the fourth round. With Captain Chris Pronger's health in question and the aging of Kimmo Timonen, Paul Holmgren drafts Derrick Pouliot, a swift puck moving defender with the ability to quarterback the powerplay.
21st Buffalo Sabres (via NSH) –Tom Wilson, LW (Plymouth, OHL)
Owning multiple picks inside the opening few rounds allows Buffalo to be more aggressive with their selections. Regier turns to the Plymouth Whalers' standout power forward, Tom Wilson, as he announces their 21st pick. Wilson has the size and skill to replace Zack Kassian, a player who was traded for Cody Hodgson at the 2012 trade deadline.
22nd Pittsburgh Penguins – – Tomas Hertl, C (Slavia Praha, CZE)
The Penguins have the luxury of having the deepest middle in the NHL with Crosby, Malkin and Jordan Staal lining up a center. However, Pittsburgh's pipeline lacks notable pivots and with Crosby and Staal's expiring contracts next year, Ray Shero knows that he needs to add a potential replacement in their system. Tomas Hertl has shown that he can produce against men playing in the Czech Republic's top professional league and his puck possession style of game will be appealing to the black and yellow.
23rd Florida Panthers – Hampus Lindholm, D (Rögle, SWE-AL)
Sunny Florida is developing quite the reputation as one of the NHL's best in terms of prospect depth. General Manager Dale Tallon earned a shiny new contract extension for his hard work and he will be eager to add a player that falls to the Panthers at pick twenty-three. Swedish defender Hampus Lindholm has the potential to be drafted much higher but if he slides into the late rounds, look for Dale Tallon to quickly brand him Panthers' property.
24th Boston Bruins – Andrei Vasilevski, G (Tolpar Ufa, MHL)
Tuukka Rask is set to take the reins from Tim Thomas, who has decided to go into hiding instead of retirement. In their development system, Boston lacks top-end talent among their goaltending prospects and it's an area that could be addressed early in 2012. Peter Chiarelli opts to select World Junior standout, Andrei Vasilevski as a potential starter down the road.
25th St. Louis Blues – Pontus Åberg, LW (Djurgardens, SEL)
Injuries derailed any momentum that Pontus Åberg could gain squashing his hopes of a top ten selection. Åberg succeeded playing among men in the Elitserien league showing his willingness to battle despite being undersized. St. Louis is attracted to his hot wrist shot, good on-ice vision and playmaking abilities believing he has the potential to develop into one of the draft's best offensive options.
26th Vancouver Canucks – Brady Skjei, D (USNTDP, USHL)
Mike Gillis seeks out a defenseman capable of staying healthy and contributing consistently, two areas that have been had to fulfill on Canada's west coast team. Brady Skjei has been turning heads with his size and well-rounded defensive game that has been steadily improving all season long.
27th Phoenix Coyotes – Stefan Matteau, LW (USNTDP, USHL)
GM Don Maloney watches the US NTDP program closely drafting several of its products over the past few years. With several options from the NTDP program, Phoenix drafts Stefan Matteau, a projectable player that could develop nicely into a complementary top-six player. Maloney walks away grinning with his Matteau selection as he adds much needed size and skill to his forward depth charts.
28th New York Rangers – Scott Laughton, C (Oshawa, OHL)
The New York Rangers step up to the podium to name Scott Laughton the newest Blueshirts' prospect. Laughton is a player that has progressed with every shift logged during his draft year as he displays an intense compete level and the two-way intelligence that make him extremely versatile. Glen Sather shakes the hand of Scott Laughton knowing that he may have landed himself the next Ryan Callahan or Mike Richards.
29th New Jersey Devils – Oscar Dansk, G (Brynas, SWE)
The consensus was that New Jersey would choose to forfeit their 2012 first round pick but GM Lou Lamoriello will use the 29th pick to select a player their organization clearly covets. Dansk is a product of the Brynäs program that has been pumping out elite goaltenders in recent years and adding a talented netminder to challenge top goaltending prospect, Scott Wedgewood, is never a bad strategy
30th Los Angeles Kings – Colton Sissons, C (Kelowna, WHL)
After Kings' GM Dean Lombardi traded fan favourite Wayne Simmonds and top prospect Brayden Schenn to land two-way pivot Mike Richards, he will look to avoid a similar situation in the future. Drafting Colton Sissons will assure that Stanley Cup Champions add a devoted two-way player that can play tough minutes as well as provide intangible leadership qualities, much like Richards himself.
Enjoy the draft! Good luck to all of the draft-eligible players!