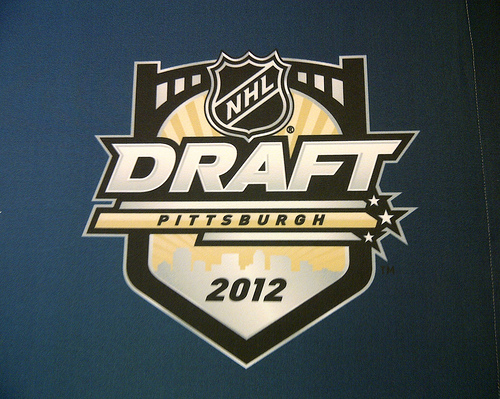 With the hustle and bustle of the NHL's Stanley Cup Playoffs, some hockey fans seem to forget that some of the world's top prospects are also duking it out in the CHL to be crowned Memorial Cup Champions.  The USHL is also holding their playoffs, where forwards, defensemen, and goalies are battling to be crowned victors of the Clark Cup.  The SM-Liiga, SEL, and KHL playoffs have been concluded, so now would be a perfect time to put out my final Top 60 list for this year.
***
Click here for the live updated NHL 2012 Draft Preview Guide – The Next Ones – your quintessential draft resource.
***
1. Nail Yakupov – Forward – Sarnia Sting – OHL
Yakupov is (and has been) the clear cut number 1 all season for me.  He has game-breaking potential, great puck skills, physicality, speed, vision, the list just goes on and on.  The Sting fell early in the playoffs and Yakupov sustaining an injury before season's end certainly didn't help.  But it is hard to argue that anyone is better than Nail in this draft.
2. Mikhail Grigorenko – Forward – Quebec Remparts – QMJHL
Many have accused Grigorenko for being the prototypical "lazy Russian" who just doesn't have the heart to succeed and be the best player.  I just don't see that with him.  He has a helluva frame, mixed with smooth skating, shifty hands, and a tenacity to win, Grigorenko has been compared to fellow Russian, Evgeni Malkin, and former Soviet legend, Alexander Yakushev by Central Scouting's Chris Bordeleau:
"His defensive part of the game is solid; he pays attention to where he is on the ice and, of course, his offensive skills are solid…He has the size and can play and can skate and he's talented and he can endure the wear and tear easier than the smaller guy."
3. Ryan Murray – Defense – Everett Silvertips – WHL
I'll admit I never have been the biggest Murray supporter, however he has grown on my since my Midseason Rankings.  Murray excels at every aspect of the game to a point where you sometimes don't notice he's on the ice until he grabs the puck from you and squanders your chances at a goal.  Murray is rarely caught out of position and seems to slow the pace of the game down to where he seems most comfortable.  It is a skill that is hard to come by from a defenseman's point of view, but I firmly believe Murray will be the best all-around defenseman to come out of the 2012 NHL Entry Draft.
4. Alex Galchenyuk – Forward – Sarnia Sting – OHL
For Galchenyuk to be 4th on my list just goes to show how much of an impact he had on my last season.  Some might argue that his point production in the 2010-11 season was aided by being on a line with Yakupov, but Galchenyuk clearly showed that he has just as much talent as his linemate.  His acceleration and speed are deadly.  His passing and ability to get to open spaces gives Galchenyuk a sincere advantage in the offensive zone.  Despite an injury that knocked him out for almost the entire year, Alex Galchenyuk is still considered an elite talent in this draft.
5. Mathew Dumba – Defense – Red Deer Rebels – WHL
Dumba would like to follow in former teammate Ryan Nugent-Hopkins' footsteps by being selected first overall, and it might just happen (longshot, I know) if Edmonton drafts based on position.  Dumba is a physical force on the blue line and isn't afraid to throw his body around to knock a person off the puck or just to start a fire in his team.  He has above average playmaking abilities and great up ice vision.  He is very patient with the puck and can run a powerplay very well.  He should be a mainstay on any team's defensive core for years to come.
6. Cody Ceci – Defense – Ottawa 67's – OHL
Cody Ceci made the major climb up my rankings, and rightfully so.  Ceci excels in the defensive aspects of the game, but isn't afraid to jump into the play in the attacking zone – his 60 points this season can attest to that.  Blessed with phenomenal hockey IQ, sense, and mobility set Ceci apart from his defensive counterparts.  He should have no problem adjusting to the NHL game after his name gets called this year.
7. Filip Forsberg – Forward – Leksand – Allsvenskan
Although he helped his team win the gold medal at the World Junior Championships in January, Forsberg was a non-factor in the gold medal game of the U18 Championships in the Czech Republic, watching the US trounce all over team Sweden, 7-0.  Despite that, Forsberg has left his mark as one of this years top forwards in the draft.  He is lanky, but can control the play, stickhandle between opponents, create chances, or use his speed to go around defenders.  His quick shot leaves goalie baffled and his vision is second to none.  If a lottery team is in need of a winger, look no further than Forsberg to get the job done.
8. Radek Faksa – Forward – Kitchener Rangers – OHL
Faksa is another player that climbed up my rankings the longer the season went on.  The big-bodied Czech was the highest scoring rookie in the OHL this season with 67 points in 62 games.  THW's Brendan Ross had this to say in his Faksa prospect profile:
"Faksa owns a hard accurate shot with good velocity and with soft playmaking hands and above-average puck protection skills he's a difficult player to compete against. Radek's best asset remains his overall balanced game and while he does not excel in one particular skill or area he offers a well-rounded package. The average spectator will notice that Faksa lacks a "wow" factor but his hockey sense is extremely underrated and it's an area that has many people thinking he is capable of reaching another offensive level."
9. Jacob Trouba – Defense – USNTDP – USHL
While the entire Team USA was wholly underwhelming at the World Junior Championships, Jacob Trouba stood out as one of the few bright spots.  His solid defensive work made the blueline look a little less porous and he played with a confidence that was lacking throughout the entire team.  Poised with the puck, Trouba is a great two-way defensemen who will look to build on his overall game at the University of Michigan next season.
10. Griffin Reinhart – Defense – Edmonton Oil Kings – WHL
I met Griffin Reinhart at the draft last year as he watched some of his closest hockey buddies get called by NHL execs in Minnesota.  Immediately I noticed just how tall he was.  Standing 6'4″, Reinhart has a definite size advantage and uses it willingly by pokecheck, hitting, or other means.  Ryan Pike had this to say about Griffin:
"Strangely, the same qualities that have made him a great WHL player are also what may put him "under-the-radar" as far as high-end prospects are concerned. Reinhart is a coach's ideal of a two-way defender – he's big (6-foot-4 and 200 pounds), surprisingly mobile for his size and positionally-strong. He's also blessed with a good eye, something that has come in handy while quarterbacking the Oil Kings power-play."
11. Derrick Pouliot – Defense – Portland Winterhawks – WHL
Pouliot has led his Winterhawks to the WHL Finals and has really come of age this season as a puck-moving defenseman.  With quick first passes, quarterbacking the powerplay, and having sensational puck control, Pouliot is garnering interest from every corner as one of the premier defenders to come out of the 2012 NHL Entry Draft.
12. Olli Maatta – Defense – London Knights – OHL
Coming from Finland, playing on a smaller surface, learning a new language, and achieving success can be a very tough task for any 17 year old, but Maatta was able to overcome all the adversity and be one of the London Knights best defenders throughout the season.  They currently knocked off the Kitchener Rangers on their way to the next round of the playoffs and Maatta has been an absolute rock on defense saving his best effort for the playoffs.  It might take some time before Maatta is ready for the NHL game, but when he suits up at the next level, he will be a very reliable defenseman.
13. Morgan Rielly – Defense – Moose Jaw Warriors – WHL
I promise this will be the last defenseman until #17.  Rielly is an offensive juggernaut.  Much like the rest of the 2012 draft class, Rielly also went down with an injury this year, but his offensive skills alone remind you of a Mike Green/Erik Karlsson type of defender.  There will be some NHL looking for a dynamically offensive blueliner and Rielly fits that bill to a "T".
14. Teuvo Teravainen – Forward – Jokerit – SM-Liiga
Teravainen has really showed up big time since the halfway point of this season.  I had him out of my top 30 and now he crept his way all the way to #14.  He's made an impact on the international stage scoring 26 points in 17 games for Team Finland.  He possesses scoring ability, hockey-sense, slick hands, and quick skating.  He's jumping up on many peoples lists (mine included) and might hear his name called in the first round.
15. Zemgus Girgensons – Forward – Dubuque Fighting Saints – USHL
Dubuque has already been knocked out of the USHL playoffs, but Zemgus Girgensons has left his mark on the team and on the draft.  He is a fantastic two-way forward that realizes the defense is just as important as putting up points.  A workhorse who is powerful on his skates, Girgensons loves to go to the dirty areas of the rink and isn't one to back down from mixing it up with opponents.  He reminds me of the Sean Couturier of the 2012 NHL draft.
16. Sebastien Collberg – Forward – Frolunda – SEL
Like Filip Forsberg, Collberg was also part of Team Sweden when they won gold in the WJC.  He was one of the most impressive young Swedes on the team showing his smooth moves and lethal shot.  He's a pure offensive talent.  I spoke to Frolunda Indians goalie, Magnus Hellberg, at the draft last year and he mentioned that he was extremely shocked that such a young kid had so much talent.  To quote Hellberg, "He's going to be good….REAL good."
17. Brady Skjei – Defense – USNTDP – USHL
Having to outshine Jacob Trouba and Seth Jones on defense is no easy task, but Brady Skjei (pronounced SHAY) has done admirably.  Over the USHL season he has grown from an "offense-first" to a all-around defensie stalwart.  The future Minnesota Gopher's best asset is his skating.  Not only is it fluid, but he rarely gets caught out of position with his agility.  He's a very reliable pick in this draft.
The 3rd of 4 USNTDP players I have in the first round, Kerdiles is a player I've backed all season.  He's a big kid who fights for the dirty goals, but also has stick skills to open space for himself.  He was on and off the injury list this season so he wasn't as productive as many people may have expected, however, when it came time to elevate his game to the next level (U18's) he was the brightest spot on Team USA posting 5 points in the gold medal game against Sweden.  Don't sell the kid short.  He can play…and play well, at that.
19. Matt Finn – Defense – Guelph Storm – OHL
The Guelph Storm haven't experienced the season they really wanted to this year, but Matt Finn certainly helped whenever he could.  He ended the season 1st in points among defenseman and is another offensive threat from the backend.
20. Brendan Gaunce – Forward – Belleville Bulls – OHL
Gaunce was a point-per-game player this year scoring 68 points in as many games.  He takes pride in his defensive efforts as well.  According to THW's David O'Connor, Gaunce has "great vision, skating ability, hockey sense, a pro calibre shot, and unbelievable leadership qualities on and off the ice".
21. Colton Sissons – Forward – Kelowna Rockets – WHL
Sissons is a powerforward with an overall gritty game and top notch work ethic.  Cody Nickolet of WHL From Above gave his scouting report on Sissons a few months back:
"Despite his large frame, he doesn't get held back by his skating. He has a good first few steps and has good mobility and edgework. He skates hard and also plays with an edge.  He loves to lay the body and is very strong at creating room for his linemates, one of whom has been NY Rangers draft pick Shane McColgan.  Along with his size and strength, he features a very sharp hockey mind and knows where to be at what times on the ice.
22. Oscar Dansk – Goalie – Brynas – SuperElit
I'm not a fan of putting goalies in my Top 30 unless they truly deserve it.  Well Oscar Dansk definitely deserves it.  He is a big, yet agile goalie that has quick lateral movement.  A typical butterfly goalie, Dansk I feel is the best goalie in the draft by a fair margin.  Teams like Tampa or NJ could very well be looking for a goalie of Dansk's caliber come draft day.
23. Pontus Aberg – Forward – Djurgarden – SEL
I'm a big fan of prospects who are playing against men who are much older than they are.  Aberg is exactly that type of player and has impressed even though his team, Djurgarden, hasn't.  He does a great job heading to traffic areas and using his nifty stickwork to showcase his wicked wrist shot.  He is the 3rd best Swedish forward in the 2012 draft.
24. Jordan Schmaltz – Defense – Green Bay Gamblers – USHL
Here is what I had to say about Jordan Schmaltz:
"When coming down the ice, Jordan shows extreme poise with the puck and an uncanny ability to control the play up ice.  His hockey sense is second to none (a key ingredient in making a puck-moving defenseman)…Besides his poise and hockey sense, Schmaltz has a heavy slapshot from the point and his fluid skating gives him an advantage over his opponents."
25. Tom Wilson – Forward – Plymouth Whalers – OHL
Wilson is a big, physical, bruising player.  But with those adjectives, he also brings a highly skilled game.  With surprisingly slick moves, Wilson has the potential to be a Lucic type player.  He continually needs to work on his speed, acceleration, and agility in order to be dominant in the NHL.
26. Slater Koekkoek – Defense – Peterborough Petes – OHL
Here is Carl Maloney's take on Koekkoek from THW's The Next Ones:
"Koekkoek possesses as much upside and potential as just about anyone in the draft, but is still very raw as a prospect.  An offensive defenceman by trade, he boasts an impressive package of size and skill that can make scouts drool…A great skater with an ability to lead the rush, Koekkoek makes good decisions and moves the puck well. He possesses a good shot from the point which he uses effectively on the powerplay, and will become a bigger weapon for him as he gains confidence in his game."
27. Daniil Zharkov – Forward – Belleville Bulls – OHL
Zharkov was one of Belleville's best forwards this year and he has something no hockey coach can teach…SIZE!  Coming in at 6'3″, Zharkov mixes the North American game with the European game.  He has the perfect blend of grit and skill which have gotten a lot of scouts talking.
28. Martin Frk – Forward – Halifax Mooseheads – QMJHL
I was hoping Frk would come back to full form after his injuries, but it took some time before he got fully back into the swing of things.  He has since started to play the way we all expected and has pushed the Halifax Mooseheads into the next round of the playoffs against Rimouski.  He still has elite level skill, he just needs to find his game next season and show the true talent he can bring game in and game out.
29. Steffan Matteau – Forward – USNTDP – USHL
Matteau is the last USNTDP player in my top 30.  He, much like Wilson, is a big powerforward with a bit of a mean streak.  He has a heavy shot and is a player you could consider as a "net-front presence".  His transition to the QMJHL next season won't be that difficult, although he will need to work on his skating if he ever wants to be as prosperous as his father was.
30. Henrik Samuelsson – Forward – Edmonton Oil Kings – WHL
The Next Ones article by Dustin Twin mentions:
"He is not an absolutely offensive dynamo, nor is he just a big grinding forward who is hell on defensemen.  He is one of those rare players who has a unique mix of size and skill that can play a variety of roles for teams…Henrik has a great one-time shot and can score goals on the PP and set-up offense as well as on the rush.  He has really good puck skills for a bigger player and is great at finding open teammates.  In the corners and in front of the net Henrik is very hard to handle for opposing players because of his size but also because he is great with the puck in tight and has a number of go-to moves that he uses to create space for himself in those areas…he things Henrik needs to work on are his skating and his discipline."
31. Phil DiGuiseppe – Forward – Michigan Wolverines – NCAA
32. Hampus Lindholm – Defense – Rogle – Allsvenskan
33. Adam Pelech – Defense – Eerie Otters – OHL
34. Ville Pokka – Defense – Karpat – SM-Liiga
35. Anton Slepyshev – Forward – Metallurg Novokuznetsk – KHL
36. Dalton Thrower – Defense – Saskatoon Blades – WHL
37. Tim Bozon – Forward – Kamloops Blazers – WHL
38. Tanner Pearson – Forward – Barrie Colts – OHL
39. Ludvig Bystrom – Defense – Modo – SuperElit
40. Cristoval Nieves – Forward – Kent School – High School
41. Gemel Smith – Center – Owen Sound Attack – OHL
42. Michael Matheson – Defense – Dubuque Fighting Saints – USHL
43. Jon Gillies – Goalie – Indiana Ice – USHL
44. Andreas Athanasiou – Forward – London Knights – OHL
45. Damon Severson – Defense – Kelowna Rockets – WHL
46. Thomas Hertl – Forward – Slavia Praha – Czech
47. Malcolm Subban – Goalie – Belleville Bulls – OHL
48. Scott Kosmachuk – Forward – Guelph Storm – OHL
49. Jarrod Maidens – Forward – Owen Sound Attack – OHL
50. Andrei Vasilievski – Goalie – Ufa – MHL
51. Scott Laughton – Forward – Oshawa Generals – OHL
52. Mike Winther – Forward – Prince Albert Raiders – WHL
53. Nikita Gusev – Forward – Moscow Red Army – MHL
54. Pat Sieloff – Defense – USNTDP – USHL
55. Nikolai Prokhorkin – Forward – CSKA – MHL
56. Sam Kurker – Forward – St. John's Prep – High School
57. Charles Hudon – Forward – Chicoutimi Sagueneens – QMJHL
58. Jake McCabe – Defense – University of Wisconsin – NCAA
59. Tomas Hyka – Forward – Gatineau Olympiques – QMJHL
60. Erik Karlsson – Forward – Frolunda – SuperElit
Follow Shawn Reznik on Twitter (@ShawnReznikTHW).