Brady Skjei THW Close-Up:
Date of birth: March 26, 1993
Place of birth: Lakeville, Minnesota
Ht: 6'2″  Wt: 203 lbs
Shoots: Left
Position: Defense
NHL Entry Draft Eligibility: 2012
*Click Here for "Notes Up Front" and the "Legend" for various topics covered below in the "Live Updated" THW's NHL 2012 Entry Draft Guide – The Next Ones home page.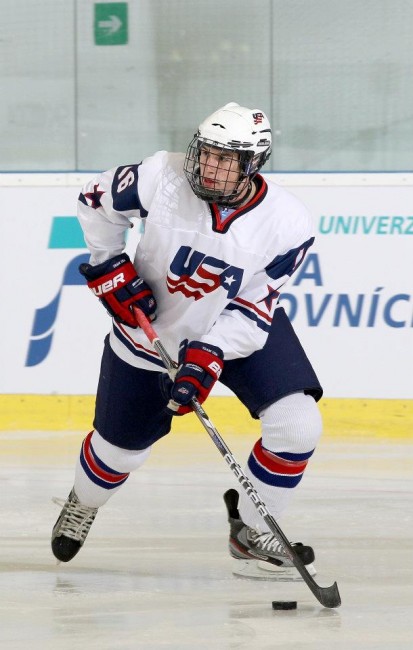 Sk-JAY?  Maybe the "J" is silent, so it must by SKAY.  Or Sh-Jay?!?!?
Actually, his last name is pronounced Shay and you better get used to hearing it.  Of late, Brady Skjei has been getting a ton of attention playing on yet another powerhouse U.S. National Development Team.  They are currently in the midst of going for their 4th straight U-18 World Championship in Brno, Czech Republic.  The team has an undefeated record and secured their spot in a semifinal game by knocking off Canada 5-3 yesterday afternoon.  Skjei, along with fellow blueliners Seth Jones, Jacob Trouba, Connor Carrick, Matt Grzelcyk, Pat Sieloff, and Will Butcher, have helped the US post three shutouts in the four games they have played.
A few days ago, ISS posted their monthly Top 30 rankings for April.  Skjei has made the list every month since October, and this month was no exception.  Coming it ranked 24th, Skjei has been getting tons of well deserved praise from scouts on his two-way defensive game, fluid and agile skating, and jumping into the play to create a chance or stop an opponent.  Those are some pretty nice attributes to have, especially if your going to play for the D1 college team every Minnesotan dreams of playing on.
As a boy growing up in Minnesota, a life goal is to suit up in the maroon and gold and dawn the Golden Gopher crest for the University of Minnesota.  Brady Skjei committed to Minnesota and looks to develop his game next season on an already stacked squad filled with NHL drafted talent (Bjugstad, Rau, Ambroz, etc.).  After making a promising run to the Frozen Four this year before getting bounced by the eventual champions, Boston College, Skjei has all the tools and the teammates to help the Golden Gophers make a run for its first National Championship since 2003.  But first, a gold medal in the U18 World Championships will do just fine for Brady.
Scout's Honor:
"Possesses a great deal of power, balance and speed in his stride. Transitionally mobile and fluid. Accelerates off his first step. Defensive footwork needs to be strengthened.  Sturdy and strong in front of his own net. Ties up sticks well and keeps position between opponent and net-minder. Unrefined and short circuits at times without the puck and can be sucked out of position. Needs to step up his defensive awareness and become more in sync with the play in his own zone. Could stand to be more assertive with his size.  Run and gun type rear-guard that can manufacture offense and keep the opposing defenders on their heels. Jumps on loose pucks and takes them off to the races with his ability to skate the puck up ice. Slick with the puck and drives in hard with strength and creativity. Holds great vision with the puck and can distribute it like a pro. Will jump into the play often. Shows extreme confidence atop the blue line and with his pinching execution. His shot is average at best and needs to be powered up." – Reel Hockey Scouting
"A great skater for his size, likes to support the play from the back end, above-average puck mover, can lug the puck if needed, good hockey sense, gets point shots on the net, passing skills are okay, can play on the power play. Has improved quite a bit in last few months, hasn't reached his full potential yet.  Not a hard-nosed kid, won't play a physical style despite his size and needs to add some muscle. Not an overly creative player and his offensive production may not be great – he needs work on his consistency." – Grant McCagg
"Skjei is an imposing defenseman who continued to grow this season and has been climbing the charts as well. For a big player, Skjei is tremendously mobile and his high-end skating ability allows him to work in transition and handle incoming forechecks. He's still got a raw skill-set and is learning how to use his size effectively, but the Minnesota commit has an enticing skill-set that projects well at the NHL level. At this point, Skjei has to be considered to be the 2012 edition of the NTDP's Connor Murphy, and we'll see how he plays over the coming months as he makes a final push up the charts." – The Scouting Report
Statistics:
Bio/Interview(s)/Link(s):
International Tournaments:
In nine international games that Skjei has suited up for, he has a total of 4 points (1G, 3A).
ETA = 3-4 years
Risk-Reward Analysis:
Risk: 0/5   Reward: 4/5
NHL Potential:
Top 4 defenseman capable of controlling the powerplay.
Strengths:
Skating
Offensive instincts
Agility
First pass out of the zone
Controlling the tempo
Leading the rush up ice
Flaws/Aspects He Needs to Work On:
Defensive awareness
Getting caught out of position occasionally
Increasing the power on his shot
Fill out his frame
Fantasy Hockey Potential:
Offensive: 6.5/10   Defensive: 5/10
NHL Player(s) Comparison:
-Bryan McCabe
-Kyle Quincey
Follow Shawn Reznik on Twitter.
THW's The Next Ones prospect profile template design architect: Chris Ralph