Jordan Schmaltz THW Close-Up:
Date of birth: 10/8/1993
Place of birth: Verona, Wisconsin
Ht: 6'2″  Wt: 174 lbs
Shoots: Right
Position: Defense
Draft eligibility: 2012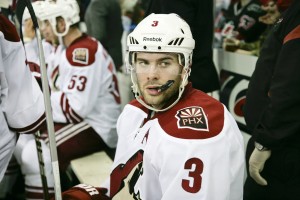 The Green Bay Gamblers paid a hefty price for Jordan Schmaltz in November sending four players to the Sioux City Musketeers in order to acquire his rights.  Since the trade, Schmaltz has been nothing short of a standout in Green Bay and is currently 2nd in points among defensemen with 26.  Schmaltz has also helped power the Gamblers to the top of the standings this season with hopes of securing a Clark Cup before suiting up for the Fighting Sioux in North Dakota next season.
When coming down the ice, Jordan shows extreme poise with the puck and an uncanny ability to control the play up ice.  His hockey sense is second to none (a key ingredient in making a puck-moving defenseman).  Coming off a terrific season where he led all defenseman in points, Schmaltz continues his development and has garnered great interest from scouts around the USHL.  In various rankings that I've seen – including my own – Schmaltz has been able to make the top 30 quite a bit, and for good reason.  Besides his poise and hockey sense, Schmaltz has a heavy slapshot from the point and his fluid skating gives him an advantage over his opponents.
Being in an already top-heavy draft for defenseman, Jordan Schmaltz will be looking to distance himself from the rest in terms of his production and all-around game in the coming weeks.  Under the direction of Dave Hakstol, Schmaltz should transition just fine from the USHL to the NCAA-style of game.  If you're heading to Vegas anytime soon, I'd say it would be a wise decision to bet that Schmaltz will be taken in the 1st round since there are a plethora of NHL teams who could use his services in the offensive zone.
Scout's Honor:
"A big bodied defender with offensive skill (note: this is a recording), Schmaltz is an agile skater who loves to rush the puck himself and control the game. He has vision out the butt and knows how to open lanes on the Power Play. His shot possesses some power and weight behind it, but will get better as he gets stronger." – Brian Huddle, HockeyBuzz
"Is an instinctive and smooth puck mover with seamless skating ability. Strong, all directions skater with a wide base and a long reach. Tremendous offensive skill and vision, especially from atop the blue line. Has NHL touch and polish with the puck and can feed the puck crisply, smartly and with purpose. Keeps his head up on retrieval, and when working the puck, which makes his play with the puck unpredictable and hard to read.
Keen defensive anticipation and relies heavily on his mobility, positioning and stick-work  to complete his defensive responsibilities. Has great size and is still quite upgradeable. However, he is not known for physicality or grit, and this will be something he must address in the future, especially deep in his own zone and in front of his net." – Reel Hockey Scouting
"In his 3rd USHL season, Schmaltz has fallen victim to overexposure in the USHL this year. While other players are stepping up in their 2nd year's in the league, Schmaltz has seen his touted offensive upside level out as he shows an increased commitment to the defensive end of the ice. To his credit, he has established himself as a much more reliable defenseman this year, but it has opened up some concern about his ability to contribute at a high level offensively while bringing strong play at the other end of the ice. Schmaltz is committed to the University of North Dakota (where his younger brother, 96YOB Nick Schmaltz has also committed) and next year will be a great barometer of what type of player he is and just how high his upside might be." – The Scouting Report
Statistics:
Bio/Interview(s)/Link(s):
International Tournaments:
Schmaltz has played a total of 15 games of international competition in which he has recorded 1 goal and 2 assists.
ETA = 2-3 years
Risk/Reward Analysis:
Risk: 0/10  Reward: 8.5/10
NHL Potential:
First or second pairing offensive defenseman capable of quarterbacking the powerplay.
Strengths:
Vision
Hockey Sense
Great first pass
Shot from the point
Poise
Skating
Puck Control
Flaws/Aspects He Needs To Work On:
Physicality
Increase strength
Develop a more solid two-way game
Fantasy Hockey Potential:
Offensive: 8/10   Defensive: 4/10
NHL Player(s) Comparison:
– Keith Yandle
– Drew Doughty
– Scott Niedermayer-lite
Video(s):
Follow Shawn Reznik on Twitter.
THW's The Next Ones prospect profile template design architect: Chris Ralph