The Edmonton Oilers decided to trade up in the 2018 NHL Draft to snag Drummondville Voltigeurs starting goaltender Olivier Rodrigue with the 62nd overall selection. General manager Peter Chiarelli had already plucked two solid choices with a stud right-shot puck mover in Evan Bouchard, followed up by a potential steal in center Ryan McLeod.
Related: Oilers Draft Evan Bouchard 10th Overall
With two good picks in the fold, Chiarelli packaged the 71st (third round) and 133rd (fifth round) selections to move up in the draft order. It's a bold strategy to take three picks that early and have nothing between picks 63 to 163, which is the meat of the draft.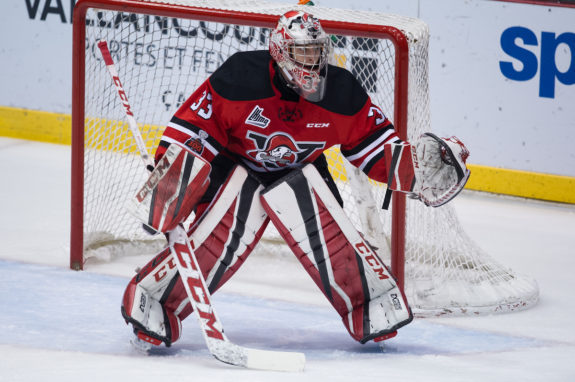 That gave Edmonton a total of just five picks in this year's draft, which is the lowest total of Chiarelli's time in Edmonton. He had six in 2015, a whopping nine in 2016, and seven in last year's draft. The 62nd selection would've been the Montreal Canadiens' fifth pick in the draft up to that point.
Related: Oilers Draft Ryan McLeod 40th Overall
By moving down, the Canadiens took defenseman Jordan Harris with the 71st pick and a local product (and center) in Samuel Houde with the 133rd pick. Edmonton would use that 62nd pick on Rodrigue as mentioned above. It's a popular opinion to criticize Chiarelli, but you can't ignore the work he and the scouts have done since the 2015 draft.
They've largely corrected their issue on defense, and prospect-wise, the right side has never been better in the past 20 years. With Stuart Skinner, Dylan Wells, and now Rodrigue in the system, the club has depth regarding netminders. They've also got scoring depth coming on the wings. Give the man his due.
Oilers Loading Up in Goal: Skinner, Wells & Rodrigue
If you remember leading up to the draft, this wasn't considered a goalie draft. There was no real stud netminder at the top of the draft. Rodrigue was projected to be the top goaltending prospect in the draft but ended up being the second goalie taken off the board. The New York Rangers took Olof Lindbom with the 39th pick, leaving Rodrigue on the board to close the second round.
This is an exciting pick. There's a ton of upside and decent numbers when compared to the rest of the QMJHL. Rodrigue is a very raw prospect, something you'll hear a lot from this point forward in Edmonton's draft analysis. He went 31-16-3 in 53 games this season and boasted a 2.54 goals-against average (GAA) and a .903 save percentage (SV%).
He's the starting goalie for Drummondville (as mentioned), and, like Bouchard and McLeod, is described as a smart player with excellent vision. There's belief that Rodrigue (who happens to be the son of Oilers goaltending coach Sylvain) has No. 1 potential. Whether or not he reaches that potential is another story, but take the positives and best outlook where you can.
Related: Edmonton Oilers 2018 NHL Draft Guide
With Stuart Skinner (79th, 2017), Dylan Wells (123rd, 2016), and Rodrigue, Edmonton's future between the pipes is looking bright. Skinner likely still possesses the highest upside amongst that group and is coming off a stellar campaign that concluded with a berth in the 2018 Mastercard Memorial Cup. Rodrigue could have similar success next season.
Scouting Reports & Thoughts on Olivier Rodrigue
Jerome Berube (Scouting Service):
Olivier Rodrigue to Edmonton, his father is a goalie coach/consultant with the Oilers. Our #2 ranked goaltender, if he was bigger he (would) probably go higher in the draft. Very calm and composed in his crease.
Larry Fisher (The Hockey Writers, Kelowna Courier):
Oilers now have Evan Bouchard (10), Ryan McLeod (40) and Olivier Rodrigue (62) through two rounds. Keith Gretzky and Co. have to be thrilled with that trio, top right-hand defenseman, center, and goaltender, all best players available (BPA) too. Edmonton drafting much better in Chiarelli era.
Matt Mosewich (Edmonton Prospect Watch):
Oilers trade up to select Olivier Rodrigue at 62. I have him as my top ranked goalie, very poised. Reminds me of Carter Hart. Goalies are very tough to rank. I don't know if I would've traded up to get him. (Oilers) traded up to grab Stuart Skinner last year.
Steve Kournianos (The Draft Analyst):
Don't let Rodrigue's size scare you away – this kid's reflexes, rebound control, and post-to-post quickness are exceptional. He's an aggressive netminder who will dart out of the crease to defend shots from anywhere within his own end, and he's proven to safely steer high-danger shots either into the corners or far from the low slot.
Rodrigue's stick is very active and times his poke checks very well, plus his ability to lock in on pucks throughout an entire cycle helps him interdict cross-crease passes from either corner. His glove hand and its positioning are a work in progress, which when coupled with a low silhouette make him susceptible to get beaten upstairs, especially on his short side.
Jim Matheson (Edmonton Journal, Edmonton Sun):
Rodrigue was the No. 1 ranked North American goalie by Central Scouting and was the second to go after New York Rangers took Swede Olaf Lindbom. Rodrigue is only six-foot-one and 159 pounds, small by NHL standards but he's technically very sound.
Good teaching from his dad, who's been on their staff for six years and once won a Calder Cup with Hershey in the AHL, then went to Europe to play. Sylvain swears he tried to stay out of where his boy went. There was no "you should take my boy" or no "there's too much pressure if you take him. I actually thought Montreal was going to take him (62nd)."
Brett Slawson (The Hockey Writers):
Although he doesn't boast immense size, Rodrigue's fiery demeanor and determination to succeed more than compensate for this perceived deficiency. A true battler in the crease and desperate to win each and every time he graces the ice.
Rodrigue denies opposing shooters through strong positional play and the ability to react quickly to well-placed shots and dangerous scoring chances.
History of the NHL Draft & the 62nd Overall Pick
Before the Rodrigue selection, the 62nd overall pick had been used on a goaltender just six times in NHL history. Only four of them ever played in the NHL, and only one has played more than 100 games in the league. That netminder was Anders Nilsson (2009, New York Islanders). He's primarily seen as a decent backup option.
Related: Olivier Rodrigue – 2018 NHL Draft Prospect Profile
One name that's well on his way is Columbus Blue Jackets backup Joonas Korpisalo (2012). He's played 63 games thus far and has starter potential. The other two that played in the NHL were Marcel Cousineau (1991, Boston Bruins), and he played just 26 games. The other was Paul Hoganson (1969, Pittsburgh Penguins) who got into only two games.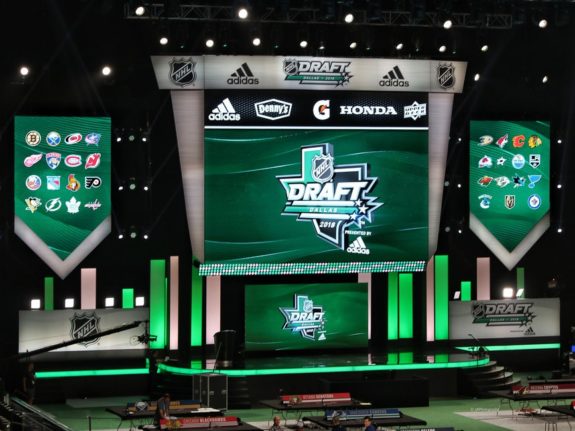 Samu Perhonen, an Oilers pick from 2011, never played and his qualifying rights were relinquished. Joseph Woll, chosen in 2016 by the Toronto Maple Leafs, is unsigned and wrapped up the 2017-18 season playing for Boston College. So there's a mixed bag of results with this pick from a historical value point of view.
Some of the others of note that were still on the board when the Oilers took Rodrigue were; John Madden's son Tyler (68th, Vancouver Canucks), Jake Wise (69th, Chicago Blackhawks), and another goaltender Jakub Skarek (you guessed it, 72nd, New York Islanders). This is potentially another scenario where the Oilers and Islanders are tied together.
Rodrigue's poise and sense of composure in the net bode well for his NHL future. He relies on sound fundamentals to succeed in his position, and he could end up being every bit as good as Stuart Skinner. At 6-foot-1 and just 159 pounds, he's got a small frame and will need to fill out, but raw abilities aside, this was a bold move by the Oilers and one that could work out just fine in the long run.