The San Jose Sharks took a risk in the first round of the 2018 NHL Entry Draft by selecting defenseman Ryan Merkley with the 21st overall pick. In the 2017-18 OHL season, Merkley put up 67 points in 63 games. It's out of character for Doug Wilson to select a player that qualifies as a high-risk high-reward player, but that didn't stop Wilson from selecting the dynamic offensive defenseman. When you can add a top-five-talent player to your prospect pool late in the first round, it's not all that high of a risk to make the selection.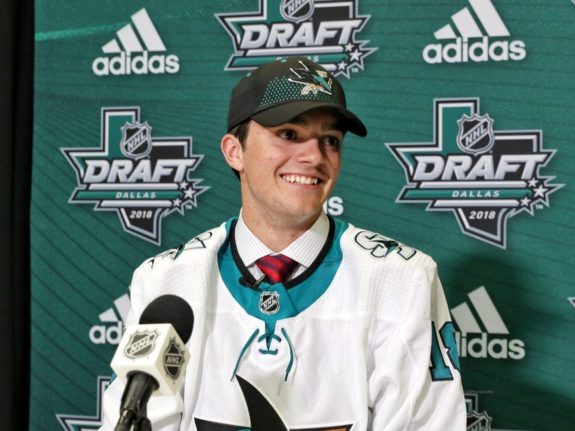 Merkley was the first overall pick in the OHL Draft a couple of years ago and has had the spotlight on him, unlike other prospects. That spotlight has blown up issues that many young players go through when they have a burning desire to win. He's been called a hothead who can't control his emotions, and traditionally in hockey, people expect their young players to lack a personality. When an emotional player comes along, they are often shamed as Merkley has been. Wilson and the Sharks' scouting staff clearly aren't concerned with Merkley's personality and are in awe of his on-ice skills, as all teams should have been. 
There are enough articles out there that talk about why Merkley was undrafted, but this will not be that type of article. Based on pure talent, he is the best offensive defenseman in this draft class, and that reason alone is enough to warrant a risk at the 21st pick.
What Makes Ryan Merkley Special?
His offensive instincts are Erik Karlsson-like. Merkley is a playmaker from the backend who creates plays that leave spectators scratching their heads trying to figure out how he did it. He finds his teammates in the offensive zone better than anyone else in this draft class and is extremely creative with the puck. The hockey IQ that is required to make the high-end plays that he makes almost every night is simply unbelievable. It's a skill that cannot be taught.
Merkley's skating is just as good as his hockey IQ. He's silky smooth and has complete edge control that enables him to use his legs to escape dangerous areas with the puck. His skating appears stronger when the puck is on his stick, which is something that has been said about Connor McDavid. Merkley isn't just fast, but his elusiveness on the offensive blue line is mesmerizing. He's not a big guy, but because of how slippery he is for the opposition to contain, his size doesn't matter.
Merkley's hands are just as good as his vision and skating. He can dangle in a phone booth and slip the puck through opponents with ease. Great hands combined with his aforementioned great feet make for a deadly combo in the offensive zone and a nightmare for the other team. He's the type of player that other teams have to game-plan around, or they risk getting embarrassed by his elite skill set.
Merkley's Areas to Improve Before Making the NHL
Merkley isn't going to make the Sharks' roster next season, and he already knows it. He's still 17 years old and one of the youngest players in the draft. At 5-foot-11 and 170 pounds, he needs to put on some weight before turning pro. He'll never be a big guy, but adding an additional 15 pounds would go a long way in injury prevention against men in the NHL. This shouldn't be too hard to do, and it is something that will gradually happen as he physically matures into a man.
This wouldn't be an article about Ryan Merkley if it didn't talk about how he needs to improve the mental side of his game. He struggles in the defensive zone, which isn't unusual for a young offensive defenseman. For those shaming his defensive play, they clearly don't watch Brent Burns in the defensive zone. Merkley will have to tighten up his defensive mindset, but he has all the physical tools to be a difference maker in the defensive zone as he is in the offensive zone.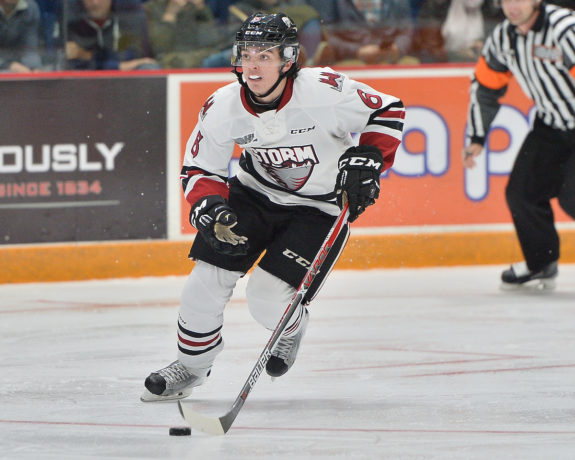 Merkley has been reported to have a temper problem, but it is something the young kid is aware of and actively working with a psychologist to improve. Half the battle of improving a bad temper is not being scared to seek help, and he has already begun that process. A psychologist will be able to help him channel his anger into a productive side of the game. It's better to have a player that has so much emotion inside and doesn't know how to control it than a player who lacks compete. Wilson said that he is confident that Merkley will be able to commit to the team based on the questions the Sharks' staff asked in the draft interview process.
He has already said that he will be going back to the OHL next season and thinks he will be ready for the NHL after one more year of junior. Realistically, Merkley will land in the NHL in the 2020-21 season but could challenge for a spot in the 2019-20 season. The Sharks might have just landed their Brent Burns replacement of the future.
Was this a great pick by the San Jose Sharks?