As is tradition in the NHL Draft, nothing shakes out how most expect it to. With the likes of Oliver Wahlstrom and Noah Dobson, amongst others, who were widely considered to be top-five or top-10 draft selections, slipping out of their projected spots, the Dallas Stars still stood pat and held on to their pick at No. 13.
It's fair to say that no one, aside from maybe the Dallas front office staff, expected who the Stars selected at No. 13.
In front of the hometown crowd, 1988 first overall pick Mike Modano and 2007 fifth-round choice and current captain Jamie Benn took the draft stage to announce the Dallas Stars' selection of Ty Dellandrea from the Ontario Hockey League's Flint Firebirds.
About Dellandrea
Ranked as the No. 25 North American forward on NHL Central Scouting's final list of prospects, Dellandrea was not too much of a stretch at No. 13 for the hosting Stars. While, yes, maybe chosen earlier than most anticipated, especially with higher-rated guys like Joe Veleno and Rasmus Kupari still on the board, the Flint forward still brings Dallas a well-rounded and solid center option for the future.
"Underrated" is the word that has often been used to describe the 17-year-old center.
"He's the type of player that impressed us more as the year went on." – NHL Central Scouting's senior manager David Gregory
The Toronto, Ontario native climbed the rankings throughout the season, initially clocking in at No. 76 on NHL Central Scouting's midterm list but impressively managing to climb to No. 25 by season's end.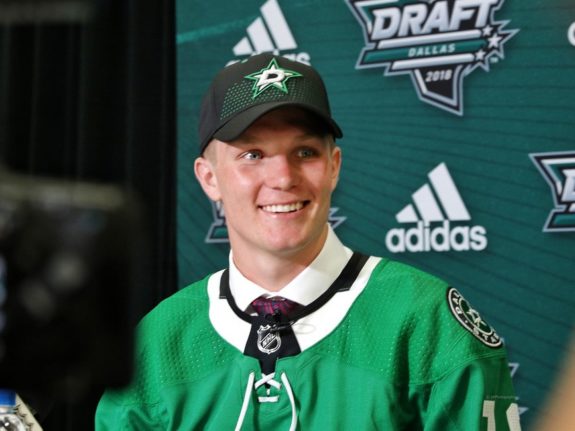 Dellandrea didn't figure to garner much first-round attention, mostly because of the team that he played on. To put it bluntly, the Flint Firebirds have been pretty awful the past few seasons. The team finished in the bottom of the OHL's Western Conference and second-to-last in the entire OHL with an abysmal 20-43-5 record, very similar to their record of two seasons ago at 20-42-6. In the 2016-17 season, however, Dellandrea's first as a Firebird, Flint managed to reach the playoffs but didn't put up much of a fight against the Sault Ste. Marie Greyhounds, losing in five games.
The Firebirds' alternate captain put up 59 points (27 goals, 32 assists) in 67 games for the club this past season. His 27 goals were the most on the club's roster. It was quite the improvement from last season's totals.
The second-year Firebird over doubled his goal, assist, and points output since his 2016-17 rookie campaign in Flint. During that 2016-17 season, the pivot played in 57 games and put up 13 goals and 11 helpers for a total of 24 points.
In addition to suiting up for all but one of Flint's games this past season, the right-shooting Dellandrea appeared in a number of extracurricular contests.
He took part in the CHL/NHL Top Prospects Game in January and made a little history, recording two goals in a span of 20 seconds, becoming the fastest player to do so in the event's 26-year history.
Dellandrea also represented his country on the international stage, playing in the 2017 Ivan Hlinka Memorial tournament. The forward also donned the maple leaf on his chest for Team Canada's U18 team during the 2017 IIHF World Championship and also in this season's 2018 tourney, where he served as an assistant captain and notched five points (two goals and three assists) in five games and was an impressive plus-5.
At the end of the season, Dellandrea was named the Firebirds' Most Valuable Player and took home the team's Combined Academic & Athletics Excellence award for earning a perfect 4.0 grade-point average during his senior year at his Michigan high school.
Dellandrea also made a little Flint Firebirds history by becoming the first first-round pick in the team's history. The organization just wrapped up its third season since replacing the Plymouth Whalers in 2015.
Also of note, the 17-year-old under-ager was one of 104 prospects invited to the scouting combine and recorded the fifth-best score in the infamous V02 Max test, a rigorous test of endurance which records the amount of oxygen spent during a ride on the bike. In other words, the dude's got a pair of lungs and some solid stamina.
A Solid, Two-Way Center Prospect
Additionally, by most accounts, Dellandrea is an all-around solid, blue-collar-type player.
Noted prospect-projecting extraordinaire Corey Pronman said this of the pivot:
"Dellandrea was Flint's best player this season, being a great all-around contributor for a struggling team and generating a ton of shots on net. Dellandrea has a lot of positive elements to his game, and although he doesn't do anything at a high-end level, it's also hard to find a weakness in his game. He's a good skater who can build speed well going through the neutral zone. He's very powerful at full speed with a strong frame that is hard to contain when he drives to the net or tries to beat a defender to the outside. Dellandrea can make a skilled play to get a zone entry, showing the odd flash of higher level skill and has above-average vision. His shot is heavy and he can finish chances when he gets them. Dellandrea also is a quality defensive center who can kill penalties well and take critical draws. Coaches will love his versatility, but he has enough talent to be a valuable scoring asset too."
(from 'Pronman's 2018 NHL draft rankings: Top 74 prospects,' The Athletic – May 21, 2018)
Pronman ranked him No. 29 on his "Top 74 prospects" list.
He's a scorer, a playmaker, and he plays both sides of the ice. He's relentless on the forecheck, explosive on his skates, and has a nice set of hands.
Dallas picks Ty Dellandrea pic.twitter.com/lueqLhjkwY

— Corey Pronman (@coreypronman) June 23, 2018
But the main reason GM Jim Nill was so high on Dellandrea is largely because of his character.
"He's got great overall skill, he's got great speed, he handles the puck well. He's very competitive and he pays a 200-foot game, both ends of the rink. And then on top of that he's high, high in character. You won't meet a more character young man. He's got great values, great family values and he's a team leader," Nill told Josh Bogorad following the conclusion of the first round.
Dellandrea made the most of a bad situation in Flint. Almost every scouting report mentions the kid's character. Even while playing on a terrible team that was pretty much eliminated from playoff contention a mere month into the season, Dellandrea showed no quit, and that's a quality attribute to have in the NHL. You want that guy on your team that fights every single game, whether it's Game 7 in the playoffs or Game 82 of a losing season.
Dellandrea's Outlook in Dallas
At 6-foot-1 and 190 pounds, Dellandrea has NHL size but could probably use a few more pounds and a few more seasons of experience before he cracks the Stars' roster.
Presuming Dallas takes its time with prospects, as the team has shown in recent history, Dellandrea will return to Flint for at least the next season and then transition to the Texas Stars before he gets any serious training camp looks.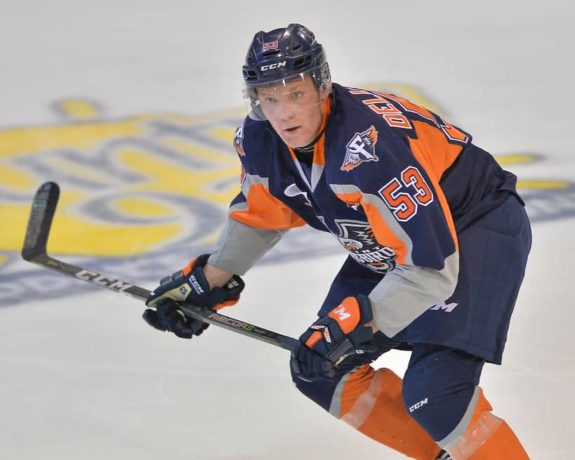 Nill's decision to take Dellandrea isn't too shocking considering his recent draft tendencies.
With Nill nabbing Dellandrea at No. 13, it's the 13th OHL product selected by the Stars' sixth-year general manager out of his 37 draft choices in Dallas, making up a little over a third of his selections.
Somewhat uncharacteristic, however, is that Nill chose a center. This is just the sixth pivot the Stars' GM has chosen in his history in Dallas. So perhaps it was time that Nill addressed the disparity down the middle.
Dellandrea joins the likes of former Stars draft picks Nick Caamano (2016 fifth round), Brent Moran (2014 fourth round), and Alex Peters (2014 fourth round) as Dallas's draft choices out of the Flint Firebirds, but probably figures to be the most NHL-ready of those names.
Dellandrea also figures to be the best center prospect in the Stars' pipeline that includes only a few names: Rhett Gardner (2016 fourth round), Liam Hawel (2017 fourth round), Fredrik Karlstrom (2016 third round), and Jacob Peterson (2017 fifth round). Notably, it's only the second time that Nill has chosen a center in the first round in his six drafts with the Stars; Jason Dickinson was chosen No. 29 in 2013. Dellandrea marks the highest center selection by the Stars' GM.
While I'm sure most people—admittedly, myself included—scoffed when the Stars reached deep for Dellandrea, the more I read about and watch highlights of the young center, the more I appreciate the pick.
Dellandrea is a guy that could be the Stars' captain in the future. He's that much of a leader. And the 17-year-old may be ready for the NHL sooner than most think.
Welcome to Dallas, Ty Dellandrea.