Jim Nill has been manning the Dallas Stars' war room since he joined the team in April of 2013. As the city of Dallas prepares to host the 2018 NHL Draft on June 22-23, Nill is preparing for his sixth draft with the hosting Stars.
The Stars own the No. 13 pick in the first round, and based on Nill's tendencies in his six drafts with Dallas, here's what history suggests Nill will do with the selection.
Jim Nill's Dallas Draft History
Jim Nill has made a total of 36 selections for the Dallas Stars in his five-year stint as the GM. Nill and the Stars have owned seven first-round selections in the last five years. He's used his first-round pick on one of each position since arriving in Dallas, selecting a center, left and right wing, defenseman, and a goalie.
He's picked a defenseman twice in the first round as well as a right wing two times, suggesting that Nill likes to address the depth on defense and the wings.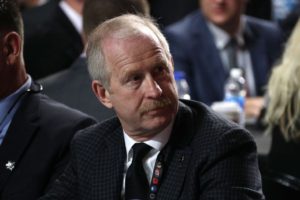 Desire for Defensemen
In his history with the Stars, Nill has shown an affinity for defensemen. He's chosen a blueliner a little over a third of the time, or 13 out of 36 picks (36 percent), the most of any position.
With a bevy of blueliners available in the 2018 draft, it's reasonable to believe that Nill could add to Dallas's defensive depth when he announces the Stars' pick at No. 13. Most recently, Nill selected the most exciting and potentially-prosperous prospect in the Stars' pool in last year's draft, taking Finnish defenseman Miro Heiskanen with the No. 3 choice in 2017.
Nill appears to be fond of the the Finnish, playmaking defenseman, using both his first-round blue-line selections on smaller Fins. Coincidentally, his two drafted Finnish D-men have almost the same exact dimensions at 5-foot-11 and about 183 pounds.
Of Nill's seven first-round picks with the Stars, he's chosen a defenseman twice, tied with the right wing for the most of any position.
The Wing King
Nill's other apparent favorite position is on the wing, choosing two rights and a left of his seven first-round picks with Dallas. Of his 36 selections as the Stars' GM, he's chosen a winger a total of 12 times (33 percent)—six on the right side and six on the left side.
His first pick was Russian right wing Valeri Nichushkin in 2013. He then opted for another Russian right wing in 2015, selecting Denis Gurianov. His most recent wing selection was former USHL left wing Riley Tufte, who just won the NCAA National Championship with the University of Minnesota-Duluth in April.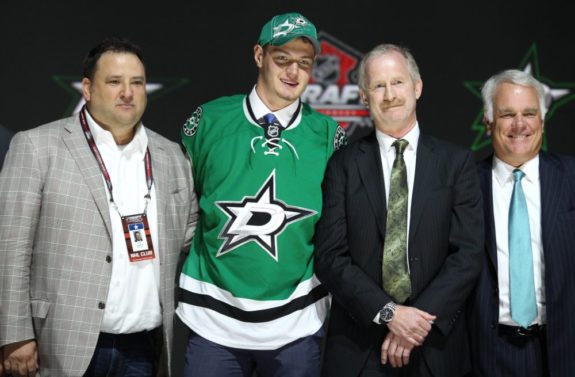 Nill seems to be fond of the hulking, bullish-type winger, selecting the forwards with an average height of 6-foot-3.5 and weight of 208 pounds, above the average height and weight of last season's NHL (6-foot-1 and 201 pounds).
While Nill's choices on the wing trend toward the Europeans, it's somewhat uncharacteristic of his usual tendencies.
Of Nill's 36 picks with the Stars, 23 are North American and 13 are European. In the first round it's fairly split, however, with Nill choosing four North American skaters and three Europeans.
His most drafted division of play is out of the Ontario Hockey League, taking 12 OHL products, making up exactly one-third of his total selections. His second and third-most drafted are European, selecting seven Finnish players and six Swedes.
Using the above breakdown of Nill's selections, his ideal prospect, based on what history suggests, seems to be a winger from the OHL.
With the 13th Pick, the Dallas Stars Are Proud to Select…
Serron Noel, right wing from the Oshawa Generals.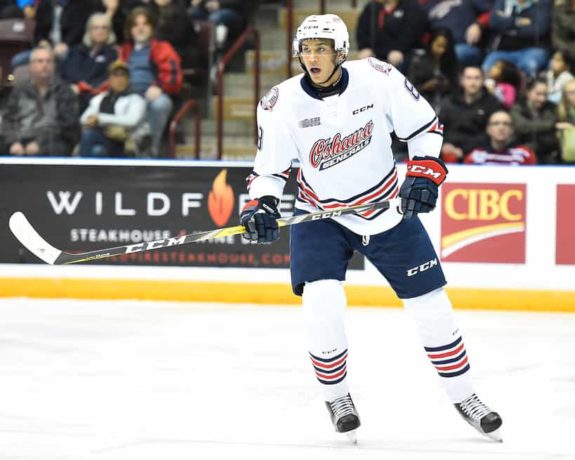 Based on mock drafts around the league and the rankings of prospects that may be available when the Stars select at No. 13, there's some confidence that Noel would be available for the choosing when Dallas is on the clock.
Noel checks off every box on Nill's checklist. He has very similar size to his other first-round wing selections at 6-foot-5 and 204 pounds and is a product of the OHL, which seems to be Nill's favorite league.
Noel would bring the obvious element of strength and size down the right side for Dallas in the future and could add a little grit and physicality to the Stars' lineup. Noel would also add a nice scoring touch to the roster. The right wing put up 53 points (28 goals, 25 assists) in 62 games, finishing second in goals and fifth in both assists and points on the Generals.
If Not Noel…
While Noel fits Nill's niche to a T, it's more than likely that there could be better prospects available come pick No. 13, as many see Noel to be a late first-round or early second-round pick.
Some other potential picks that follow Nill's draft-day trends could be Joel Farabee, an American left wing, or Vitali Kravtsov of Chelyabinsk, Russia, the same hometown as Nill's inaugural selection, Val Nichushkin.
Or if Nill decides to go with a defenseman in the first round, as he's shown in the past, then Rasmus Sandin, the Swedish-born Sault Ste. Marie defender, follows Nill's trends, or possibly the playmaking Ty Smith of Spokane.
Or, having only selected five centers out of the 36 picks, it could be time Nill addresses the disparity down the middle. To be honest, with a wealth of players at the center position in this year's draft, I'd be surprised if he didn't grab one with the No. 13 pick. Some centers that align with Nill's tendencies are Joe Veleno from the QMJHL, Rasmus Kupari of Finland, or Barret Hayton of the OHL. I don't see him slipping to No. 13, but if he does, I think Jesperi Kotkaniemi is Nill's guy.
For what it's worth, I'm willing to put money on Nill and the Stars selecting one of the aforementioned names. That is, if history repeats.
While it's almost impossible to guess what a team might do with its selections, I can say with confidence that whomever Nill nabs in this years draft should be a decent one. Nill has a knack for making rational, calculated decisions in Dallas, and it's what's made him one of the best in the business. Should Nill call any one of the aforementioned names on June 22, Stars fans should be excited. Nill knows best. In Nill we trust.