This year's NHL Entry Draft boasts three players from Russia who are currently projected to go in the first round, the highest of which is sniper Andrei Svechnikov, who is expected to be the No. 2 selection behind Swedish defenseman Rasmus Dahlin. Grigori Denisenko is the next highest-ranked Russian player at 11th overall, but the other young Russian phenom who turned a lot of heads this year is Vitali Kravtsov.
Kuznetsov-Like Potential
Kravtsov is currently ranked 24th by Hockey Prospect. A six-foot-two, 189-pound forward hailing from Vladivosotok, Russia, he is a skilled winger that can fit anywhere in the lineup and provide scoring in a number of roles. He plays with an edge and has a big body, but could definitely throw his weight around more.
Kravtsov is a very fast skater with the ability to gain zone entries with ease, but he's not very strong on the back-check – an area in need of improvement. However, he's good in his own end and is capable of taking away passing lanes. He has quick hands and possesses a lethal wrist shot. Terrific play-making abilities allow him to see time on the power play as well. Simply put, Kravtsov has the potential to become a top-six forward in the NHL.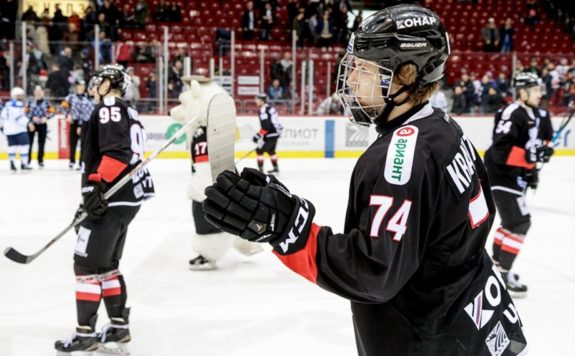 Kravtsov began the 2016-17 season with Belye Medvedi Chelyabinsk of the MHL, a Russian junior league. That season, he put up 36 points in 41 games with Belye before being called up to Chelmet Chelyabinsk of the VHL, the minor league in Russia. The VHL is similar to the AHL in North America, as it develops players for the KHL, the top professional league in the country.
With Chelmet, Kravtsov tallied four points in six games, and then was called up to play for Traktor Chelyabinsk of the KHL. He only played three regular-season games with Traktor and failed to put up a point. However, he dressed for six playoff games and became the youngest player to score in a KHL playoff game at the age of 17, a record held previously by Evgeny Kuznetsov.
Playoff Performer
This season, he started with Belye just like the previous year, playing just one game and scoring one goal with two assists. Chelmet brought him up again where he would tally seven points in nine games before being called up once again to Traktor. Kravtsov played 35 games with the big club, where he scored four goals and three assists in mostly a third-line checking role.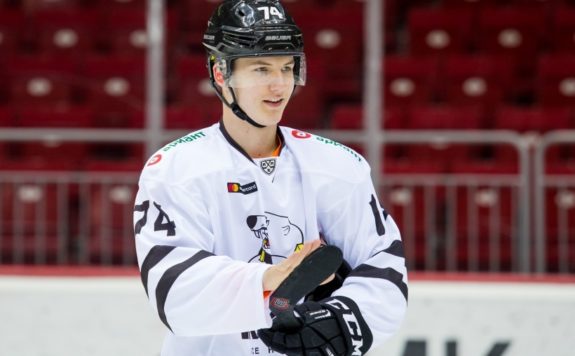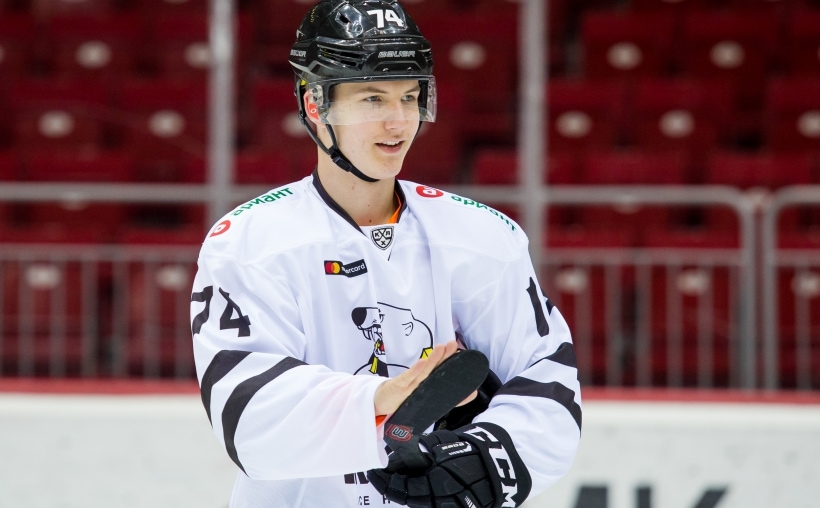 It was in this year's KHL playoffs where Kravtsov began to grab the attention of NHL scouts. Scoring six goals in his first seven games, he tied Valeri Nichuskin's record for most playoff goals by an 18-year-old, but it took Nichuskin 25 games to do so. Of his six goals, five came on the power play, and one was an overtime winner. He was named best rookie in the first round of the KHL playoffs.
Kravtsov also had a five-game point streak where he had eight points and thirteen shots on goal during the stretch. Finishing the playoffs with eleven points in sixteen games, he became the all-time playoff points leader by a player under the age of 20 in the KHL. In comparison, Evgeny Kuznetsov had ten points in sixteen playoff games before the age of 20.
A Player to Watch
Vitali Kravtsov has earned his spot in the first round and could be drafted in the top-20. After his remarkable KHL playoff run, he has proven to be a player many fans want to watch. I believe Kravtsov is still a couple of years away from making the NHL, and could use more development with Traktor in the KHL. He needs to play more minutes, including more time on the power play and penalty kill to develop his complete game.
Evgeny Kuznetsov was drafted by the Washington Capitals 24th overall in 2010. After being drafted, Kuznetsov spent four seasons with Traktor Chelyabinsk, the same KHL team as Kravtsov, before he came over to North America and became an NHL regular. Now, he's a superstar with the Capitals, playing alongside fellow Russian Alexander Ovechkin on Washington's first line.
This is a similar path I can see Kravtsov following as he will need some years to develop his two-way game, just as Kuznetsov did. Kravtsov will be a player to watch for on Team Russia at next year's IIHF World Junior Championships in Vancouver. He could be one of the top players of the tournament, as his big-game heroics are set to arrive at the international level.
The Late Round Steal
An incredibly talented player, Kravtsov has the potential to become an elite playmaker in the NHL. He is the player that many teams will regret not taking – passing on the young Russian will come back to haunt them.
Although we will not be seeing him in the NHL for a few years, he will have a true impact when he arrives. After he develops his complete game in the KHL, he will be one of the most dangerous Russian forwards in the NHL. He will be the steal of the 2018 NHL Draft.