It was nearly 12 years ago when Joe Pavelski was called up from the AHL Worcester Sharks and inserted into the San Jose Sharks lineup as a 22-year-old. He scored in his first NHL game and never looked back at the minors. In that 2006-07 rookie season for Pavelski, he had 28 points in 46 games. His career has steadily risen ever since his rookie year, and he has become one of the most respected players in the NHL and on the international stage.
The Early Days
Pavelski played his junior hockey for the Waterloo Blackhawks of the USHL. He led the team in scoring with 69 points in 60 games. This was good enough to get him selected in the 2003 NHL Entry Draft. He was passed on by all 30 teams round after round until the Sharks finally grabbed him in the seventh-round at 205th overall. After the draft, Pavelski returned to Waterloo where he had another respectable season before his two-year tenure with the Wisconsin Badgers of the NCAA. Pavelski averaged 1.2 points per game over his 82 game college career and took home an NCAA National Championship. He left Wisconsin early when the Sharks came calling and signed him to an entry-level contract after his sophomore year.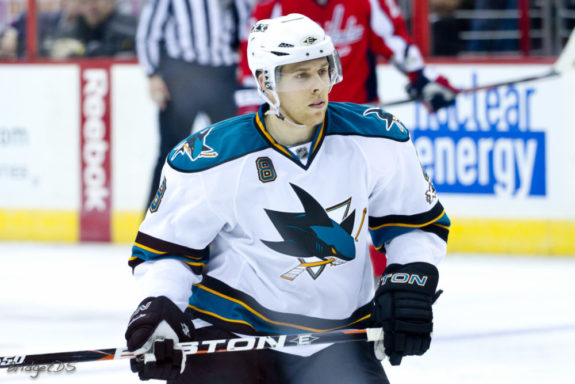 Pavelski was an unknown, as most seventh-round picks are when he started the season in Worcester. His dominance at the beginning of the AHL season was enough for then head coach, Ron Wilson, to call up Pavelski in late 2006. Pavelski's second professional season was a full 82 games in the NHL. He put up a respectable 40 points while playing a depth role for the veteran Sharks team led by Joe Thornton, Patrick Marleau, and Jeremy Roenick.
The Pavelski Trajectory Speeds Up
In the 2008-09 season, Pavelski's third season, he increased his production by nearly 50 percent. In 80 games he had 25 goals and 59 points while still playing a depth role. He was the best third-line center in the league and gave the Sharks incredible depth at the center position. This season was the start of Pavelski being a core player for the Sharks. He was a fan favorite, and there was still more to come.
Pavelski would continue to increase his point and goal totals each season. The whole league knew about Pavelski after his playoff performance in 2010. He had a phenomenal series against the Colorado Avalanche in the first-round. Pavelski and the Sharks only made it to the second-round, but he ended the playoffs with 17 points in 15 games to lead the team. He officially was the 'Big Pavelski' and no longer 'Little Joe'. His best season was 2013-14 when he reached 41 goals and 79 points playing right wing on the top line with Thornton.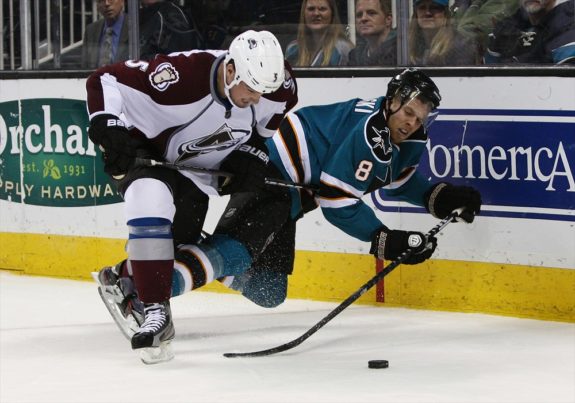 Pavelski's Talent Deeper Than His Stats
Pavelski's stats have been impressive throughout his career, but how he got there is what is more impressive. He's only 5'11" and on most nights one of the slowest guys on the ice, but that has never stopped him from playing a fearless game. Pavelski's work ethic and hockey IQ have allowed him to excel at the game's highest level despite his lack of skating ability. He can think the game as fast as anyone which allows him to know where to be before others. When you know where to be before anyone else does you don't have to be one of the fast players on the ice.
Master Deflector
Pavelski's best skill is something that he still works on every day after practice with teammate Brent Burns. Those two seem to have a string connected between them. Pavelski will have Burns shoot puck after puck at him while Pavelski works to deflect each one on goal. You won't see many pucks that get by Pavelski without touching a part of his stick. He can tip from anywhere on the ice whether it's high slot, on the crease, or the side of the net. He finds the soft area and the defensemen look for his stick and fire away. Since the 2010-11 season, no one has more deflection or tip-in goals than Pavelski's 52.
The unique part about most of Pavelski's deflections is that they come from around 10-12 feet from the top of the crease. There have been many players that made a living from deflections, but most of them would park themselves right on the crease. Players like Tomas Holmstrom and Ryan Smyth planted themselves right on top of the crease within inches of the goalie. Pavelski will still do this occasionally, but in today's NHL players have to be careful with goaltender interference. When Pavelski is 10 feet away from the goalie, there is no concern for a goal will be reversed since he is so far away.
Underrated Vision
It's easy to be underrated for your passing ability when you've played your entire career on the same team as Joe Thornton. Pavelski is one of the better passers in the league, and he showed it this season when Thornton went down with a knee injury. He had 44 assists this season which was the best he has had since the 2010-11 season and the second highest total of his career. Pavelski can make all kinds of different passes to his teammates. He makes tape-to-tape cross-ice feeds, passes to open space that a teammate can skate in to, and nifty spin-o-rama backhand passes off the rush.
Pavelski grabs the secondary assist on this play, but without that cross-ice pass to thread the needle to Kane there wouldn't have been a tap in for Joonas Donskoi.
Don't Forget About the Shot
Of course, there is Pavelski's deadly snap and wrist shots. Earlier in his career, he was more known for his shooting ability because he was still rounding out his other skills. He can get the puck off his stick in a hurry while maintaining high velocity and pinpoint accuracy. He's no Brent Burns, but he has a similar skill set of being able to get a shot off no matter where the puck is at his feet.
Pavelski's go-to move in the shootout is a quick slow down stop then rifling a snap shot off the right post and in. He's added a few more moves to his bag of tricks, but his change of speed with a quick shot is what he will always be known for.
Natural Leader and Winner
The only level that Pavelski' hasn't won a championship is the professional ranks. He won a USHL Clark Cup and an NCAA National Championship. However, he's still looking for that elusive Stanley Cup to add to his trophy case. There are many reasons to believe that he will get there someday, but the number one reason is his natural leadership. On a team that had two former captains, Pavelski was looked at to be the guy to lead his team.
Patrick Marleau and Thornton were both captains of the Sharks at different times, but they fell in line to follow Pavelski once Peter DeBoer stitched that 'C' on his chest. There wasn't any visible resentment from Marleau or Thornton once Pavelski was named the captain. In Pavelski' first season officially leading the team he helped them reach the Stanley Cup Final for the first time in franchise history. They ultimately lost to the Pittsburgh Penguins in six games, but it was a trek that no other Sharks team had ever embarked on.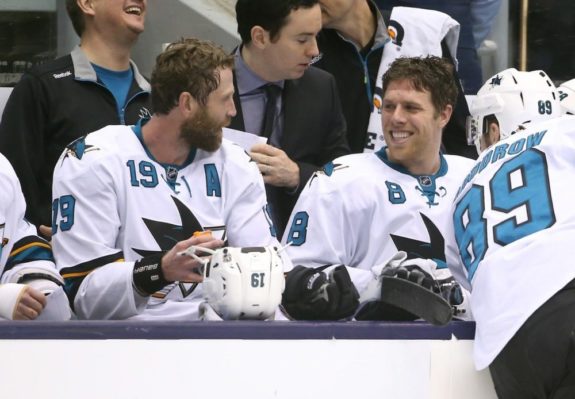 What makes Pavelski such a good leader is his relentless work ethic and desire to be the best player he can be. He doesn't possess the elite talent that players like Burns or Thornton have, but that hasn't stopped him from getting similar results. Players want to follow a guy that had to scratch and claw his way to the top. It's inspiring for players to look up to a teammate that had nothing given to them and showed that it doesn't matter what round you get drafted. A locker room under Pavelski has the mindset that if he can do it, then anyone can if you're willing to sacrifice.
Pavelski has come a long way since he was the scrawny kid who stepped into the Sharks lineup as an unknown name. Fans remember his original #53 and the contagiousness of his patented Pavelski smile after he scores a goal. Is this the year Pavelski brings home a Stanley Cup to San Jose?