It is remarkable how much can change in a year for a hockey franchise. One year ago, the inaugural Vegas Golden Knights had 500-1 odds to win the Stanley Cup. A year later, the franchise entering its sophomore year of existence is fourth in the odds list, 10-1 favourites to win it all.
Hockey fans can all agree that on the ice, the Knights' season was historical. First in the Pacific Division. Stanley Cup Finalists. Who can ask for anything more for in an inaugural season?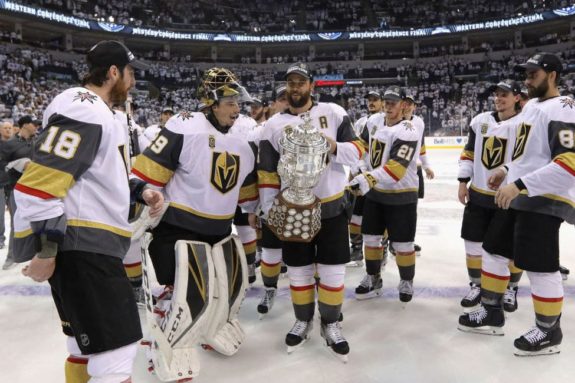 With the offseason underway and the Golden Knights preparing for the draft, let's take a look at how the team's success impacted the organization's finances and the economy of Vegas as a whole.
Attendance & Merchandise Help Drive Vegas Success
Through their first third of the regular season, the Knights had the best record of any NHL expansion team. A large reason for this was because of their dominant play at T-Mobile Arena. In 31 home games, there was an average of 17,969 fans in attendance, equaling 103.9 percent of T-Mobile Arena's capacity, including standing-room seats.
Before the season had begun, all 12,500 season tickets were sold and there were 2,500 individuals on the waiting list.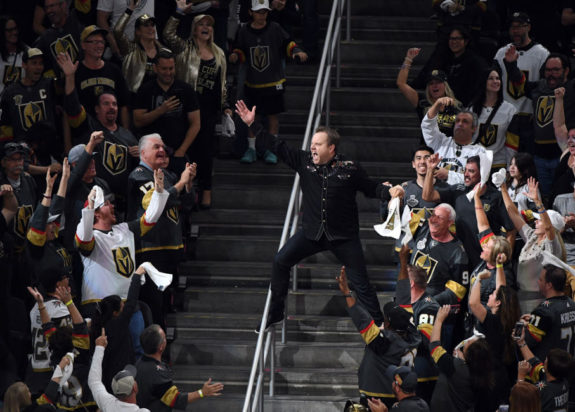 For an expansion team, patience is critical in terms of economic performance, as it normally takes a few years before the franchise has a winning record, driving up revenues. However, as a result of the Golden Knights' remarkable success on the ice, their merchandise sales are ranked fourth amongst NHL teams.
With 43 million visitors a year to Vegas's casinos, hotels, and nightlife establishments, it is no surprise that the desert city is slowly becoming a sports town.
"I think we get so much more media attention nationally and internationally as a result of how well the team has done," says Lisa Motley, marketing director of Las Vegas Convention and Visiting Authority. "The great thing about having professional sports here is that you've got people watching from out of market cities on television. We've got people who come to Las Vegas for a hockey game and maybe a show or some fine dining. It just adds to the overall experience of Las Vegas and it becomes a bucket list destination to come visit for a sporting event."
New Hockey Team Creating New Jobs for Vegas
Whenever there is a newly formed expansion team in a professional league, this means jobs are created, resulting in more money in people's pockets.
Before the season started, the Golden Knights employed approximately 170 people, many coming from all areas of the country to be a part of this new organization. For the home games at T-Mobile Arena, almost 1,000 part-time staff will be hired to provide support for game-day operations and logistics.
With the initial total payroll for employees at $100 million, Knights president Kerry Bubolz sees this number increasing with the team generating more success.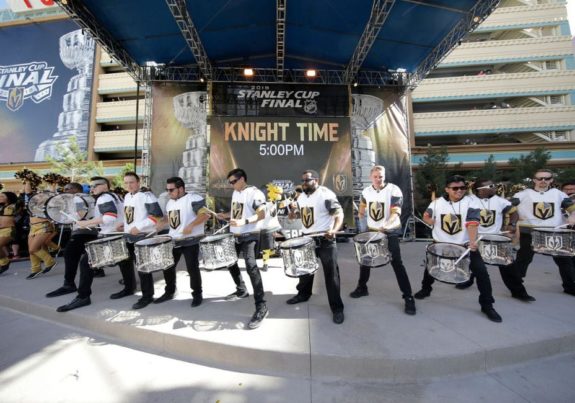 "We have a business team of 60-70 people who focus on the business side, and we've got people from Tampa (Fla.), Cleveland, from all over the country who moved here to be a part of this special opportunity," stated Bubolz. "We have to provide them temporary housing, and they're buying new houses, they're putting their kids into our schools and it is all coming together. All of this produces positive economic impact."
Court Ruling on Gambling Impacts Golden Knights
On May 15, 2018, the United States Supreme Court struck down a law that now gives states the right to legalize gambling on sports games. Voting 6-3 in favour, the court took down the Professional and Amateur Sports Protection Act, which prohibited sports gambling nationwide.
While hockey will always remain low on the totem pole compared to other sports leagues in terms of gambling, expect to see more bets being made at the start of next season.
This will most certainly impact the Knights in a positive way. Given Vegas's lax laws on gambling, it is incredibly easy for an individual to wager on a game. In 2017 alone, a total of $4.8 billion was wagered on sports books in Nevada.
Because gambling is immersed in the culture of Vegas, there is a heightened desire to put money on a game when you can walk a few yards to the arena and watch the outcome of the contest unfold.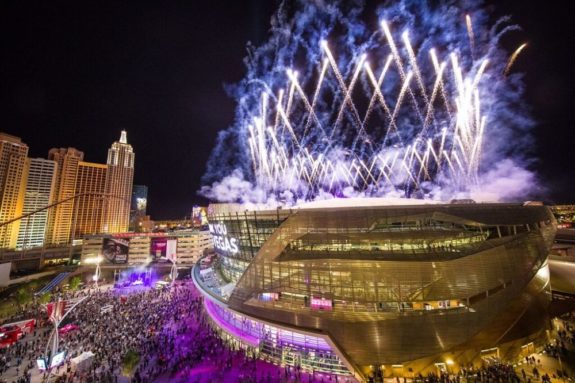 While Vegas sports books will still generate a large amount of money in the short-term, in the long-term, the extension of legalized sports betting in other states won't help the desert city at all. Revenue that might go to Nevada's sports books now will go to the locations where gambling is legalized, hurting Vegas's bottom line.
Future of Vegas Sports and NHL Expansion Teams
At one time, the extent of sports in Las Vegas was a few annual professional golf tournaments, tennis player Andre Agassi and UNLV basketball's magical Final Four runs. Now, the city is alive with the success of the Golden Knights, from the pregame "medieval times" ceremonies to celebrity sightings like Snoop Dogg and Michael Buffer.
In two years, Vegas will be getting another franchise — an NFL team in the form of the relocating Oakland Raiders. There is some worry amongst Knights fans that the success of the Vegas Raiders football team will detract support from the hockey franchise.
But what gives the Golden Knights an advantage is that they have broken into the Vegas sports market first. While the football team will most likely generate more revenue than its hockey counterpart, it will still be successful because of the partnerships it has made and the years of investment in building healthy relationships with fans, sponsors and the community alike.
.@GoldenKnights President Kerry Bubolz said the Golden Knights were 4th in ticket revenue at @TMobileArena in the @NHL. Behind NY, Chicago and Detroit. #vegasborn #vgk #vegas pic.twitter.com/2Cpsul3a0U

— Mick Akers (@mickakers) May 11, 2018
The Knights will now be seen as a model expansion franchise, particularly with the new Seattle organization, pegged to enter the NHL in 2019-20. With a lot of support for hockey amongst Seattle citizens, teams will have to adopt a new strategy with regard to the expansion draft so they do not give talented, high-potential players to the new franchise like they did to Vegas.
This is why we have to celebrate the Golden Knights. They broke barriers in how to succeed on the ice while creating an economically sound organization. It is safe to say that after one year, the future is bright and this desert team has hit the jackpot.