While many teams' executives have begun to pack for summer break, Detroit Red Wings general manager Ken Holland still has quite a bit on his plate. Dylan Larkin's next contract is the main priority. Getting his roster cap-compliant is a close second.
Latest for @TheAthleticDET: Dylan Larkin optimistic contract talks won't drag out, which gives us an excuse to project out a Red Wings lineup in 2021-22. https://t.co/Dw4sJAUqf6 pic.twitter.com/VCjfa48bRF

— Craig Custance (@CraigCustance) July 20, 2018
Unless Larkin takes the greatest hometown discount in NHL history, Detroit's payroll will exceed the salary cap upper limit. And depending on his new contract's average annual value (AAV), Holland's job to cut salary could become a lot more difficult.
Make no mistake, this messy cap situation was inevitable – I dove into the approaching trouble back in November.
Now that it's here, let's walk through how the Red Wings can escape from salary cap hell relatively unscathed. Sit back, crack open a Vernors, and prepare yourself for some cap chaos.
Related – The Grind Line: Red Wings' Additions, Cuts & Larkin
Red Wings Salary Cap Snapshot
As of now, the Red Wings have $76,672,044 committed to 21 players (including Johan Franzen), two buyouts, and carryover bonus overages for the 2018-19 season. When you add in Filip Hronek, Michael Rasmussen, and Filip Zadina, that number jumps to $79,205,376, just $294,624 below the $79.5-million cap.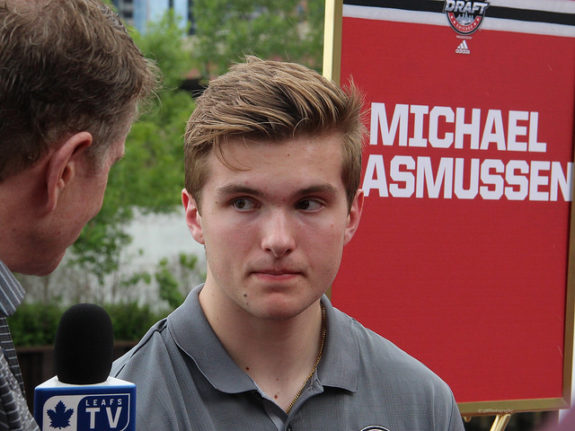 These cap figures do not include Dylan Larkin's new contract, which could potentially surpass $6 million per year. They do factor in Henrik Zetterberg's cap hit – until the captain says otherwise, the Red Wings have to assume he's playing next season.
Surely, the signings of Thomas Vanek and Mike Green seem frustrating at this point. However, Holland has the capability to move players around to make these numbers work.
Larkin's New Cap Hit Breakdown
Depending on the contract that Larkin signs, simply placing Johan Franzen on long-term injured reserve (LTIR) may not do the trick to bring the Red Wings into compliance with the salary cap upper limit. Here's what can be done to fix that:
Scenario 1: Larkin's AAV ≤ $5,299,169
Apart from placing Franzen on LTIR and cutting a player to reach 23, nothing needs to be done to be in compliance with the cap. One of Martin Frk ($1,050,000 AAV), Luke Witkowski ($750,000), Filip Zadina ($925,000), or Michael Rasmussen ($894,166) will need to be sent down to the AHL (or juniors, in Rasmussen's case) before Franzen goes on LTIR to come in under the salary cap upper limit. These aren't the four worst players, just the four who could be sent down without much issue.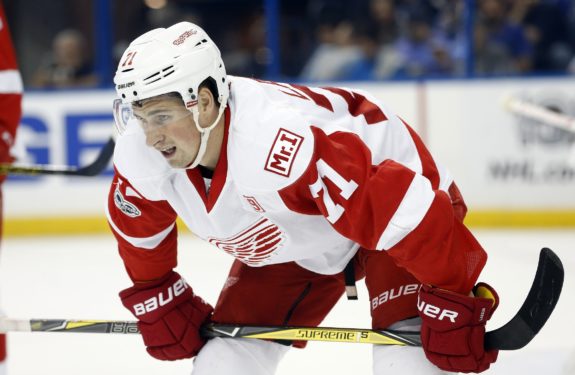 Depending on Larkin's final cap hit, the list of available players to move out dwindles as the AAV increases. It essentially boils down to:
Larkin's AAV ≤ $294,624 cap space + Franzen's $3,954,545 AAV + assigned player's AAV
If Larkin's new deal exceeds an annual cap hit of $5,299,169, then the Red Wings will need to do more than waive Frk's contract—since he has the highest AAV of the players noted above—and shelf Franzen.
Scenario 2: $5,299,170 ≤ Larkin's AAV ≤ $6,224,169
It's entirely possible that the Red Wings may need to assign two "bubble" players to make ends meet. Depending on the final AAV, sending down two of Witkowski, Rasmussen, Zadina, and Frk, plus putting Franzen on LTIR, will be the only way to be in compliance with the salary cap without trading anyone. Removing two players from the roster is the limit, as anything more would significantly handicap the Red Wings.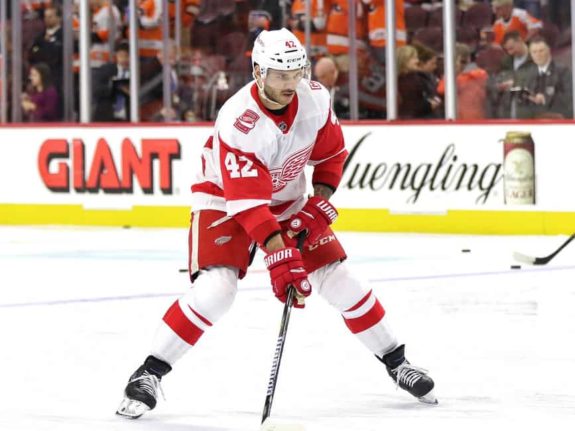 As the AAV approaches the upper end of the range above, only demoting Frk and Zadina will do, considering the fact that the two have the highest salaries of the bunch. Surely, the Red Wings would like to control who plays in Detroit versus Grand Rapids, so this is not an ideal situation to be in.
That brings us to the final option to create cap space – one that would solve the payroll issue regardless of the contract to which Larkin lends his John Hancock.
Scenario 3: Larkin's AAV > $6,224,169
In the event that Detroit's young center's new contract exceeds $6,224,169 in annual earnings, the Red Wings will need to make a trade to open up cap space. With the ability to put Franzen on LTIR, trading just about any contract with a $3-million-plus cap hit for picks or prospects would bring Detroit into compliance.
Of the Red Wings who meet that criteria, there are three who stand out as potential trade bait: Andreas Athanasiou, Darren Helm, and Gustav Nyquist. For the trio, here is the potential salary cap space opened up if each was traded and Franzen was subsequently shelved:
Athanasiou – Up to $7,249,169
Helm – Up to $8,099,169
Nyquist Trade – Up to $8,999,169
Regardless of the contract Larkin signs, trading one of these players would create the necessary space to be compliant with the cap's upper limit.
Of course, there are alternatives using a combination of methods listed above. Detroit could trade Luke Glendening, Frk, and place Franzen on LTIR to create a fair amount of cap space. Creativity will be key for Holland.
Related: Red Wings Prospects Ready to Take Veterans' Jobs?
Final Roster Finessing Needed
After Detroit's next captain is signed, the goal would be to then bring the organization's combined cap hits as close to $83,454,545 among as many players as possible before placing Franzen on LTIR to maximize its cap savings. From there, Detroit could cut the roster down to create cap space that would then accrue throughout the season.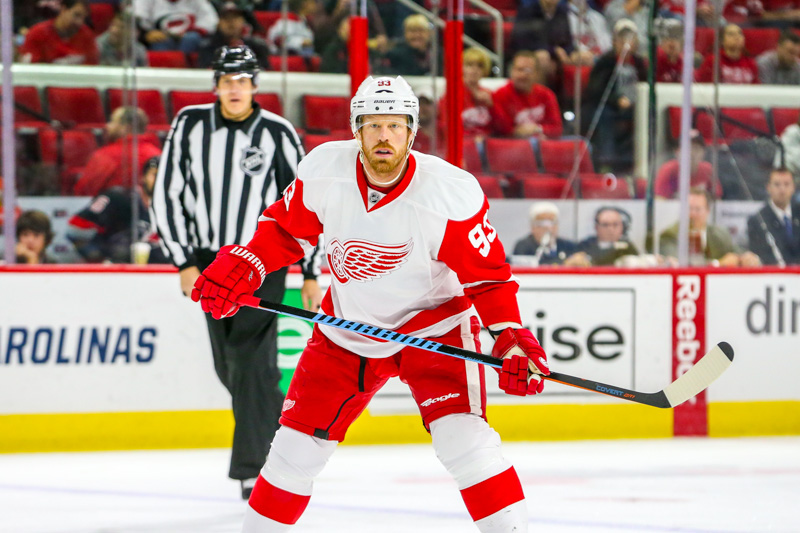 Ideally, the Red Wings should not be in this predicament as a rebuilding team. Hosting a firesale isn't the alternative – there's a middle ground where Detroit can operate with cap space, young players, and veterans on the roster as complementary pieces.
But that's not the case in Hockeytown – at least right now. Unless Zetterberg opts to call it a career and join Franzen on LTIR, the Red Wings have quite a bit of finessing to do once Larkin re-signs.
What kind of contract will the Detroit Red Wings sign Dylan Larkin to? Share your prediction below.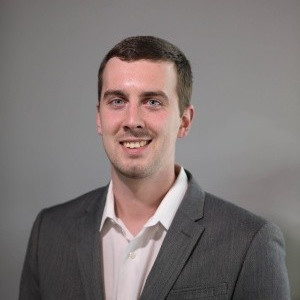 Tony Wolak is based in the Washington D.C. area and covers the Detroit Red Wings for THW. As a former junior and college hockey player, Tony has a unique perspective on Red Wings topics.