With just over a month until the Windsor Spitfires open their 2018-19 training camp, there are some questions that need to be answered, including the captaincy and leadership group. Earlier, we talked about what the crease might look like with the addition of Finnish goaltender Kari Piiroinen. Now, we look at who has the ability to lead the team into the new era. Will management go with the veterans or will they take a creative approach and look long-term?
The Spitfires have a long history of elite captains, including former defencemen Harry Young and Ryan Ellis, as well as forwards Mickey Renaud and Aaron Luchuk. Putting on the captain's "C" is a privilege and not something to be taken lightly. Here's a look at who might be a good choice for the 2018-19 captaincy as well as players who would be good choices, though unconventional ones, to wear the alternate captain's "A".
A "C" of Red and Blue
There are three names that stand out for the captain's role:
1. Luke Boka
When you ask who truly bleeds Spitfires' blood, the name that jumps out is veteran forward Luke Boka.
Drafted by the Spitfires in the fifth round in 2015, Boka, 19, came advertised as a hard-hitting, hard-working forward. He hasn't disappointed. The five-foot-11, 192-pound winger has done exactly what was needeed of him in his three seasons.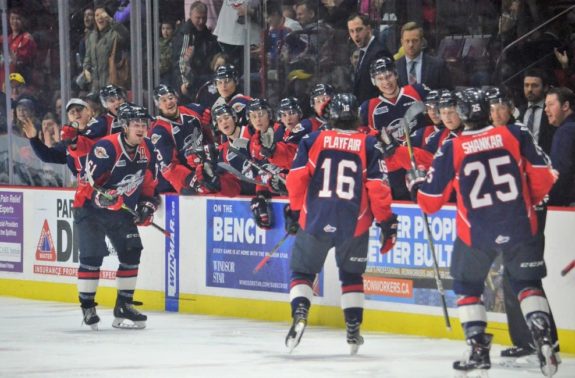 In 2017-18, he had a career-high 40 points in 64 games and was one of the premier penalty-killers in the OHL. He's also one of the first players to get involved in the community when given the chance. While not the loudest guy you'll meet, he leads by example. Since the day he was drafted, he has looked like a future captain. After wearing the "A" last season, this is his golden opportunity to wear the "C." He's earned it.
2. Cole Purboo
Like Boka, Cole Purboo, 19, is a quiet guy on the ice who simply gets the job done. Given an "A" last season, Purboo showed he was a leader both on and off the ice. He broke out with 49 points in 68 games last season and showed his ability to take over games. Purboo is also respected in the dressing room and gets involved in the community on a regular basis; a great recipe for the captaincy.
Drafted by the Spitfires in the ninth round in 2015, Purboo took a bit of time to get used to the OHL, but now he's showing what hard work can do.  He'll likely be one of the older players on the roster in 2018-19 and should be in the conversation for the "C".
3. Curtis Douglas
With the Spitfires rebuilding, management could take a unique route and give the captaincy to a player who has more time remaining with the club. Douglas is a year younger than both Purboo and Boka and displays all the qualities of a leader. The 6-foot-8, 248-pound center is a Dallas Stars prospect who can take over a game whenever he feels like it.
With 15 goals and 28 points in 38 games after being traded to the Spitfires in December, it's clear that this kid can lead his team. When he's on, good luck wiping that grin off his face; he genuinely loves the game.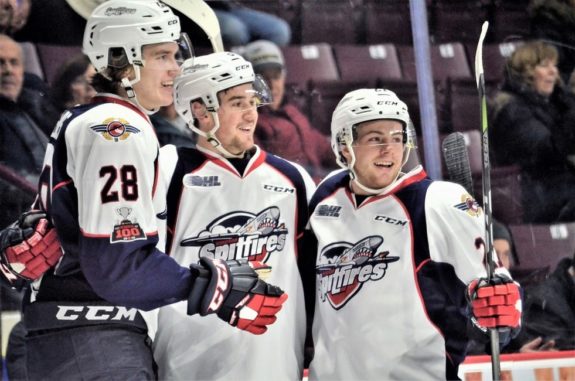 However, if you get on his bad side, few want anything to do with his massive frame. Add in the ability to play at both ends and be a leader off the ice and you've got something special. Douglas isn't likely to be given the same consideration as Purboo and Boka for the "C", at least not this season, but he would be a good choice for the long-term.
Creating Future Leaders
While the "C" normally goes to an older player, the Spitfires have a chance to do something rare with the overall leadership group.
General manager Warren Rychel rebuilt the foundation last season and brought in a group of hungry 16- and 17-year-olds. If the goal is to win within a couple of seasons, why not make one of these young players an alternate captain?
As the 2017-18 season went along, players like defenceman Nathan Staios and forward Daniel D'Amico showed tremendous poise despite their young age (both 16). They adjusted to the league and you would have never guessed they were rookies.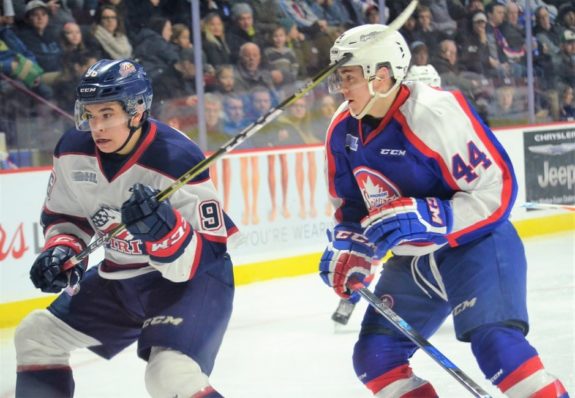 To build a roster that gels, and to instill confidence in their leadership abilities, it might be a wise idea to have either Staios or D'Amico wear an "A" this coming season. By doing this, you allow them to grow and learn from guys like Boka, Purboo and Douglas. Ideally, you want a group that includes veterans and younger players; mentoring youth goes a long way.
A mixture of veterans and youth sporting the "A" would be perfect. Veterans like defencemen Connor Corcoran and Lev Starikov, plus a forward like Luke Kutkevicious (if he returns), are all good choices for the "A" as well.
The season is still a month away and plenty can happen before camp. It's not too early to look at how the leadership group will come together, though. As the team gets ready to take that next step in their rebuild, this group will go a long way toward providing leadership and success for the club.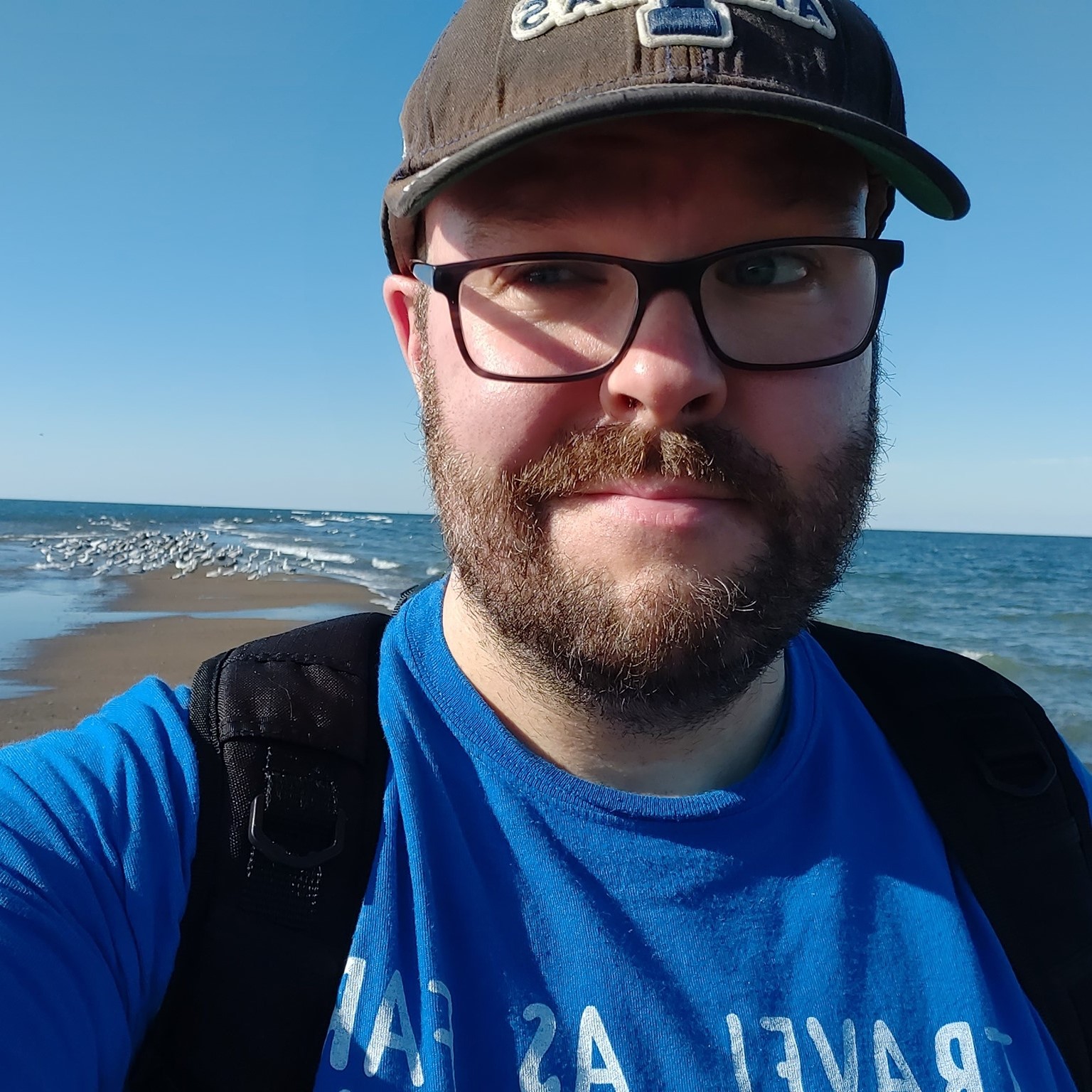 A nearly life-long resident of Windsor, ON, I graduated from St. Clair College (Journalism) and University of Windsor (Communications) and have attended Windsor Spitfires' (and OHL) games for 30-years. My areas include multimedia journalism and photography.