Coming into the 2020-21 season, the New Jersey Devils were expected to be one of the worst teams in their new-look division (and even the league). They're a young, rebuilding team under a new head coach and are coming off an unfortunate 2019-20 season. Nine games in, however, the Devils have been surprisingly good.
Jack Hughes appears to have left his struggles in 2020. MacKenzie Blackwood looked as good as ever prior to being placed on the COVID-19 protocol list and Scott Wedgewood has done a respectable job in his stead. Guys like Michael McLeod and Miles Wood are stepping up in a big way. Ty Smith is inserting himself into the Calder Trophy conversation. 
The Devils offense has been solid, the goaltending has been very good, and the players seem to have bought into new coach Lindy Ruff's system. However, the defense deserves a great deal of praise, as well. 
This Group Doesn't Have a Great Track Record
The Devils defense wasn't in great shape coming into the season and was expected to be one of the worst defensive groups in the league.
P.K. Subban, who was acquired last season and was expected to have an immensely positive impact on the team, looked brutal and had the worst season of his career. Damon Severson put up points but struggled significantly in his own zone. Will Butcher was one of the team's worst players and appears to be regressing season by season. As mentioned by Sports Illustrated, the Devils defense was bottom-three in the league in shot attempts, shots on goal, goals against, and scoring chances allowed per 60 minutes.
The Devils did make some moves during the offseason. They brought back Sami Vatanen on a one-year deal a few months after trading him. They traded for Ryan Murray in October. They signed Dmitri Kulikov to a one-year deal. They called up top prospect Smith.
However, none of these moves were projected to make them much better at the blueline. Murray hadn't lived up to the hype and expectations and has been injury-prone throughout his career. He was nothing more than a question mark with a high reward if he could stay healthy and play well.
Kulikov wasn't expected to be much more than a depth piece. Smith was very promising and has a high ceiling, but a rookie usually isn't expected to be that significant of a game-changer. And as nice as it was to have Vatanen back, it would've been irrational to consider him to be the guy that takes the defense to the next level.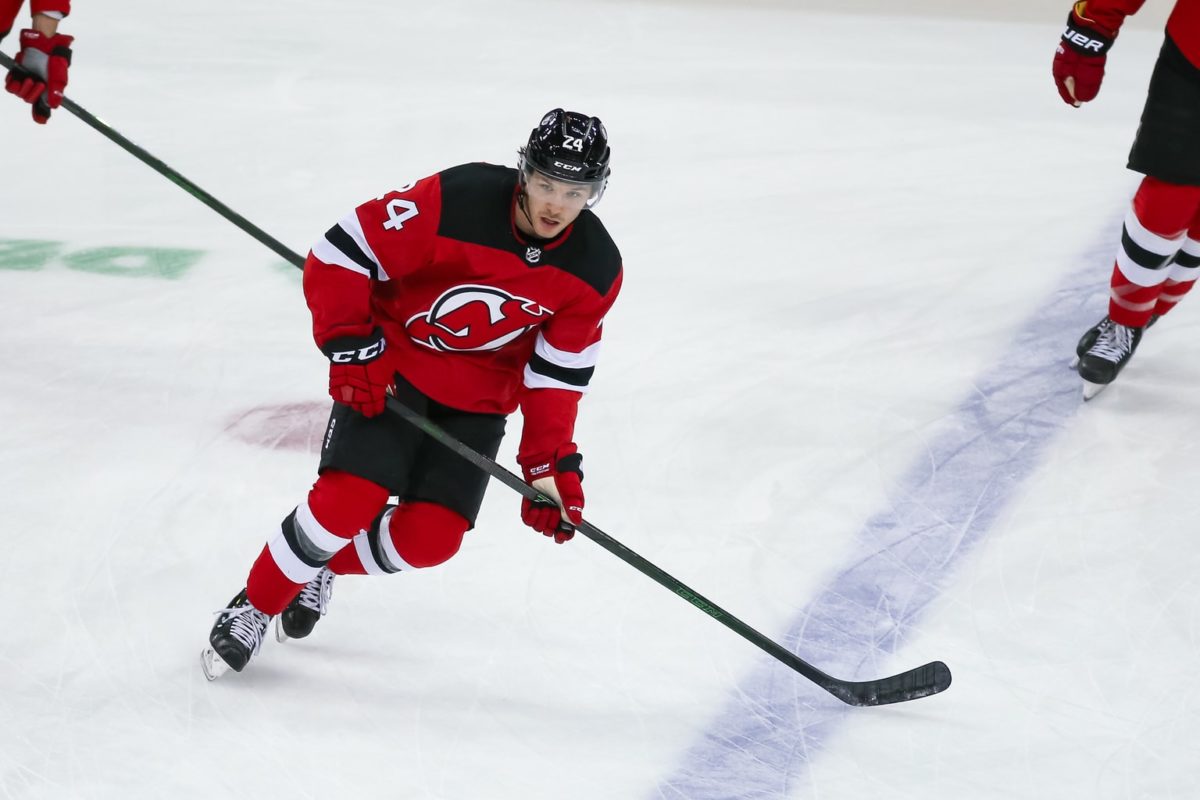 However, this group has held its own and even though it isn't perfect, the players have done a fine job. 
The Defensemen Are Contributing in Both Ends of the Ice
The Devils defensemen are defending well and producing offensively.
Kulikov has looked quite nice for the Devils in his first nine games. He hasn't done much on the offensive side (he's recorded just one secondary assist), but he's defended well. He has a total defense metric (Def) of 1.9 as compared to an expected defense (xDef) of 1.6. His 0.67 giveaways per 60 minutes (GIVE/60) are a career-best.
He has a 2.1 even-strength defense goals above average/replacement (EVD) against the expected 1.8. Kulikov has a 1.2 Goals Above Replacement (GAR), 0.2 Wins Above Replacement (WAR), and 0.4 Standing Points Above Replacement (SPAR). He has a Goals Against (GA) score of 2.00 compared to his expected 3.59. 
Murray has a primary assist and a secondary assist on the season. He has a total offense metric (Off) of 0.1, which is exactly what's expected of him. He has a -0.8 Def, -1.2 xDef, -0.1 SPAR,  and -0.4 xSPAR. He has an even-strength offense goals above average/replacement (EVO) of 0.1, which is better than the expected -0.1. He has a -0.6 EVD, -0.8 xEVD, -0.4 GAR, -1 xGAR, -0.1 WAR, and -0.2 xWAR. Murray has a Goals For (GF) score of 5.98 and GA of 3.96, both better than his expected 4.44 and 5.90, respectively. Clearly, Murray has exceeded expectations. 
Severson hasn't contributed as much as what's been expected of him scoring-wise (he has one goal, one primary assist, and two secondary assists), but his defense has improved. He has a 1.2 Def, 0.9 xDef, 4.59 xGA, and 3.01 GA.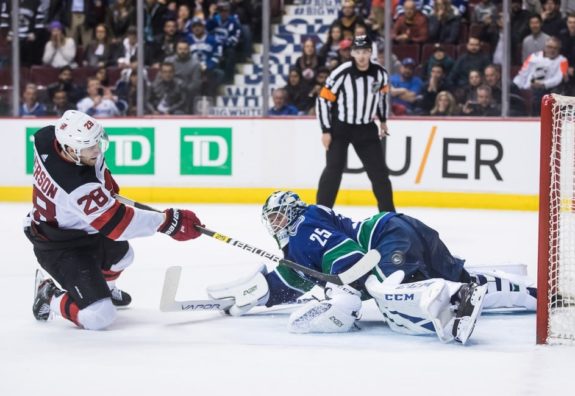 Smith's defensive play can use some improvement, but the kid's offense has lit the hockey world on fire. He has eight points (two goals, four primary assists, and two secondary assists) in nine games and is one of the team's leading scorers. He has an xGF of 6.25 and a GF of 8.07. 
Even Subban has been able to get better after a down year. He has two primary assists and a secondary assist and has pretty much performed as expected, and sometimes better, in both zones. He has a -0.9 Off, -1.1 xOff, -1.1 SPAR, -1 xSPAR, -1.1 EVO, -1.2 xEVO, -0.5 WAR, -0.5 xWAR, -1.1 SPAR, and -1 xSPAR. Subban is currently the Devils' worst defenseman, but he hasn't even been that terrible. His play can use some work, but at least he hasn't been disastrous on either end. 
Last is Matt Tennyson, who's also exceeded expectations. He has just one primary assist but has been able to contribute up and down the ice. He has a 2.1 Off, -1.4 xOff, -0.5 Def, -0.7 xDef, 0.6 SPAR, -0.7 xSPAR, 2.1 EVO, -1.4 xEVO, -0.5 EVD, -0.7 xEVD, 1.6 GAR, -2.1 xGAR, 0.3 WAR, and -0.4 xWAR. His 6.98 GF and 0.92 GA are fantastic compared to his 3.11 xGF and 3.91 xGA. The turn-around and surprising play of guys like Tennyson is a significant contributing factor to the early success of the Devils' blueline. 
As a unit, the Devils defense has a goals against per 60 (GA/60) of 1.53 as compared to a 2.52 expected goals against per 60 (xGA/60) , which are good for fourth and seventh in the entire league, respectively. They're basically middle-of-the-pack in every other regard. They're 11th, 15th, and 16th in Corsi Against per 60 (49.52), Shots Against per 60 (28.33), and Fenwick Against per 60 (39.45), respectively. 
The fact that they've done this without Vatanen, who is on the COVID-19 Protocol List and has yet to make his season debut, is all the more impressive. 
Ruff has been a defensive-minded coach throughout his career, and that's evident in how his defense has been playing. He's clearly dedicated a great deal of time to making this group effective and serviceable and bringing out the best in each of his defensemen.
Is this success sustainable over a 56-game season? Who knows. But whatever the Devils have been doing is working and credit must be given to the defensemen for doing as great a job as they have been. 
All numbers and statistics are courtesy of Evolving-Hockey and HockeyStatCards.com. 
---
---
THE Ohio State University Class of 2017. Lead NHL writer for Elite Sports New York. New Jersey Devils Contributor for The Hockey Writers.