Just last week, I wrote a column about the Colorado Avalanche's weekly performance where I indicated that they needed more offense from their depth forwards.
Either they somehow read my article, or it was sheer dumb luck because their secondary scoring has kicked it up a notch against the Minnesota Wild. Probably the latter. And it couldn't have come at a better time, seeing that they just lost Nathan MacKinnon to an undisclosed lower-body injury.
Heading into tonight's game without their leading scorer, Colorado legged out a win in a fast-paced, tight game against the Wild. Logan O'Connor opened the scoring with his second goal of the series against Minnesota and of the season, and Valeri Nichushkin scored the game-winner seven minutes into the second frame.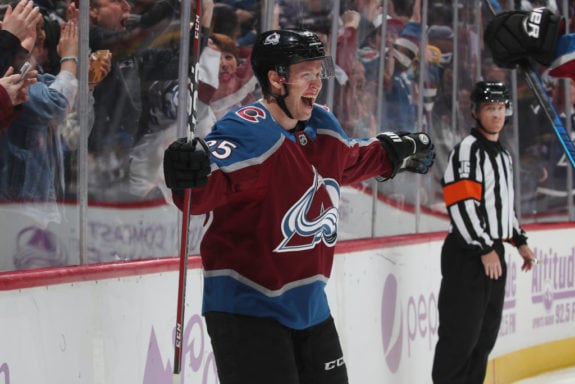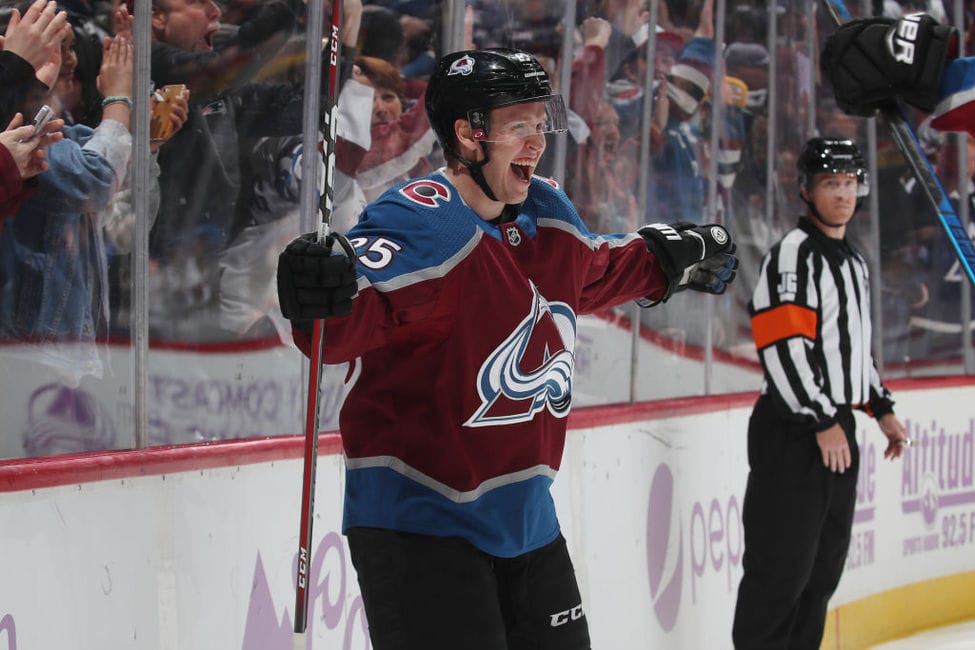 Kirill Kaprizov made things interesting with a second-period power-play goal, snapping the Avalanche's streak of penalties killed in a row at 24. But ultimately, it wasn't enough to spark the Wild into tying the game and the Avalanche would come away with a 2-1 victory.
The Wild started to press in the third period, but the Avalanche tightened up their game and controlled the puck when they needed to. The Wild weren't able to pull their goalie until the one minute mark, which certainly put a damper on their chances of sending the game to overtime.
Here are a couple of takeaways from tonight's 2-1 win against Minnesota.
Depth Forwards Starting to Heat Up
Just like I teased at the start of the piece, the Avalanche have started to receive some much needed secondary scoring. And it couldn't have come at a better time in the wake of the MacKinnon injury. O'Connor is a perfect example of this. After graduating from the taxi squad and making his season debut in Saturday's tilt against the Wild, the Texas native scored his second goal of the season to break the ice for the Avalanche.
The University of Denver product spent most of last season in the AHL, putting up 25 points in 40 games. He was given a 16-game taste of NHL action last season but only managed two goals. In three games so far, he's already matched his season total from last year. His energetic game and surprise offensive production has given the Avalanche lots to be optimistic about and his job should be safe when MacKinnon comes back.
The Avalanche also saw some help from the third line, with Nichushkin scoring his second goal of the season. It wasn't anything pretty, and it came at the expense of the poor linesman after puck drop, but a goal is a goal.
Nichushkin has still been relatively quiet offensively to start the season, with this goal being only his third point in 11 games. But you can bet he will take whatever he can get at this point. And while the second line didn't appear on the scoresheet tonight, I'd like to take a minute to shout out Brandon Saad and Nazem Kadri, who have improved their point totals to eight and seven respectively through the first 11 games of the season. The return of Andre Burakovsky to that second line has seemed to have given them a spark.
Grubauer Stays Hot
The Avs' recent success wouldn't have been possible without the outstanding performance from Philipp Grubauer between the pipes. Through nine games, he's been able to put together a goals-against average (GAA) of 1.67 and a save percentage (SV%) of .934. And he remained rock solid tonight, stopping 27 of 28 shots in the victory.
With the injury to Pavel Francouz keeping him out week-to-week, Grubauer has handled the brunt of the workload for the Avs, starting in nine of their 11 games. And considering that he's among the league leaders in SV% and GAA, the team really can't ask for much more out of him.
With the Avs set to close out the series against the Wild on Thursday night, you can expect them to give the German netminder the nod for the third time. At this point, he simply gives them the best chance to win, and as long as he can handle the workload and isn't fatigued, there's no reason they shouldn't continue to start him. Especially in a short season like this where they don't exactly have time to experiment.
Makar Developing Into an All-Around Threat
If you've read a handful of my articles, you know how I feel about Cale Makar. I've raved about him in probably three or four different pieces since the offseason. But in my defense, he keeps giving me a reason to.
He's currently riding a five-game point streak after tallying an assist on O'Connor's first-period tally, bringing him to 12 points in 11 games to start the season. And the amount of trust Jared Bednar and Co. have in him is obvious at this point.
In Sunday's overtime loss, Makar had an absolutely outrageous 28:09 of ice time. And tonight was more or less the same story, with his final time on ice clocking in at 26:23. We all know how good Makar is offensively, but with the absence of Erik Johnson and Devon Toews on the back end, Bednar has started using Makar on the penalty kill. And it's clearly working since only tonight were they able to solve Colorado's PK.
Makar is being developed into a two-way threat that can be used in every situation. Going forward, I'm sure the Avs ideally wouldn't want Makar playing upwards of 25 minutes every night. But for the time being, the fact that they can turn to a 22-year-old defenseman on the power play, penalty kill, and crunch time, really shines a light on how special of a player he is.
The Avalanche are in action against the Wild again on Thursday night. While nothing is confirmed, it's expected they'll return to Philipp Grubauer between the pipes.
---
---