Following the 2016 NHL Draft, defenseman Colby Sissons was an afterthought for most NHL teams. But that wasn't the case for the New Jersey Devils, who invited him to their annual summer Development Camp and then shortly after signed him to an entry-level contract. Now they look like geniuses as the 20-year-old Sissons had a career year in helping the Swift Current Broncos to a WHL championship and he's more than eager to continue his craft at the pro level while making other NHL teams look foolish for passing on him.
This past season his 71 points (13g-58a) were third among WHL defensemen, two points behind Ty Smith whom the Devils selected with the 17th overall pick at the 2018 NHL Draft. "He's a player that doesn't hesitate to take off with the puck, sees the ice well, and has the ability to create offense off the rush," New Jersey's director of amateur scouting Paul Castron told Chris Ryan from NJ.com. "He likes to come late, be that extra guy, create those odd-man situations."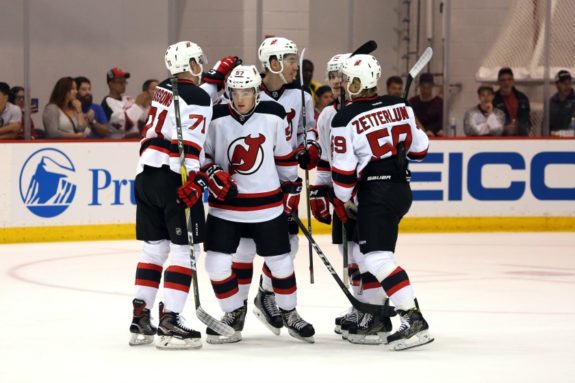 It's likely that with a strong training camp in September that Sissons will turn pro and start the season with the Binghamton Devils in the AHL. If there are any injuries or trades among the Devils stable of blueliners he could even find himself getting his feet wet at the NHL level sooner than later. After his 71-point campaign, the left-handed defender chipped in another 23 points (5g-18a) during the playoffs. 
Following the 2018 Devils Development Camp, The Hockey Writers caught up with Sissons to find out why he was so successful this season, if there were any other teams were interested in his services after he went undrafted, and which defensemen he likes to pattern his game after, among other topics.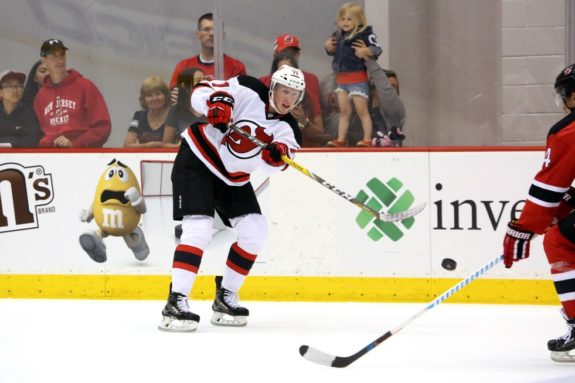 Development Camp
The Hockey Writers: We're at the end of New Jersey's Development Camp after today's scrimmage, how was this experience for you compared to the previous one?
Colby Sissons: It was good. A little more experience under my belt definitely helped. We have a really good group here; it's been good welcoming in the new guys and building that culture. It was a fun week.
THW: You guys do a lot of off-ice activities, team-building exercises. What did you enjoy the most?
CS: They were all good. Go-Karting was really fun, Top Golf too. We did a talent show as well, and that was pretty fun to end off yesterday; we had some good laughs. I had a lot of fun this week.
Awesome start to my day! #NJDevCamp 3 on 3 and a pic with Colby Sissons & Ty Smith @NJDevils pic.twitter.com/OEAfF9yTA7

— Victoria Lawdog (@falconsfan02) July 11, 2018
THW: Safe to assume this time around you're more comfortable with your surroundings here, the coaching staff, things like that?
CS: Yeah, when you see familiar faces every day it definitely helps. It's a great group we have in here from management down. It's awesome being here.
Devils Diligence Pays Off
THW: You went undrafted and then ended up signing with the Devils, what led to that decision?
CS: It wasn't too hard. The day after the draft I was going to New Jersey (for development camp) and then I played well, they liked what they saw. At the end of the day, I got what I wanted, to be a part of a National Hockey League team. I couldn't ask for a better place to be.
THW: Were there any other teams interested in you?
CS: By my understanding not many. Maybe a few others but New Jersey was first on my list.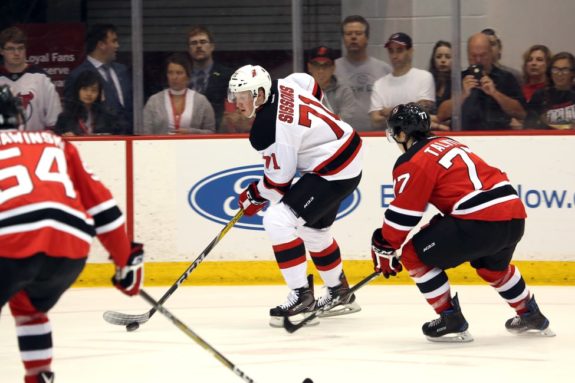 WHL Explosion
THW: Your first two years with Swift Current you had a total of 50 points, and this season you exploded for 71 points. Oh, and by the way another 23 points in the postseason. What changed for you?
CS: The experience definitely helps, it was my third year in that league. We had a really good team this year and that definitely helped too, we had three 100-point players (Glenn Gawdin. Aleksi Heponiemi, Tyler Steenbergen). Anytime you have three 100-point guys up front you just try to get them the puck and let them take care of it. I tried to feed off them as much as I could and it's a breakout season for myself, but I couldn't have done it without them.
.@colby_sissons & @ssskipy_74
power #SCB to HUGE 1-0 shutout win in Game Four of #WHLChampionship! #OurTeamOurTown

RECAP: https://t.co/KHWuHkCGcg pic.twitter.com/Ti5swcvY96

— Swift Current Broncos (@SCBroncos) May 10, 2018
THW: Your team wins the WHL for the first time in a long time. What was going to the Memorial Cup like? Some players never get to experience that. 
CS: It was awesome, that was our goal going into the year. We knew we had a good squad and picking up some key players at the deadline helped. It was the most fun I've ever had in my hockey career. There's nothing like winning and I had a blast. The Memorial Cup obviously wasn't the outcome we wanted but it's a really tough tournament. We played 26 games leading up to that and set a CHL record for most games played in the playoffs. 
Sissons' Studies
THW: Do you have a favorite player or players you like watching or patterning your game after?
CS: I've always liked watching Drew Doughty from the Los Angles Kings, he's always a good guy to model your game after. A guy I started to watch last year was Mike Matheson of the Florida Panthers. He's not a superstar, but I think I can relate my game to his; I think we kind of play alike.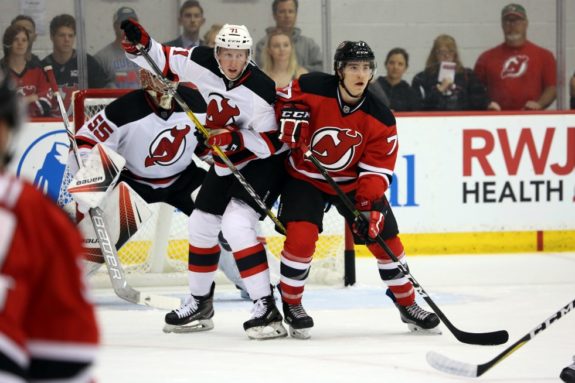 THW: Would you rather score a goal or get an assist?
CS: For me as a D-man I like assists. But there's nothing like scoring a goal (grins). But the best feeling is getting a win at the end of the day. If you're a part of the goal to win the game that's definitely a great feeling. Either or is awesome, but giving a guy a back door, tap-in feels pretty good.
Dan Rice is in his 9th year of reporting for THW & has covered NJ Devils home games for 15+ years at various websites. He began his journey working for legendary broadcaster/writer Stan Fischler from 2002-04 & completed an internship at the ECHL; he also has been writing features for the NWHL (nwhl.zone) website since 2016.