With their respective depth and youthful talent, there's not much doubt that one day the Winnipeg Jets and Toronto Maple Leafs will meet in a Stanley Cup Final. They are definitely Canada's best hope to end the 25-year Stanley Cup drought.
National unity won't be high on the mind of either team or fanbase, however. When they meet in the Stanley Cup final, neither team will be satisfied with second place. So who wins?
If that question came up before July 1, the answer would've been more straightforward. Pre-John Tavares, the Jets had a definite edge over the Leafs. Maybe they still do, but the addition of Tavares gives the Leafs yet another of the game's premier forwards.
It's difficult to say based on their recent history. The Maple Leafs wallpapered the Jets in an embarrassing home-opening debacle last year for Winnipeg. The Jets then beat the Leafs on home ice later in the season by a modest 3-1 score.
At the time, Winnipeg seemed like the better team according to many observers. Things have changed, however. Losing Paul Stastny for the Jets and adding Tavares for the Leafs has thrown a new wrinkle into the equation.
So, piece by piece, position by position, we're going to break down a rivalry that, because of geographical barriers, is only a rivalry when they meet in the playoffs. The Jets and Maple Leafs are unquestionably the class of Canada, but which team is best?
Leafs Earn Slight Edge at Forward
A month ago, this was a closer battle. In fact, it may have still gone to the Jets at that point. It's amazing what signing the most desirable free agent of the last ten years will do.
This is still a close battle in many ways. The Maple Leafs don't have anyone on their roster quite like Jets captain Blake Wheeler. Wheeler posted 91 points last year in the best offensive season in Jets 2.0 history and boasts a 6'5 power forward's frame.
Wheeler's lethal mix of size and speed has made him one of the league's top right wingers. In fact, in the last five years, only Patrick Kane has more points than Wheeler at that position.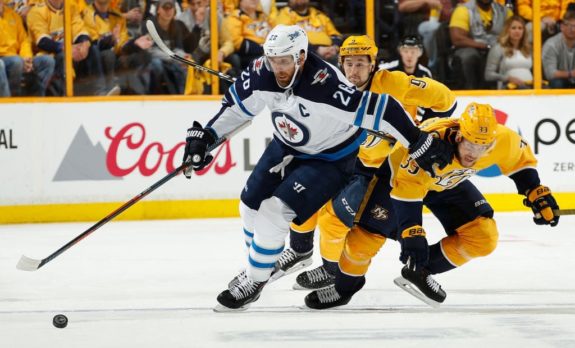 The Jets have some excellent pieces up front beside the captain. Mark Scheifele is a bonafide number-one center who's been at the point-per-game mark the last two years. Patrik Laine is coming off the second-highest goal total in the league. Only Alexander Ovechkin has outscored him since he came into the NHL.
We could be here all day comparing the depth of the two teams up front. But while the Leafs have lost some depth pieces like James van Riemsdyk and Tyler Bozak, the Jets have lost Stastny too. And the one-two punch the Leafs now boast at center may be the NHL's new best.
Tavares played all 82 games last year and posted 84 points. Both he and Matthews were over a point per game. Only two teams in the NHL had two centers over that number last year, and Tavares played for one of them.
This is how Babcock currently envisions his top two lines:

Marleau-Matthews-Nylander
Hyman-Tavares-Marner

— Chris Johnston (@reporterchris) July 1, 2018
On the wing, the Jets match up favorably with almost any team in the league. They do so at center as well. The Leafs are now the exception. Nazem Kadri, who posted 32 goals last year, could end up being the team's third line center.
At forward, centers are the pieces teams build around, and for good reason. While Laine, Wheeler, Nikolaj Ehlers and Kyle Connor among others, give the Jets the edge on the wings, up the middle, no one touches Toronto right now unless it's Pittsburgh.
This one is tight, but based on their center depth, the edge goes to the Maple Leafs.
Jets Own the Defense
Even Maple Leafs observers and fans will tell you their defense is a comparative weakness, though nowhere near as much so as it once was. Nevertheless, this was probably the easiest position of the three to decide.
Winnipeg's argument for the edge on defense could begin and end with Dustin Byfuglien. There is simply no one else like him in the entire NHL. He is a man apart.
It's a mark of how good Byfuglien is that his 45 points in 69 games this year represented a down year. And as we saw in the playoffs, his game goes far beyond the points.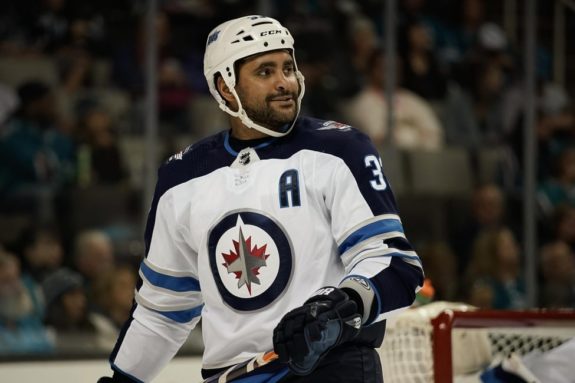 Leaving Byfuglien aside for the moment, both teams defense cores revolve around two young, able puck movers. Jacob Trouba and Josh Morrissey for the Jets, and Morgan Reilly and Jake Gardiner for the Leafs.
In an impressive offensive display, both Gardiner and Reilly broke the 50 point barrier in 2017-18. Yet both players have defensive lapses and can be too adventurous in their own zone.
Trouba and Morrissey may never break 50 points, but both are more mature players. Defense, after all, is not just about putting pucks in your opponent's net. Trouba and Morrissey are adept and keeping pucks out of their own, and frequently draw the top lines of the opposing teams.
Once you get past that, the Leafs depth on defense dries right up. Meanwhile, the Jets third pairing as of this writing is Tyler Myers and Dmitry Kulikov. Myers would have tied Reilly for the lead in goals by a defenseman for the Leafs last year.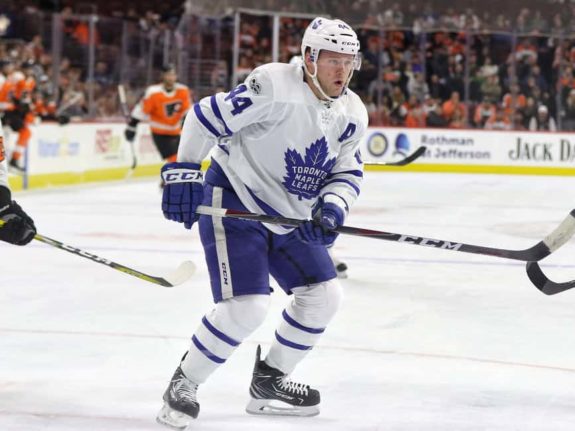 The Leafs have some players coming up the pipeline, but here too the Jets have an edge as reigning AHL defenseman of the year Sami Niku beats out anyone in the Leafs system. Winnipeg takes the defense, as they would against most teams.
Goaltending Anyone's Guess
Goaltending is often the sword by which teams live and die, and last year, the Jets starting goaltender Connor Hellebuyck was superior to Leafs starter Frederik Andersen. Andersen posted a somewhat underwhelming 2.81 GAA and a sturdy .918 save percentage, both of which pale next to Hellebuyck's numbers.
It's not that simple, however. Andersen's numbers were strikingly similar to those he posted in 2016-17, meaning he at least can lay claim to consistency. Hellebuyck has only the one outstanding NHL season to trade on.
The other wrinkle is the backup situation. What if, for whatever reason, either team needs to dig a little deeper into their well of goalies? The Jets lost both their regular backups from last year in Michael Hutchinson and Steve Mason.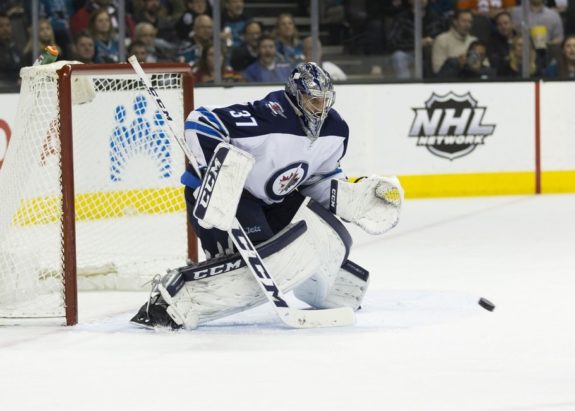 Right now, the Jets backup looks like one of Eric Comrie or Laurent Brossoit. For what it's worth, Hellebuyck and Brossoit know each other and Hellebuyck is reportedly a fan, but Brossoit has all of 28 NHL games to his name, all with the Edmonton Oilers.
As for Comrie, he's played only four NHL games and hasn't exactly covered himself in glory. He did have his best season as a pro in Manitoba, but he's untested.
Toronto's backup options are more experienced. They have no shortage of candidates between the pipes, the leader of which has to be Curtis McElhinney after an out-of-nowhere run at age 34. He posted a career-best .934 save percentage in 18 games.
So goaltending is very much up in the air. Is Hellebuyck a Vezina finalist year in and year out, or is he the goalie the Jets grew frustrated with in 2016-17? The answer to that question determines who wins this category.
As for who wins overall, it's anyone's guess frankly. Your own answer will likely depend on whether you subscribe to the "defense wins championships" theory or the idea that ultra-talented forward cores can overcome the lack of a true number one on the back end.
Who knows which of the two teams would win in a seven-game series. Frankly, it would be fantastic just to find out.