Who haven't the New Jersey Devils had their name connected to on the trade market? After all, they are 38-15-5 and in third place in the league behind the Carolina Hurricanes and Boston Bruins. In the Feb. 23 episode of The Jeff Marek Show, Elliotte Friedman talked about the Devils and the potential of acquiring Jakub Vrana from the Detroit Red Wings. 
Marek asked Friedman about Vrana, who the Red Wings called back up from the American Hockey League, and whether it was a showcase game. Here's what Friedman said: 
"It is absolutely a showcase. Absolutely a showcase…one team I kind of wondered about was New Jersey, but I don't think it's at the forefront for them. Initially, when [Vrana] was called back up, I had someone say to me, "you watch New Jersey on this one. This is the kind of the thing they'd look at."

Elliotte Friedman via The Jeff Marek Show, Feb. 23, 2023
Friedman mentioned that teams are looking at Vrana because they think the Red Wings would have to incentivize them to take on Vrana (retaining salary and/or attaching a sweetener). Friedman mentioned the Devils didn't have a scout in attendance for Vrana's showcase, so it's clear it's not at the forefront for them. But even though they may be chasing Timo Meier less than a week before the trade deadline, they should still keep an eye on Vrana as a plan B. 
Vrana an Underrated Scorer
First and foremost, the hope is Vrana is in good health and a good place after entering the NHLPA player assistance program a few months ago. Hopefully, whatever issues he was dealing with are behind him and he can return to form. If so, he could be of real value for a team looking to add a scorer. 
Before Vrana's personal struggles, he was one of the more underrated scoring wingers in the league. From 2019 to 2022, he totaled 57 goals and 107 points in 145 games. That comes out to an average of 32 goals and 60 points per 82 games, and his five-on-five scoring rates ranked among some of the best forwards in the league.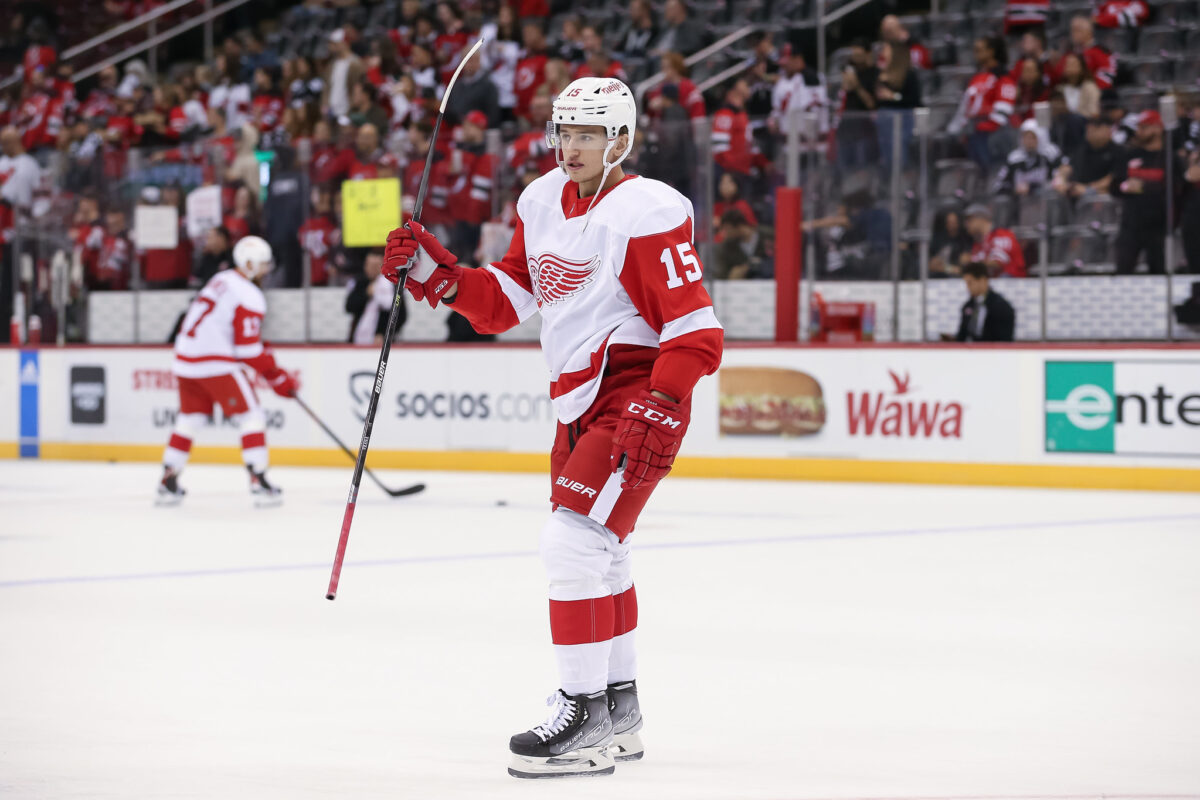 For example, his average of 1.59 goals per 60 minutes ranked second in the NHL from 2019-22. Only Auston Matthews was scoring five-on-five goals at a more efficient rate than Vrana. Even Vrana's overall scoring rate of 2.71 points per 60 minutes ranked him ahead of big-name point producers such as Evgeni Malkin, Leon Draisaitl, and Johnny Gaudreau, to name a few. 
Offensively, the biggest strength of Vrana's game is his high-end shot. He's only appeared in four NHL games in 2022-23, but he was a well above league-average shooter in his previous two seasons. And while his shot is his biggest asset, he's also a decent playmaker. His primary assist rate from 2019-22 was equal to that of Devils winger Jesper Bratt. 
If there is one knock on Vrana's game, it's his defense. With that said, teams don't acquire a player like Vrana to play defense. They bring him on to score goals, something not many forward did much more efficiently than him in his three previous seasons before 2022-23. His player card from JFresh Hockey visualizes that better, as he ranked in the 98th percentile in finishing from 2019 to 2022: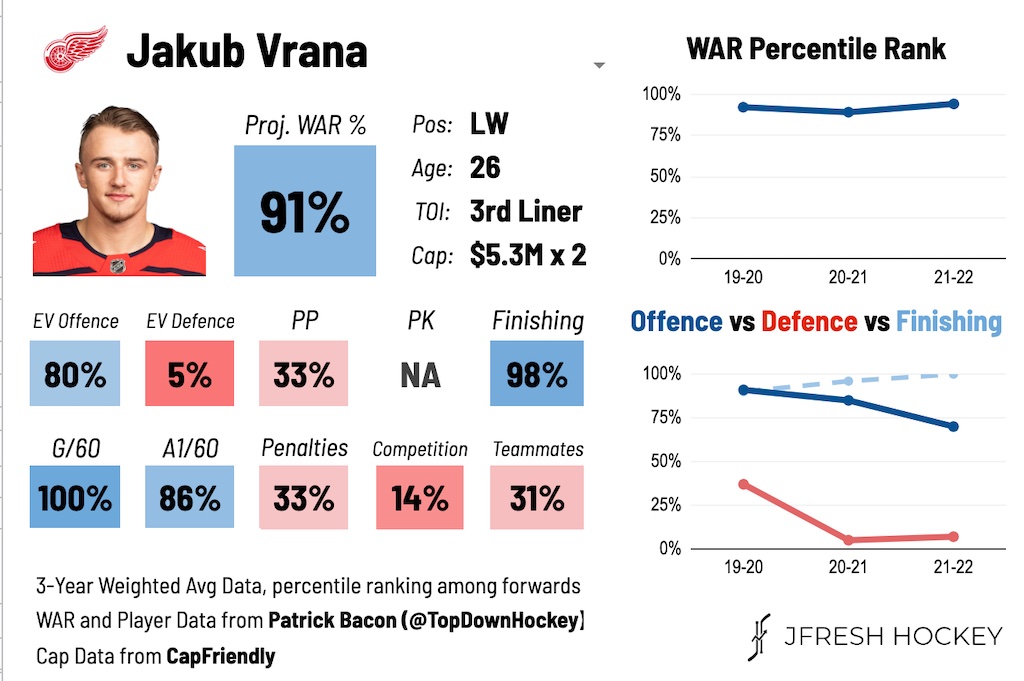 Part of the reason the Devils want to add a top-six winger to their roster is to give Jack Hughes another scoring threat alongside him. If Vrana is in a good place and ready to turn the corner, there are plenty of reasons why Devils general manager Tom Fitzgerald should have his eyes on Vrana. His finishing ability alongside Hughes and Bratt could significantly upgrade their scoring. And given the situation, there's an opportunity for the Devils to find value in acquiring him from the Red Wings. 
Vrana & the Devils' Salary Cap
Given Vrana's situation, the Red Wings and general manager Steve Yzerman will likely have to incentivize teams to take on Vrana's contract, as Friedman stated. They placed him on waivers earlier this season, though that was a procedural move more than anything else. Still, a team would've likely claimed Vrana if he didn't have a $5.25 million cap hit for another year and a half. 
Because of that, the Red Wings would probably have to retain 50 percent of Vrana's cap hit for the remainder of his deal. That would bring his cap hit down to $2.625 million, which is manageable for most teams, including the Devils. But since they are tight on deadline cap space, it wouldn't hurt to look to the trade market for a third-party broker, as we've seen with other deals ahead of the deadline. 
Related: Vrana Shows Glimpses of Promise in Return to Red Wings Lineup
---
Latest News & Highlights
---
If a third team gets involved to retain 25 percent of Vrana's cap hit, that will bring it down to $1.312 million. As we saw in the Ryan O'Reilly trade, the Minnesota Wild acquired a 2025 fourth-round pick from the Maple Leafs for acting as a third-party broker. The Wild also stepped up as the facilitator in the trade that sent Dmitry Orlov and Garnet Hathaway to the Boston Bruins; the Wild received a 2023 fifth-round pick for retaining 25 percent of Orlov's $5.1 million cap hit. 
Bringing in a third-party broker might make sense for the Devils since they'll only have around $2-3 million in deadline cap space, depending on some roster moves they could make ahead of Friday. That's especially true if they want to make a depth move on defense or up front, so bringing down Vrana's cap hit to $1.312 million would certainly help. 
Vrana AND Meier Are Unlikely
"Well, what about Meier?" you might ask. If the Devils pivot to Vrana, it's because they had to resort to a plan B. I know Friedman has said the thought is that the Devils are too small up front. Vrana is 6-foot, 195 pounds, so that probably won't quelch any concerns you may have about the team's forwards being too small. But the goal-scoring upside and potential fit alongside Hughes are hard to ignore.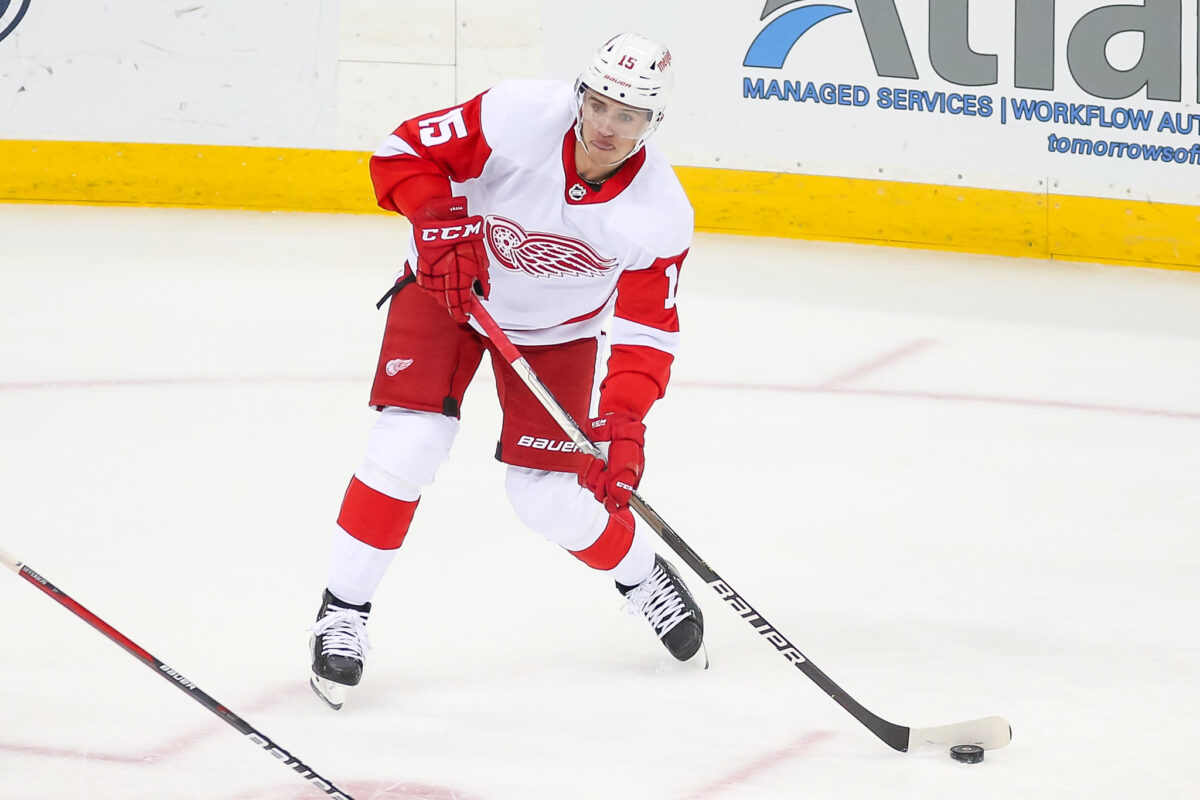 Vrana would automatically become the Devils' best shooter without any questions asked. And since the thought is the Red Wings will have to retain salary and maybe even add a sweetener, that's even more reason to keep tabs on the situation. Sure, the Devils may have to give up a mid-round pick to get a third-party broker involved, but that's not mortgaging the future. 
Nor will it cost significant assets to acquire Vrana. There aren't any apples-to-apples comparisons for a Vrana trade, but given the situation, it shouldn't cost more than a mid-round pick and a lower-level prospect. There's risk for sure, but if everything checks out with Vrana off the ice, there's tremendous upside and the potential to add real value to the roster at a minimal cost.
* * *
Advanced stats from Natural Stat Trick