On the final day of 2020, the New Jersey Devils held their first training camp to kick off their new season. Aside from the team trying to get back into the swing of things, training camp allows for the media to ask any questions to a respective player or coach. When sophomore year player, Jack Hughes, stepped up to the podium, there was definitely a lot for him to elaborate on. This is mainly due to his lackluster performance from the previous year, and also factors surrounding the Devils organization.
Where Did the Questions About Hughes Originate?
Prior to the 2019 NHL Entry Draft, in which Hughes was selected first overall, scouts were raving about Hughes' playmaking ability to go along with his tremendous acceleration, agility, and elusiveness. Despite his 5-foot-10 stature and lightweight of 170 pounds, he was able to use his high hockey IQ to his advantage. This gave him the ability to beat most of his opponents in a one-on-one matchup and helped strengthen his skating skill and strategic sensibilities to an elite-level status.
It's safe to say that the Devils organization had high hopes for Hughes. However, he greatly underachieved in the 61 games he appeared in. Hughes scored only 7 goals with 14 assists for a grand total of 21 points. To put these numbers into a better perspective, his expected production was far below Hischier's rookie year performance (82 games played, 20 goals, 32 assist, 52 points).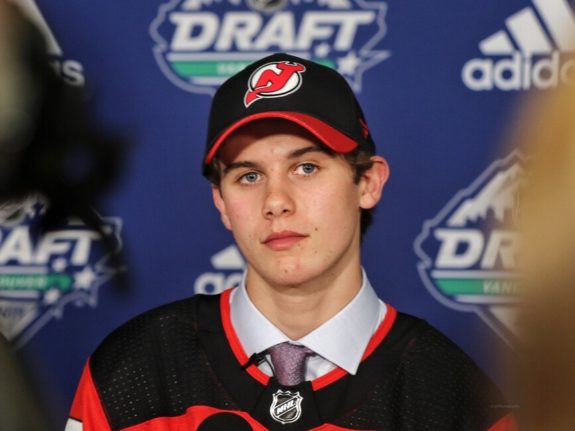 To be fair, Hughes' linemates, paired mostly with Wayne Simmonds and Miles Wood, certainly didn't help his chances of performing better, but that's still not much of an excuse. Because from a statistical standpoint, Hughes' rookie numbers are the worst stats put up by a first overall selected forward since Joe Thornton in 1997 (55 games played, 3 goals, 4 assists, 7 points).
What Has Changed?
Hughes has stated in a past interview that his hockey idol is Patrick Kane (3x Stanley Cup Winner for the Chicago Blackhawks). Similar to Hughes, Kane is also a former first overall pick (2007), posses a similar body stature, and is also an American player. However, their skill sets are clearly different, as proven by Kane's personal rookie season and beyond, because he was able to find alternative methods to cancel out his small frame and become successful. The same could not be said for Hughes, so it was obviously time for a change.
The first step to a redemptive year is to make drastic changes in order to see drastic results. During his training camp interview, Hughes revealed that he had gained 14 pounds of muscle during the lengthened offseason:
I made eating my job this summer…We didn't know when we were going to come back and play so for a lot of months, it was more me taking care of me, and working on my game. Getting bigger, getting stronger, just developing my game, and becoming a better player.
This type of act from Hughes not only shows a sense of willingness to get better, but it also demonstrates a tremendous amount of maturity from him as well. As demonstrated during the course of the season, Hughes was sometimes easily pushed off the puck by his opponents. It got to the point where fans and media members started to suggest that he gain anywhere from 15-20 pounds in order to be effective and show improvement.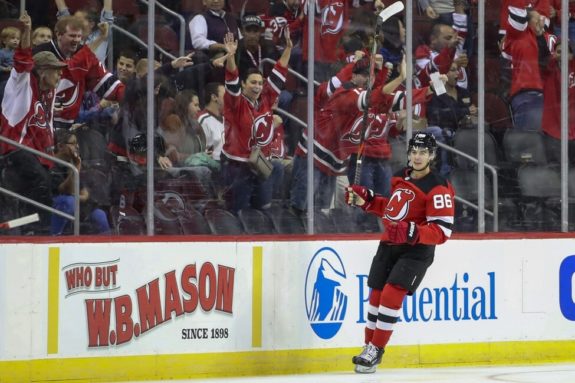 With Hughes realizing that he could help better the team for their future, he took the criticisms to heart, and just set himself up to have a bigger impact on the ice–both figuratively and literally.
Time to Shine?
Sometimes self-confidence is the key to anyone's success, and Hughes certainly doesn't lack any of it. Adding on to his training camp interview he stated, "I'm excited to have a breakout year." If he is able to back up his claim and play well, along with Hischier's impressive two-way play development, then these two can be great centerpieces down the middle for the Devils for years to come.
However, that dynamic duo dream might have to wait a bit longer. Because, earlier this month, Hischier suffered a leg injury during a workout in his homeland of Switzerland. The Devils considered the length of his injury to be week-to-week, and he will obviously miss the rest of training camp. With the regular season set to start on Jan. 14 against the Boston Bruins, Hischier is marked as doubtful.
With his level of play rising since entering the league in 2017, to go along with him possibly becoming the new head captain for the organization, any loss of time is significant. Also, it certainly doesn't help that Jesper Bratt is out for the foreseeable future, due to contract negotiations. So, it will be up to Hughes to help fill the void at center temporarily.
Unlike the young Auston Matthews (2016 first overall selection), who lit the world on fire with his scoring ability during his rookie year, Hughes is still navigating the world of elite play and remains a player of full potential and hope. Luckily, there has been a history of players who have bounced back after less-than-stellar rookie seasons. If nothing else, he will adapt to new models and expedite his development this upcoming year. I am looking forward to his sophomore year campaign for the 2020-21 season. 
---
---