With the New Jersey Devils having been eliminated from the playoffs by the Carolina Hurricanes in five games, it's officially offseason mode. Players conducted exit interviews with the media yesterday, as did head coach Lindy Ruff. While general manager Tom Fitzgerald did not speak to reporters, I'd expect him to at some point soon. In the meantime, let's look at some of the highlights from exit interviews. Plus, a fresh round of Devils rumors via Elliotte Friedman and the 32 Thoughts Podcast.
Bratt & Devils Grinding Away at New Deal
The Devils have a few notable restricted free agents this summer, one notably being Jesper Bratt. On the May 12 episode of 32 Thoughts, Friedman spoke about Bratt and where contract negotiations stand between him and the Devils. 
Friedman said that the two sides have been talking for quite some time and that the Devils' brass has made it very clear he's not going far away from where Jack Hughes is, which is an $8 million cap hit. It's been a long, long grind and hasn't been easy for both sides. There were times people thought it was going to get done, and other times they thought it wasn't going to get done. 
In his exit interview yesterday, Bratt strongly stated that he wants to return to the Devils, saying he has full confidence in his agent and Fitzgerald to get a deal done. He added even more to that too: 
We'll see where Bratt's number ends up once the two sides get a deal done. Evolving-Hockey has him projected for a cap hit of $8.329 million on an eight-year contract. As I've stated for months, I think Kevin Fiala is the ideal comp for Bratt; Fiala signed an eight-year extension with the Los Angeles Kings last summer at a cap hit of $7.875 million. Those two numbers could be a ballpark range for a new deal between the sides. 
Regardless, Bratt made it clear he wants to be in New Jersey, so I think a deal will get done at some point this summer. It may be a grind again, but hopefully, it doesn't come down to the 11th hour before an arbitration hearing as it did a year ago; Bratt signed a one-year extension worth $5.45 million then. 
Re-Signing Meier Also of Importance
After Bratt, Timo Meier is the biggest RFA the Devils and Fitzgerald need to get signed. On 32 Thoughts, Friedman mentioned that if the two sides can't get a long-term deal done, other teams and agents think the Devils will take him to team-elected, cut-rate arbitration, where they can reduce his $10 million qualifying offer by 15 percent to $8.5 million for the upcoming season. The team will then have a choice: do they keep him, or do they flip him? 
---
Latest News & Highlights
---
The Devils elected cut-rate arbitration a year ago with Miles Wood, but you don't see it all too often. And to be clear, Friedman said this was a scenario if the Devils don't get Meier signed to a long-term deal. We're still a ways off from that point of the NHL calendar, so there's no need to panic. Arbitration dates are still two and a half to three months away from even being a thing, so the two sides have plenty of time to negotiate. 
Decision on Ruff Also Looms
Another big decision the Devils have this summer is will Ruff, whose contract expires, be back to coach in 2023-24. The Devils hired Andrew Brunette as associate coach last summer in case things didn't work out with Ruff. As it turns out, that wasn't an issue because Ruff is a finalist for the Jack Adams Award as best head coach in 2022-23.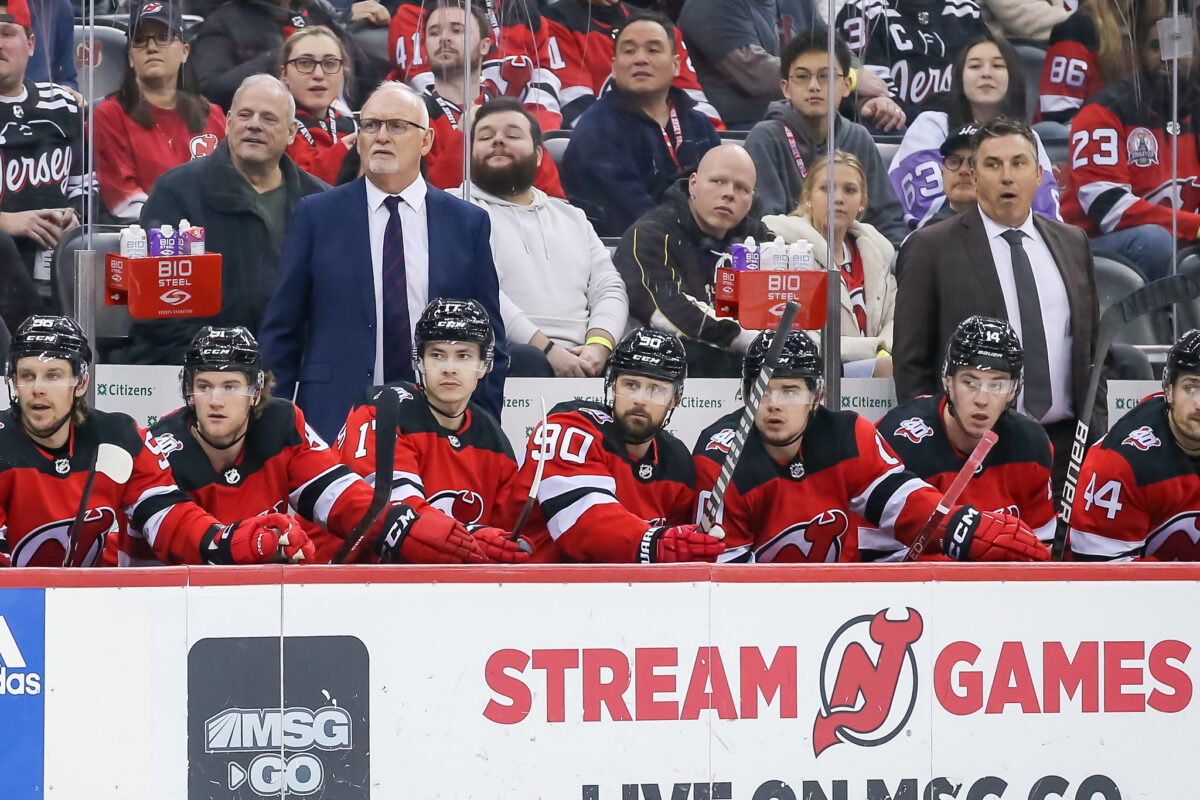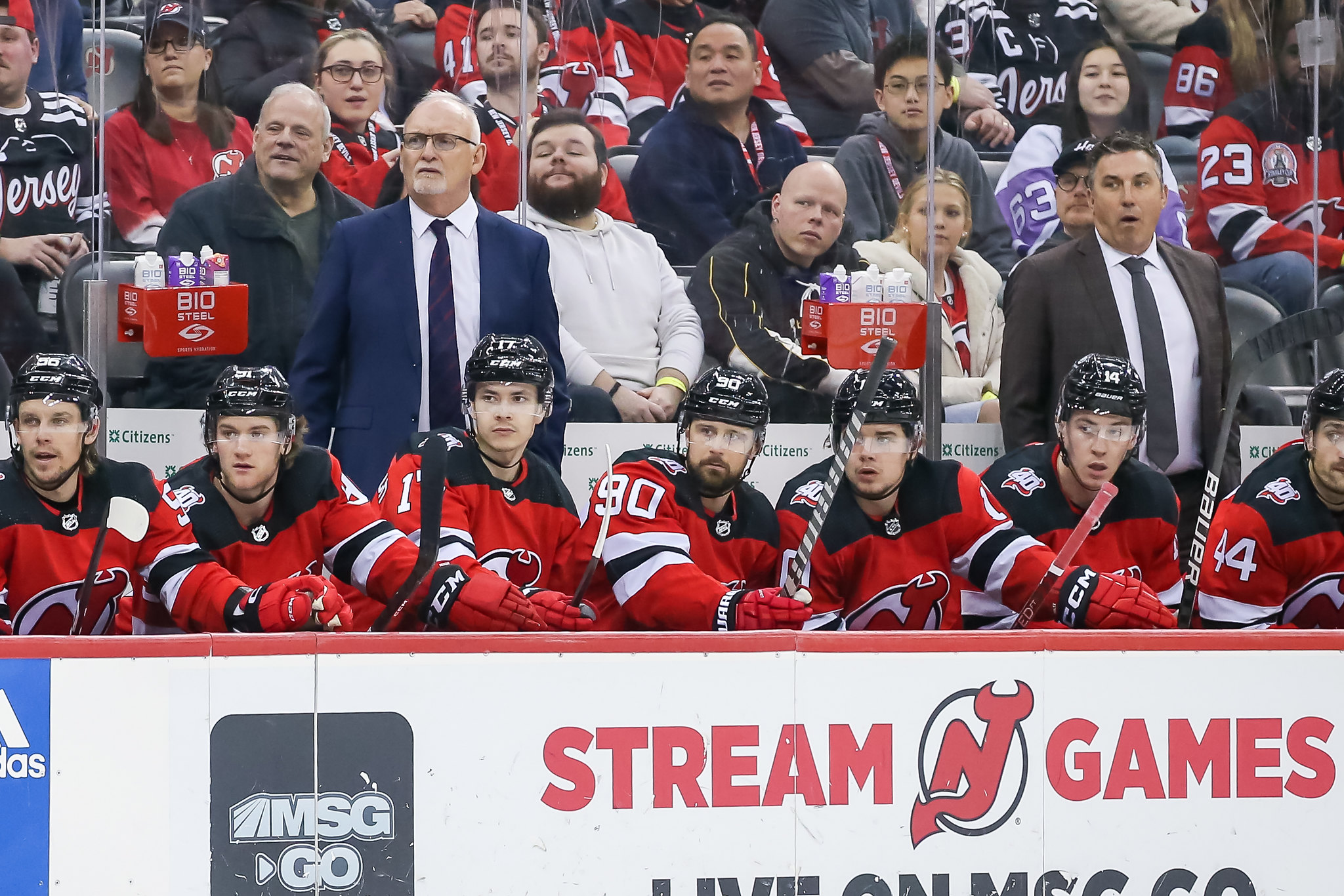 Ruff certainly spoke during his exit interview as if he would be back with the Devils, but in what capacity? As Friedman mentioned on 32 Thoughts, Brunette will be in demand for head-coaching vacancies around the NHL, and it's clear he's a guy the team wanted a year ago. Will the Devils lock up Brunette before he even interviews for other openings? Does that mean Ruff would move into a front-office role with Brunette taking over as head coach? 
Ruff mentioned he would be at the draft next month and spoke about looking forward to 2023-24. But he said he still has to talk to Fitzgerald about his future after player interviews conclude. I'd be surprised if he's not with the Devils moving forward, but as head coach is to be determined. That's another storyline to follow in the coming weeks as the offseason gets rolling. 
Haula Doesn't Want to Be Anywhere Else
One of the Devils' notable unrestricted free agents this summer is Erik Haula. Speaking to reporters, he said he doesn't want to play for any other team and that he wants to come back [to New Jersey]. "It kind of seems like the right spot for me. This is my family, and I don't want to go anywhere." 
Related: NHL Rumors: Maple Leafs, Devils, Flyers
The 2022-23 season was Haula's first in New Jersey after the team acquired him from the Boston Bruins in exchange for Pavel Zacha last summer. Haula couldn't buy a goal for the first two-thirds of the season, despite creating plenty of quality chances. Still, he was doing everything right and playing a solid two-way game. Eventually, he was rewarded for his efforts, finishing with ten goals across his final 18 games, playoffs included. 
For a young Devils squad, having a veteran like Haula in the locker room made a difference this season. He's bounced around from team to team over the last few years, so I'm sure he'd like term for some stability. We'll see if the two sides can agree to an extension, but a three-year deal for between $3-4 million makes sense for both Haula and the Devils. 
Hamilton Reveals Injury
If you were wondering why Dougie Hamilton seemed a bit off during the Devils' second-round playoff series, we got some context during his exit interview. He revealed that he hurt his wrist late in the Rangers series and that he played through it against the Hurricanes. He told reporters yesterday that he will be discussing with the team whether he'll need surgery or not:
Hamilton had a career-best season with the Devils, finishing with 22 goals and 74 points in 82 games. The good thing is that if he needs surgery, there are still five months until the 2023-24 regular season begins, so he'll have plenty of time to recover before camp starts in September. 
Devils Heading to the World Championships
Šimon Nemec – Slovakia
Nemec didn't play in an NHL game this season, but the second overall pick in the 2022 draft arrived in Riga, Latvia, for the World Championships, where he'll play for Team Slovakia. Nemec got off to a slow start with the Utica Comets in the AHL, but he had a strong close and ended the season with 12 goals and 34 points in 65 games. The 19-year-old defenseman should have a decent role with the Slovaks at the Worlds, and he could be a contender to make the Devils out of training camp in September. 
Nico Hischier & Jonas Siegenthaler – Switzerland
Even with a heavy workload this season and the playoffs, Hischier will join Team Switzerland for the World Championships. So will Jonas Siegenthaler, so the two will be teammates for another couple of weeks with the Swiss national team before getting some time off for the summer. Akira Schmid could join them, too, but he said he's talking it over with Devils' training staff before making a decision.