Even though the Stanley Cup Final is ongoing, the New Jersey Devils have made their first notable offseason move. Early Friday morning (June 9), the team completed a sign-and-trade with the Columbus Blue Jackets, sending Damon Severson to Columbus for a third-round pick in the 2023 draft. The Calgary Flames originally owned the selection, as it was part of the deal that sent Oliver Bjorkstrand to the Seattle Kraken last offseason; it sits at 80th overall. 
Let's look at how the Severson trade impacts the Devils' blue line and the team's offseason. Also, the latest rumors on contract negotiations with Jesper Bratt and Timo Meier. Plus, could the Devils also find a taker for Mackenzie Blackwood's negotiating rights? And finally, Šimon Nemec earns a top AHL accolade.
Devils Had to Make the Severson Trade
It's been clear for a while that the Devils and Severson, who would've been an unrestricted free agent on July 1, would part ways. After acquiring John Marino and drafting Nemec and Seamus Casey last summer, the writing was on the wall for Severson in a Devils uniform. New Jersey was willing to do a short-term deal, but Severson and his camp were understandably looking for a long-term agreement:
In moving Severson, the Devils clear some valuable cap space that they'll need to re-sign Bratt and Meier; they could take up around $16 million of the $34-million-plus general manager Tom Fitzgerald has to work with this offseason. If he had re-signed Severson to the $6.25 million cap hit the Blue Jackets did, Fitzgerald would not have much flexibility to make other moves, assuming Bratt and Meier re-sign. 
It also opens up a spot for Nemec to compete for a roster spot in camp in September if the Devils think he's ready for the NHL. But if not, it leaves the door open for Fitzgerald to seek other options as stopgaps. That could mean signing someone to a one-year deal in free agency or looking to the trade market for a player on a team tight on cap space and with a year left on his contract. 
Related: Grading Blue Jackets' Trade for Devils' Severson
---
Latest News & Highlight
---
But overall, this was a move the Devils had to make. They knew they'd lose Severson in free agency, so it was best to collect an asset to add to their draft stockpile. Now, they can focus on improving the roster and getting Bratt and Meier re-signed, which leads us to our next topic. 
Bratt & Meier Negotiations Will Be a Grind
On the June 9 episode of 32 Thoughts, Elliotte Friedman provided an update on Bratt and Meier's negotiations and where they stand. According to Friedman, Bratt's negotiation has been a grind, as it has for quite some time. The Devils want to get this done, but Bratt's reps have been slowplaying it. As Lou Lamoriello would say, it's essentially status quo for now.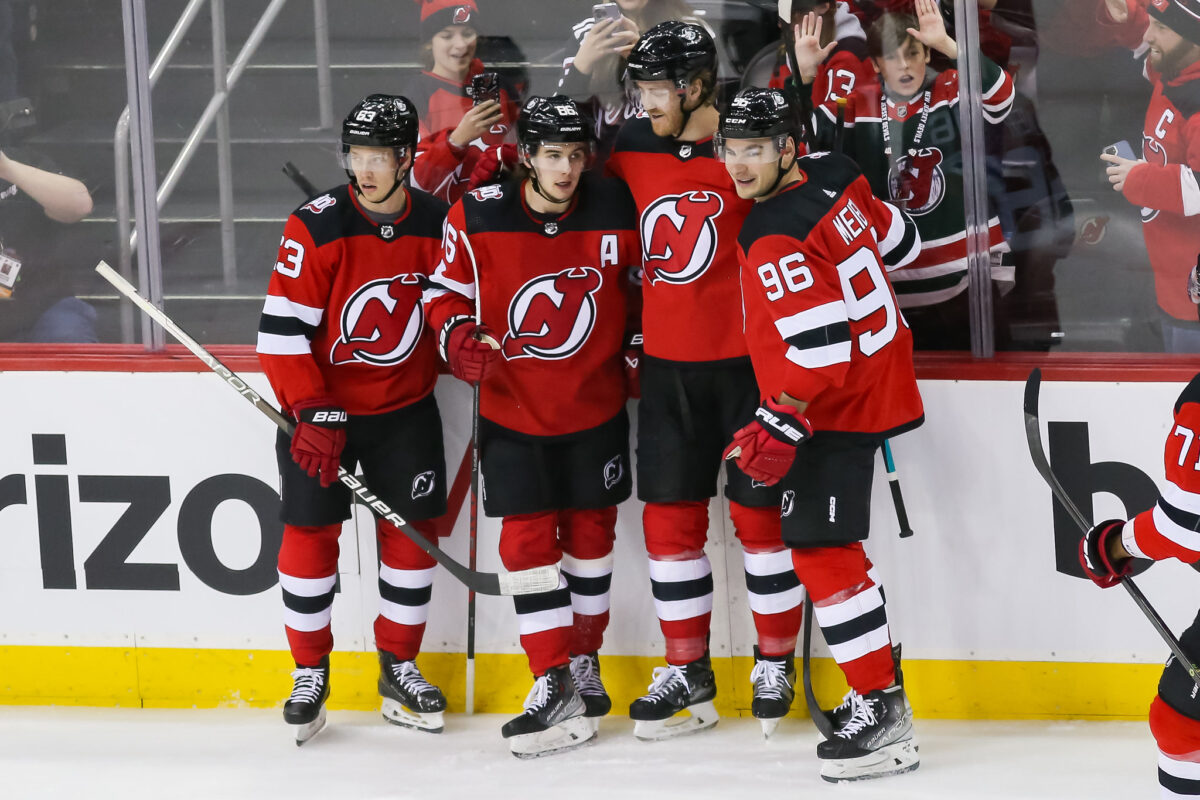 As for Meier, Mike Morreale reported on Monday that negotiations were getting underway with Meier this week; the Devils seem to be farther along with Bratt. On 32 Thoughts, Friedman mentioned Meier's extension could be hard to do because it's a big number and that he could wait a year since he isn't a UFA until 2024. "These deals aren't impossible to do. They're just a grind," as Friedman stated on 32T. 
Neither Bratt nor Meier is on any offseason trade boards, so fans don't have a reason to panic. I still think each party will agree on long-term deals with the Devils; Bratt for four to five years and Meier for the maximum term of eight years. Both players are top-line wingers, and these negotiations were never going to be easy with either of them. They're both RFAs, so it's not like July 1 is a hard deadline. They have time to work out new contracts. 
Could the Devils Deal Blackwood's Rights? 
Making an appearance on Frank Seravalli's most recent trade board at Daily Faceoff was Blackwood, who popped up at No. 30 out of 30. Blackwood is an RFA with arbitration rights this summer, and it seems unlikely the Devils extend a qualifying offer to him before July 1, making him a UFA. 
Per Seravalli, teams seem to know that Blackwood will be a UFA come July 1, but I wouldn't completely rule out the Devils finding a taker for his negotiating rights. On a previous episode of 32T, Friedman reported that the goalie market is heating up. We already saw the Philadelphia Flyers acquire Cal Petersen in the Ivan Provorov trade, though that was more for cap reasons.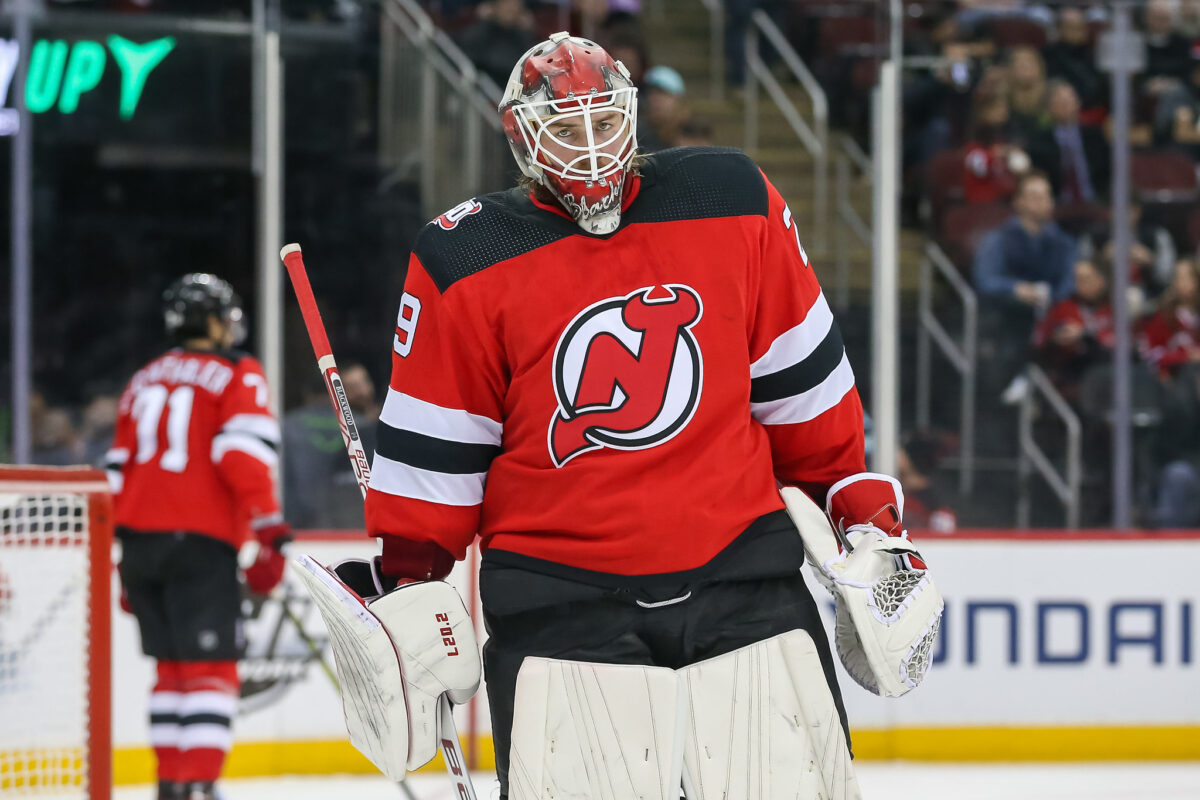 But there are teams like the Los Angeles Kings, Carolina Hurricanes and Buffalo Sabres in need of a goaltender, to name a few. Connor Hellebuyck, Carter Hart, and John Gibson were in the top 10 of Seravalli's update. They're not the only netminders available, and there are some enticing UFAs (Tristan Jarry, Semyon Varlamov) who'll appeal to teams too. 
Blackwood has struggled with injuries and had just an .893 save percentage this past season, but he did save close to what was expected of him. The Devils probably wouldn't get more than a mid- or late-round pick for his negotiating rights. But with so many teams looking for a goaltender this offseason, one might want to get ahead of the game and at least get a crack at signing Blackwood so they don't come away empty-handed.
Nemec Earns AHL Accolades
Lastly, the AHL announced its inaugural Top Prospects Team for the 2022-23 season. Among the six-member group was Nemec, who had 12 goals and 22 assists in 65 games with the Utica Comets. He joins a talented group with Blue Jackets prospect David Jiricek, top goaltending prospect Jesper Wallstedt, and a near-point-per-game player in Lukas Reichel, who'll likely be in the NHL full-time with the Chicago Blackhawks next season. 
Thirty-four points in 65 games might not seem overly impressive, but it is for a 19-year-old defenseman in his first pro season on North American ice. Points aren't the be-all, end-all of a prospect's development, but Nemec will almost undoubtedly become an NHLer. And he has excellent odds of becoming a star:
Aside from financial reasons, it's easy to see why the Devils couldn't re-sign Severson. Nemec has top-four potential at a minimum and No. 1 defenseman potential at his peak. Add in Luke Hughes, Kevin Bahl, Casey and the other young prospects the Devils have coming up, and their defense should be in good shape for quite some time.