The 2023 NHL Draft is just three weeks away, which means it's time to start looking at the Arizona Coyotes' options. Entering this year's draft, they have not one but two first-round picks. The second one came from the Ottawa Senators in the Jakob Chychrun deal. Now with this draft being classified as one of the deepest in recent history, the Coyotes have a plethora of options. Some of those options include forwards Zach Benson and Ryan Leonard.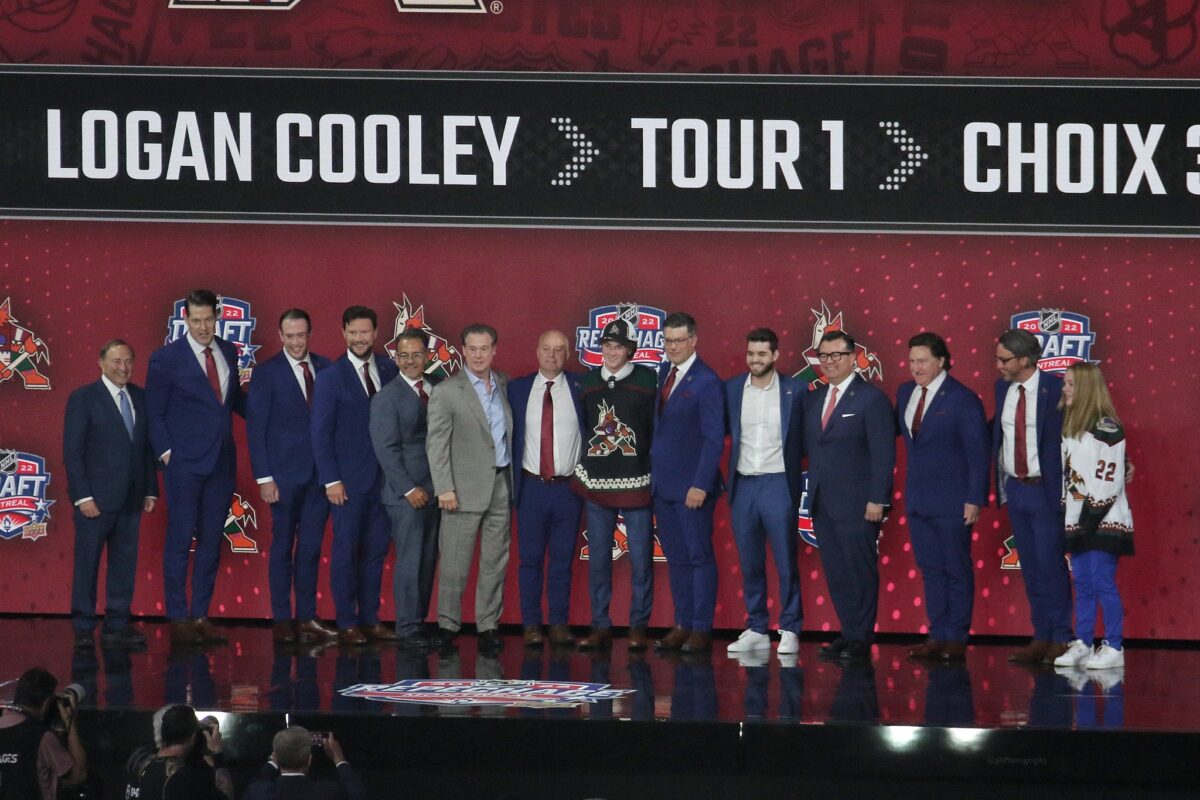 Benson and Leonard will likely both be top-10 picks unless one of them falls on draft day. Assuming neither prospect falls, both could be viable options for the Coyotes at sixth overall. Both present the Coyotes with different skill sets and unique things to like. Of course, these aren't the only options they will have at six, but they will be the primary focus of this article.
Ryan Leonard
Leonard's name has skyrocketed since the start of this year. The 6-foot-0 192-pound forward impressed many this past year with the United States National Team Development Program (USNTDP). During the 2022-23 season, he posted 51 goals and 94 points in 57 games played. He also played at the 2023 World U18 Championship recording eight goals and 17 points, also taking home gold. While his offensive production has been solid, the main reason he could be drafted high is his versatility.
Related: 2023 NHL Draft Guide
---
Latest News & Highlights
---
While with the USNTDP, he played center, right, and left wing throughout the season. It's uncommon to see someone at such a high level playing almost every position, but Leonard is doing it. Along with his versatility, he can also be a threat on the defensive side, showing that he can play a strong two-way game.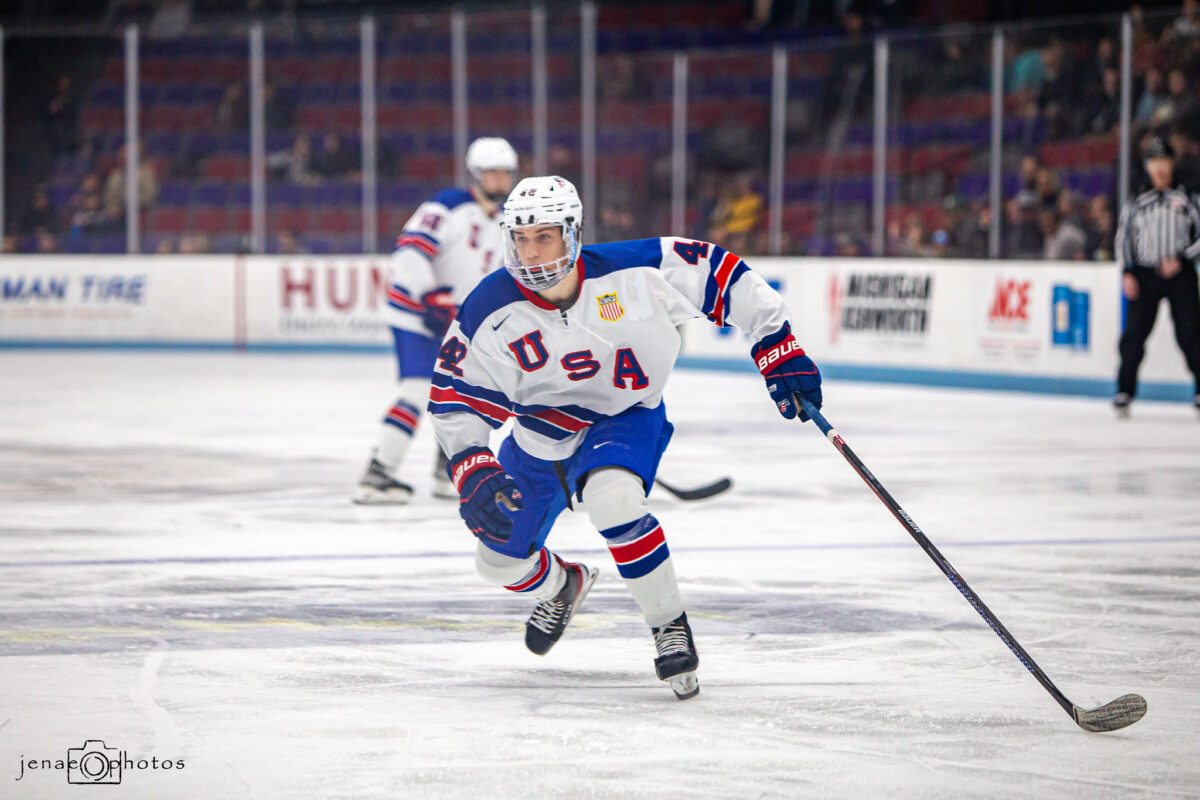 Leonard would certainly fit the mold that Armstrong is creating, tough, gritty, and intense players; he showed that by drafting 6-foot-7 defenseman Maveric Lamoureux last year. Leonard is already committed to Boston College and will look to make an impact at the NCAA level with the Eagles in 2023-24.
Quotables
"He attacks the middle in the offensive zone, skating downhill at defenders with speed and power while having the requisite skill level to dangle opponents when necessary. Leonard shows the most defensive aptitude of any of the NTDP's top-line players, using his strength and physicality to his advantage."

Tony Ferrari, The Hockey News
"Leonard has a way of making his own space on the ice. Sometimes he does that with his speed but a lot of times he does that by going through high-traffic areas and coming away with the puck. At 5-foot-11, 180 pounds, this centre is strong. He is in great physical condition, and he knows how to use it to his advantage."

Russ Cohen, eprinkside.com
Zach Benson
Benson is another player that is likely on the Coyotes' radar. He played with the Winnipeg ICE this past season in the Western Hockey League (WHL), notching 36 goals and 98 points in 60 games. Like Leonard, Benson is competitive and outstanding on both sides of the puck. Adding to that, by watching his game, it's clear he's one of the smartest players in this draft. 
Benson only has one real drawback, which is his height, standing at just 5-foot-10. Nonetheless, his skill set is one of the best in this year's draft. Adding him to the likes of Dylan Guenther, Logan Cooley, and Conor Geekie would add to the team's already great depth at forward. Not to mention he is also teammates with Geekie in Winnipeg, which would make for great chemistry at the NHL level.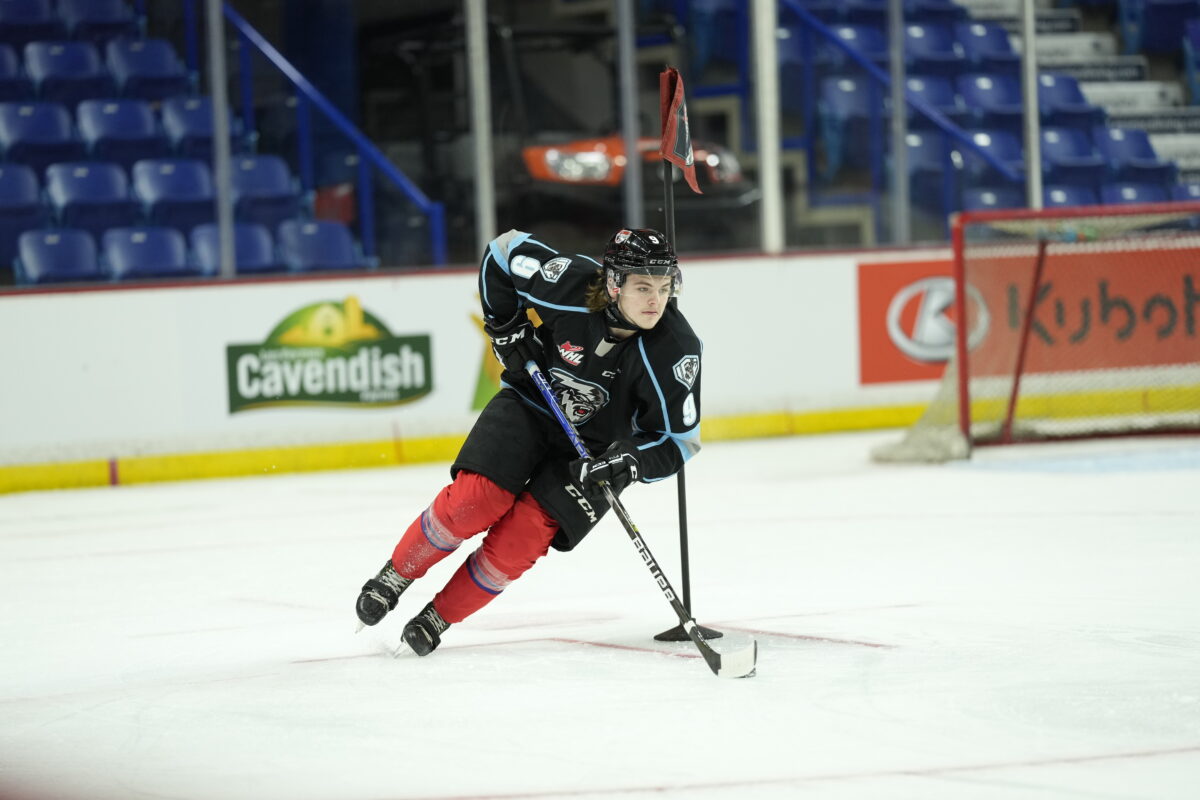 Despite not having the height many teams look for in prospects, he would be a great addition to this young Coyotes team. With Armstrong already drafting an undersized prospect in Cooley, Benson could be the next at sixth overall. So far Cooley has looked to be a great pick, and drafting Benson may present them with the same reward.
Quotables
"Benson is a terrific distributor of the puck. He uses a variety of different pass types to successfully execute different plays. Like I mentioned above, he is great at dishing little 5-10ft passes from below the goal line and is extremely precise when doing so."

– Ben Jordan, Smaht Scouting
"He reads the ice like few others can and is consistently multiple steps ahead of the play despite being a slightly subpar skater. He is consistently intense and engaged. He may be the class' best defensive forward. He is also a high-end playmaker with tremendous instincts and habits that tilt the ice in Winnipeg's favor."

– Sebastian High, Dobber Prospects
Who Should the Coyotes Take?
The Coyotes will have plenty of options at six, including Leonard and Benson. While the team has leaned towards height in recent drafts, Armstrong may opt for a more physical player like Leonard. But if they decide to take the most skilled player, Benson may be the pick. Nonetheless, the Coyotes will walk away from the draft with an elite player.
---
---