The New Jersey Devils put forth a strong effort in Game 5 against the Carolina Hurricanes. Unfortunately, it wasn't enough to save their season, as the Hurricanes came away with a 3-2 overtime win to end what was a great 2022-23 campaign for the Devils. Here are four takeaways as we wrap up the year and start to look ahead to the offseason. 
Devils Gave It Their All
Given they got run out of the rink in a 6-1 loss in Game 4, it would've been easy for the Devils to have folded and called it quits on the season. Instead, they came ready to play and gave the Hurricanes all they could in an elimination game. It got off to a bit of a slow start, but the Devils found some jump after Timo Meier set up Dawson Mercer for a goal with a beautiful tape-to-tape pass for a 1-0 lead. 
Related: NHL Draft Rankings — Horn's Top 100 for May
---
Latest News & Highlights
---
The Hurricanes grabbed the momentum back after Jaccob Slavin tied it at 1-1, and that's how it would go until the Hurricanes ended it in overtime. Each team would exchange punches and had responses for any time someone had the run of play. When the Hurricanes caved in the Devils to start the second period, they responded with a power-play goal from Meier just over seven minutes into the frame. That led to them taking back the momentum at five-on-five until Brent Burns scored with less than a minute left before intermission. 
---
---
At the end of the day, the Devils couldn't bury their chances, and they had plenty of them. Timo Meier missed a wide-open net that would've made it 3-1 in the second period, while the fourth line of Miles Wood, Curtis Lazar and Nathan Bastian had their fair share of chances in the second frame too. That was the difference in this game, but the effort was there, and there's no shame in that. 
Luke Hughes Is Going To Be a Star
Luke Hughes did not have a great Game 4, but that's not a surprise for a 19-year-old defenseman who played in his second-career playoff game. Head coach Lindy Ruff did not hesitate to put him back in the lineup, and though the Devils didn't win, the move certainly paid off. Not only did Hughes play 25:01 at all strengths, but he was outstanding in those minutes.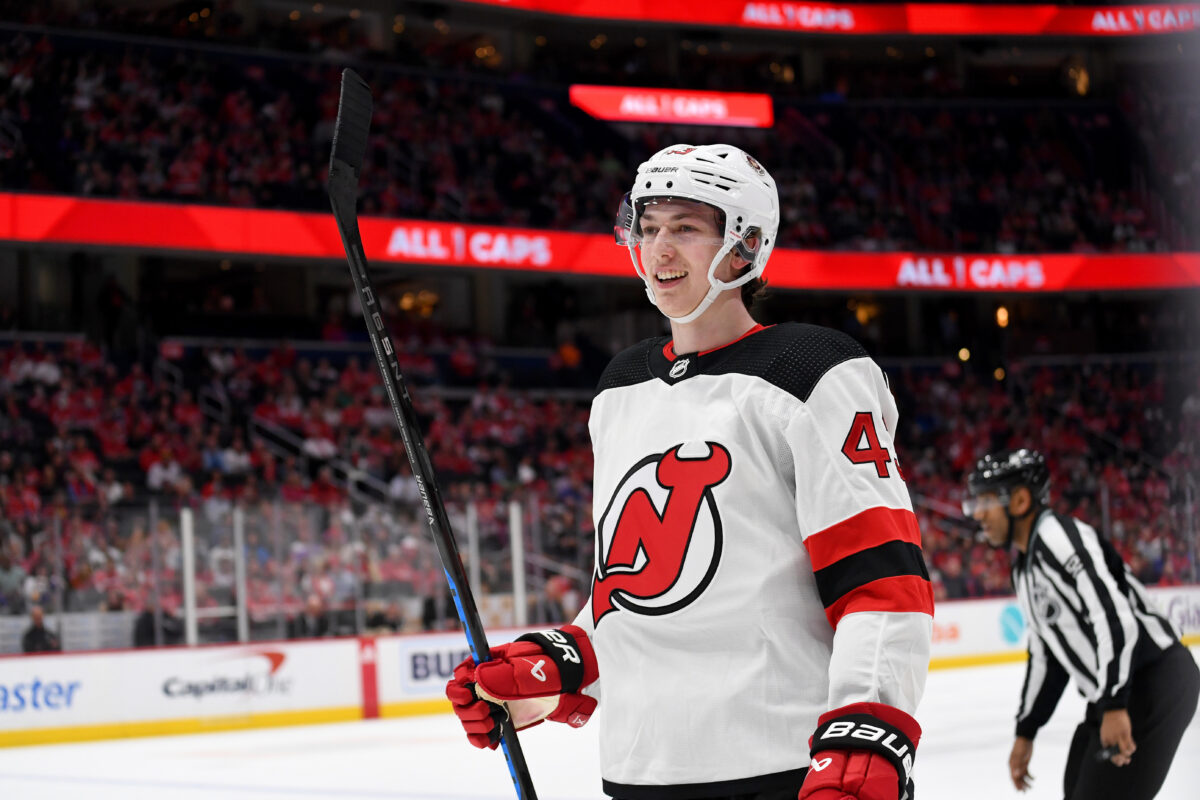 After being on the ice for four Hurricanes goals in Game 4, he wasn't on the ice for any yesterday. Hughes was sound defensively, breaking up Hurricanes' offensive chances and getting the puck moving the other way on the rush. He jumped up into the attack and used his creativity in the offensive zone, testing Freddie Andersen when he could. Unlike Game 4, he wasn't trying to force plays and made good decisions with the puck on his stick. 
Hughes totaled a game score of 2.30, which led all Devils skaters, and finished with a 62.97 expected goals percentage (xG%) at five-on-five. Ruff kept increasing his minutes as the game progressed, which speaks volumes about how he played in a pressure situation. Hughes doesn't turn 20 until September, and if this is what the Devils are already getting a glimpse of, the sky is the limit for him. He's a good bet to be in the Calder Trophy conversation in 2023-24. 
Schmid Shows He's the Future
After Vitek Vanecek struggled in Game 4, Ruff returned to Akira Schmid, the goaltender who had gotten the Devils to this point. It was the right move, as Schmid looked like the goalie who changed the Rangers series. Even though the Devils played a solid game, the Hurricanes also got their fair share of opportunities. They generated 18 high-danger chances at five-on-five and 20 at all strengths, but Schmid made 36 saves on 39 shots while stopping 0.61 goals above expected. 
Schmid's performance in this game, and the whole playoffs, is why Devils general manager Tom Fitzgerald shouldn't spend significant money on a goaltender this summer. Even in defeat yesterday, he was calm and collected. There wasn't much movement in his game (there rarely ever is), and his positioning is usually always on point. Perhaps bringing in someone who can serve as a No. 3 between the AHL and the NHL makes sense for depth, but he appears to be the real deal. 
Meier Solid Once Again
Meier may have missed a wide-open net that would've made it a 3-1 game, but I thought he had a solid performance, despite not having great numbers at five-on-five. He was physically imposing, getting in on the forecheck and creating scoring chances for his team. He finished with a goal and an assist, as well as a game score of 1.80, which led Devils forwards. He might not be known for his playmaking, but his pass to Mercer was perfect:
Meier will be a restricted free agent with arbitration rights this summer, but I'm not sure it'll be much of a storyline. My guess is the Devils won't have much trouble re-signing him. One) With Nico Hischier, Jonas Siegenthaler, and Schmid, half the Swiss national team plays for the Devils. Two) he's a perfect fit for what the Devils need: a top-six winger who's not afraid to throw his body around and can score 30-40 goals a season. He will be a big part of this squad moving forward as the team's contention window opens. 
Devils Quick Hits
If that was Damon Severson's last game as a Devil, he went out on a high note. Though the pending unrestricted free agent had a few giveaways early on, he settled in and played a solid game alongside Hughes and Ryan Graves as his partners. Severson finished with a 70.67 xG% in Game 5 and was arguably the team's most consistent blueliner during the playoffs. It's hard to see a path to a long-term deal with Šimon Nemec progressing in his development, but he proved how valuable he was to the team during the playoffs.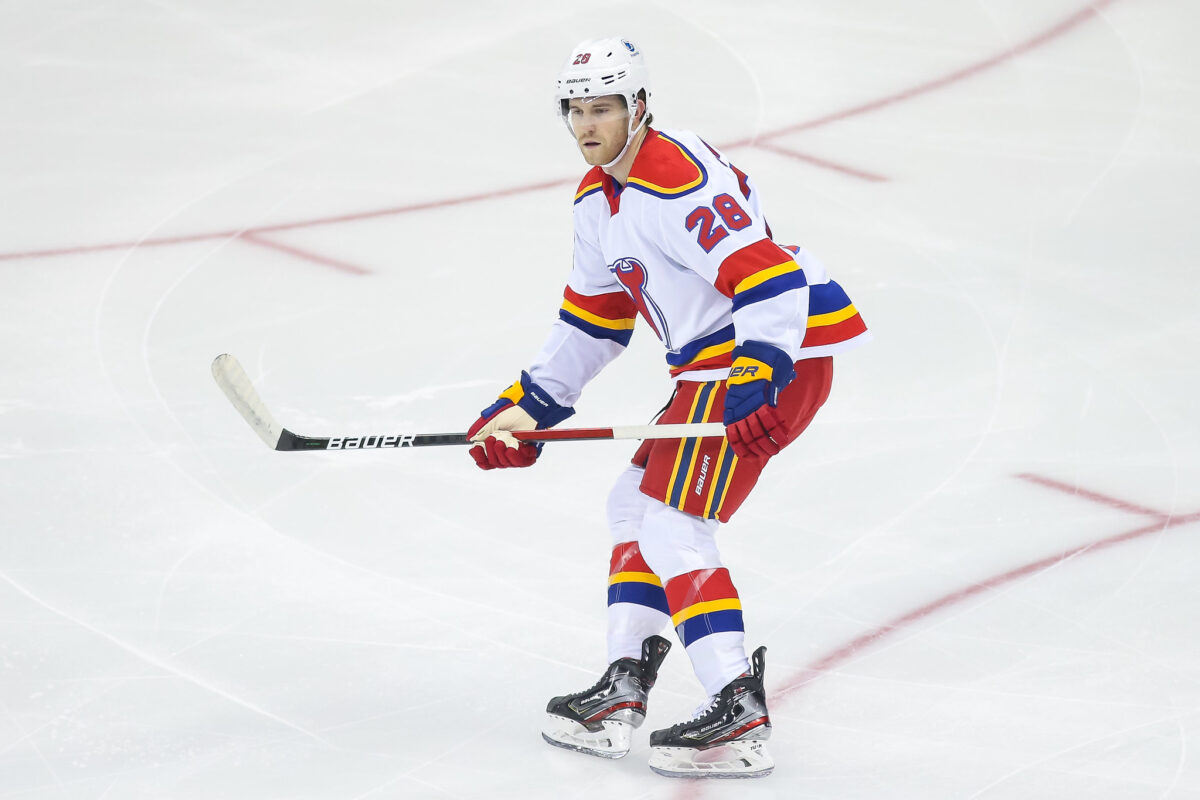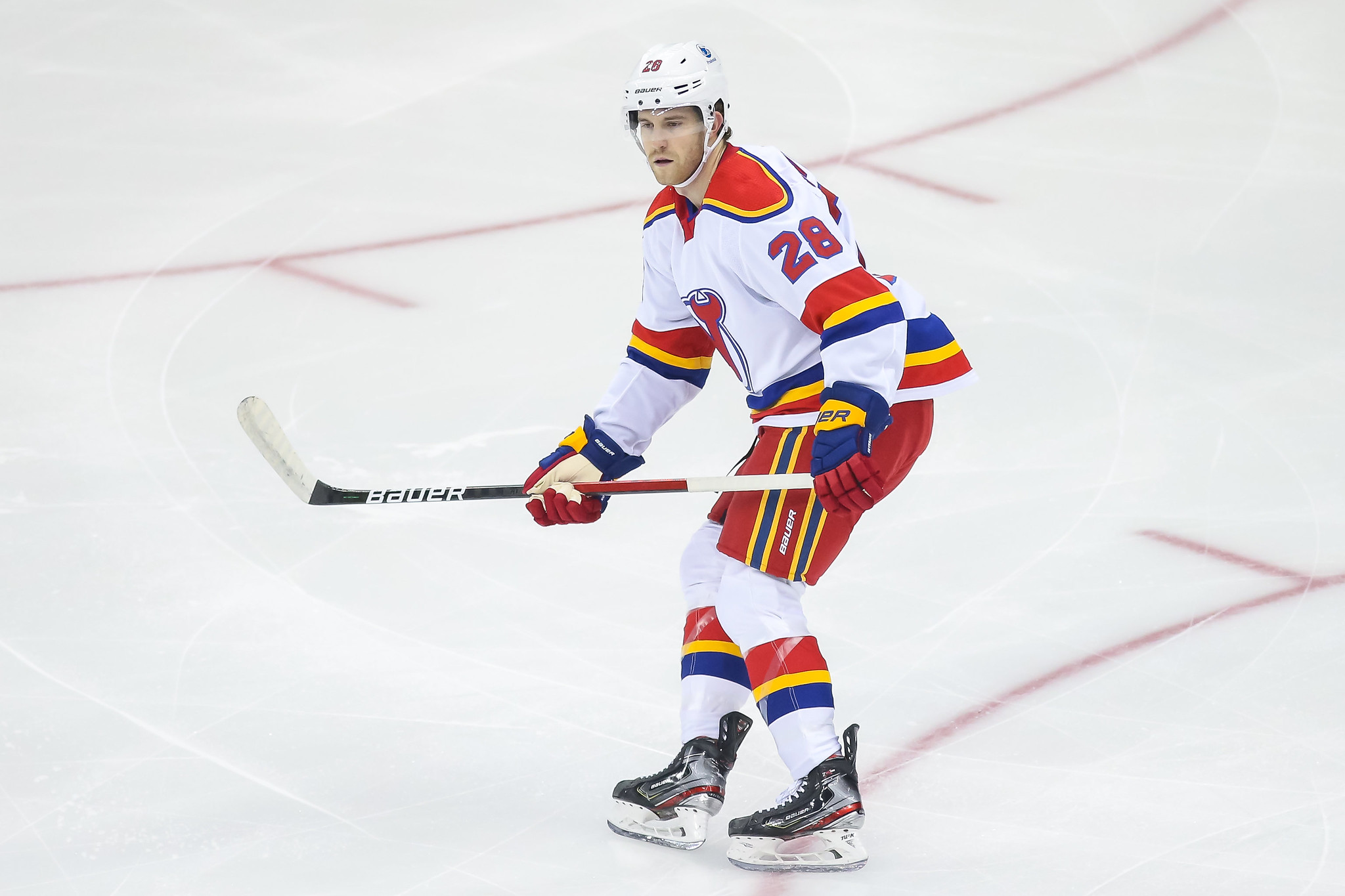 Ruff wouldn't give more details — though he said that's coming — about what Jack Hughes' injury is other than it's an upper-body ailment. But hopefully, it isn't anything too serious. Ruff said he didn't think Hughes would play yesterday, and it's clear by his ice time that he wasn't 100 percent; he logged just 14:16 at all strengths. Still, he made a slick pass to Dougie Hamilton on Meier's power-play goal and found ways to contribute. It was a gutsy effort with the team's season on the line. 
That wraps up game coverage for the 2022-23 season, but there's plenty more content to come over the next few weeks. The NHL Draft is a month and a half away, as is free agency. Until then, thanks to everyone who read and followed along this season. It's much appreciated, and I'm looking forward to writing about what should be an active offseason with the Devils' playoff window officially opened up. 
* * *
Advanced stats from Natural Stat Trick, Hockey Stat Cards