The New Jersey Devils are in the second round of the NHL playoffs for the first time since 2012. Unfortunately for them, it got off to a rocky start against a well-rested Carolina Hurricanes team that had not played since April 28, when they eliminated the New York Islanders in six games. The Devils fell 5-1, much like they did in Game 1 against the New York Rangers in the first round. Here are four takeaways and some quick hits as they look to regroup for Game 2 tomorrow night. 
Devils' Sluggish Start Wasn't a Surprise
Given the emotional high of defeating the Rangers 4-0 in Game 7 just 48 hours earlier, it wasn't a surprise to see the Devils have a sluggish opening 20 minutes against the Hurricanes. They got thoroughly outplayed, with no shots on goal through the first media timeout about eight minutes into the game. They'd only put one on net in the opening frame, and that was a dump-in from center ice that trickled onto Frederik Andersen's pad. 
Related: Devils vs. Hurricanes: 2023 Playoff Series Preview
---
Latest News & Highlights
---
The Hurricanes played with plenty of pace and caused problems on the forecheck in the first period. The Devils were sloppy with their puck management; Ryan Graves' soft pass along the boards led to a 2-on-1 that Seth Jarvis converted for a 2-0 Hurricanes lead. Offensively, the Devils couldn't attack the center of the ice, let alone get a shot attempt on net. The Hurricanes completely took the Devils out of the game they like to play, so they deserve credit for the fast start. 
But if there's a silver lining, the Devils found their legs after going down 3-0 and had the better chances over the final 30-35 minutes of the game. They finished with a slight edge in expected goals at five-on-five (1.94 to 1.80), so there were some positives to take away. But when you trail 3-0 against a team like the Hurricanes that can lock it down defensively, it's incredibly difficult to mount a comeback. They'll need a sharper start in Game 2 tomorrow night to make the Hurricanes chase the game instead. 
Staal Posed Problems for Jack Hughes
One advantage to having home ice (besides the crowd) is having last change to get the matchup you want. Hurricanes head coach Rod Brind'Amour used it wisely as he hard-matched Jordan Staal's line against Jack Hughes. He got the results he wanted, as Staal effectively took Hughes out of the game:
Staal has been one of the best two-way forwards in the NHL for some time. This will be a key matchup for the Devils if they're to defeat the Hurricanes, so Devils head coach Lindy Ruff will have to figure out a way to either get Hughes away from Staal's line or find a bit more of a dynamic look on Hughes' line. 
It's not that the Devils' star center had a terrible game; he finished with a 54.96 expected goals percentage (xG%). But they will need Hughes to find the scoresheet in Game 2 to come away with a split in Carolina. Since the Hurricanes have the advantage with last change, one option is to put Jesper Bratt, who only has four points in eight playoff games, back on a line with Hughes. 
Bratt and Hughes have always played well together, so perhaps that can get both of them going. Plus, it gives Staal more to think about instead of just shadowing Hughes the entire time. With Ondrej Palát and Erik Haula as his linemates, he's the sole facilitator on that line. But adding Bratt alongside Hughes with either Haula or Palát could give the Devils a more dynamic look on their second line, and that could help them find more offense at five-on-five. 
Graves Is Struggling
Graves did not have a great first-round series against the New York Rangers, and it carried over into Game 1 against the Hurricanes. Ruff noticed the struggles, as he benched Graves for an extended period shortly after the Hurricanes' third goal in the second period. He played just 10:31 at five-on-five and 14:39 at all strengths, the least among Devils defensemen by a comfortable margin. 
That begs the question, should Luke Hughes come into the lineup? There are arguments for it, one being Graves' struggles, but there are also arguments against it. Hughes hasn't played in an NHL game since the Devils' regular-season finale against the Washington Capitals on April 13. That's nearly three weeks without NHL action, which is a tough ask against a team like the Hurricanes.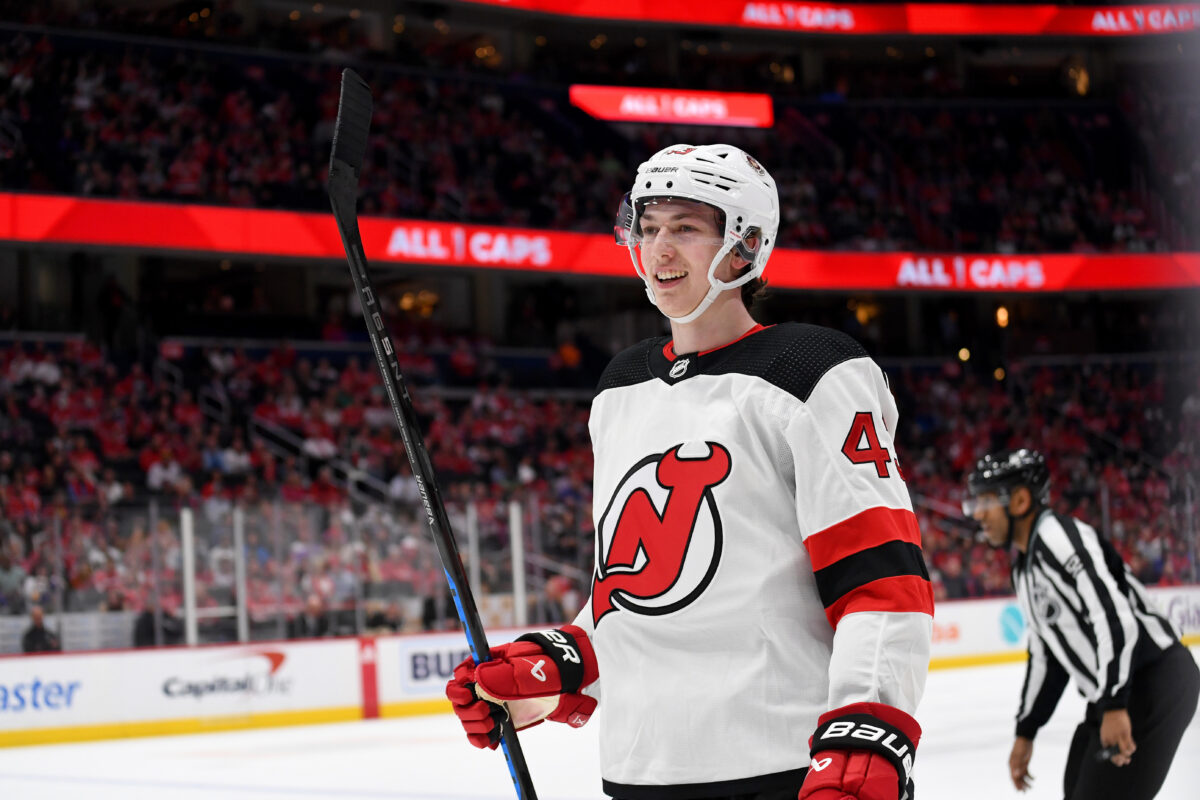 There's also Carolina's playing style to consider. A team that forechecks heavily will get in on Hughes quickly on puck retrievals behind the net. He'll have to make quick and smart decisions with the puck, which is a concern given the layoff. Plus, is Ruff comfortable replacing Graves on John Marino's pair, given he's used them as his shutdown pair the whole season? Probably not, but that role could be filled by Kevin Bahl or even Jonas Siegenthaler, leaving Hughes with Damon Severson on the third pair. 
The Hurricanes don't give up much defensively, so chances will be at a premium this series. Hughes adds a dynamic element on the back end with his puck-moving and skating ability, which could open up the team's offense a bit more. Making the switch after Game 1 might be a panic move. But if Game 2 looks similar and the Devils lose, it might almost be a necessity, especially if Graves continues to struggle. 
BMW Line Came to Play
Though the Devils couldn't find much offense from their top-nine, the BMW Line of Miles Wood, Michael McLeod and Nathan Bastian had a solid outing. Bastian scored the team's lone goal — his first career playoff tally — to make it a 3-1 game, with the assists going to McLeod and Wood. 
Even though the BMW Line only accounted for one goal, they kept the puck in the offensive zone with their forechecking ability. They mostly went up against the Hurricanes' fourth line and took advantage of the matchup. Defensively, they were solid, as they didn't allow a high-danger chance to the Hurricanes at five-on-five. While the team needs more from their star players, it never hurts to get added depth from a unit such as the BMW Line. 
Devils Quick Hits
With Timo Meier out for Game 1, Ruff reunited the trio of Yegor Sharangovich, Dawson Mercer and Jesper Boqvist that had plenty of success during the regular season. However, it didn't go well, as they got caved in during Game 1. If Meier is good to go for Game 2 after taking a hard hit from Jacob Trouba in Game 7, one of Sharangovich or Boqvist will likely make way for Meier; maybe both if Curtis Lazar is an option too. Regardless, the Devils need Meier back sooner than later. He can match some of the Hurricanes' physicality while adding scoring prowess they miss without him.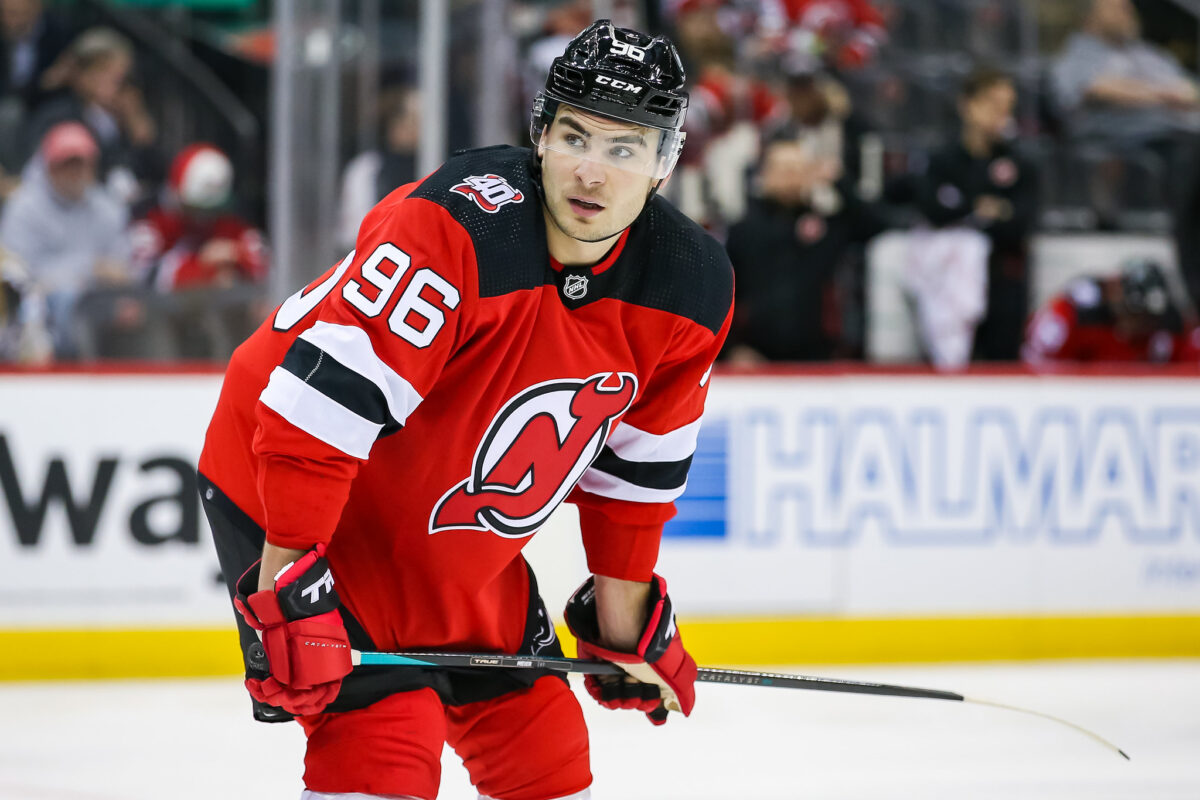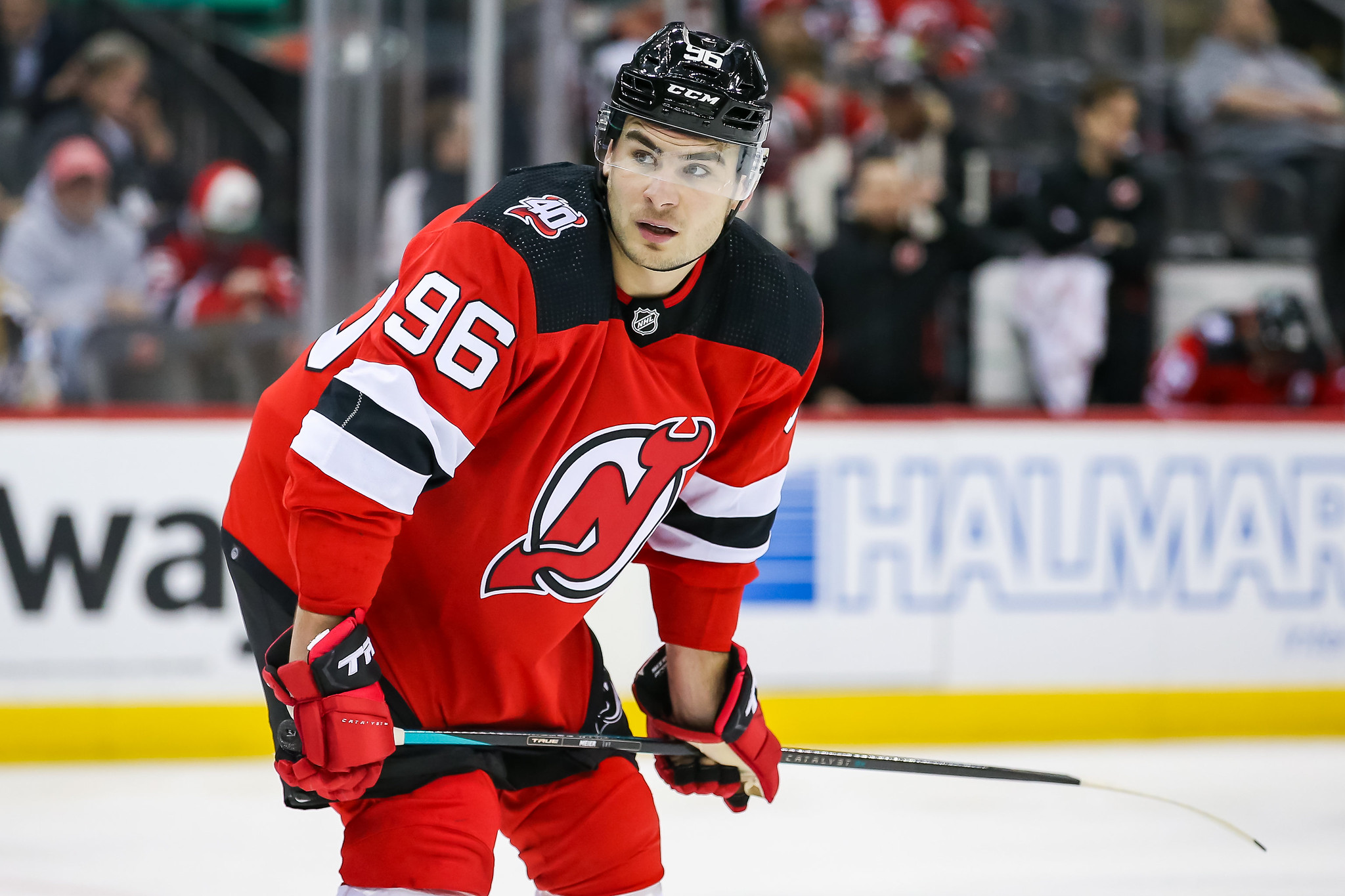 Akira Schmid got pulled after letting in three goals on 11 shots, but it wasn't his fault. The team did not give him any support to start the game. Vitek Vanecek came on in relief and generally played well, but he gave up a clunker that made it 4-1 and iced the game late in the third period. Given how Schmid rebounded after a tough Game 6 against the Rangers, it'd be a surprise if Ruff doesn't go right back to him tomorrow night. 
The Devils have been resilient all season long. They overcame a 2-0 series deficit against the Rangers, but the Hurricanes are a different animal. They'll need a split on the road before returning to Prudential Center for Game 3 on Sunday afternoon.
* * *
Advanced stats from Natural Stat Trick