With Ray Shero starting to put his mark on the New Jersey Devils as the team's new GM — he announced the team's first round selection at the draft instead of Lou Lamoriello, which took the announcer by surprise — a number of the Devils free agents have been informed that they will not be returning to the team next year.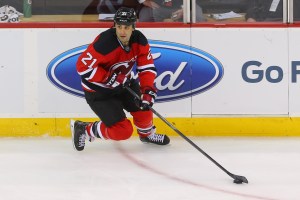 Among those that will
not be offered
a new contract is 35-year-old center
Scott Gomez
, who is finishing up his second stint with the Devils. Gomez actually had a decent year for the Devils for a guy on a $550K contract. (Which was his third consecutive one-year deal following being bought out of his seven-year $7,357,142 AAV contract.)
Gomez put in seven goals and 27 assists through 58 games last year, with a 1.4 P/60 at even strength, his best scoring rate since the 2009-10 season when he put in 59 points for the Canadiens. He also had a score-adjusted 1.6% CF%Rel (46.8% CF%) on a team that struggled throughout the season. Gomez should find another one-year deal somewhere, but it's unlikely that he'll find more than that, particularly because he's over 35 now and those contracts can prove unwieldy for teams. (Just ask the Wild.) Gomez certainly won't be retiring, telling Tom Gulitti, "It is what it is. The thing is I know I can play. I've proven that. I know I can play at this level. I know I can contribute. But, it's time to focus on somewhere else."
Ray Shero also told Gulitti that Steve Bernier, Mark Fraser and Peter Harrold will not be given new contract offers. Bernier is 30 and finished a one-year deal worth $600K, Fraser will be 29 when the season starts and finished a one-year deal worth $550K, and Harrold is 32 and finished a two-year deal with an AAV of $800K.
None had a particularly exciting season with Fraser posting a -5.51% score-adjusted CF%Rel and Harrold posting a -2.18%. Bernier posted positive relative possession with a 1.55% score-adjusted CF%Rel, all according to War on Ice.
None of these moves are terribly surprising, but it opens the door for Shero to put his stamp on the team, moving out replacement level players and bringing in a new crop of guys, who, in the case of Gomez, aren't working from a special relationship with Lamoriello. Devils fans probably hope that Shero will bring in some young players that will help remove the Devils special status as the AARP's favorite team. (Though their interest in Martin St. Louis says that they might not be done signing players in the twilight of their career.)
RELATED: Late Signs Are Great Signs For Devils
[catlist categorypage="yes" numberposts=3 excludeposts=this]
Dustin Nelson writes about news and the Minnesota Wild for The Hockey Writers.