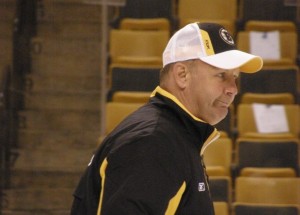 Here's how a hockey game works: two teams dress 18 skaters and two goaltenders and play at least 60 minutes of hockey in three periods until one of said teams score more goals than the other. It's basic. The coach uses the four forward lines, three defensive pairs, and one goalie to generate offense in order to score goals, and play defense to prevent the other team from doing the same.
For the Boston Bruins, this has become a reputation of sorts – the whole, rolling four lines thing. At times, Claude Julien has been guilty of relying too heavily on the Bruins fourth line, giving them valuable minutes and putting them out on the ice for key shifts and faceoffs in the offensive zone that should be reserved for, frankly, better players.
On Monday night, the Bruins' fourth line consisted of Jordan Caron, Alex Khokhlachev, and David Pastrnak, all recent call-ups from the Providence Bruins. In Providence, this trio is the team's first line and are each point-per-game players. So when Julien began line rushes prior to Boston's game against the Pittsburgh Penguins on Monday, he kept the three together as the Bruins fourth line. What happened next was both a departure from the norm and more of the same.
If anything, Julien's departure from rolling out four lines could be a reason why the Bruins lost 3-2 to the Penguins in overtime on Monday. By the end of regulation, eight of the Bruins' 12 forwards had over 15 minutes of ice time. In fact,  each of those forwards plus Simon Gagne, who logged just under 13 minutes of ice time, played over their average time on ice for the season. The Bruins fourth line was the glaring exception.
Aside from Pastrnak who played 7:53 in his first NHL game thanks to some late shifts with some of the other Bruins lines, Caron played 3:35 while Khokhlachev only saw 2:53 of ice time in Monday's loss. It leaves you wondering that if the Bruins hadn't slowed down in the third period due to logging extra shifts from their first three lines, including 17:26 of ice time for Gregory Campbell and 15:51 for Daniel Paille, could they have generated more offense? Especially with the speed that Khokhlachev's line can bring forward.
"Again, guess that's coaching," said Julien. "That's me coaching the way I felt I had to coach tonight."
Keep in mind this was both Caron's and Khokhlachev's second and third, respectively, game of the season. This was Pastrnak's first of his NHL career. It's also fair to point out that both Caron and Khokhlachev were on the ice for the Penguins' first goal, over a minute for each, pinned and somewhat out of position in their own zone. Julien's "that's coaching" quote could be a nice way to say the two were benched.
Pastrnak wasn't on the ice and was given late shifts alternatively on Patrice Bergeron's line to rest both Brad Marchand and Reilly Smith.
"I thought he had good legs and so I put him on a couple lines here," said Julien on Pastrnak. "And obviously, you can see he's a pretty dynamic player. He had that one shift with Bergy's line; Marchand and him had a real good shift there in the o-zone. I liked his game. I know he probably didn't get a ton of ice time, but when he was out there I liked what he did."
While Julien does rely a bit heavily on the Bruins fourth line at times, it's usually comprised of Gagne, Campbell, and Paille, not a handful of younger players. Julien has been criticized in the past for not giving younger players enough of ice time and against the Penguins, one of the best teams in the NHL, this is probably okay. The problem is that Bruins had two other regular players available who didn't dress.
To make move for the Caron and Pastrnak recalls, the Bruins assigned Seth Griffith back to Providence and scratched Matt Fraser. While Griffith and Fraser each played top nine minutes, they were either subtracted from the roster in exchange for Caron and Pastrnak. Julien didn't have an answer for the reasoning behind demoting Griffith, the player tied for the team lead in goals.
"You might want to deal with upper management on that one," said Julien. "I coach, I don't make the decisions. So probably, they would be better fit to answer that than I would."
Against a team like the Penguins, the Bruins would need to roll out four lines in the first two periods, shortening the bench in the third period. With the exception of Pastrnak, the Bruins fourth line played a total of five shifts in Monday's loss. Five. The three of them were on the ice together only twice. And the line that Julien does rely on a bit too heavily at times? The Campbell line? They played in between 20 and 23 shifts if you include the penalty kill.
So why did that experiment have to happen against the Penguins on Monday night and not against one of the sub-par teams the Bruins faced earlier this season? Guess that's coaching.
Follow Mike on Twitter for more Bruins news, updates, and commentary.
Mike Miccoli covers the Boston Bruins for The Hockey Writers and has been a credentialed member of the media for all Bruins' home games for the past five years. As a former player, coach and official, Miccoli has been around the game of hockey since the age of three. Along with his work on THW, Miccoli has also been published in the New England Hockey Journal, Improper Bostonian magazine and on BostInno.