I sat down with KHL Medvescak Zagreb Coach Mark French and captain Alan Letang to discuss the differences between playing and coaching in North America and Europe.  French was at the helm of the Hershey Bears last season and will coach his first season in Europe this year.  Alan Letang is a former draft pick of the Canadiens, who has experience in the NHL, AHL, German DEL Liga and five years in the EBEL Austrian league.
Medvescak has taken the philosophy that they would build their team with North Americans, with a special focus on professional players of Croatian heritage.  Local media have emphasized generalizations about North Americans having a more aggressive style while their Russian counterparts have better skating and stickhandling.  French and Letang discussed whether these stereotypes were more truth or myth and what adjustments would have to be made by North American skaters coming into a European league.
What Differences?
Letang has played his last nine seasons in Europe after nine professional seasons in the AHL and NHL.  He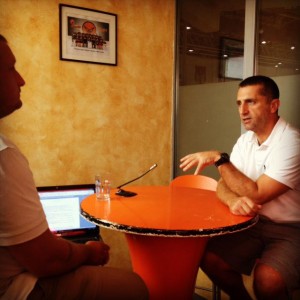 sees hockey as more of an international game where the best players have a complete skill set.  "There are a few differences, but there are a lot of very talented Canadian players skill wise and there are a lot of Europeans that have come over to Canada and the NHL and played the grinding style."  Letang continued, "A lot of [the difference] are the system a team plays."
Coach French agrees that there are some noticeable differences, recently coaching European Capitals' prospects Phillip Grubauer and Dmitri Orlov, but that professional players at the NHL and KHL levels have a well-rounded skill set.  He noticed Lev Praha of the KHL and the Finnish league teams play more of a grinding style of hockey with European players after reviewing game tapes from last season.
Not too long ago, the vivacious Don Cherry felt Niklas Lidstrom as a European captain could not lead a NHL team to the Stanley Cup.  We attribute goal scoring and stickhandling with Russian players Ovechkin and Daytsuk, but some of the best all-time best scorers are Canadians.  Niklas Kronwall, a Swede, has gained a reputation for being a heavy hitter—something often attributed to North American players.  There is little doubt the best professional players are good at all aspects of the game, because they need to be able to play in a variety of different systems.
The Biggest Concern
French and Letang both emphasized that the biggest transitional issue for North Americans is the size of European ice.  While many think the size of the ice is an advantage for European players because they can maneuver past a North American up the ice, Letang notes how it gives players extra time to make a play in transition.  "A major, major adjustment coming from North America to Europe is the size of the ice.  Players can take an extra step wide or take a step back and get an extra second to move the puck."
Professional players at this level have the hockey intelligence to adjust defensively to the different ice sizes, but often do not take an extra second with more room on the larger surface and make the smart play transitioning to offense.  Medvescak will play on a North American size rink for home games.  Several other teams also have smaller ice surfaces, including the other expansion team Vladivostok.  So, the transition to the larger ice will not be easy because the players will be playing on different size surfaces depending on who their opponent is on the road.
What About Those Referees?
With the potential for more physical play in a league where openness is emphasized, a concern is that players will be called for penalties for what they believed to be routine plays.  Letang stated in some of the European leagues there is a problem with consistency.  "How will be received on the road somewhere in Russia.  It is something as a team we will have to sit down and discuss."
Letang's proposed solution:  play smart, especially at the end of games, but do not compromise physicality.
Coach French is implementing a physical style of play on this team and stated refereeing is outside of the control of the players quote:  How will this style of play look in the standings?  French mentioned during a preseason post-game interview that he does not know.  French stated his coaching style is, "process driven" and if the team is playing hard and within the system, then "wins and losses will play out" on their own.
Full podcasts of the interviews can be found over at the Bears Hockey Blog.