This post is the flip side of last week's Hope For Ottawa's Future post. Rather than celebrating the diamond in the rough, late-round draft steal and highlighting clever signings of undrafted prospects, in this post I am going to take a look at players whose performance during the 2015 development camp should raise red flags for management. Overall, Ottawa's management and scouting team have done an above average job of drafting and developing young players during the Bryan Murray era but it is worth keeping a sense of perspective by looking at possible failures as well as celebrating future successes.
Given that the development camp only lasts five days, how a player plays there is not necessarily indicative of their potential. However, by watching prospects perform in a high pressure situation with management observing and videotaping their every move, an observer (such as myself) can get a reasonable sense of a player's skill set and see if they demonstrate concerning tendencies during game-like situations. Obviously, I don't expect someone straight out of the USHL or high school hockey to dominate playing against players with a couple of years of AHL/ECHL experience, but it is reasonable to expect them to show off some of the skills that caused the team to invite them to camp in the first place.
Miles Gendron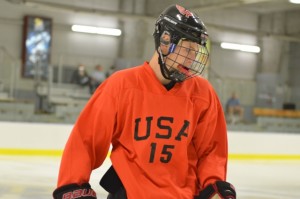 Ottawa drafted Gendron  70th overall in the 2014 draft after playing four years of high school hockey at Rivers Academy (under coach and former Senator Shawn McEachern) and notably switching from wing to defense during his senior year. Last year he played for the Penticton Vees in the BCHL as a defenseman and put up 17 points in 54 regular season games. He is slated to play for the University of Connecticut Huskies next year and he will hopefully continue working on his defensive game.
Almost universally, scouts and hockey observers, praise Gendron's excellent skating and watching him on the ice during development camp, his acceleration and top end speed are obvious. Given the speed of the modern pro game, defensemen have to skate well and handle the puck, skills which Gendron clearly demonstrates. Yet, his play on the defensive side of the puck should concern Ottawa's management. Kyle Woodlief of USA Today wrote about Gendron prior to the 2014 draft and commented that his defensive game was, "clearly a work in progress." Unfortunately, a year later, after playing defense for Penticton for a full year, his game is still a "work in progress."
While not lacking in natural talent, Gendron's decision-making is quite poor, particularly when deciding whether to pinch or stand up players at the offensive blue-line. Instead of deciding on a case by case basis, Gendron makes the risky play 100% of the time. While his exceptional speed often allowed him to recover position when beaten, as he moves to a higher level, his opponents will more often be equally as quick and able to burn him. Which is exactly what Tobias Lindberg was able to do during the prospects' scrimmage, resulting in the only goal of the game.  Hopefully, with four years of NCAA  play and solid coaching, Gendron can round out his defensive game. However, his lack of progress over the course of a year should concern management.
Ben Harpur

The second converted forward on our list, Ben Harpur is undeniably big and strong. At 6'6" he was the tallest player invited to camp and despite only just turning 20, weighs in at 212 lbs. Given a few full years to fill out and he will certainly have the physical attributes required to dominate opposition forwards. Also, despite his physical play, his relatively low PIMs during his four-year OHL career playing for the Guelph Storm and Barrie Colts indicate that he can play a physically without taking needless penalties.
His low points total playing in the OHL though is of slight concern for his future development. Even last year, in his final year in the CHL he only scored 31 points in 57 regular season games. However, Harpur focuses on defense first and other Ottawa defensemen have put up low points totals in the OHL only to succeed in the NHL, (looking at you Marc Methot) but in general, if you don't score in the CHL, you don't play in the NHL. The big difference between Methot and Harpur though? Methot is a physical defenseman who is exceptionally mobile, whereas, watching Harpur play, it is obvious that his skating needs a tremendous amount of work. While he was quick enough on his feet to play a shutdown role in the OHL, he was regularly beaten during development camp by speedy players like Max McCormick and Alex Wideman (Chris Wideman's younger brother).
As Mark Stone has demonstrated, commitment to improving one's skating can yield positive results. However, Harpur plans to play in Binghamton next year.
Ben Harpur Joins Fredrik Claesson On Binghamton's Blueline #Sens http://t.co/vi1jWVOiUv pic.twitter.com/3MBNVtsqcn

— Silver Seven (@silversevensens) June 13, 2015
Playing with Luke Richardson will certainly help Harpur's game. But given his performance during the development camp, management should be concerned with how well he will be able to handle the speed of the pro game. Even if he can improve his skating, or learn to compensate through clever positional play, it looks like Harpur is a number of years away from playing Ottawa.
Alex Guptill
Alex Guptill will forever be tied with Jason Spezza. Along with Alex Chiasson, Nick Paul and a 2nd round draft pick (Gabriel Gagne), Guptill came to Ottawa a year ago. However, while Nick Paul has performed exceptionally well and Chiasson has played as reasonably expected – a bottom six winger with some offensive upside –  Guptill has disappointed. He projects as goal scoring power forward, but in his first full pro season with Binghamton he only scored nine goals and 18 points in 61 games. Even more concerning is that last season marked the second straight campaign where Guptill's points per game total has gone done. While not unexpected, given his jump from NCAA to AHL, when combined with a drop in goal scoring during his final year of college hockey, his coach benching him for his lack of commitment to defense and being charged with assault and battery in the spring of 2014, management has plenty of reason for concern.
Despite Guptill's combination of size, shooting ability and decent speed, he seemed unable to combine all these attributes during the development camp, a pattern he established last year in the AHL. He was easily beaten in puck battles and never looked particularly dangerous in the offensive zone. Especially when compared with other 23 and 24-year-old Binghamton players at camp, Guptill came out the worst. While Max McCormick, Buddy Robinson and even 7th round drafte choice Ryan Dzingle all played well, Guptill was clearly in the bottom third of forwards on the ice. Simply put, he did nothing to stand out. From someone drafted in the third round, won the CCHA Rookie of the Year award in 2011-2012 and has a year of AHL experience under his belt, such a performance is disappointing.
Conclusion
Overall, a poor performance during development camp isn't the end of a player's career. A solid year in the NCAA for Gendron or in the AHL for Harpur or Guptill will make everyone forget what they did over five days in July. However, all three players have revealed limitations to their game and it will be interesting to see how well they and their coaches at the college or pro level address them. Their ability to do so will determine whether they have a future with the Senators' organization.