Ever since this offseason began, the Islanders fans have been clamoring for another player who can put the puck in the net. The orange and blue faithful were very upset when they saw TJ Oshie land in Washington. The latest rumors that New York is a dark horse for Patrick Sharp has many fans of the team unhappy. While adding a top-six forward to the roster would most certainly be a positive, but is it needed? The Islanders were fourth in the NHL last year during the regular season, averaging 2.99 goals per game. However, a die-hard fan would point to the fact that in the first round playoff loss to the Capitals, the Isles could only muster 15 goals in a seven-game series. Two of those fifteen goals in the playoff series were empty netters to boot. So does New York need a proven top-six forward?
Offense faltering down the stretch was one thing, but in Washington series, had everything to do with the nature of those games. #Isles

— Daniel Friedman (@DanJFriedman) July 3, 2015
Does Tavares Have First Line 'Mates?
Who plays along John Tavares next season? Does New York pair its star forward with Kyle Okposo? Are the Islanders better off separating Tavares and Okposo? If that is the case does New York put Okposo with linemates Frans Nielsen and Josh Bailey, with whom he has had great chemistry in the past? But then who is on the top line with Tavares? Imagine how much more damage Tavares and the team could do if you could pair the right player with last year's Hart Trophy finalist. Is Ryan Strome the answer to play alongside Tavares?
The Development of the Talented Trio of Young Forwards
New York has three young forwards who have very bright careers ahead of them — quite possibly special careers ahead of them. Anders Lee scored 25 goals in 76 games in his first full season at the NHL level. Strome, in his first full NHL season, had 50 points (17 goals) and was a plus 23. Finally, Brock Nelson, in his second full season at the NHL level, hit the 20-goal mark (up from 14 goals the year before). Considering that Lee is just 25, Nelson at 23 and Strome at 21, it stands to reason that these trio of youngsters all should take a nice step of improvement in their games next season.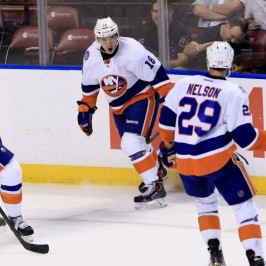 A Healthy Grabovski
Mikhail Grabovski missed 31 games last season and only tallied nine goals. Can Grabovski stay away from injuries and give the Islanders a productive season? If he does, that is a much better output for this team.
Isles Have Great Depth as They Roll Four Lines
The Islanders are deep, especially at the forward position. New York also plays four lines, which allows their top three lines to lag a bit less ice time, which keeps them fresher both on that given night and for the entire season (which is marathon). The Islanders fourth line of Matt Martin, Casey Cizikas and Cal Clutterbuck play 12 minutes per night. In addition to the forwards I mentioned above, New York also possesses Josh Bailey, Nikolay Kulemin and Michael Grabner, a former 30-goal scorer as their potential forwards.
The Verdict
If the right top-six forward is out there via trade and fits in terms of trade cost, salary cap (both in the player's salary cap number and years left on the contract), leadership and fits the team mold, I am all for the Islanders to make such a move. But finding that player, especially in a trade, is not so easy. Many Islander fans are clamoring for Sharp, but remember he is now 33-years old and only scored 16 goals in nearly 70 games last season on the very talented Stanley Cup champion Chicago Blackhawks. One could make an argument he fits the bill as long as the trade cost is not too high. But another could easily argue he is on the downside of his career and carries a very big cap number ($5.9 million) the next two years. I like Sharp, but I would want to see the Islanders land a slam dunk and I cannot put him in that category. The final verdict is for Garth Snow to show some patience, as quite possibly that right top-six forward could become available in training camp or during the course of next season.
Follow me on Twitter @TheNLKing
CJ Lizza