With the NHL's trade deadline just days away, the wheeling and dealing has already begun. One of the more intriguing deals saw prospect-rich Minnesota hand over a first round pick for rental forward Martin Hanzal. Wild GM Chuck Fletcher said of the trade: "They deserve management to step up. Our players deserve that. Our fans deserve that."
Indeed, the Wild have held up their end of the bargain. They've been one of the best team's in the league all season long, and sit in first place in the Western Conference. The fan base has been loyal and faithful, waiting to see a winner. Now, the Wild are clearly all in.
Should the Oilers be All in?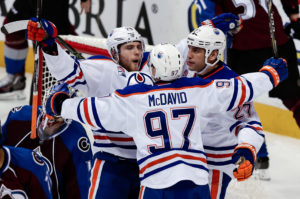 The tone is decidedly different in Edmonton. GM Peter Chiarelli declared that his team is not a Cup contender. Whether or not that was posturing, he is somewhat correct. The Oilers have improved by leaps and bounds this season. They've been in playoff position all year, and have continued to defy their reputation with bounce-back games, and strong responses to adversity.
But they aren't perfect. They have found resurgence behind the goaltending of Cam Talbot, the improved defence, and Connor McDavid. However the secondary scoring has left much to desired, and they look disjointed on many nights. If we're being realistic, this season has been incredible for the organization. They haven't been on the cusp of success for over 10 years.
Making the playoffs is not just a step forward, it's a massive step forward. The goal of every team is to win the Stanley Cup, but not every team is adequately equipped to do so. Impatient fans need to soak it all in and enjoy this season, regardless of how it ends, because a postseason berth is a big deal.
Should Chiarelli be attempting to go all in on Duchene?? Ryan O'Reilly?? Must be tempting.

— SGordon ?? (@shanestrain) February 27, 2017
Chiarelli says he doesn't plan on making a big move. But do the Oilers players deserve some help? You could argue yes and no. The team as a whole is preforming much better than they have in years. The question is, are the Oilers one of those teams a piece or two away from contending, or should they just stay the course and allow themselves to improve the right way.
We all know there are a few Cup contenders every season, but the majority of teams are a notch below. Yes, anything can happen (see: 2006 Oilers). But Chiarelli understands the way the game works. Forcing a trade and speeding up the process may end up hurting the team's immediate future and development.
Who is Available?
There have been a few names tossed around, one of them being Brian Boyle from the Tampa Bay Lightning. Boyle, a tough-nosed player with a knack for the net, has 13 goals and 22 points. He's a good faceoff man and he could anchor a team's third line. Hanzal went for a first round pick, and he has 16 goals on the year. You'd have to wonder what Tampa would ask for in return.
The Lightning, who just traded goalie Ben Bishop to the Kings, are in a tough position. They aren't out of contention for a playoff spot, but it's going to be a steep hill to climb. They have to decide fast if they're going to sell. Maybe the Bishop move was an indication that they will.
Per NHL source just now — and no surprise really — but #NHLBruins have let it be known Beleskey, Hayes, Nash, Millers and Morrow available

— Jimmy Murphy (@MurphysLaw74) February 27, 2017
The Bruins are very much in a playoff spot, and if they move any of the guys listed above, they'll likely want to replace them with roster players, and not picks. The Oilers could use help in the faceoff dot, some proven secondary scoring, and depth defencemen. That's all easier said than done.
The #lakings are looking to move Marian Gaborik. It makes sense from several angles, says @FranklinSteelehttps://t.co/lUCdxAi7LJ

— FanRag Sports Hockey (@FanRagNHL) February 27, 2017
Gaborik has been having a rough year (just six goals), but he's a skilled forward. He has a cap hit of almost $5 million dollars that doesn't expire until the 2020-21 season. He's going to be a difficult player to unload. Because of the tight-knit standings, there are a bunch of teams who don't want to give up, but who likely won't make the playoffs, which means the deadline may not be as busy as we hope.
.@JSportsnet: "Is there a more popular player at the trade deadline than Brian Boyle? We know the Oilers are very interested."

— Michael Stuart (@MikeStuartTLL) February 22, 2017
The Oilers are healthy but in the midst of a tough road trip where they've gone 2-3. The trip wraps up tomorrow against the St. Louis Blues. They have a few days off before an eight-game home-stand. Only three of those teams are in a playoff spot, so the opportunity is there to pick up some points.
Chiarelli may not stand pat at the deadline, and he may choose not to make a big splash either. The Oilers deserve credit for putting together a successful season thus far. But do they deserve a Minnesota Wild type of trade?