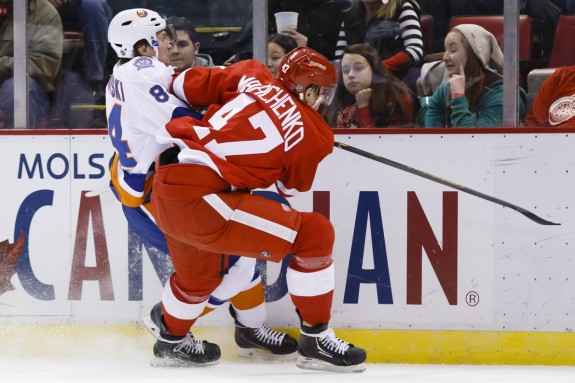 The Detroit Red Wings are in the market for a right-handed defenseman. That has only been talked about ad nauseam for the past month. However, with Tyler Myers going to Winnipeg and Cody Franson going to Nashville, Detroit is running out of options.
Jeff Petry might also be off the market, as he sustained an injury during Edmonton's 4-3 shootout win against Boston on Wednesday.
#Oilers D Jeff Petry and F Anton Lander both being re-evaluated today following injuries sustained last night.

— Alex Thomas (@Alex_Thomas14) February 19, 2015
Babcock Impressed with Marchenko
However, if you ask Red Wings coach Mike Babcock, he is hoping Alexey Marchenko is the Red Wings "trade" this season. Babcock told The Detroit Free Press' Helene St. James after Wednesday's 3-2 shootout win over Chicago:
"I like him. He's never in the scoring chances against. I actually like him better after the game, when I watch the tape, than I like him during the game. He's got to get quicker, but he's really smart.
"In practice the other day, he was our best d-man in a drill down low, 2-on-1, where all kids we call up get eaten up alive. He was outstanding. You can say it's just practice, but that drill isn't. It exposes everybody, and he was really good at it."
There was some speculation from the Red Wings community that Detroit was playing Marchenko as trade bait after it sent Xavier Ouellet back to Grand Rapids and recalled Marchenko. However, I think general manager Ken Holland and Babcock like the fact Marchenko is right-handed and have a lot of confidence in him moving forward.
And after watching him play the past seven games, especially against Chicago, I don't think there are any chances Marchenko ends up being traded.
During the NBC broadcast, Mike Emrick, Eddie Olczyk and Pierre McGurie all commented on how mature and seasoned Marchenko appeared to be despite playing in just his eighth NHL game.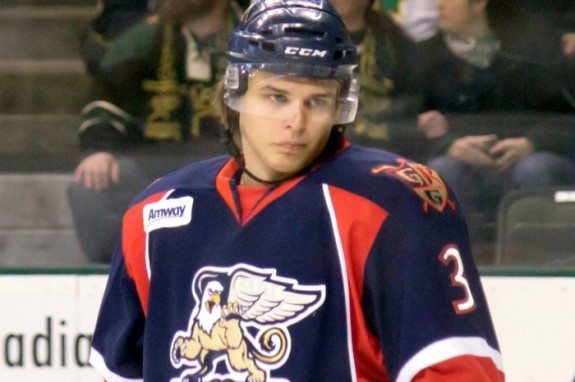 He was confident, he made great first passes out of the defensive zone and he got in the shooting lanes with four blocked shots.
He made one behind-the-back pass to Brendan Smith across the defensive zone that could have resulted in a clear breakaway against Jimmy Howard. However, the area was free, and Marchenko was able to get out of trouble with a Blackhawks forechecker bearing down on him and get the puck over to his defense partner.
"Marchy has looked pretty solid. When he does make a mistake or have an off shift, he seems to be able to bounce back. He has that element of mental toughness." – Red Wings coach Mike Babcock
It takes longer for defenseman to mature than it does for forwards. Smith is a perfect example of that. For the past two seasons, Smith has struggled with turnovers and making bad decisions in his defensive zone.
This season, however, he has been a lot smarter with the puck and has limited the defensive zone turnovers. Smith was a first-round pick, so there were a lot of expectations that came with him. Marchenko was a seventh-round pick, so the expectations aren't nearly as high, but Marchenko could end up being a better defenseman than Smith.
Obviously, it's too early to tell. Eight games does not make or break a defenseman's career, but it appears Holland may have found another diamond in the rough in the draft.
Boy, Marchenko has a DeKeyser-like sense of calm around him. Puck on his stick, you just don't worry. Ever. — George Malik (@georgemalik) February 19, 2015
Should Marchenko Stay?
Marchenko fills the need for a right-handed defenseman the Red Wings have been searching for. Obviously, he isn't as developed as any of the other candidates Detroit was looking at, but Marchenko has a high ceiling.
With two of the Red Wings' trade targets already being traded, it seems like Marchenko could be the Red Wings' trade this season. It wouldn't be wise to trade away one of the few right-handed defenseman the club has. Having Marchenko doesn't put the Red Wings over the top, but if he gets some playoff experience this season, it will do wonders for his future development.
Subscribe to our Red Wings stories to get email updates every time a new story is published.
Tom Mitsos is a Detroit Red Wings and Grand Rapids Griffins staff writer for The Hockey Writers. You can follow him on Twitter @tom_mitsos.