The Edmonton Oilers have a myriad of issues with their current roster and an abundance of holes to fix.
Their most pressing need is in their most important position – goaltending.
While there are certain upgrades needed at both centre and defense, nothing will get better unless the goaltending is better.
One has to look no further than a few teams that have made significant advances in the standings from last year until now.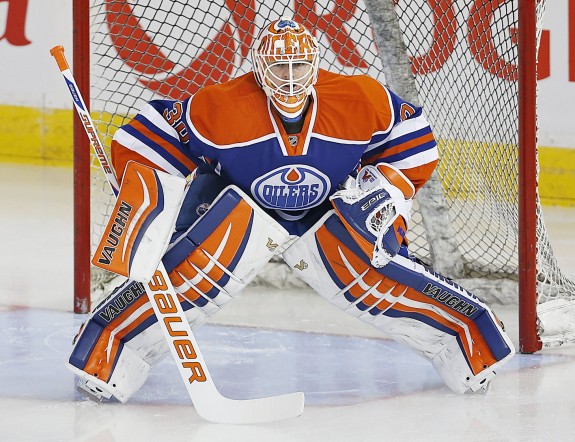 Florida is a perfect example of a team that is pushing for a playoff spot after drafting first overall last year. Sure they have added a few pieces and rookie Aaron Ekblad is playing like a 10 year veteran, but there is one main reason for the improvement.
Roberto Luongo.
A full season from Luongo has given the team confidence and consistency that they never had before.
That kind of consistency is what the Oilers are searching for, and haven't gotten yet.
The Current Tandem
The Oilers current duo of Ben Scrivens and Viktor Fasth have been underwhelming this season. Added last season, both were seen as up and comers and the Oilers were hoping one would seize the starter's reins and run with it given the opportunity.
That hasn't happened and both netminders have found themselves near the bottom of the league in the majority of goaltending statistics.
Scrivens: 10-17-7  2.99GAA  .895S%
Fasth: 6-15-3  3.41GAA  .888S%
To be fair the blame cannot be put squarely on their shoulders as the holes in the Oilers roster are plentiful, however the numbers don't lie either.
Scrivens is likely to stick with the team and be afforded more opportunity given he has another year on his contract however, barring stellar play the rest of the way, Fasth is a likely candidate to be moved at the deadline or leave as a UFA in the offseason.
In The System
The Oilers top goaltending prospect is Laurent Brossoit, who was acquired last year from Calgary. He is the only impact goaltending prospect in the system but is likely at least a year or two away from having an NHL impact. He has had a successful year, but still growing as a pro.
Laurent Brossoit (AHL): 15-9-2  2.55GAA  .919S%
Richard Bachman (AHL): 14-4-3  2.30GAA  .921S%
He currently splits time for the Oklahoma City Barons with Richard Bachman. Bachman has been stellar in the minors and was an AHL all-star, however at 27, has yet to be able to translate it to NHL success.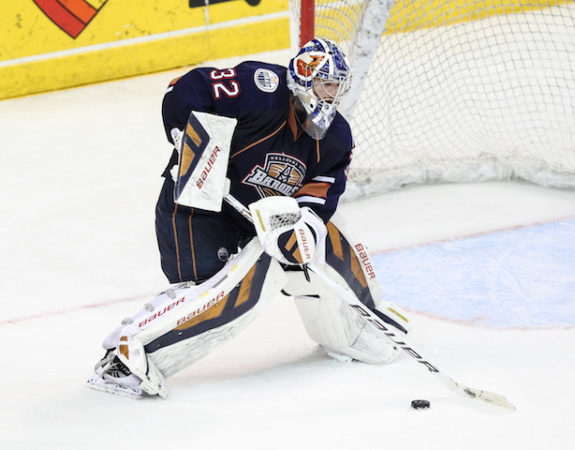 Tyler Bunz is next on the depth chart and currently in the ECHL with the Wichita Thunder.
Tyler Bunz (ECHL): 6-10-1  2.97GAA  .890S%
While he had a very successful junior career, he has struggled greatly turning pro and is doubtful to be a factor at the next level.
What Do They Want vs What Can They Get
In a perfect world, the Oilers are able to trade or sign a goaltender that is a legitimate NHL No.1 and has some experience to back it up. Similarly to what the Panthers did with Luongo, the Flames with Jonas Hiller or the Islanders with Jaroslav Halak.
The problem is I just don't know where that netminder is going to come from.
The only name in free agency at this point that will remotely resemble that is the Sharks Antti Niemi, and it's doubtful he'll want to sign in Edmonton, being the only big fish goalie on the open market.
The trade market is also quite scarce. One name that has been out there is Carolina's Cam Ward, although he has been less than spectacular in his last few seasons and his best days appear to be behind him. However he has shown the ability to be a frontline starter at one point, and a change of scenery may be what he needs. The other issue with Ward would be the fact he has a no trade clause and would have to waive it.
Things can change quickly and more names could become available if teams want to go a different direction when the playoffs wrap up, but so far there isn't much chatter.
Their next option is to acquire someone with NHL experience and upside, but little track record. Most Oilers fans will cringe at this notion as it's the same path they tried last year with Scrivens and Fasth.
Names like James Reimer, Kari Ramo or Jonas Enroth have been rumoured to be available, but are they guaranteed to be a significant upgrade over Ben Scrivens? Neither of them have been a No.1 in their careers either.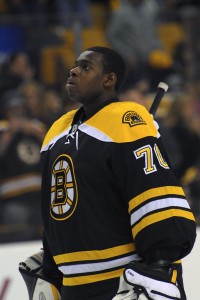 Then there is the option of trying to acquire a blue chip goaltending prospect deemed to be NHL ready and let them grow into the No.1 role.
Not likely a popular idea given the Oilers wanting to start winning now, but long term sustainability is the ultimate goal.
That's also assuming any of those top prospects can be pried away from teams.
Potential targets like Boston's Malcolm Subban, Calgary's Joni Ortio or Detroit's Petr Mrazek are blocked at the NHL level, however would likely take a lot going the other way in a trade.
Again, that's if team's would even part with them and there is also no guarantee any of them are ready to immediately assume a No.1 role.
Bruins do have three goalies. Malcolm Subban has joined Tuukka Rask and Niklas Svedberg.

— Amalie Benjamin (@AmalieBenjamin) February 17, 2015
Limited Options
As mentioned, in an ideal situation the Oilers will look to acquire a goaltender with a track record, as they have had enough of a revolving door of "potential" No.1's.
Since Dwayne Roloson left in 2009, the Oilers have used these goaltenders in the five and a half years following:
Nikolai Khabibulin
Jeff Deslauriers
Devan Dubnyk
Martin Gerber
Yann Danis
Jason LaBarbera
Ilya Bryzgalov
Ben Scrivens
Viktor Fasth
Richard Bachman
Two things stand out with that list. One is the sheer number used over the course of five seasons and the other is the lack of a legitimate starting goaltender. Khabibulin is the one name on the list who fits the bill, however he was well past his prime when he came to Edmonton.
The problem arising is that MacTavish is going to have to be some sort of magician to bring the kind of netminder in that the Oilers need. Or more likely he will have to vastly overpay either in dollars or assets to do so.
It is unlikely anything will happen before the offseason, as there is no hope for this season currently and hence any need to move too quickly. Often there will be a change in philosophy from some teams after a disappointing playoff exit. The Oilers should also have a better idea where they are with their own roster.
The fact is that not even MacTavish knows who his goaltenders will be next season, and the rest of this year will go a long way in determining the fate of both Scrivens and Fasth.
Scrivens will be there next season with another year on his contract, it's just a case of whether it is as the starter or the backup.
With goaltending the most important position in hockey, true No.1's are in high demand.
The Oilers will be scouring the league looking for someone to bring in and change their fortunes. However unless the landscape changes, Oilers fans should not expect to see the next Carey Price or Roberto Luongo between the pipes any time soon.
_______________________________________
Follow Carl on twitter @CarlTHW and Google+ for more articles