Just over a year ago, the Boston Bruins made a splash in the free agent market, signing former St. Louis Blues captain David Backes to a five-year, $30 million deal. From a hockey standpoint, it was easy to see why the Bruins pulled the trigger – Backes' leadership and experience would be vital to a team soon to be relying on young players, and he still had plenty of game left to produce. But, there was a fair amount of criticism from Bruins supporters, who were skeptical about signing a physical player in the later half of his career to big money.
One year later, the verdict is still hanging. Back in April, I covered his first season with the Bruins, noting that, while you may not be happy with his contract, Backes played pretty well last season. But he still posted his lowest point total since 2007-08, which begs the question: Can the Bruins get more out of him?
Can Backes Produce More?
When it comes to a player like Backes, there's a lot more to his game than you'll see on the scoresheet. It revolves around his style of play – staunch, hard-nosed, heavyweight hockey; something that the Bruins are familiar with.
Still, that style can only be effective if it leads to production. Last season, Backes fell short of the 40 point mark for the first time in nine years (excluding the lockout season).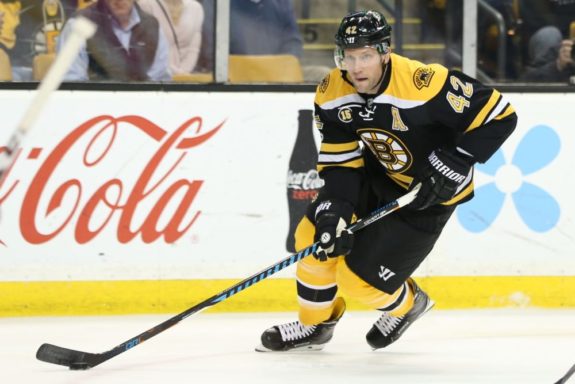 Reaching the 40 point mark should be his primary goal next season. It's unrealistic to expect a player like him, at 33 years old, to push the envelope on 60 points, as he has in the past. But, reaching 40 points is doable, and that should be Backes' measuring stick for next season.
Whether or not he can hit that point plateau relies on a number of factors.
For starters, it'll be interesting to see where he lands in the Bruins' lineup this season. Despite being a natural center, he slid over to the right wing last season and was subject to plenty of lineup changes throughout the campaign. But, with so many youngsters trying to break onto the NHL scene this season, there's no way of knowing what the Bruins will need out of Backes.
On one hand, you can use him as a second-line winger alongside David Krejci. However, if you're looking for his point totals to climb, putting him on the second line, where there is a vacancy on Krejci's left side, is a bit of a gamble.
.@dbackes42 joined #NHLTonight to discuss his first season with the @NHLBruins! pic.twitter.com/3zpOjl2xTE

— NHL Network (@NHLNetwork) July 19, 2017
There's also the option of moving him back to center, however, that would require him to drop down to the third line, which could do a number on his production. Then, there's the question of whether or not he is still capable of producing at that level. Is he simply too old and worn to earn 40 points next season?
While it's true that Backes' numbers have fallen over the past three seasons, I don't think his destiny is written in stone as far as point totals go. He isn't young for a power forward, but he isn't ancient either. His age should slow him down a bit, but it shouldn't send his point totals plummeting. I think he is capable of producing still, he just needs to find the right conditions.
What to Expect
There are a lot of moving parts on the Bruins' depth chart right now, which makes it hard to predict where a versatile player like Backes will play throughout the course of next season.
The Bruins will likely be a more offensively-minded team than they were at the start of last season. When the Bruins made the switch to Bruce Cassidy, they played a more aggressive offensive style, and that could lead to more scoring for Backes, who fares well with corner battles and scrappy scrums.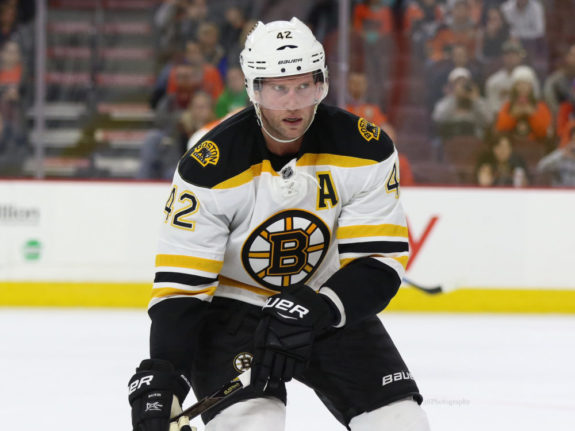 However, his production will rely on who he plays with next year, which is up in the air. In picture perfect conditions as far as linemates go, then I could see him reclaiming some of the production that he lost last season. But, "picture perfect" probably won't be the case. I expect more of the same. My guess is that he will land around the 40 point total again next season.
Is that bad? No. It's the contract hovering over Backes' head that will hurt a little bit, but it's too late to change that.