When the Bruins inked former Blues captain David Backes to a five-year, $30 million deal last July, there was a sense of skepticism in the air.
Backes, who is 32 years old, is a rough-and-tough player—the type whose future becomes more and more unpredictable with every year.
For Bruins fans, the concern was understandable. B's management had made some ill-advised long-term signings in the past that went on to haunt the Bruins down the road when they owed massive amounts of money to a player on the downturn. At 32 years old, Backes has the potential to be one of those players.
Due to the nature of his deal, it makes sense to check in on Backes' production for the Bruins to see whether his $30 million deal was money well spent. So, let's take a look at his first season in Beantown.
Production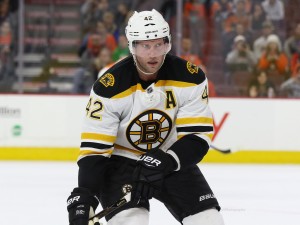 First things first, let's look at the numbers. Backes appeared in 74 games for the Bruins this season, tallying 38 points (17 goals, 21 assists). Last season, with the Blues, he notched 45 points in 79 games (seven more points in five more games). So, he tallied .056 fewer points per game this season.
All in all, those are decent numbers for a 32-year-old power forward. For reference, Milan Lucic tallied .543 points per game in his final season with Boston, as compared to Backes' .513 points per game this season.
If you expected Backes to come in as a 30-goal scorer, then you set the bar too high. For an aging power forward who brings a lot more to the table than pure scoring ability, a 38-point season isn't too bad.
He also notched a goal and three assists in six games playoff games against Ottawa—once again, not outstanding numbers, but not terrible either.
Next season, the Bruins would like to see Backes hit that 40-point mark—and hopefully produce in the playoffs, if Boston can return.
Backes' Full Game
Of course, measuring Backes' game only with numbers doesn't do justice to his role on the team.
Backes' aggressive playing style fits in perfectly with the classic "Big Bad Bruins" style of hockey, and he did a solid job of bringing some physicality to the Bruins' lineup. Backes played hard-nosed hockey all season long and was always there to make some big hits or produce a high-energy shift when the Bruins needed a spark.
On top of that, Backes is a leader. This quality is a little bit more difficult to judge since we aren't inside the Bruins' locker room during a game, but Backes certainly led by example on the ice. He was a player who set the tone for the Bruins night in and night out, and that deserves some credit.
Finally, Backes was reliable in the defensive zone. He's a smart player who knows where he needs to be in his own end, and was a bonus for the Bruins, especially given the inexperience of their defensive core this season.
Season One Verdict
There are a couple ways to look at the Backes situation as far as judgment goes. On one hand, Backes put up slightly lower numbers this season and, like all of us, is continuing to age. There's a chance that those numbers fall a bit again next year —and it's too early to tell—but if they do, Bruins fans will certainly complain about the deal.
That being said, I'd chalk up Backes' first season as a success. Here's the thing: Coming into this season, my expectations for Backes were simple—produce a fair amount offensively, bring some aggressiveness back to the Bruins' roster, and be a leader on a team with a lot of developing young players. He accomplished that.
#NHLBruins Sweeney says David Backes will "probably stay on the wing. We're very happy to have him."

— Shawn Hutcheon (@ShawnHutcheon) April 27, 2017
I'm not telling you that you should be happy with his contract—there are still four more years and a lot of money to be spent. However, he was right on par with what I expected this season.
Long story short, it makes sense to be unhappy with the contract, but as far as Backes' actual play goes, this season was good.
A few years from now, there's a solid possibility that we look back at this deal and label it as a 'mistake,' and that's fine. From the looks of it, the Bruins overpaid for Backes, and probably signed him for too long. But when it comes to the product we saw on the ice this season, the Bruins should be happy with what Backes brought to the table.