Much has been made of the importance of stockpiling second-round draft picks in the OHL Priority Selection. Because the OHL prohibits the trading of first-round picks, second rounders are the most valuable futures available on the market. Adding one or more extra top-40 players to a team in a given year can inject a franchise with much-needed talent.
While this is a sound strategy, I think the movement restrictions on first-round picks actually make first rounders even more valuable than they would be otherwise. Setting aside compensation picks, which simply replace unrealized picks from the previous year's draft, each team gets a single shot each year at a top-20 prospect. Moreover, savvy teams cannot trade up or down to pursue a specific target. Instead, they must attempt to pick the best player available at their assigned slot. It's imperative that a team hits on its first-round pick.
A String of First-Round Successes
One team has done this better than any other over the last four seasons: the Erie Otters. Coming off four consecutive 50-win seasons, back-to-back Hamilton Spectator Trophies as the OHL's top regular-season team, four straight Western Conference Finals appearances, and a run to the OHL Finals in 2014-15, it is no surprise that the Otters have drafted well. But the Otters' success rate with their first-round picks has been remarkable nevertheless.
The incredible success of Connor McDavid at the OHL level was well documented. But while picking first in the 2012 draft was something akin to being a linemate of McDavid's in his record-smashing final year—the Otters, standing two feet from an open net, received a perfect pass and buried it—their four subsequent first-rounders have also paced their respective OHL draft classes and shaped the team that is locked in a tight Western Conference Final with the Owen Sound Attack.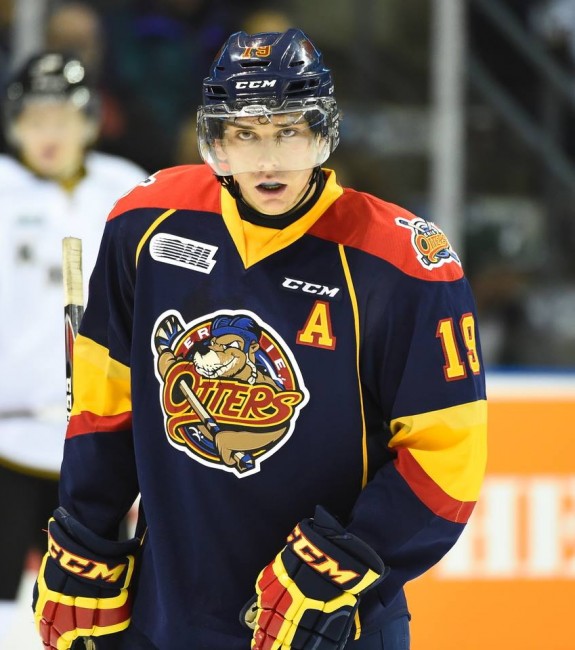 Dylan Strome – 2nd Overall, 2013 OHL Priority Selection
After missing the playoffs in McDavid's first year, the Otters were again picking near the top of the OHL draft and selected centre Dylan Strome, the younger brother of OHL star Ryan. Dylan outdid even his brother's accomplishments, leading the league in scoring in his second year and captaining Canada's national junior team to a silver medal at the 2017 IIHF World U20 Championship. Strome leads his 2013-draft peers with 354 points—more than 50 points ahead of the next player, Mitch Marner—and finished just a shade behind Marner in points per game (PPG), 1.64 to 1.62.
The Strome vs. Marner debate has raged since the 2015 NHL Entry Draft when Arizona selected Strome third overall and Toronto immediately snapped up Marner in the fourth slot. I think anyone, Strome included, would take Marner's hardware collection, which includes OHL Playoff and Memorial Cup MVP honours. Of course, Marner also has a leg up in their respective NHL careers, having put up 61 points for the Leafs in his rookie campaign. But Strome is an easy #2 in his draft class after Marner, with a final chance to add to his hardware collection this postseason.
Taylor Raddysh – 19th overall, 2014 OHL Priority Selection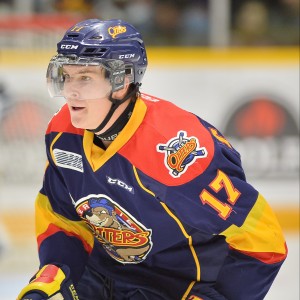 In 2013-14, the Otters put together arguably their best season ever, notching 106 points, but fell to the eventual league champion Guelph Storm in the playoffs. Their reward for the quick turnaround was dropping to 19th in the draft order, where they selected power forward Taylor Raddysh, the brother of Otters defenceman Darren Raddysh. While he did not quite have Strome's pedigree on draft day, Raddysh has excelled with the Otters. He leads his OHL draft class with 1.14 PPG and trails 2014 2nd overall pick Adam Mascherin by a single point for the lead in that category, putting up 209 points over his three years in the league.
Raddysh has skated on a line with Strome and all-world sniper Alex DeBrincat the past two years, and it might be tempting to ascribe some of his success to his linemates. However, Raddysh led his draft class in goal scoring in his rookie year as a third-line player.
This year, he led the OHL in scoring through the first three months of the season in Strome's absence before joining him on Canada's national junior team. Raddysh is an easy pick as the best overall player in his draft class and an early front-runner for the Red Tilson Trophy for the OHL's Most Outstanding Player next year assuming he returns to Junior.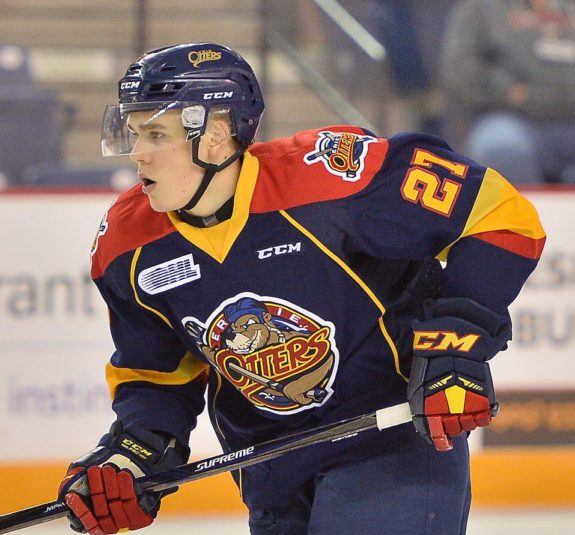 Ivan Lodnia – 20th Overall, 2015 OHL Priority Selection
Whether by fortune or design, the Otters grabbed a player many considered a top-10 talent in winger Ivan Lodnia with the 20th pick in the 2015 Draft. Lodnia is a bit of a laggard relative to his class when compared to his Otters first-round peers: he's fifth among 2015-drafted players with 96 total points and eighth with 0.75 PPG. But only two players picked after Lodnia (Kingston's Jason Robertson and London's Robert Thomas) have been better on a rate basis and only one (Robertson) has more points.
Robertson, picked 62nd overall, has been a revelation for the rebuilding Frontenacs this year, scoring almost a quarter of the team's goals in the regular season and almost single-handedly pushing them into the second round of the playoffs. As with Raddysh, it's fair to point to Lodnia's supporting cast when criticizing his production, but it's worth noting that Lodnia put up most of his points playing off the first line. Robertson aside, Lodnia is easily in the conversation as the best player available at the draft slot at which the Otters chose him.
Allan McShane – 19th overall, 2016 OHL Priority Selection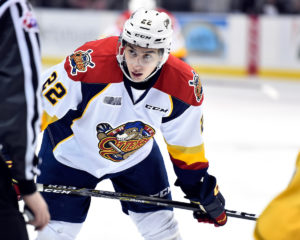 In last year's draft, the Otters grabbed centre Allan McShane with the second last pick of the round. McShane responded by putting together the third best points total (44) and PPG (0.71) of any player in his draft class, trailing only Guelph's Ryan Merkley, the first overall pick, and Niagara's Akil Thomas, taken in the #12 slot. Like Strome and Raddysh before him, McShane has exceeded all players chosen after him in both total points and PPG.
The usual Otters caveats apply: McShane put up strong numbers surrounded by talented players in Erie. But after being shipped off to the rebuilding Oshawa Generals at the trade deadline, McShane actually put up more points on a rate basis despite Oshawa's weaker supporting cast.
McShane's future looks bright, but the Otters are more than happy with the player that came the other way: Anthony Cirelli brings valuable leadership to the Otters as a veteran of Canada's national junior team and a Memorial Cup winner. He has also been a key element of Erie's playoff run, leading the team in goals.
Over the past four years of drafting, only two of the players chosen after the Otters' first-round picks and six players total have exceeded the points output of the Otters' first-rounders. Erie has picked, recruited and developed the single best player available at their first-round draft slot in four consecutive years – five if you count McDavid – and the Otters' success on the ice reflects this. Strome and Raddysh have been fixtures on the team's top line over the past two years. Lodnia, though he has struggled in the playoffs, was a key piece for Erie in the regular season. McShane brought Cirelli into the Otters' fold.
Where Are All the Defencemen?
There's one obvious commonality among the Otters' string of successful first-round picks: they're all forwards. Indeed, Erie has not selected a defenceman in the first round since taking Mitch Gaulton 4th overall in 2006. Perhaps surprisingly, the Otters are not alone in preferring forwards to defencemen early in the draft: 77% of all picks in the OHL's first round in the past five drafts have been forwards. Nevertheless, it's hard not to view this forward-heavy approach as an organizational philosophy.
ESPN analyst Corey Pronman argues that, all other things being equal, an NHL team should draft a projected top-line forward over a projected top-pairing defenceman as forwards simply have a greater impact on the game. The OHL's GMs may be convinced by Pronman's (and others') analysis that this is true at the OHL-level.
Alternatively (or additionally), this "forwards-first" strategy may reflect the challenge of projecting elite defensive talent at the midget level. If forwards are both easier to project and more important to a team's success, it makes sense to draft them early and add defensive help late.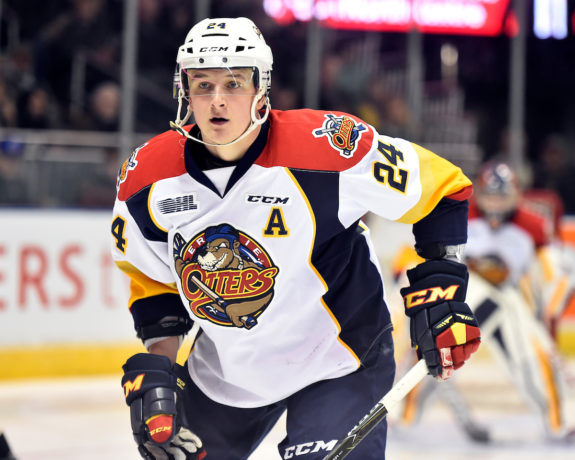 This is exactly what Erie has done in assembling arguably the league's most dominant team this year. None of Erie's top six defencemen—Darren Raddysh (84th, 2012), Jordan Sambrook (199th, 2014), TJ Fergus (141st, 2013), Erik Cernak (54th, 2015 import draft), Owen Headrick (261st, 2013), and Mitchell Byrne (85th, 2014)—was selected in the top 50 picks of the draft. Despite this, and with only average goaltending, Erie finished the regular season having allowed the second-fewest goals in the league.
Erie's phenomenal success may not be easy to replicate. Certainly, luck has been a factor for the Otters—few expected Strome to return to Junior this year, for example, and while former Otters GM Sherry Bassin deserves huge credit for uncovering DeBrincat, it would be unrealistic to expect other teams to reproduce arguably the greatest free-agent signing in league history.
Furthermore, after a series of playoff showings hurt by wobbly goaltending, it's fair to criticize the Otters' brass for not shoring up their situation between the pipes. But the Otters have shown that their strategy of selecting forwards early, holding onto their top rookies despite pressure to trade them, and supplementing a high-end offense with late-round defensive talent can deliver regular-season success—and the blueprint is there for all to view.
Can this approach deliver a championship? We'll just have to wait and see.
Matt Wilson covers the OHL for The Hockey Writers and has been following the league for 15-plus years. He holds a dual degree in English and mathematics and endeavours to take a stats-based, data-driven approach to hockey analysis.