A month ago I would have titled this article "4 Devils Vegas Fans Should Be Watching". But there are no more New Jersey games to watch, Vegas Golden Knights faithful. We've seen everything we're going to see ahead of which Devil will be relocating to Southern Nevada come June.
Postseason hockey hasn't been on the New Jersey schedule for quite some time. The Devils advanced to the Stanley Cup Final in 2012, dropping that series to the Los Angeles Kings in six games, and haven't sniffed the playoffs since.
I wish I could tell you to ignore how bad the Devils are, that Vegas still has a lot of young talent to choose from. But I can't. New Jersey is a bad team, and the Vegas pick isn't going to generate a lot of enthusiasm. For Golden Knights general manager George McPhee, the priority here is depth. He's unlikely to obtain someone who's going to make a significant impact in year one.
But you should learn these guys anyway. Because Vegas is probably going to have to take one of them. Here are four Devils Vegas fans should know.
Ben Lovejoy
Once upon a time, before Vegas was blessed with a team, I was an Anaheim Ducks fan. So I like Ben Lovejoy and I'm sure I'd like Ben Lovejoy as a member of the Golden Knights. That said, he'd be a fairly underwhelming pick.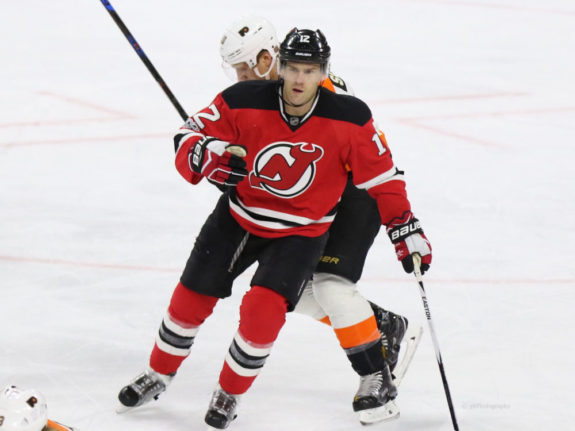 You'll learn a lot during eight years in the league with three different teams. He'd bring that much-desired veteran presence to what will likely be a very young Knights squad. But a lot of guys can do that, and it's worth noting that last season was just the second time in his career Lovejoy has played more than 66 games.
Because there's so little consequence to the Knights' selection from the Devils roster, I think in McPhee's war room the New Jersey pick may be the last one that's decided. And it may come down to how much money is already spent. If Vegas needs some dollars to meet the NHL salary cap minimum for an expansion team in 2017, Lovejoy's $2.6 million owed next year may help meet that requirement. If it's already met, Vegas may elect for a younger, cheaper option.
Devante Smith-Pelly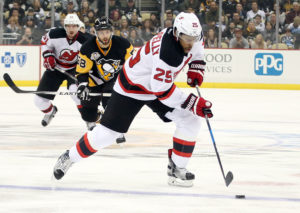 Smith-Pelly will be exposed if the Devils elect to use the 4-4 strategy of protection. If they go 7-3, it's more of a question mark. He's a borderline guy. Maybe borderline is too fair. It would be a surprise if he's protected.
Another former Duck, he's got the size and physicality that McPhee is said to covet. But at different times throughout his career, he's been plagued with inconsistency. He's totaled double-digit goals just once, and he's gained the reputation of a teammate that takes shifts off. That's probably not the place to start if you're a team in its infancy.
It's a reach that he winds up in Vegas. Golden Knights management would have to see something in DSP the rest of us are blind to. Assuming a filled-out roster, and all other things being equal, the only reason to grab Smith-Pelly over a player like Lovejoy is that he's half as expensive. I doubt that tips the scales, but check him out, Vegas fans. Maybe you'll see something I don't.
Jon Merrill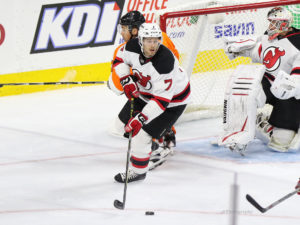 Merrill would be a pick Vegas fans could get semi-interested in. He's not great, but he's cheaper and younger than both of the above names, and at 25 years old you can still allow yourself to dream that he may flourish in a new environment.
To this point, the New Jersey blue line is all Merrill knows. He's been there four seasons and played in over 200 games after joining the Devils organization as a second-round pick out of Michigan in the 2010 NHL Draft. Since he was called up, New Jersey's most impressive performance is a sixth-place finish in the Metropolitan Division in 2013-14. He's never had to worry about the postseason getting in the way of personal plans.
So who knows? Maybe hockey in the desert could be the reboot Merrill needs to realize his full potential. He has his own issues with consistency, so I doubt it, but at $1.1 million Vegas can take a shot for its inaugural season and not feel terrible if things don't work out.
Mike Cammalleri
There's a reason that Cammalleri's name is at the bottom of this list. When I started putting together four names I didn't think it was a possibility he'd  be exposed. The more I think about it, Devils general manager Ray Shero may relish the opportunity of shedding his worst contract.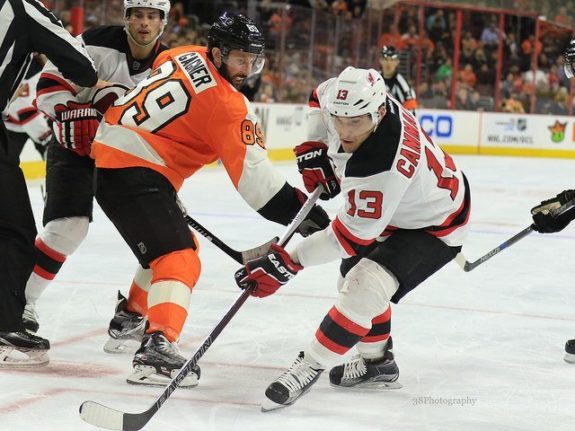 That doesn't mean it's going to work. I think McPhee passes on the 14-year vet, and it's not just because he had the worst season of his career in 2017-18—a season in which he found the back of the net just 10 times and didn't score after Jan. 3.
It's the two years left on his contract that are going to keep him in New Jersey. He's owed $5 million per, and hypothetically perhaps there's a circumstance where Vegas takes a shot on Cammalleri if the Golden Knights are only on the hook for one year. We'll never know. He may end up being the most talented player exposed by the Devils, though. So if Vegas thinks he can return to 50-point season form, maybe they shock us all at the NHL Expansion Draft on June 21.